downloadable songs - songs in progress - the band - contact us - what's a krelkin?

UPCOMING SHOW:

WEREMAIDS...MUTANTS...TRASHIONISTAS

DREAM ART, TRASH FASHION, SURREALISM
Art by
Page Fillmore, Frannie Germeshausen, Nic Griffin,
Erik Gross, Mike Marrelli, Ronn Rosen, Chris Wayan
Sept. 6 - Oct. 4, 2014
CAFE INTERNATIONAL
508 Haight Street
San Francisco

OPENING with LIVE MUSIC by
THE KRELKINS
Tuesday September 9, 2014
6:30 - 9:00PM

INFO: 415-830-2808
www.lottarubbish.com - www.worlddreambank.org
DOWNLOADABLE SONGS
DAWN'S DREAM: by Dawn Z and Wayan; 2.3MB (MP3 + lyrics), 1999/4/1, a rock song telling a dream
My friend Dawn dreamed she crawled into a dumpster to live, and at last felt at home, secure...
A TOUR OF YOUR BRAIN: by Wayan's brain, 3.4MB (MP3 + lyrics), May 2004, a rock-jig.
A bouncy, lobe-by-lobe musical tour of your brain with Buddha as your tourguide...
GOD: by Mike Marrelli, 3.4MB (MP3 + lyrics)
God tells all! "I admit I've a split personality..."
GAIA'S SONG: by Wayan, 2.1MB (MP3 + lyrics), 2002, an old folk ballad on robotics
Gaia appears in a warning vision. However, she's not addressing humanity, but our silver successors...
PINK EARS: by Mike Marrelli, 2.2MB (MP3 + lyrics)
A sea-chanty mourning how Nic's stuffed bunny fell overboard into San Francisco Bay...
COYOTE SENT ME CASH!: by Wayan, 3.1MB (MP3 + lyrics), a 2007 jazz-rap telling a 1982/10/11 psychic dream.
A true tale proving the Trickster God really will provide. We're lilies of the field!
I WANNA BE: by Mike Marrelli, 3.25MB (MP3 + lyrics)
Tell me--what's your secret desire? Now... can you act on it?
Bonfire of the Vanities: seeing the future apocalyptically is hardly a new fad
Cyberspace Baby: it's virtually love!
Do What You Love And The Money Won't Follow: because neo-feudalism wants it that way
Engendering Dysphoria: a Renaissance piece about contemplating a sex-change operation
Flying High: let the giraffes and little ducks guide you through the spirit plane
He Talks About: and she sings about it. Can there be love between consumer and non?
Hold On, Harry!: a bluesy tale of love and underwear whose elastic is nearly gone
Joy is the Queen of Denial: a hymn to the Egyptian goddess who holds the key to bliss: deny everything!
Memory Pie: we incarnate, acquire new memories... rampant downloading! Sue somebody!
The Ness Man: if, as Calvin Coolidge said, "the business of America is business", is the stillness of America stillness?
Saboteur: two dreams explain why we fear success AND failure: isn't austerity virtuous?
Sharks: as shark populations drop, finding a mate gets hard. Singles bars fill up with lonely sharks...
This Could Be All Right: if we all just sat in the backyard
Tidal Wave: our local ecosystem is devastated by an invading species: financially solvent people
You've got a Problem: you're really strange. And no one likes you the way you are. Don't ever change!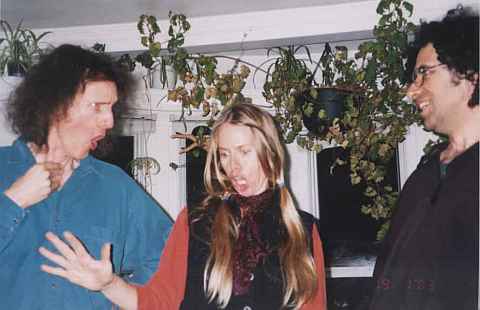 WHO ARE WE?
A San Francisco-based trio of singer-songwriters. Many of our songs come from dreams. Most have three-part harmonies. Some have accordion. Only one has quacking.
Nic Griffin: drums, vocals, accordion, kazoo (center)
Mike Marrelli, guitars, bass and vocals (right)
Chris Wayan, keyboards and vocals (left)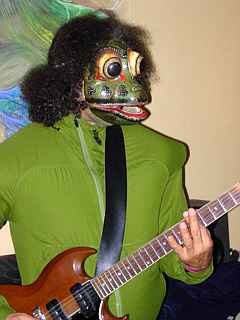 WHAT SORT OF MUSIC DO WE PLAY?
We serve the song: each gets the style it needs. Having a signature sound or style restricts a band and betrays the music. We aim for powerful tunes, harmonies, moods, lyrics and stories. Of course, an obsession with quality could itself be labeled a style--but it hasn't yet. We do think a new musical model is brewing here in the Bay Area--polycultural, politically radical, complex, varied, highly personal but respecting the audience--accessible. But this movement is still nameless. Perhaps, at this stage, it needs to be.

WHO IS GOD?
The Beatles, Beethoven and Frank Zappa.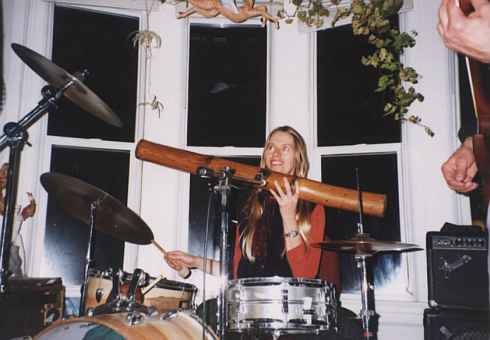 Email: thekrelkins@yahoo.com
Phone: (415) 648-4907
NicGriffin.com: Nic's trash fashion
WorldDreamBank.org: Wayan's dream art
WILL WE PLAY FOR YOU?
Why not?
REFERENCES
Leigh Radtke, rogerleigh@comcast.net or (650) 291-1270 (show at Sanchez Art Center, Pacifica)
Joy-Lily, events@joy-lily.com or (415) 826-8248 (show at Isis Oasis, Geyserville)
WHAT'S THE NAME MEAN?
Krelkins are strange beings I keep meeting in my dreams--something like maned, horse-tailed herbivorous greyhounds, or hornless deer-sized unicorns... with opposable thumbs and huge brains. On rare occasions, I've dreamt I am one, a wonderful experience, since Krelkins enjoy life: amiable, sensual, humorous and highly intelligent. Like human shamans, they like to roam between realities. They're not Club Med-type tourists, either--they'll explore bizarre, backward places. They'll even come here.
Anyway, the other band members liked the strangeness of the name--we're not gonna get mistaken for anyone else. Since no one else can spell it.
--Chris Wayan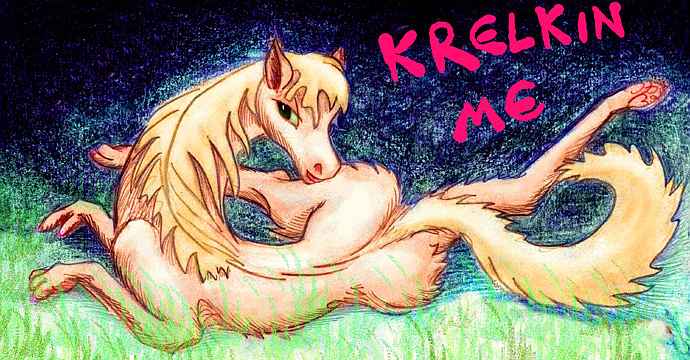 This is a guest page of the World Dream Bank, a site for dream art, dream stories, dream poetry , and dream music. It even has krelkins.