World Dream Bank home - add a dream - newest - art gallery - sampler - dreams by title, subject, author, date, places, names

A Tour of your Brain

A Song in Six Lobes, by Chris Wayan, May 2004
"A Tour of your Brain" performed by Chris Wayan and The Krelkins, 2007
Won't play? Plain
MP3, 2:59 (2.78 MB, 44khz)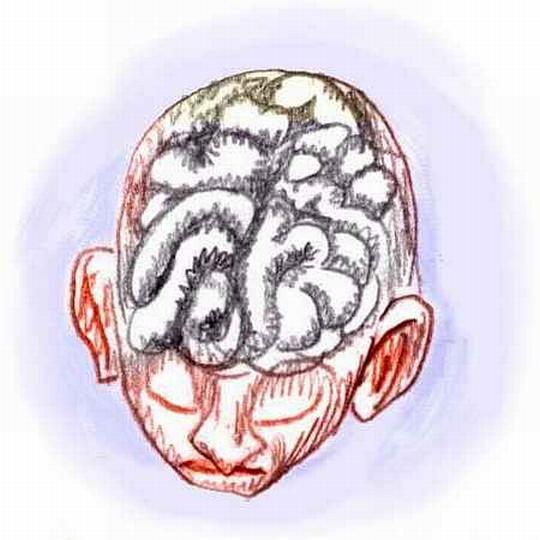 LOBE 1: FRONTAL
Buddha's in your in frontal lobe tonight
He's spelunking in your brain tonight
Little tin hat, divine light on,
Through the medulla, down the pons
Buddha's in your frontal lobe tonight
LOBE 2: MOTOR
Rush hour makes your motor cortex flash
Devils floor their impulses and crash
Red for stop and green for go
How little you know of how much you know!
Tonight, in your neural net,
Ecstasy and deep regret--
A gridlock brain , or Soul Train!
LOBE 3: OCCIPITAL
Eye in the back of your head--occipital lobe
Laser show and disco ball and strobe
What you see is all reversed--
Crossed and mangled as liverwurst
First is last and shall be first tonight
LOBE 4: PARIETAL
Nowadays I'm no pariah at all
But I came close to lacking an I at all
Feral kids, are we a group,
Or just some dirt in your people soup?
My language center cannot see
Abstract terminology--
All your human grammar's mad to me!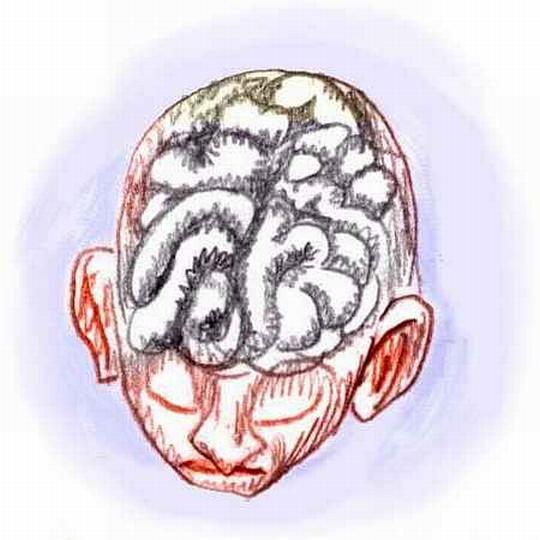 BRIDGE (frantic)
LOBE 5: HEMISPHERES
I bet you think you have a single soul
All of you think you have a single soul
Yet you got two brains inside
Left and right of the great divide
Both of you think you have a single soul
LOBE 6: CORPUS CALLOSUM
Slender bridge across a dark abyss
Your identity narrows down to this...
Fiber-optic corpus callosum
Shares your data (if you know some)
But if your line goes down,
Sudden divorce, but share the house!
Blindly chasing I and I around
CODA (slower)
Let's all celebrate Broca's brain--
Drop who we are and start again...

SONG NOTES
The Krelkins are a Bay Area trio: Mike Marrelli, Nic Griffin, and Chris Wayan.
Lyrics, music, lead vocals and piano by Chris; percussion and vocals by Nic; guitar, bass and vocals, Mike.
The music: an experiment. Two songs I like, Vic Chesnutt's Hotel and I'll Be With You Wherever You Are Tonight by Robyn Hitchcock and the Soft Boys, both have 2-4-1 chord structures (like Dm-F-C). But I always felt they sounded like great catchy half-songs. So I added two more chords, the Am-E of "But if the line goes down..." etc. Then the structure felt complete--but my version still sounded too much like its parents. So I got drastic: dropped the 4/4 rock beat of both source-songs, and tried a 3-beat. The music steadily sped up like a pacemaker gone mad. Soon it was an Irish dance. The price of independence was mania! It held a gun to my head; I had no choice.
The lyrics: channeled! Soon as I asked "what's this song about?" I heard "Buddha's in your frontal lobe tonight..." and the tour just poured out lobe by lobe.
FRONTAL LOBE: if Buddha were living in your brain, surely his base camp would be here. But I bet he'd explore our primitive, perilous convolutions of desire, like some spelunker with a safety hat on, using his third eye like a miner's lamp.
MOTOR CORTEX: I couldn't help seeing those impulsive neurons like drivers at rush hour. Jostling. Gridlock. Road rage. What our impulses lead to!
OCCIPITAL: the brain's visual processor, at the back end of the brain. Images really are all flipped left-right, then split, and reconstructed into a 3-D picture. It resembles a Chinese master chef carving vegetables. What we see isn't raw reality, but stir-fried truth.
PARIETAL: the side-lobes have specialized areas for language and socialization. I was an outcast kid; I never developed these normally. But which came first? Was I autistic, thus shunned? Or did solitude stunt my pariah-tal development?
HEMISPHERES: split-brain research fascinates me. Two personalities coexist, scarcely aware they're separate, see themselves as one. The mere word "I" seems to hold us together. Am "I" really a program, one that can even run on distributed hardware?
CORPUS CALLOSUM: this connector between our brain-hemispheres always reminded me of the Bridge of Khazad-Dum in The Lord of the Rings--poor Gandalf falls into the abyss between hemispheres! Ooh, it's all so Jungian! It was only a small step from here to a grumpy divorce where you see your ex as a Balrog--after all, if your corpus callosum is cut, the lobes live in the same house but separate bedrooms. Like a sham marriage.
BROCA'S BRAIN is a classic book on early brain science. Broca was a researcher with a patient who changed profoundly after brain trauma. On some days I'd like to drop who I are. We am. But I remain...
--Chris Wayan--
---

LISTS AND LINKS: downloadable dream songs - musical dreams - dreams of heads and brains - dream humor - cavernous dreams - giftedness, prodigies, genius - Buddha - outsiders: pariahs, outcasts, ferality - more songs by The Krelkins -

World Dream Bank homepage - Art gallery - New stuff - Introductory sampler, best dreams, best art - On dreamwork - Books
Indexes: Subject - Author - Date - Names - Places - Art media/styles
Titles: A - B - C - D - E - F - G - H - IJ - KL - M - NO - PQ - R - Sa-Sh - Si-Sz - T - UV - WXYZ
Email: wdreamb@yahoo.com - Catalog of art, books, CDs - Behind the Curtain: FAQs, bio, site map - Kindred sites