HIS MINE: by Wayan; 1985/12/2, a wild dream epic.
I'm a hobbit seeking Henry Fonda's haunted gold mine. And find it. Or is that chocolate?
But I get caught in a shamanic showdown in a bar where they serve real spirits...
HOW TO SURVIVE NUCLEAR WAR: by Maxine Kumin; early 1980s, a dream poem.
In Japan, sick in bed, reading a book on radiation sickness, I dream of a restorative ritual for trees...
CAUTION: GRUESOME

HUNT AND PECK: by Patagia; 1997/6/16, a dream on the creative non-struggle.
I'm a brown sparrow scratching in the dirt, looking for bugs. Focused, tireless, I hunt and peck...

I ALSO DREAMED...: by Jack Kerouac, Summer 1958? an early dream of the world as a simulation.
I also dreamed the world was a mathematical abstract, like, by subtracting 740 from 1000
you got 260 which meant 'Egg' more or less, so if you wanted an egg you had the egg...

ID FLOWERS: by Wayan; 1989/10/8, a dream of wish and fear
The villagers warned me not to walk in the alien graveyard; for at night, the Id flowers wake...

THE ILL-FORMED TALE: by Wayan; 160K, 1981/4/7, a wild dream anti-epic.
To reach the Peak of Happiness on the Isle of Dreams, I must pass four Perils--but they're all backwards...
CAUTION: RELIGIOUS NUTS, KNIVES, NUDE ALIENS, BACKWARD PLOT...

IMMOLATION MAZE: by Richard Turner; 1973, a nightmare expanded into both sculpture & story
Saigon, 1973. Lost in a fabric maze. I find, wearing Buddhist robes, the skeleton of a dog.
Years later I write of Buddhist monks burning themselves, and build an ominous maze...
CAUTION: SUICIDES BY FIRE
THE INCIDENCE OF BUDDHAS: by Wayan; 1996/4/24, a dream testing me.
I'm in a mall that enlightened customers alter with a thought. But too many Buddhas spoil the architecture...

JADE JACKPOT, or, A HEAP O' CHANGE: by Wayan; 1990/1/7, a dream of shaking down God.
I'm slipping dimes into a boulder of jade: a vending machine that fills every order wrong. Why feed it? Well...



THE KEYRING OF ATTACHMENTS: by Wayan; 1974/5/31, a dream gone too far.
Swayed by sinister surgeons, I go all Buddhist and give up my attachments, including various organs...
CAUTION: DIVESTABLE GENITALIA

LEARNING SCALES: by Wayan; 1985/6/26, an epic dream of Chinese dragons.
I find myself in astral China. The Empress is banished, the Jester rules. Wisdom is lost.
We need an Imperial Dragon...
LION-MEN: by Wayan; 1995/7/9, an eye-opening dreamlet.
I'm a traveling Zen warrior talking to a circus girl in a barn. Four guys enter--and my life changes forever.
MAGIC SCHOOL: by Wayan; 1982/1/26, a major, political dreamtale.
Phyllis Schlafly, killer of the Equal Rights Amendment, provokes a dream where I'm Captain Kirk trapped in a magic school, with no way out but the graduate exam. Can I learn the lesson of the tree?
CAUTION: POLITICS

MAHAKALA, MOZART, AND THE CRIPPLED BIRD: by Wayan; 1985/4/17, a dream on facing shadows
The Christian God vs Mahakala, Buddhist god of right anger! War in Middle Earth, as Pink Floyd sings...

MEDITATION BLUES: by Wayan, 1983/2/13, nondream sketches of meditative state.
Meditation's hard for me; I expect to turn on instantly, like a lamp plugged into Enlightenment...
THE MAGIC WORDS: by Wayan; 1974/5/29, an early dream on word-magic.
Humanity in the future desperately needs the magic words from the past to free them. But... "pickle?"

MAHAKALA, MOZART, AND THE CRIPPLED BIRD: by Wayan; 1985/4/17, a dream on facing shadows
The Christian God vs Mahakala, Buddhist god of right anger! War in Middle Earth, as Pink Floyd sings...

MOVING IN THE LANDSCAPES OF MY DREAMS:
by Jenny Badger Sultan; 14 dreams (mostly Jan-Mar 2011) painted on one canvas
A dream urged me to paint a big landscape with cutout movable (magnetic) dream figures
and liftable flaps revealing hidden dream scenes...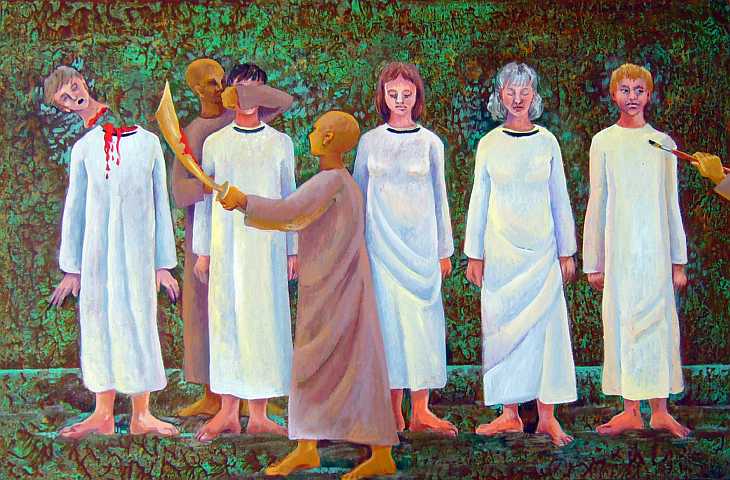 MY RITUAL BEHEADING: by Jenny Badger Sultan; 1996/3/24, painting of a nightmare
We stood meekly in line to be beheaded. I tried to accept my fate and commended myself to God... CAUTION: READ THE TITLE!

MY SINE-FRIEND: by Wayan; 1984/3/6, an emotional dream of time and rebirth.
An animal-girl I know lives like a sine-wave, first forward in time, then backwards, dying at every zero...

NORASINGH: by Wayan; 1987/1/15, a Tantric Frankenstein dream.
I fall in love with my sculpture of a mythical Southeast Asian creature. Then a mad yogi breaks in...
CAUTION: SEX, TANTRA, AND GENERAL WEIRDNESS

ON MOLLY'S FOREHEAD: by Wayan, 1988/11/19, a spiritual sex dream.
A child of radicals goes wild in Rio. When we bail her out, we find she's had a strange enlightenment...
CAUTION: UNSAFE SEX

PEACOCK KINGS: by Myoe Shonin; 1196/8 or 1196/9, an ecstatic dream
I meet two Peacock Kings bigger than human beings, who chant blessings until I wake with tears drenching my pillow...
A PRISONER OF ZEN: by Wayan; 1980/11/9, a dream on isolation.
The Pope spears our Inuit captain and the Mystic, who turns solitary--a prisoner of Zen. Can I free him?

REBORN IMMORTAL: by Reneta Scian; 2010/1/3, a three-stage flying dream
First I try to break the sound barrier like my girlfriend. Nope!
Then I fly slowly to her apartment. Nothing flashy, but I make it.
Last, I zoom back to ancient China, where I find a candle-lit shrine dedicated to... me?

RING OF WHITE WATER: by Wayan; 1983/1/30, an epic astral dream.
I'm a raft guide on a circular river that may just be reincarnation. A girl in my
tour group jumps ship: she dreads the white water of rocky relationships ahead...
CAUTION: METAPHYSICS, SEX, WEAK SOULS...

ROBINSON JEFFERS AS A SHAMAN: by Wayan; 1996/7/28, a life-review, with 2016/10/22 followup
Jeffers, that harsh, visionary, ecological poet, seems drunk on Darwinism, blind to how kindness matters...
CAUTION: SHAMANIC SHOPTALK, BRAIN REQUIRED

SATORI ACCORDING TO GHOST: by Wayan; 1998/4/11, a longterm predictive dream
A Buddhist student, troubled by a corporation marketing a product called
"Satori", summons the ghost of her beloved mentor for advice...

SERAFINA AND RAM DASS: by Wayan; a 2000/11/6 dream anticipating an 11/9 experience with auras
A Finnish shaman/witch gives me a lesson in night flying; in the waking world
I meet Ram Dass and sense him speak astrally before his body can get the words out...
CAUTION: HIGH MYSTICAL QUOTIENT; IF ALLERGIC, AVOID
SHEEP IN THE SKY: by Myoe Shonin; c.1220/9/20, a dream of strange advice.
A strange transforming thing appeared in the sky--a light, a sheep, a man. It told me to stop burning my head...

SOCK PUPPETS OF THE GODS: by Dee and Wayan; 1994/4/14. Parallel shamanic dreams!
I dream I'm suicidal; but I'm saved when I'm shown the flow of human development--the same pattern,
from souls to civilizations! Eddies and knots recur, but the challenges slowly get more spiritual.
NEXT DAY: I learn what my shaman-friend Dee just dreamed. And now I'm unsure whose dream this is...
CAUTION: IDEAS

SOULS IN THE MUD: by Wayan; 1981/1/14, a thoughtful dream.
I'm being hunted in Reincarnation Swamp, as I worry--the human population boom
means experienced souls are scarce. Are most folks you meet really dogs, cats... rats?
CAUTION: MYSTIC ELITISM
SOUL-WORK GOES ON: by Wayan; 1994/11/3, a journal extract on dreamwork.
As I reread decades of dreams, I see Jung was right: even in crisis-times, soul-work goes calmly on...
SPIRITUAL DISCIPLINE? PLEASE, MISTRESS, NO!: by Wayan; 1981/7/18, a meditation on meditation.
A rant on over-disciplined Americans (NOT under; we just think we are) taking up spiritual disciplines...
STRANGE SERVICE: by Gordon B., early 2006, a transcendental dream
The old man sang in the empty church, then looked at me and snapped his fingers. I was filled with voices...
THE STUTTER: by Wayan; 1995/9/7, a religious dreamtale.
Half our religion-founders were just one guy, repeating till he got it right. Practice makes perfect!

SUSHI CIRCUS: by Wayan; 1982/2/17, an illustrated psychic dream.
To avoid being stabbed, I flee the Psychodrama Circus. Wisely--the place explodes!
But it's the filling of the sushi roll that really upsets me...
CAUTION: CANNIBAL MAKI

TAHOE DRAGON: by Wayan; 1980/8/16. A dream of flight and fire.
A dragon killed a friend, and threatened worse. I had to fight.
We dueled mid-air, over Lake Tahoe...

TAHOE TAROT: by Wayan; 1988/4/13, a silly mystic flying dream.
My sister and I are playing cards in the air high over Lake Tahoe.
The stakes? The world. But we both cheat...

THREE-EYED WOLF: by Wayan; 1993/12/14. Digital comic of a dream, done movie-poster style
A 'toon liberation dream. I cartooned a new self and slowly she grew realer, until she ran Disney...
CAUTION: FRANK SINATRA SWEARS
THE THREE VEILS BETWEEN MAN AND GOD: by Anna Kingsford, March 1881, a messianic dream.
I was shown what veils the God in us: Blood (violence), Idols (dogmatism), and the Curse of Eve (sexism)...
CAUTION: FUNDAMENTALISTS (OF ANY FAITH) WILL SEE RED

TIBETAN DISASSEMBLY: by Wayan; 2007/7/5, a dream of a desperate ploy
A woman in Tibet disassembles herself! A local god hires her spirit,
but she uses the office equipment to backup her memories and...
CAUTION: DON'T TRY THIS AT HOME

THE TOMBSTONE TEST: by Wayan; 1986/8/18, a deceptive dream.
I walk in a vast graveyard full of history's most famous
people and treasures. But it's all fake, built to test your...


UNICORN TAG: by Wayan; 1986, a linked series of illustrated dreams.
Animal teachers, mostly equine, drag me (as I scream NO!) beyond plain dreamwork into shamanism...
Chapter 1: The Deer Party: by Wayan; 6 illus.
Chapter 2: Ariane's Honeymoon: by Wayan; 8K
Chapter 3: The Everest Marathon: by Wayan; 1 illus.
Chapter 4: Who'll Be My Love?: by Wayan; 100K, 4 illus.
Chapter 5: Dreamrider: by Wayan; 7K, a nondream interlude
Chapter 6: Half Shaman, Half Statesman: by Wayan; 170K, 4 illus.
Chapter 7: Eight To A Horn: by Wayan; 2 illus.
Chapter 8: Black Magic: by Wayan, 7 illus.
Chapter 9: Misfits On Mars: by Wayan; 300K, 7 illus.

WHAT! MORE?: by Wayan; 300 x 500, ink 1985, digital color 2001.
The world needs Zen cards, to balance out the Tarot.
So here's my Zen pack--all one of them. One too many.

"WHAT SHARKS?": by Wayan; 1990/4/22, a dream of multiple viewpoints.
A cowgirl is driving us in circles round the dusty parking lot, fleeing the air-sharks... or is she?

WHO ATE MY LETTUCE?: by Wayan; 1983/1/13, a short dreamfable.
An invisible monster is eating my lettuce patch.
It casts a huge blurry shadow, leaves footprints, but...
THE WORK OF POWER: by Anna Kingsford; Dec. 1880, a wildly uncompromising dream-sermon
A dream telling how to acquire mystic power: raw food, no sex, meat, or booze; just meditate in rural solitude...
CAUTION: EXTREMISM

THE WORLD'S FAIR: by Wayan; 1983/3/18, an illustrated dream fable.
The same night I learn of the Kerouac Tree, a wise old man shows me the world's fair. Not the event...
YEATS: by Wayan; 1990/1/1, a poem wrestling with Yeats's visions.
Our dilemma is, now that we have the power to get what we want... what exactly was it we wanted?
YOU'RE THE EAGLE: by Wayan; 2000/2/8, a dream fable.
A hermit spends his life wrestling with shadows. His only disciple becomes famous. Who was happier?

ZEMMYO: by Myoe Shonin; c.1221/4/20, a spiritual Pygmalion dream.
A doll sent from China breaks into tears over her exile here in Japan. I reassure her and she becomes real...

ZEN INSURANCE: by Anonymous #38, art by Jesse Reklaw; pre-2000; a mystical frustration dream
My Zen master keeps asking me koans. But every riddle is about insurance
forms. I always reply "I am thirsty." He asks another. It goes on forever...