AMERICANS SHOOT ANYTHING: by Wayan; 1990/5/2, a predictive dream.
Canals and locks. American soldiers find an underground village and force everyone to evacuate to
a warship, "for safety". The villagers turn into birds so if it's a trap they can escape. Next morning...
CAUTION: ESP, GUNBOAT DIPLOMACY

AND THEN I WOKE UP: by Wayan; 1980/11/4, an illustrated dreamtale.
A dream of mushrooms, flying, canyons, giant Rocs out of Sindbad--and a moral challenge.

ANGEL SHOWDOWN: by Wayan; 2020/4/2, a dream mixing shamanism and Barbarella
I see parasitic spirits sickening their human hosts. Can't get rid of them, so I try to teach them how to
keep their hosts healthier. An angel suspects I'm a necromancer, and shows up armed for a shootout...
CAUTION: DISTURBING PREMISE, LOWBROW ANGEL
ANIMAL DREAMS: by Carolyn Tipton; a 2019 poem arguing that without animal viewpoints the world goes flat
"What about their dreams? What if they've all been partly dreaming us, and
lacking them, our world becomes as trivial and narrow as our dreams?"...
ANTIGRAVITY RESEARCH: by Mary Arnold-Forster; 1905?, a dream of teaching dreamflight
I'm showing the Royal Society how to levitate. Confidence is the main thing. I teach a hesitant Fellow to lift off...

ARIEL and THE UNICORN COMMITMENT: by Wayan; 1983/12/26-27, an epic psychic dream & sequel
DREAM: to stop an idiotic bout of war-fever, I have to take on the power of the Goddess herself...
NEXT DAY: I stumble on a fantasy book, Ariel, full of details straight out of the dream...
THAT NIGHT: I sign the Unicorn Commitment, but personalize the magical contract...
CAUTION: DISSES REAGAN & SOUTHERN MASCULINITY

ARISTOTLE'S WIVES: by Wayan, 1984/5/20, a dueling-philosopher dream.
Aristotle keeps marrying my friends and fucking them up. So I challenge Mr. Logic to a shamanic duel...
CAUTION: THE F-WORD. OOPS, TOO LATE! LESBIAN FISH, TOO.

THE ARRIVAL: by Elizabeth Gibbons, 2014; a spiritual dream about dreams
I'm a priestess from an island of women; I meet an angel
who charges me to harvest all the dreams of the world...

ART OR PROPAGANDA?: by Wayan; dreamed 2008/2/7, 3 dream-reactions to Philip Pullman's books
There's a rare dream-type that can change reality itself. Study its EEG trace. Can I learn to do it?...
I'm arguing with musicians--what's better, music that serves your goals, or purely great music...
I'm bored in class. Draw sexy furries. The babydykes by me do too! Art'll summon the girls we want...
CAUTION: PHILOSOPHY! OH NO!

AS OTHERS SEE US: by Wayan; 1993/12/3, a socially astute flying dream.
We're orphans learning to fly by night, when others can't see and define us...

ASTEROID STRIKES: by Ben Bamber; Sept.-Dec. 2001, 4 dreams predicting 3 meteor strikes
I witnessed strikes in Brighton and Devon through the eyes
of others; but I felt the Cheltenham impact in my own body...

ASTRALNAUT: by Wayan; 1994/7/30, a reverse ghost dream.
I have amnesia. Plus, I'm dead. But I have this great NASA job! Only there's a saboteur...
CAUTION: SNOTTY ABOUT CHRISTIANS AGAIN

ATMAVICTU: by Carl Jung, c.1919/12/4; portrait of dream figure in a different phase of life
Jung's ally in killing the murderous German archetype Siegfried was Atmavictu.
Here he's worn out, turning to stone, ready to manifest as a different guide...

ATTAHUAH: by Jamie Sawyer; summer 2015, a postapocalyptic lucid dream of vengeance
Four guys plot to enslave my girl and kill me; I have lucid powers, and kill them instead.
My girlfriend Attahuah gets poisoned, but...
CAUTION: VIOLENCE, DECEIT

AUSPICIOUS TRACTOR HATE: by Wayan; 1984/4/17, a triumphant frustration dream!
A party for me and my shadow, to celebrate that we haven't killed each other, just HATE each other...

AUTISTIC THUNDER: by Wayan; 2018/2/12, a predictive shamanic dream
DREAM: a concert of autistic musicians admits my bandmate Mike but locks me out! I summon thunder & quakes till they open up...
AWAKE: I called it metaphor--till it happened. I was sitting silent in our band's recording session and Mike asked me to leave...
CAUTION: AUTISM & APPARENT E.S.P.

THE B SIDE OF THE PENIS: by Wayan; 1996/8/26, a sex dream about reprogramming.
I erase my sexual tape, and start over. Am I male, female, gay, straight? Uh-oh! What SPECIES?
CAUTION: MESSY SEXUAL BOOBOOS

BALEENA'S GAME: by Wayan; 1974/1/26, a surreal dream with a practical point
A whale-spirit marries a poker-player. But her sonar sees too much. Whale-spirits prefer blackjack...

BAR BET: by Wayan; 1982/4/30, a dream-quest on not settling for less.
On a bar bet, we seek God. We reach the Isles of the Blessed, but they're complacent. We want the wild
God, the real God, the Bad Taste God. Onward, pagan questers! Because we want to win our bet.
CAUTION: LAZY-ASS ANGELS

BATMAN'S LOVE: by Wayan; 1996/3/26, a dream-epic of love and time.
A New Age graduation party spurs a wild dream of the spiritual odyssey of Catwoman,
starring Alexander the Great, Batman, God, and Rumi the poet (played by Frank Zappa)...
CAUTION: MORAL RELATIVITY

BEAR READ DUNE: by Wayan; dreamed 1981/1/28, painted 10 years later.
There are many astral planes--this world's just the cellar.
A cat and a bird in love, a literate bear and I guard the astral stair...

THE BEAR'S RIP: by Xanthe; dreamed 1990 or 1991; a lucidish dream with four sketches.
A bear rips open my wall and guides me into a psychedelic space where I learn to see with new eyes...
BEAST BIRTHS: by Wayan; 1989/9/19, a predictive dream of family secrets.
My family has a hidden gene for incest--and griffins.
When I bring the family skeleton from the closet...
CAUTION: RAPE, INCEST

THE BEES' ANSWER: by Wayan; 1994/8/2, a diagnostic dream.
A bee-doctor in the city of Propolopolis diagnoses me as having a rare syndrome, Ambition Denied...

BEET: Five Dreams One Night: by Wayan; 2013/10/30, Halloween dreams as minipoems
Parasites, Rambo, huge fetus-beets, an exhibitionist and a living statue advise me on my love life...
CAUTION: NUDITY

BELT-SNAKE MYOPIA: by Wayan; 1983/12/25, a dream of innocent sabotage.
A shy woman's belt slowly comes alive, but like most snakes, it has weak eyes. Would glasses help?...

BEREN AND LUTHIEN: by Wayan, 2017/10/11, a comment on the chance cause of The Lord of the Rings
A publishing-house error made them reject Tolkien's mythical work, and demand a sequel to The Hobbit...

BERYL'S DOG DAYS: by Wayan; 1988/1/25, a psychic dream farce.
My friend Beryl wants me to help rob a bank, so she can
cut off her breasts and be a great opera singer...

THE BIG CRUNCH: by Wayan; 1979/5/9, a cosmic nightmare.
I'm a girl being stalked. I get drastic--scrunch up the universe & shake it out! And is THAT enough?
CAUTION: ANXIETY, GUILT, POSSIBLE APOCALYPSE
THE BIKE KNIGHTS: by Wayan; 1992/7/6, a cautionary Jungian dreamtale.
Two unarmed sisters defeated a dragon who's now slaying an army of knights on bikes. What changed?
BIRD-SENSE: by Wayan; 2013/7/20; Shakespeare improv provokes a dream of having seven senses
I dream I have sixth and seventh senses--and wake to realize I do! Just denied them, explained them away...
CAUTION: SHAKESPEAREAN HEFT

BLACKBIRD: by Anna Halprin; 2002-2005?, a recurring dream of a spirit guide.
At first I was afraid of the blackbird, who asked me to come away with him--I wasn't ready to die--
but now I see him as a friend and guide. One day when I'm ready, we'll fly--and I won't be back."

THE BLACK CURRENT: by Wayan; 1985/6/16, a slice-of-life dreamtale.
A dream-voyage round the world on the Black Current, only to wake up back in my animal village...
CAUTION: GORILLA MARRIAGE

THE BLACK EGG: by Wayan; 1999/3/25, a comic psychic dream.
My crazy friend Wayne goes bowling for busses with a black egg. Wait! Crazy? Or... predictive?
CAUTION: GEORGIA O'KEEFFE BEHAVES DISGRACEFULLY

BLACK MAGIC: by Wayan; 1986/11/10, a dream of love and rage;
Chapter 8 of UNICORN TAG, though it can stand alone.
A packet of magic soupmix sends me upstairs to a secret wizards' lab.
They've summoned a demon they can't handle: the furious Black Unicorn...

BLUE CRYSTALS: by Wayan; 1979/5/20 dream offering guidance.
Throw a dream-crystal, or dangle it by a thread, and it'll point the way to go...
CAUTION: NUDITY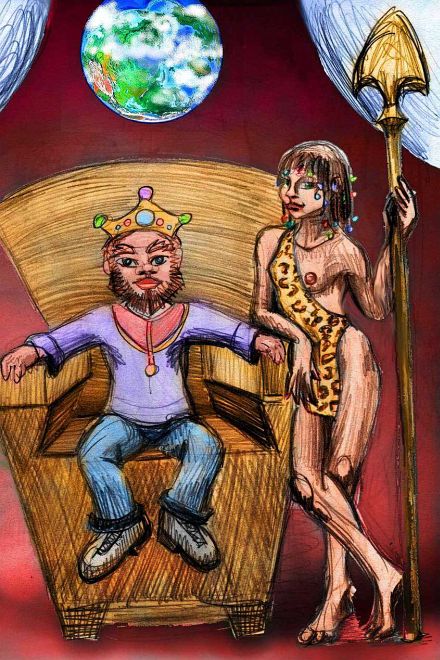 BLUE SOUP, NO SPARK: by Wayan; 1985/6/1, an epic dream on outgrowing God
A visit to a world where they fear blue soup ends in death and resurrection, so I'm pissed at my boss--God.
CAUTION: DEATH, REBIRTH, SACRILEGE... JOB BURNOUT

THE BLUE MILLIPEDE: by Wayan; 1996/11/5 (Election Night), a political dream.
I'm a wizard chasing crooked politicians in a big city. They have a car, I hop a trolley--
only on the astral plane it's a giant blue millipede, and...
CAUTION: RECKLESS DRIVING, THEFT OF PUBLIC MILLIPEDE

BONOBO AND BEAR: by Wayan, 1999/10/14, a mystic war movie.
The gods of our cave-past and star-future fight over us--using us, of course. After I see the toll it's taking on a
bonobo buddy of mine, I decide to bring the war back home, and go gunning for God--BOTH of them...
CAUTION: APES AND EXPLOSIVES DON'T MIX

BOYS WHO RUN WITH THE SCISSORS: by Wayan; 1986/1/26, a shamanic dream-joke
Women who run with the wolves? Ha! In Mongolia, the only ones who can beat lightning-demons are...

BRANDY'S CURSE: by Wayan; 1996/10/23, a bizarre dream (even for me).
After I saw the film "Surviving Picasso", I dream a friend asks me to remove a strange curse...

BREAK FREE: by Emily Joy; 2006/5/11, an encouraging dream on the price of safety.
I search for family skeletons, but then a talking plant on TV inspires me to seek the sun and fly free.
But certain velociraptors and barbarian swordswomen object...
CAUTION: DUELS, FISH ABUSE, THE F-WORD

BRICK AND SKIN: by Wayan; 1988/10/18, a dream of spiritual stretching.
I'm analog myself, but in Tibet, I meet a digital shaman whose body's a sort of ...

THE BRIDGE: by Wayan; a 3-page comic from two linked dreams, 1989/5/28 & 1989/10/1.
The Hunt of the Unicorn (yeah, guess who I am), as I fly through the worlds fighting Reaganism...
CAUTION: MOCKS THE GREAT COMMUNICATOR

THE BRUNDIBAR SEA: by Wayan; 2005/12/18, a mystical manifestation dream
Biking, I stray into the steamy Brundibar Sea. My bike dissolves!
But hot-tubbers explain the Sea manifests what you visualize. Yay! Uh-oh...
CAUTION: MYSTICISM AND HOLOCAUST HISTORY

BUFFALO PERSON: by Plenty Coups, summer 1857; a child's time-traveling, tribe-saving dream
I was led into the future, where all the buffalo disappeared, to meet a frail old man by a ranch house...

BULL FEEDS THE KITTEN: by Wayan; 2018/5/23 a dreampoem of using tricks to nurse feral critters
Cleo the talking kitten denies being a cat, so I invent Wolf-N-Puma Chow!
Must I play similar games to nourish that other feral critter... me?

BUMBREE SYNDROME: by Wayan; 1984/3/14, a comic dream about dreams.
Princess Chinchilla and I use an umbrella to escape the Wizard. Now to escape the Dream Researchers!...

BURROWCATS ON A HIGHER PLANE: by Wayan; 1991/10/25, a shamanic dream of levels.
By twisting strangely, humans can slip into a higher plane. Ten feet higher!
So unless you climb on the roof, you end up in the tunnels of the burrowcats...

BUT I WANT TO LIVE!: by Wayan; 1995/8/5, a life-altering dream.
My job's to clarify people's deepest wishes. But when I meet two women who truly want to die...
CAUTION: SUICIDAL IMPULSES

BUTTERFLY: by Zhuang-zi; about 300 BC, a dream questioning identity.
I dreamed I was a butterfly, fluttering about, content with my lot. Suddenly I awoke and was Chuang-tzu again...

CASSANDRA AND OTTER: by Wayan; 1982/3/14, a reassuring nightmare.
I take Cassandra's prophecies seriously, but she can't make sense of my future.
So we go see an otter with a crystal ball. But he's installed a new security system...

A CAT AND HER GIRL: by Wayan; 1979/5/15, a deep little dream.
I'm a doctor in the future, trying to heal the neurolink between a girl and her cat...

CATRISE: by Wayan; 2000/2/21, a sexy flying dream; acrylic painting.
I'm an alien exchange student in Palo Alto High School. I get stared at--they wear clothes, they don't fly...
CAUTION: FELINE NUDITY

CAT-SNAKE: by Wayan; 1993/3/6, a short dream fable.
I glue cat-legs on my snaky friend, despite the scare talk
from Christians sure that snakes never change...

CENTAUR WITH STAFF OF POWER: by Wayan; ink 1982/6/3, tinted 2001; sketch of a daydream
An image influenced by a recent dream, "Centaur Quartet...

CENTAUR, WOBBLY: Wayan; digital sketch 1990 based on dream I can't trace.
Wise advice from a funny looking centauress at a nude beach...
CAUTION: CRUDE NUDE

CHANGE THE CORE PROGRAM: by Wayan; 1995/6/28, a dream of sudden progress.
I meet a tragic heroine--great heart, rotten luck. But I open her magic sword and find a bad chip...

THE CHAPARRAL OF TIME: by Wayan; 2008/10/21, a timetravel dream-poem: Dreamverse #36
I snorkel over time-reefs to an era of talking animals--but why crash on the head of rocker Suzi Quatro?
CHURCHES BURN WHEN YOU LEARN TO FLY: by Wayan; 1989/9/1, a didactic flying dream.
I pay the price, but learn the difference between merely getting off the ground, and true mastery...

CITY OF BEES: by Wayan; 1994/8/2, a diagnostic dream-comic.
A bee-doctor in the city of Propolopolis diagnoses me as having a rare syndrome, Ambition Denied...

THE CLARK RANGE, OR, THE HAND: by Wayan; 1975/12/1, a surreal lucidity-prompting dream
In the Sierra with geologists, I stick my arm down a drillhole and feel a living hand! Impossible, yet...
CLAY MAN: by Wayan; 1980/6/1, a golem dream .
I fight a clay golem of resistance, until inspiration hits, and I do what it may have had in mind all along...

CLIMB FROM THE PIT: by Wayan, 1996/11/9, a dream parable.
I'm in the Mideast. No wonder it's a war zone--it's a vast pit BUILT for war!
But a spiral stair leads slowly out, to...

COEURL: by Wayan; 1980/2/26, a dream of surprise transcendence
I'm trapped in an alien hotel, my true love has gone radioactive,
and the only way out is to turn into a giant, scary...
CAUTION: CLOSET LESBIAN. LITERAL CLOSET.

COLLAPSE THEM IN THE ZONE: by Wayan; 1995/4/7, a dream of ghosts and physics.
I explore a zone lost in Shroedinger probabilities, and meet time-ghosts who want to collapse into reality...

A COLONY IN THE HOLLOW HILLS: by Wayan; 1997/8/14, a dream of responsibility.
Hong Kong's not devolving to China, but to Faerie. As governor, I have to defend human rights, so...

A CONVERSATION WITH ANOREXIA: by Wayan; 1994/6/25; two wild shamanic dreams.
That day I read Hilde Bruch's "Conversations with Anorexics" and face the fact I am one.
That night, in the land where anorexic horses heal, I enter the Kiva of Shamanic Pamphlets, and...

CORPSE-BUG: by Wayan; 1994/12/1, an allegorical sex nightmare.
I'm a hippie girl in San Francisco, in hard times. To escape the Four Horsemen, I lie down with Death...
CAUTION: GANGS, CREEPY SEX

CORVI AND FEY: by Wayan; 2016/6/14, a shamanic dream of reuniting estranged symbiotes
I visit a world of ravenish people, the Corvi, who banished their
partners the wish-granting Fey, calling them parasites. I decide to meddle...
COSMIC EGG AND ENERGY BIRD: by Wayan; 1971/12/4, a childhood mystical dream.
A mystical vision of the Cosmic Egg gets messy when it hatches and the Bird escapes...

COSMIC MAYPOLE: by Georganna Malloff; 1976-80s, dream-based drawings and totem poles
I dreamed all the creatures of the world were dancing around a maypole.
My friends and I sculpted a totem pole from the dream...
COUNT COUP!: by Plenty Coups, 1857; a child's defining dream
I sought a dream of Helpers. But rather than give me gifts, they gave me a daunting challenge...

COYOTE PAJAMAS: by Wayan; 1983/12/17, a Dantesque dream-epic.
I'm Coyote, keeping the Business Prophet from taking over Dante's Peak. But it turns too personal...
CAUTION: IDIOTIC VIOLENCE
COYOTE'S DINNER PRAYER: by Wayan; 1998/6/5. A waking prayer-poem for you hungry coyotes.
Coyote's pagan parody of the Christian Lord's prayer. Well, actually, it's kind of sweet..
CAUTION: SACRILEGE, ESPECIALLY THE BIT ABOUT TEMPTATION

COYOTE'S VAULT: by Wayan; 1994/5/4, a shamanic dream of the future.
One of the Time Vaults has opened. That means a historical crisis is at hand. Guess who gets to go in...

CREATURE BECOMES CREATOR: by Wayan; 2015/2/5, three linked advisory dreams on world trends
A weird little forest god bred me from an ordinary deer into a creature who can
almost pass for human. But World War 2 killed my god, and now I'm growing into...
CAUTION: NUDITY, CROSSBREEDING

CRIMECON 90: by Wayan; 1990/3/27, a dream about capitalism.
I did what I love. The money didn't follow. So now I have to guard a crimeboss at a theft convention...
CAUTION: INEVITABLE CHEKHOVIAN SHOOTOUT

CRITTERS IN THE RIFT: by Wayan; 2013/7/18, a weird dream job
I'm the receptionist for a research group of small oracular animals
in an Icelandic rift, who can sniff out the answer to any question...

CRONE AND SAGE AT THE MALL: by Wayan; 1991/6/22, a mystical dream-sonnet about malls.
I dream up a shining mall. At a booth selling herbs I meet my mentors, Crone and Sage.
They tease me for building a venue so banal. But I tease right back: "This place shapes you..."
CAUTION: CRITIQUES BUDDHIST PURITY

CROSSTIME HEALTH RISK: by Wayan; 1999/7/23, a warning dream of parallel worlds.
A man learns to hop between time-branches, but like all transportation, this has epidemiological risks...

CRYPTOMNESIC TROLLEY: by Wayan; 1991/4/22, a lucid dream of a suicidal experiment.
To prove I really am lucid-dreaming, I let a streetcar run me over. Mm, crunchy! Then I find out...
CAUTION: DON'T TRY THIS AT OM...

CUPOLA: by Wayan; 1994/7/28, a dream of an alternate life.
I live in a cupola atop a Victorian house in the Haight-Ashbury, but that's not the City out my windows...
CURSES!: by Wayan; 1995/7/29, a rant on how we fear the power of wishes.
Studies confirm that prayer can heal. So can curses harm? Yet fearing curses leads back to witch-hunts...
CAUTION: DISTURBING IMPLICATIONS, IF TRUE

CURSING ISABELLA: by Wayan; 1992/8/19, a thoughtful dream of sorcery.
How I cursed Isabella the sofa sorceress, cursed her with a blueberry. And why that stinks...
CAUTION: UNDER THE MAGIC, IDEAS
THE CYBEDS: by Wayan; 1995/3/29, a dream on lucid dreaming?
The new smart beds stimulate your dreams--but how to program them? We can't even manage VCRs...

DALI CENTAUR: by Wayan; 1981/12/12; a surrealist nightmare.
I dreamed I saw what looked like an ink sketch by Dali of a horse--but I was dead wrong...
CAUTION: YUCK

DANCE OF THE SUN: by Wayan, 1972/10/23, an epic mystical dream
I cross a hostile continent to a magic commune, fall in love with a flying girl who slaps a
soul-spark into my head, and follow an alien goddess leading the Dance of the Sun...

DAPHNE THINKS: by Wayan, 2007/6/10, a dream warning of (two?) unacknowledged needs
My co-worker Daphne is snappish and stressed. She meditates, seeking the cause, and
becomes a half-newt-half-koi in a giant fishbowl. Up shambles a curious AI...

DATE GHOST: by Wayan; 1983/11/26, nondream surreal painting of a shyness fit
I tried to date a nice young butterfly but was stopped by a monster who was... my own wings?
CAUTION: UNDERAGE BUG

DEATH DATE: by Jim Shaw; 1994 (early?), a possibly predictive shamanic dream
I become a werewolf and climb into a strange attic. I find a grave marker for
an old friend--but her death date is two years in the future...

DEER AND WOLF MYSTICS: by Wayan; 2015/2/1; an odd peacemaking dream
The wolf and deer people are getting along well--a relief since I like both.
Now, can the wolves learn from the deer how to open their third eye?

THE DEER PARTY: by Wayan; 1986/4/10. A magical dream
Chapter 1 of a nine-story series: UNICORN TAG.
A sentient factory shows me a gene-tweaked future where the Deer Party agitates for
liberty, equality and fertility. In that future I learn I too may not be human...
THE DEER'S FIRST DEED: by Wayan; 1984/10/8, a dream of gratitude.
A man teaches literacy to the wild deer. But with no hands, how can they give him anything in return?
CAUTION: IF YOU GOTTA ASK, YOU DON'T WANT TO KNOW

DEER JESUS: by Wayan; 1988/12/25, a revisionist Christmas dream.
The Three Wise Men are a centaur, a lion-man, and a doe-girl. But there's no Christ in the manger, so...
CAUTION: DEER-MOM BREASTS

THE DEER'S HOLY LAKE: by Wayan; 1995/5/15, a dream of holy turf.
A magic lake where deer glide on water... so I try it. And start to realize I could build such a lake...

DEER SORCERESS: by Wayan; 1981/5/18, a dream on the virtues of chaos.
A witch-girl turned to a deer flees hell-hounds who just CAN'T get organized...
A DELIVERY: by Hélène Cixous, 1997/9/21; a dream of stepping up to the job
A woman is giving birth and there is no doctor or midwife around.
Though reluctant, I have at least assisted at births, so...
DETACHABLE PENISES: by Wayan; 2012/8/9, a brain-mapping conundrum dream
I don't have an erection. I have two. But how can my brain register feelings from an extra organ it's not built for?
CAUTION: PHALLIC SYMBOLISM? OR SOMETHING ELSE?

DEVANGELS: by Wayan, 2017/4/27, a numinous but ambivalent dream
After a hard day in the recording studio, I dream of powerful yet obedient devil-angels;
quiet for now, but I fear they'll decide shamans like me are abominations...
CAUTION: ANGELS? GOLEMS? DEVILS?

DEVILMENT: by Wayan, 2017/8/13, two dreams on Queen Bee syndrome, fusing Milton & Milton Friedman
A Queen Bee devil kidnaps my grandniece; I kill her to free the child. Turns out even Hell's leaders are relieved.
She returns as a satanic housing developer. Slicker this time, but just as crooked. Must I kill her again?
CAUTION: DEVILS, VIOLENCE (NONGRAPHIC)

DIANE'S TRIANGLE: by Wayan; 1985/10/18, a psychic warning dream.
A disturbing dream of my sister and her best friend turns out to be warning me of a sex secret...
CAUTION: INCEST TENSION, SURREAL SEX, CHEATING

THE DINOSAUR ELEVATOR: by Wayan; 1992/11/22, a paradoxical dream.
The dinosaurs I meet manage to prove BOTH leading
time-travel theories! Yet they're incompatible...

DINOSAUR GRADE: by Wayan, 2006/1/25, a shamanic workout dream
I ride a recumbent bike up an exhausting slope past browsing bears.
Oh. Not bears. Dinosaurs. No wonder I'm so tired! Timetravel's hard...

DIURNAL AND NOCTURNAL WORLDS: by Wayan; 1993/11/8, an epic dream of the multiverse.
Round the ring of twelve worlds and their twelve gods, seeking one god who's giving me grief...
DOCTOR WHO AND DEATH: by Wayan; 1984/6/30, a hopeful dream of betrayal.
Dr Who, that BBC perennial, allies with Death. An alarming turn-around! What's he up to?
CAUTION: NICE ALIEN GOES BAD?
DOG AIRPORTS: by Wayan; 1999/5/4, a dream of misplaced worship.
Okinawa in the far future, when the world is run by dogs. Except they worship us, and we aren't there...

DOME: by Wayan; 1999/1/31, a dream peeling off a lie.
I'm actress Nicole Kidman, clinging to the dome of City Hall like King Kong, ripping it to shreds! Why?
CAUTION: VANDALISM, REVERSE SEXISM, EXHIBITIONISM
THE DOOR GIRL: by Wayan; 1997/9/6, a road-not-taken dream.
A doorway not taken (for the most sensible of reasons) provoked a magical dream of what I missed...

THE DOOR THROUGH DEATH: by Wayan; 1981/10/25; a Greco-Egyptian nightmare poem
At death's door, my friend lets Cerberus devour her, so I can enter
Death's pyramid alive and expose the truth about the afterlife...
CAUTION: FATAL DOG ATTACK

DOPPELGANGER: by Rick Veitch; pre-1995; 6-page hostage-dream comic; shamanic?
Tony works as a courier in Sarajevo till he inadvertently delivers a bomb. Held by
a warlord for months, he dreams within the dream, and draws those dreams...
CAUTION: GRIM
DRAGGED TO HER HEART'S DESIRE: by Wayan; 1997/9/16, a dream with a lesson.
The friends of a touchy aviator have to kidnap her just to give her a present... and WHAT a present...

DREAM-DENIERS: by Wayan, 2014/5/31, a dream contemplating the meaning of dreams
In a museum I talk to a stained-glass artist who's a dreamworker like me.
But a meme seems to be spreading that says dreams mean absolutely nothing...
CAUTION: ADVANCED DREAMWORK

THEIR DREAM HOUSE: by Wayan; 1986/1/1, a New Year's nightmare.
A house with a fire-ghost infestation. Worse than termites! And the ghosts tell me it's my fault....

DREAMRIDER: by Wayan; 1986/4/15, a short, startled rant, chapter 5 of UNICORN TAG.
A novel on a modern woman called to become a shaman
echoes my real life way too closely for comfort...

DREAMS BLOCK VAMPIRE ARROWS: by Wayan; 1995/3/30, an encouraging nightmare.
Fighting vampire archers is risky enough WITH proper armor! And all I have is dream-journals...
CAUTION: MENTIONS BATTERING

DRYAD IN WINTER: by Wayan; digital and crayon, 1992/6/2; dream-figure portraits
I relate so easily to animals, it's odd how ambivalent I felt about trees...
CAUTION: MILD NUDITY

EAR TO THE, UH, WALL: by Wayan; dreamed 1983/10/10
Granny's magic nipple helps me foil the yuppies dumping toxic
waste. But does it count if I did it just to save my own...
CAUTION: CRUDE TALK; STETHESCOPIC NIPPLE
EASTER HEALING: by "Clairity"; 2008/03/23, a joyful lucid dream
I will a clay cat to come to life, then start healing real cats and dogs and...

EAT THE MOON: by Wayan; 2013/9/4; a weird shamanic dream-poem
Lights on the moon! Future cities shine. Gotta fix that time-slip. But in
shaman-space, the moon's a deerskull up a tree! I take it down, pocket its
jewel-city-eyes and try to stew the moon. I'm Coyote, so my cookery goes wrong...

EEL TOWER: by Wayan; 1981/4/23, a dream of longing.
I dreamed living in a body of flesh is like being trapped on a sinking cruise ship...
CAUTION: NUDITY (but she's just crying, not giving that guy a blowjob, okay?)
THE EFFECTS OF PSYCHIC INVASION: by Wayan; 1999/4/17, a dreamtale on ESP.
What are the psychological effects of growing up psychic, as others' thoughts
and feelings invade you? When other's bodies invade you, it's molestation...

EGG OF POWER: by Wayan; 1980/7/4, a large-scale chase dream.
I wonder how far I'll go to hide my Egg of Power.... and, I'm afraid, I find out.

THE EGG PROBLEM: by Wayan; 1990/3/2, digital painting of a magical dream.
I was an intellectual ballerina trying to stop zombies hatching from stone eggs...
EGG RIVER: by Wayan; 1992/6/1, a dream parable.
I have to care for two gigantic eggs. But I'm at a party where people crack eggs for Slime Races...

THE EGYPTIAN GOD: by Wayan; 1991/12/21, a 7-year precognitive dream.
Egyptian archeologists dig up a living god. He sees us as dolls to play with, but we've grown up...
CAUTION: GOD AS A RAPIST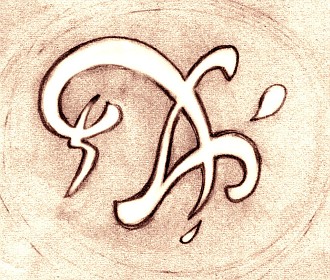 EIGHT ELFLOCKS: by Wayan; 2007/8/11, an absurd psychic sex dream.
I learn weird sex positions from an abused elf, have calligraphic orgasms, and then I, uh, turn on my stereo...
CAUTION: SEX, ESP, ANORGASMIA, PAST LIVES, ABUSE ISSUES

ELBERETH PAUSES: by Wayan; 1989/6/26, a dream on postwar ethics.
After the Lord of the Rings falls, Elbereth herself is sent to heal the land. But she has a troubling neighbor...

ELF CIRCLE; 2011/3/19 by Wayan; a complex advisory dream.
After trespassing in a staff-only part of Faerie, I'm cast out.
Only I'm cast like a seed, meant to grow a new elf circle...
EMADRO: by Wayan; 1983/6/4, a wild dream on clinging--and letting go.
An elephant sinks in the North Sea, and the Oracle Mink says a wizard did it. Can old Lady Gandalf help?

EMBARKATION, or, THIS PORTAL COIL: by Wayan; 2013/8/28, a magical dream on dreams
A spiral pillow-path leads to an astral portal. But creatures arriving and departing
jam the same path! Squeeze by, hop over, apologize... flirt
Wait, isn't this a dream-image of death & letting go? Then why's it look so fun?
EMISSARY: by Wayan; 2000/3/22, an astral dreamtale.
I signed a prenatal agreement for weird, uneven luck to turn my life toward art and spirit.
I want to broaden it, but I've lost the contract! So my spirit wife Silky sets out to find it...

EMOTIONAL PALETTE: by Wayan; 2000/3/22, an indescribable dream.
My spirit-wife and I spend our last evening together painting. Not with colors--with emotions...
EMPTY-EYED CREATURES: by Wayan; 1996/12/9, an animal Zen dream.
I lose myself, but I get some startling advice from a convent-school kid with empty eyes...

ENJOY LIFE: by Wayan; 1983/8/24 dream inspires 1990/1/31 digital painting-experiment
This image is senseless, but I have an excuse: I was watching TV in my dreams. TV on another world...

EQUESTRIAN NUNAVUT: by Wayan, 2017/4/27, a dream of a utopia in an unlikely place
After a hard day in the recording studio, I dream of our wiser successors,
after we drown America: the sentient equines of Greenland and Nunavut...
CAUTION: SKINNYDIPPING UNICORNS

ERÉNDIRA: by Wayan; dreamed 1984/10/3, a grotesque predictive dream
1: Mimes stage an Orgy For Peace. Shy, I wait my turn. Should've run off with that girl eyeing me!
2: My friend Diane says "Men are selfish!" I pop her safety valve; she vents a great cloud of rage...
Two days later: I go see the film Eréndira; it's full of scenes & lines from my dream...
CAUTION: CHARITY PROSTITUTION BY MIMES

THE ERTHEDNI: by Wayan, 1977/1/8, three transformation dreams, the last with advice
1: I'm starving in a lush valley; a cult claims all the food, the water, even the air.
2: I'm drowning in a cage but find a corner with water I can breathe--just barely.
3: I'm a merman with a wise friend who hints I need to leave those who starve & drown me...
CAUTION: DOMESTIC BATTERING (OFFSTAGE)

ESCAPE FROM PBS!: by Wayan; 1992/9/17, a trapped-in-TV nightmare.
I'm trapped in a TV documentary on nuclear war! Better dive through a TV screen and find a safe sitcom...
THE ETHICS OF LUCIDITY: by Wayan; 1994/2/19, a thoughtful dream on time and cause.
I'm at a symposium on how our beliefs alter not just the future, but the PAST...
CAUTION: CONTAINS IDEAS

EXPERIMENT WITH TIME by Nancy Price; 1948, a shamanic-initiation dream declined?
I meet a girl who's 16 and 61, who tells me dreams are lives, not messages.
But then I must fly over a sinister parade...

EXPLORATION: by Wayan; 1998/2/27, a dream on leaving your safe zone.
Hide-and-seek on an alien world ends in a sexy encounter--and a startling insight on BELIEF...
CAUTION: SEX
THE EYE by Nancy Price; 1948, a nightmare of resisting torture
A staring Eye tries to break me; his cats & robots flay me. Yet his birds rebel in sympathy, & I refuse to die...
THE FACTORY: by Sunshine; 2015/9/25, a metaphorical dream
Elegant, ancient, the tower rose into the clouds. Inside? Smoke and darkness. Workers roasted meat on a huge range...
FAIRE DINOSAUR: by Wayan; 1981/5/5. A dream of forbidden love.
I fall in love with a sexy T. Rex at the Renaissance Faire. Then things get weird...
CAUTION: DINO ABUSE

FAIRY WIFE: by Wayan; 1985/1/17, an epic dream of love and choice.
A fairy woman and a mortal man? Can't work! They're flighty, we're crude. Doomed, right?
Well, some people are so sure of it they decide to help things along a bit. Or a lot...
FALL FROM A STAR: by Edwin Muir; 1920, a hypnogogic shamanic initiation
Escaping the tiny red plush room inside a star, I dive back to earth. Oops. A beast eats my broken body. My soul waits...

FAMILIARS: by Wayan; 1986/4/2, a dreamtale on the dark side of reading.
In ancient Britain, as Christianity moves in, I'm a slave--sailing through centuries, but never free...

FAMILIAR WOOD: by Wayan; 1994/11/10, a dream of the borderzone.
Downtown San Francisco hides a magic wood, full of talking tigers. I must enter it to live a while...
FAMILY STORE: by Mark Ian Barasch's father, c. 2000; a subtly psychic dream healing a family
I dream my son the writer's living above our old family store, the one that failed in the Depression...

FAWN AND DEMON: by Wayan; 1990/7/15, twin dreams of desire.
A doe I meet is as horny and shy as me. We're similar: torn between desire and fear...
Then I meet a slacker succubus. She may just let herself get seduced toward freedom...
CAUTION: SEX

FEATHERWOLF: by Wayan; 2018/9/20, a joyful gender/species-bent flying dreamlet.
A shapeshifting girl lets me try her spell--I become a
wolf-raven-parrot-human blend. Weird, but I love flying...

FESTIVAL OF THE MOTHERS OF RAIN: by Rachael Dutton, c.1984; a dream-based sculpture group
The whole village welcomed in the Mothers of Rain. An aged deer had visions.
A young mother gave birth. All the creatures and spirits danced...

FEVER HILL: by Wayan; 1991/4/13, a comic Buddhist nightmare.
My fever-dreams manifest physically and mess up my whole neighborhood. Seismic inspectors arrive...

FEVER DREAMS: by Wayan; 1993/9/8, a set of wild feverdreams.
While my body expels a kidney stone, weird scenes happen on the astral plane. At least I get to dip the pope.
CAUTION: PAIN, PEE, POPE
FIGHT GOD!: by Wayan; 1979/12/25, a Christmas fight dream.
I'm in Heaven, but... it's full of Christians! I fight 30,000 angels, but I wanna go right to the top, and...
CAUTION: PAGANISM AND PUGILISM

FIGHTING A VIRUS: by Wayan, 1998/11/21, a diagnostic nightmare.
Coming down with a virus, I dream of a guy who INSISTS we must fight, it's just so FUN...
FILLING THE ANCESTORS' SHOES: by Wayan; 1995/9/24, a shamanic dream.
A dream of a shaman named Fred who tried to use a bear as a lightbulb. Fred, Fred, Fred...
FIRE IN THE CRUCIBLE: by Wayan; 1996/11/5, a confessional essay on genius.
A book's example of a mathematical savant made me stop and try to do what he did. I can! Can anyone?

FIRST DREAMFLIGHT: by Wayan; 1969/11/11, two dream-results from my first dreamwork experiment.
I never flew in my dreams. I felt cheated. So one day I set out to CREATE dream-flight...

FISH BIRTH: by Katherine Metcalf Nelson; c.1978/11/15; a nightmare
My little son accidentally tears the tail off our goldfish. The wound
looks vaginal. The fish, moaning in pain, turns into my daughter...

FISH REMAINS: by Katherine Metcalf Nelson; 1985/9/18; a ritual closing-dream
On my 45th birthday, at the end of my eight-year dream-art project, I dream of a women's rite
turning scraps of chewed flesh into a whole fish I offer to the fishbowl in the heart of the Vatican...

FISHEL AND FRISH AND FIREBIRD: by Wayan, 2003/12/4, a seven-year dream.
Why do the guests arriving for our seven-year reunion include
part-time giants and dog-headed gods? They tell me...

FIVE ELVISH DREAMS: by Dolores J. Nurss; 2005/6/10-2005/6/19, an incubated lucid-dream sequence
1: I visit Elrond and Bilbo in Elvenhome, but overthinking traps me in a timeloop;
2: Elrond says he renounces seriousness for joy, and plans a great, inclusive party;
3: I feel unworthy, but set out on a desert quest with Elrond's young apprentice;
4: I meet joyful, drunken, singing elves but hide in a tree, too shy to join in;
5: I meet a nervous elven singer and a dolphin trapped in a tiny pool in my bedroom...
FIVE HOUNDS, FIVE DEFENSES: by Wayan; 2015/9/18, an explicit advisory dream
Five agents hound me. Literal hounds--in trenchcoats. They stand for my five worst life-troubles. Luckily,
they can't cooperate--they're from rival agencies! And the dream spells out what works against each one...

FLOO PORTAL: by Wayan; 2015/12/4, a dreamlet-poem on stepping over lines
I live in a huge half-hotel. The only way into the other half is through a fireplace.
It's forbidden. But one woman steps through the fire--do I dare follow?...

FLUID REALITY: by Wayan; 1983/8/8; a magical dream-sea voyage that turned out to be predictive
On my quest I find magic portals, snarky flower-fairies, undersea redcoats,
reassembling bodyparts, living chess, and Nosferatu the Cheating Vampyre...

FLY, DANCER!: by Wayan; 1993/4/2; an advisory dream.
In my ballet class, we were learning to leap. But I wanted to FLY. So I went outside alone...

FLYING BED, TALKING BIRDS: by Wayan; 2015/1/6, a one-word shamanic advisory dream
My bed floats high over southwest Morocco. Giant birds come fly lazily with me,
croaking "Faster, faster!" But I'm busy with anti-desert eco-planning...
FOR THE FIRST TIME: by Jack Kerouac, Nov? 1954, a lucid dream of escaping a rut
I've climbed a cliff and cower on the brink; but for for the first time I need not
fall or retrace my dangerous path down. I know I'm dreaming, and wake...

FOUR SCREENS: by Wayan; 2018/1/24, a dream urging me to drop some armor--but not all
I dream my Doors of Perception have four layered screens--when one is plenty to keep out mosquitoes...

FORKS AND SAUCERS: by Wayan; 1988/10/18, a dream on when to quit
Tibet, 1910. I find a cult whose ancestors manned a radar station that shot down
flying saucers. But were the aliens really hostile? I'm not so sure...

FOUR EYES!: by Wayan; 1984/5/28, a metaphoric dreamlet.
I started life as twins, but slowly we fused. I still have four eyes, though. Then, one day...

FOX AND THE EYE OF GOD: by Wayan; 1984/8/14, a mythic but also predictive dream
DREAM: I hike up my Career Path into the hills. On a snowfield,
a bird and a fox create the eye of God, who banishes all evil!
NEXT DAY: I read a novel full of images out of the dream...

FOXY ANCESTOR: by Wayan; 1998/7/25, a subtle dream.
A famous inventor is descended from foxes. Their faces teach me something about beauty and character...

FRANCHISE!: by Wayan, 1995/10/12, a dream-comic (ill. text ed.) with a serious warning.
I was the first woman made High Commissioner of Baseball. One day a team of mutants begs a franchise...
CAUTION: EXHIBITIONISM, BAD TEAMWORK, HORNY BEES

FREEBIRD TOWER: by Wayan; 1975/1/10, a rebellious flying dream
I was a bird-girl, the pet of some rich, royal humans. I summoned
a storm of rebel birds, flooding the moat and driving out our owners...
CAUTION: BIRDGIRL NUDITY
FREEZE!: by Wayan; 1984/5/29, an asymptotic dream.
Demons of fire invade the house, and the Voice of Truth says they can't be killed. What would you do?
FROG ORDERS: by Wayan; 1986/7/4, a dream on piety.
I'm in medieval England on a mission from God, but I meet a Priestess on a mission from...well, we argue.
A FRUGAL GHOST: by Wayan; 2000/3/12, a financial-advice dream.
A Scottish ghost leads us on a treasure hunt, but insists we stop to pick up small change. But it adds up...
FULL REASON: by Wayan; 1980/5/28, a dream on patience.
At a benefit for Rock Psychiatrists, the Spirit of the Convention explains why I can't go on stage yet...

FURMAKI: by Wayan & Alder; 2018/11/15, anime-tinged telepathic/shared dreams.
We sneak out of the movie to explore Upstairs. My friends hide from the staff
in storage nooks for rolls of fake-fur. They turn into kitsune, catgirls & deergirls...

FUSE FOREVER: by Wayan, Late Dec. 1975 or early Jan. 1976, a cosmic/erotic dream?
Cops shoot at us, but my first lover Pat and I dive down a rainbow wormhole, making love and fusing forever...
CAUTION: BAD COPS, (non-explicit) SEX