HIS MINE: by Wayan; 1985/12/2, a wild dream epic.
I'm a hobbit seeking Henry Fonda's haunted gold mine. And find it. Or is that chocolate?
But I get caught in a shamanic showdown in a bar where they serve real spirits...

I AM NOT A MAN: by Wayan; 1996/11/28, a dream of Middle Earth.
I can help slay a monster and save my friends--if I deny I'm human.
My denial has grave consequences, but it's absolutelytrue...

I FIGHT FOR BEAUTY: by Wayan; 1990/1/1, an incubated dream within a dream within a dream.
From Hawaii to Wyoming, I fight for beauty, always waking to find I'm someone new...

ID FLOWERS: by Wayan; 1989/10/8, a dream of wish and fear
The villagers warned me not to walk in the alien graveyard; for at night, the Id flowers wake...
AN INTERVIEW WITH WAYAN: by Wayan; 1994/3/20, an interview.
Dream researcher Stephanie Van Zandt Nelson questions me on the roots of the art of dreaming...
ISHI AND SNOID: by Wayan; 1993/8/4, a dream of stretching.
I'm a California Indian wandering through time, keeping the secret of time-travel from the reckless...
JUNG'S DENIAL: by Wayan; 1994/12/16, a journal extract on Jung.
Jung's dreams and interpretations show he's a thing-guy not a people-guy. All that architecture!...

THE KRELKIN SISTERS ON MISSION ST: by Wayan; 1995/6/7, a dream of superior beings
I was walking in the Mission, in San Francisco, when two sisters came up to me who no one else could see...
CAUTION: FURRY NUDITY

LACED WITH TERROR: by Wayan; 1999/5/3, an anti-nightmare.
Researchers show me weird little objects like shoelaces that drive people mad with fear...

THE LADY BATHES IN GRIEF: by Wayan; 1983/5/31, a long-haul psychic dream.
Why'd a spirit-woman come to our reservation to mourn a drowned guy? Her mirrors & candles tell us...

A LAKE DEMON: by Wayan; 1979/11/3, an anti-lucid dream.
I walk through worlds, fight a deadly lake demon, and work magic--but I mustn't go lucid...

LEARNING SCALES: by Wayan; 1985/6/26, an epic dream of Chinese dragons.
I find myself in astral China. The Empress is banished, the Jester rules. Wisdom is lost.
We need an Imperial Dragon...

THE LION KING: by Wayan; 1995/9/15, a time-travel dream on social skills.
When I wake up, animals rule the earth. How do they cope with specism? Well, it's complex...
THE LIZARD LESSON: by Wayan; 1996/12/12, a hard-hittin' shamanic dream.
I'm a shaman in Nunavut who shows a rubber lizard and his foxy niece that reparations have limits...

LOBSTER ECSTASY: by Wayan; 1970/11/1?, a teenage lobster love dream.
One of my first recorded dreams--how I foolishly turned away from Lobster Love...
CAUTION: CHITINOUS SEX

MAMA BEAR'S ADVICE: by Wayan; 1985/12/8, a dream on love-tactics.
A bear-girl seduced by her coyote professor gets some advice on revenge from her anthropologist mom...

THE MAN WITH THE SNAKE: by Jenny Badger Sultan; 2002/9/3, dream of an aborted shamanic duel
I stood in the desert preparing for a contest with a man and his snake. But he cheated! Then my cat Lulu intervened...

MARTIAN AIRLOCK and JAGUAR MASK: by Wayan, 2015/6/22, twin shamanic near-nightmares
Jaguar Mask: a were-jaguar stuck in human form asks me to sew a new jaguar face on."But won't it hurt?...
Martian Airlock: I'm suitless on Mars. Freezing, choking, I dive into an airlock & slam the switch--but it's sabotaged...
THE MARTIAN FEUD: by Wayan; 1994/3/10, a warning dream.
On Old Mars, before it died, two rival families' teasing finally goes too far, despite the whale's warning...
CAUTION: VIOLENCE

MASTER OF THE HOUSE OF DUSK: by Wayan; 1994/10/10, an initiatory dream.
To enter the House of Dusk, I must say what haunts the Pass. Even if I guess right, do I really understand?
MAYAN FORCE: by Wayan; 1992/12/6, a political dream-fable.
First, sf writer Heinlein advocates a strong army; then I see one in action--turned against the people...

MEMORY SNIP!: by Wayan; 1999/5/15, a dream on the cost of kindness.
My friend Mark does something I thought impossible: removes a snippet of my memory. Disastrous!
CAUTION: VIOLENCE... SORT OF

MENTOR: by Wayan; 2001/6/13, six advisory dreamlets.
I meet a shapeshifting mentor who warns of coming war (9/11?). Then a sentient book, "The Art of War," gets intimately involved...
CAUTION: ELECTRODES, LIBROPHILIA
THE MIWOK RITE: by Wayan; 1999/11/20, a dream fable.
A ritual in a future society makes me laugh. I tease a futurian, insist it's really a old Miwok rite...

MOA: by Wayan; 1995/9/9, a dream on assertion.
I was an avian Mr Niceguy with sore knees, till I got some advice from my supposedly extinct big brother...

MY NAME IS WAYAN: by Wayan, 1986/5/23, a dream of names and manes.
A conversation with a telepathic unicorn-lion reveals that my true name is Wayan. And my species?...

MY SINE-FRIEND: by Wayan; 1984/3/6, an emotional dream of time and rebirth.
An animal-girl I know lives like a sine-wave, first forward in time, then backwards, dying at every zero...

THE NESS MAN, or, HOW TO HEAL: by Wayan; 1994/4/13, a mytho-musical dream.
Mythic creatures round a woodland pool want to heal a businessman. Do too many cooks spoil the soup?

NEST, EGGS AND LEGS: by Jenny Badger Sultan; l993/9/7, a comic mystical dream
Two friends send energy through me, transforming me. Now that
my legs are detachable, I can sit comfortably on my eggs...

A NIGHT ON MOUNT DIABLO: by Wayan, 1984/6/8, an allegorical four-phase dream.
I'm attacked by a narcissist firebird, a rabid rattler-manticore, a masochist bear, and a sexless succubus...
CAUTION: INEPT DEMONS
NO VACATIONS?: by Wayan; 1999/8/14, a spiritual nightmare.
Before I was born, I set up this life to learn loneliness, boredom and fear. Good move, soul! No vacations?

NORASINGH: by Wayan; 1987/1/15, a Tantric Frankenstein dream.
I fall in love with my sculpture of a mythical Southeast Asian creature. Then a mad yogi breaks in...
CAUTION: SEX, TANTRA, AND GENERAL WEIRDNESS
OLDER AND YOUNGER: by 'Rasselon'; 2009/11/17, a dream of erotic deviousness
The older sorceress I'm in bed with plans to marry me off to a younger woman, but I distract her with my tongue...
CAUTION: BEDROOM HUMOR
OTTER MEDICINE: by The-Fringe, a Crow healer, early 1850s; a shamanic dream with physical effects
I slept on an island in a scalding hot spring, praying for a dream. I got one--and woke up on the shore...
PASTLIFE TRAINING TRACKS: by Wayan; 1981/5/5, a bikin' buddha dream.
I'm biking around a railroad switch-yard when I realize they're life-paths. People start following me out...

POTLATCH SMOKE: by Wayan; 1988/5/10, a shamanic dream-inside-dream 4 levels deep!
Refugees flood the spirit worlds! War looms. Wolf, Silky, Dr Who, even the Bug-Goddess of Love are alarmed.
I'm just a blonde ditz, but I help inspect realities till we trace the source: a Tlingit potlatch! Why?
THE POWER OF SUGGESTION: by Wayan; 1995/10/11, a dream on shamanic tactics.
After studying assertion in dreams, I find I'm a shaman in an African village, troubled by a young rival...
A PRISONER OF ZEN: by Wayan; 1980/11/9, a dream on isolation.
The Pope spears our Inuit captain and the Mystic, who turns solitary--a prisoner of Zen. Can I free him?
REALITY LOOPS: by Wayan; 1996/12/26, a dream on the multiverse.
My dream shows me how one world can be a fiction within another that's a fiction within the first!
Dreams aren't simulations but windows into worlds. So be nice to dream-figures! Turns out you ARE one...

REFLECTIONS IN THE POOL: by Wayan; 184K total, 2 panoramas; a 1994/7/2 dream.
Night. A mirror-maze of contradictory preachings. But in the secret mermaid pool, I find love.
Then... sphinx-angels war in the air! A war of riddles. Can I, a batwinged devil, make peace?
CAUTION: SEX, NUDITY, MEAN ANGELS, AND ONE HAPPY DEVIL

REVOLUTION IS MESSY: by Emily Joy; 2006/4/26, a political dream
When whites invade, two shapeshifting Native American cubs resist architecturally...

RING OF WHITE WATER: by Wayan; 1983/1/30, an epic astral dream.
I'm a raft guide on a circular river that may just be reincarnation. A girl in my
tour group jumps ship: she dreads the white water of rocky relationships ahead...
CAUTION: METAPHYSICS, SEX, WEAK SOULS...

ROBINSON JEFFERS AS A SHAMAN: by Wayan; 1996/7/28, a life-review, with 2016/10/22 followup
Jeffers, that harsh, visionary, ecological poet, seems drunk on Darwinism,
blind to kindness--or is he just reporting Big Sur's true, mean spirit(s)?
CAUTION: LITERARY AND MYSTICAL
SEA EAGLE: by Robert Moss, 20th century, a psychic dream
I dreamed a sea eagle I saw as a boy led me back to my native Australia, to a Dreaming place.
Later a 'spirit man' of the Mununajali in Queensland led me to the exact place I'd seen in my dream...

SEA OF TIME: by Wayan; 1989/7/26. Digital sketch of astral dream.
I dreamed I was drowning in the Sea of Time, where dragons asked me questions.
Painful questions...

SELF-MADE GIRLS: by Wayan; 2000/2/15, a public dream.
Two souls coalesce from bars of light into human beings by the power of words. Words like stupid, ugly...

SERAFINA AND RAM DASS: by Wayan; a 2000/11/6 dream anticipating an 11/9 experience with auras
A Finnish shaman/witch gives me a lesson in night flying; in the waking world
I meet Ram Dass and sense him speak astrally before his body can get the words out...
CAUTION: HIGH MYSTICAL QUOTIENT; IF ALLERGIC, AVOID
THE SHAMAN INSPECTOR: by Wayan; 1996/7/31, a dream on core values.
My work as a federal shaman inspector involves judging a rainbow of traditions by a few basic principles:

SHASTA OCCUPATION: by Wayan; 1996/11/1, a dream of telepathic spill-over.
I'm teaching in a wizard's college near Mt Shasta when one astral world decides to occupy another...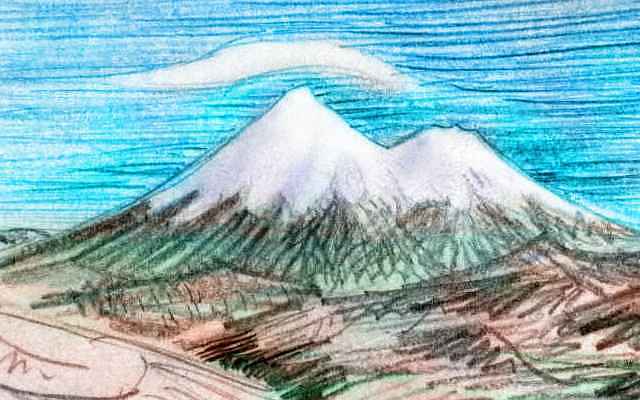 SHASTA STANDARDS: by Wayan; 1998/9/19, a dream of social change.
In a future where we gengineer ourselves instead of others, we no longer have to choose lesser evils...

SILKY'S WEDDING: by Wayan; 1988/1/6, a dreamtale.
Silky, my often-animal anima, leads me into a strange pagan church where we get married at last...

SOCK PUPPETS OF THE GODS: by Dee and Wayan; 1994/4/14. Parallel shamanic dreams!
I dream I'm suicidal; but I'm saved when I'm shown the flow of human development--the same pattern,
from souls to civilizations! Eddies and knots recur, but the challenges slowly get more spiritual.
NEXT DAY: I learn what my shaman-friend Dee just dreamed. And now I'm unsure whose dream this is...
CAUTION: IDEAS

SOUL-BOARD: by Wayan; 1989/1/12, an illustrated dream poem.
Africa. My horse trusted me as we faced lions and fire, but to face the Soul-Board, he must trust himself...

THE SPHINX APPROVES: by Wayan; 1991/5/2, a dreamtale on growth.
A great war shrinks to wrestling, then hopping from page to page! Once they were worlds to me, but now...
SPILL SPELL: by Wayan; 1995/9/30, a mini-dream.
I'm a Lapp boy in northern Finland, studying shamanism. So why do I pour coffee down a driveway?

SPIRITUAL TESTS: by Wayan; 2000/8/28, a predictive dream
As my dad lies dying, I dream my sister and I face spiritual tests
given by slacker angels who'd rather be on TV. Learn to let go!

SWALLOWED!: by Wayan; 1990/7/30, a warning dream.
An ancient pictograph inspires me to try a meditative technique: shrinking and letting myself be eaten...
CAUTION: DON'T TRY THIS AT HOME

TAHOE DRAGON: by Wayan; 1980/8/16. A dream of flight and fire.
A dragon killed a friend, and threatened worse. I had to fight.
We dueled mid-air, over Lake Tahoe...

THE TAO OF DENNIS THE MENACE: by Wayan; 1986/4/17, a dream of a wise mentor.
Chased by purple squid from Jupiter, I seek refuge with a guru the Goddess recommends for me...

TAROT: THE WINGED COYOTE (Freedom!): by Wayan; tarot card from a dream, 1979/3/14.
I dreamed I was the Spirit of Mexico: a winged coyote flying around Sonora howling at the moon...

TELEPATH TREES: by Wayan; 1993/9/11, a how-the-other-half-lives dream with 7 pics
I dream Edward Abbey shows me a secret grove of telepath trees.
That night, in my dreams inside my dream, they meet me...

TEN THOUSAND MAD GHOSTS: by Wayan; 1996/9/3, a psychic nightmare.
A toxic site in Silicon Valley isn't a chemical spill, but angry ghosts, killed in a camp and forgotten...
CAUTION: THE CAMP TURNS OUT TO BE REAL

TIAMAT'S REBELLION: by Wayan; 1988/1/1, a dream about neoteny.
That day: I read of a young healer in rural Indonesia harassed by the local mullah.
That night: I dream she leads a revolution on a starship against her elders...

TIBETAN DISASSEMBLY: by Wayan; 2007/7/5, a dream of a desperate ploy
A woman in Tibet disassembles herself! A local god hires her spirit,
but she uses the office equipment to backup her memories and...
CAUTION: DON'T TRY THIS AT HOME

THE TIGER'S THROAT: by Wayan; 1994/4/12, a psychic dreamtale.
I'm walking down a tiger's throat, but it's not what you think. Diagnosis!
My friend suddenly couldn't roar. She's here too, exploring her own trachea....
TORTILLA EARS: by Wayan; 1994/6/2, a short shamanic dream.
Why's Mexico City built where it is? And why is corn called "ears"? It turns out these questions are linked...

THE TRAIN ON TIME CAFE: by Wayan, 1981/12/20, an epic political dream.
Silicon Valley goes enthusiastically fascist. I hide in a berry patch. They build a shining world, and then...

MY TUTELARY UNCLE: by Wayan; 1993/5/28, a shamanic dream.
I'm half Anglo, half Kwakiutl. My uncle the shaman died,
but he still wants to teach me his medicine...

TWILIGHT'S OVAL GAME: by Wayan; 2017/10/4, three dreams arguing "Friendship is Magic"--literal magic.
1: I failed to save a magic tree. It fell and killed someone. I'm racked with guilt...
2: A giant pinball game on a tilted oval relief-map. But you can only win as a team of six friends...
3: A Caribbean girl with a weird aura tries to align two magic crystals to heal herself...
CAUTION: BREASTS, MY LITTLE PONY AS ROLEMODEL

TWO BISHOP APPLICANTS: by Wayan; 1984/11/21, a surreal but mercilessly logical dream.
My mind and my soul both apply for a job in Stanford Cathedral. Their rivalry grows to a shamanic duel...

UNDER THE FUR: by Wayan, 1997/10/7; a 5-page dream-comic (or as ill. text)
A strange creature slunk into our yard, carrying a skunk lunch.
But she dropped her fur coat, and I recognized a kindred spirit...
UNDO THE PARALYSIS: by Wayan; 1985/7/14, a dream on persistence.
In a future society, I'm deliberately, permanently paralyzed. Yet my home-grown cure slowly works...

UNICORN FEEDBACK: by Wayan; 2009/1/3, a double dream of advice
A telepathic unicorn gives me some subtle advice. I wake, and tell a friend, who easily proves my account
is distorted by my own biases. Telepathy's confusing! Wake again. Her correction was part of the dream...


UNICORN TAG: by Wayan; 1986, a linked series of illustrated dreams.
Animal teachers, mostly equine, drag me (as I scream NO!) beyond plain dreamwork into shamanism...
Chapter 1: The Deer Party: by Wayan; 6 illus.
Chapter 2: Ariane's Honeymoon: by Wayan; 8K
Chapter 3: The Everest Marathon: by Wayan; 1 illus.
Chapter 4: Who'll Be My Love?: by Wayan; 100K, 4 illus.
Chapter 5: Dreamrider: by Wayan; 7K, a nondream interlude
Chapter 6: Half Shaman, Half Statesman: by Wayan; 170K, 4 illus.
Chapter 7: Eight To A Horn: by Wayan; 2 illus.
Chapter 8: Black Magic: by Wayan, 7 illus.
Chapter 9: Misfits On Mars: by Wayan; 300K, 7 illus.

A VALLEY NEAR HOPE: by Wayan; 1984/10/17-19, an epic dream.
I wander a valley where unicorns love cyborgs but fear giant ants, who love unicorns but
fear cyborgs, who love ants but fear unicorns! And while the Three Tribes squabble, cave-monsters
sculpt them all. I set up peace talks between these four aspects of my tetrahedral soul...
CAUTION: SWEARING, DRUNK LIONS, CYBORG SURGERY, AND GOGGLE-BARFING

VERTICAL PLANES: by Wayan; 1990/3/7, an astral pirate dream.
We're air pirates running a music shop, till our biplanes are hijacked by cat angels! Furious, we set out...
THE VORTEX: by Wayan; 1990/1/3, a dreamtale.
I'm in suburbia for the End of the World. A Vortex eats the block, licks at me. So I click some icons:
CAUTION: CRUDE LANGUAGE. OH, AND THE APOCALYPSE, TOO. I FORGOT.

WAPATO BIRDS: by Wayan; 1986/2/2, a subtly psychic dream.
I'm a Wapato Bird: part crane, part elk, part tree-bud. Despite my
shyness, I must lead our people's migration to the Grand Teton lakes...

WARIA: by Wayan; 1987/3/23, digital painting of a pointed advisory dream.
My life was a sex disaster. I felt ugly and sick. Then I dreamed I found a counselor
who really helped. But my parents warned me against her. Why? They explained:
WARNING: NUDITY

WARM FUZZIES: by Wayan; 1990/2/20, an origin-myth dream.
I take a shortcut with the Warm Fuzzies, boating on lava through the earth's core,
and now when a volcano erupts, I know who it is that's quarreling beneath..

WATERCATS: by Wayan; 1987/9/10; an epic, clear predictive dream
I dream I find a few 'extinct' watercats--in a slum! They talk. They say I'm one of them,
brainwashed to think I'm human. I wake, go to a dinner, and hear a tale of... watercats!
WELLS'S QUEST: by Wayan; 1992/7/14, a benevolent dream.
I'm on a world inhabited by hobbits when H.G. Wells shows up, looking for a Ring of Power...

WERE-TROUT: by Wayan; 1997/8/2, a dating-advisory dream.
I'm a one-legged hopping hermit in the ruins of LA, and my only hope
for love is to conjure up a girl out of a trout and a puppy...

"WHAT SHARKS?": by Wayan; 1990/4/22, a dream of multiple viewpoints.
A cowgirl is driving us in circles round the dusty parking lot, fleeing the air-sharks... or is she?

THE WHITE MARE OF TRANSFORM RANCH: by Wayan; 1982/2/18, a dream of my anima
I visit a dude ranch where you learn to turn into other species--see
how others live. A white mare I barely recognize says Hello...

WHY I BECAME THE SEA: by Wayan; 1980/6/19, a vengeful flying/transformation dream.
I get so mad at some gaybashing cops and gangsters
that I become the sea itself and chase them...
CAUTION: UNCHARITABLE REPRESENTATION OF OUR SAINTS IN BLUE

THE WIZARD'S HORSE: by Wayan; 2018/9/3, a magical dream about... toxic waste?
I'm a wizard's horse, trying to warn him about a toxic spell on a roadside corpse...
Wake into a second dream, but try to return to being a dream-mare and warn my rider...
And then wake to realize my Nightmare was warning about a home-renovation project!
THE WORK OF POWER: by Anna Kingsford; Dec. 1880, a wildly uncompromising dream-sermon
A dream telling how to acquire mystic power: raw food, no sex, meat, or booze; just meditate in rural solitude...
CAUTION: EXTREMISM

WORKIN' FOR PEANUTS: by Wayan; 1990/12/11, a crude but perceptive dream.
I'm an elephant working in a diner. In the bathroom, I inadvertently summon the Genie of the Urinal...
CAUTION: PISSED PACHYDERM
WYVERN: by Wayan; 1997/9/3 to 9/18, 22" ceramic sculpture; recurring dream figure.
I dreamed of a dragon-woman on a reef. She was my guardian, but she let me drown! She had her reasons...
CAUTION: SCALY NUDITY
YOU'RE THE EAGLE: by Wayan; 2000/2/8, a dream fable.
A hermit spends his life wrestling with shadows. His only disciple becomes famous. Who was happier?

ZELIG FLIES: by Wayan, 1984/4/29, a psychic, lucid dream epic.
I careen from a sacrificial marriage-altar to the Oracle Harper's secret pool,
into the jaws of Leviathan and the joys of lucid flight, shifting from male to female
and gay to straight--till I meet the Dragonfly People themselves...
CAUTION: STUPID, STUPID SEX CULT!