GIRL IN THE WATER: by Wayan, 2000/10/7, twin dreams on... dreamwork?
In a California with no Gold Rush, wild deer carry a girl over the San Fernando hills to a secret dream-pool...
Then in a Japantown hotel lobby, that girl floats meditating in a huge aquarium, as local gossips lie about her...

GOLDEN EGG: by Larry Vigon; 1984; a real, nondream, synchronistic... summoning?
I was on a London train. An ad had an image from "Jack and the Beanstalk" and I pondered
the tale--the meaning of the golden eggs. A man got on, held out a golden egg, and opened it...

A GOLDEN KEY IN A CHEAP LIGHT: by Wayan; 1996/7/9, a subtle dream lesson
I was so lonely the potheads on Haight looked good. I dreamed I had the Golden Key, but under a cheap
sodium streetlamp, ALL my keys looked gold! Then I met true gold: a woman meditating until she shone...
CAUTION: NUDITY, HAIGHT STREET STONERS

GURU GUTS: by Wayan; 1989/4/12, digital sketch of my perceptual world.
If it takes a whole village to raise a child, it also takes a lot of guts to raise a kundalini. Voila!

INK MOUNTAIN: by Wayan; 1992/8/5, a tutelary dreamtale.
A Himalayan peak boils with warring creatures, but a guru says "They're just your conflicts. Sit, watch..."

INUIT MEDITATION: by Wayan; 1989/11/16, a comically surreal dream.
I'm the first tuna to get a scholarship to Stanford.
Naturally I sign up for a course in Inuit Meditation...
THE KEY IS HERE, BUT BEWARE; 2012/3/8 by Eleanor; nested nightmares of enlightenment
The moment I find the Key, I'm possessed! I wake to find it's just a nightmare. Only who's broken into my house?...
CAUTION: DEMONIC POSSESSION & EVERYDAY PSYCHOPATHS

LET ILLNESS GO: by Wayan; 1999/6/7. Acrylic/digital painting of a meditation not a dream.
Illness is such a handy excuse when you need solitude, care, rest, or just time to think... but...
THE MAGIC OF WRITING: by Diana Wynne Jones; 1974, '82, late '83, early '84, & '87; prediction, or causation?
What I write in my books and think I have made up has a creepy way of coming true. I noticed it first...
CAUTION: DISTURBING INVOLUNTARY MANIFESTATIONS

MANDALA: by Carl Jung, c.1915; a drawing he lied about for decades
Jung, in crisis, drew a complex mandala, and then wrote about its
symbols & archetypes, always claiming a patient had drawn it...

MANDALA OF THE EIGHT DREAMERS: by Jenny Badger Sultan; 2007/9/16, painting of a group's dreams
Our dream-group's dreams had a lot of imagery in common: circles, groups, meditation. I fused them into this piece...

MEDITATION BLUES: by Wayan, 1983/2/13, nondream sketches of meditative state.
Meditation's hard for me; I expect to turn on instantly, like a lamp plugged into Enlightenment...

MELTDOWN VALLEY: by Wayan; 1993/2/13, a dream of scrupulous balance.
A park in San Francisco has melted into a bizarre mutation-zone. Its guardian is a lonely elf-woman...
CAUTION: ELF NUDITY
MONASTERY: by Anonymous #7; before 1986, a predictive/advisory spiritual dream
I happily meditated alone in a monastery. But when I woke, I saw no way to act on the dream. Then a friend...

MOVING IN THE LANDSCAPES OF MY DREAMS:
by Jenny Badger Sultan; 14 dreams (mostly Jan-Mar 2011) painted on one canvas
A dream urged me to paint a big landscape with cutout movable (magnetic) dream figures
and liftable flaps revealing hidden dream scenes...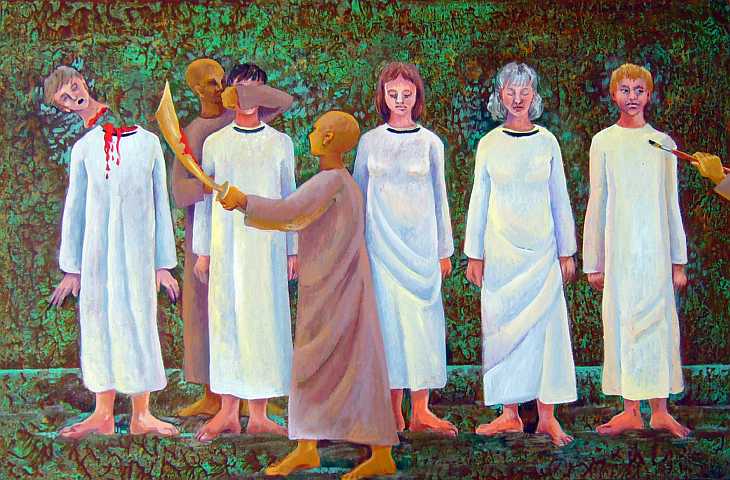 MY RITUAL BEHEADING: by Jenny Badger Sultan; 1996/3/24, painting of a nightmare
We stood meekly in line to be beheaded. I tried to accept my fate and commended myself to God... CAUTION: READ THE TITLE!

OCTOPIA: by Wayan; 1996/3/21, a spiritual dream-comic on play; ill. text version
I'm a stratospheric bat who finds a flying swastika. Is it creeping fascism?
Or a Hindu blessing? Neither! It's an Octopian frisbee. I return it...

PATH: by Wayan; 57K; dream figures (1989/10/12) invade a waking landscape.
My art teacher said "Draw a spiritual experience." I did, but that night, I dreamed of sharp-toothed...
CAUTION: TOPLESS MEDITATION.

PEACOCK KINGS: by Myoe Shonin; 1196/8 or 1196/9, an ecstatic dream
I meet two Peacock Kings bigger than human beings, who chant blessings until I wake with tears drenching my pillow...

THE POWER OF NON-VISUALIZATION: by Wayan; 2018/4/29, a mystical dream whose teaching worked
I'm listening to a film-talk on Non-Visualization. "Don't wish--don't will--don't visualize.
Just face what you really want, and then don't push..."
CAUTION: MYSTICAL

RAETHE: by Wayan; 1990/4/19; a delicate follow-up dream, drawn & poemed
In the Cave of the Ant Ambassador, I meet his mate, a beautiful translucent fox named
Raethe. Way happier with her mate (& body!) than in that dream just two months ago...

REBORN IMMORTAL: by Reneta Scian; 2010/1/3, a three-stage flying dream
First I try to break the sound barrier like my girlfriend. Nope!
Then I fly slowly to her apartment. Nothing flashy, but I make it.
Last, I zoom back to ancient China, where I find a candle-lit shrine dedicated to... me?

SATORI ACCORDING TO GHOST: by Wayan; 1998/4/11, a longterm predictive dream
A Buddhist student, troubled by a corporation marketing a product called
"Satori", summons the ghost of her beloved mentor for advice...

SERAFINA AND RAM DASS: by Wayan; a 2000/11/6 dream anticipating an 11/9 experience with auras
A Finnish shaman/witch gives me a lesson in night flying; in the waking world
I meet Ram Dass and sense him speak astrally before his body can get the words out...
CAUTION: HIGH MYSTICAL QUOTIENT; IF ALLERGIC, AVOID

SHE DREAMS OF BELLY DANCING:
by Daughn Lee and Roswila; 1999 (2000?), a collaborative dream-poem
Alternating stanzas by very different poets, based on
Roswila's dream of bellydancing in the streets...

SHIP OF THE SUN: by Carl Jung, c.1917/1/10; trance image
An version of the Egyptian Ship of the Sun with a mutant Osiris at the helm,
in a monster-infested sea: image of the spark of consciousness in a sea of...
THE SHOP SPILLED OVER: by AE (George Russell); early 1890s, a telepathic flash
Closing my eyes I saw an old man and a red-haired girl in a shop. My workmate was writing home...
SPIRITUAL DISCIPLINE? PLEASE, MISTRESS, NO!: by Wayan; 1981/7/18, a meditation on meditation.
A rant on over-disciplined Americans (NOT under; we just think we are) taking up spiritual disciplines...

STARHAWK THE WITCH: by Wayan; 1983/8/19, 6. illus., an epic, milestone dream.
DAY: I read Starhawk's Dreaming the Dark, on building unity, undoing capitalism;
DREAM: I'm forced to become Time Pilgrim, warning of the dangers of community--indeed, of unity...

SUMMONING SHADOW: by Jo Equinity; 2006. Three meditative paintings apparently cause a miracle.
I had to sell my horse Shadow, but I missed him so much I painted him. As I finished, a strange impulse led me...

SURF DREAMS, DEEP DREAMS: by AE (George Russell) and Wayan;
(1918 and 1996, twin images of our limited conception of dreaming)
What you call dreams are just the surf-zone between waking and dream!
Swim out past the foam to the dream-deeps and you'll find...

SURRENDER TO THE WHITE BUFFALO: by Kathleen Sullivan, 1970s?; a nightmare turned shamanic
A gigantic herd of buffalo stampede toward me. I panic, then surrender in peace to what is surely my death...

SWALLOWED!: by Wayan; 1990/7/30, a warning dream.
An ancient pictograph inspires me to try a meditative technique: shrinking and letting myself be eaten...
CAUTION: DON'T TRY THIS AT HOME
TANDEM DREAM IN KATMANDU: by Clancy Cavnar; 1998, two parallel dreams not acted on
Two of us meditation students dreamed one night that we were ice skating in Holland, helping each other...

TELEPATH COUNTRY: by Wayan, 2010/5/25; a weird dream image heralding drastic change
I'm on the border of human territory. Beyond is the land of the unnerving
Telepaths, each one different but every one creepy...

THROUGH WALLS TO SEX CLASS: by Wayan; 2017/6/22, a therapeutic/advisory dream
A trusted college advisor says "Slip through cracks in the classroom walls!"
There's no direct route. Yoga to taekwondo to ballet to... a sex workshop!
CAUTION: ABOUT SEX

WAYAN'S STUDIO: Wayan, 1999/10/6, ink sketches of workspace
These sketches bare my work process: I multitask, but without planning, in a
flow state. I really do just follow my bliss. Works better for me than logic.
THE WEED: by Elizabeth Bishop; before 1946, a dream-poem on death/rebirth
I was dead. A weed grew from my heart; then two streams poured out--not
water or blood but experiences. I asked the weed what it was doing, and it said...
THE WORK OF POWER: by Anna Kingsford; Dec. 1880, a wildly uncompromising dream-sermon
A dream telling how to acquire mystic power: raw food, no sex, meat, or booze; just meditate in rural solitude...
CAUTION: EXTREMISM
YOGA SAINT: by Wayan; 2010/12/4, an incubated, disturbing diagnostic dream
I dream I meet my headaches! An ascetic yogi who punishes jokers, flirts and cynics for worldliness...