World Dream Bank home - add a dream - newest - art gallery - sampler - dreams by title, subject, author, date, place, names

Avoid the Matriarch, Or...

Dreamed 2011/7/8 by Wayan
THAT MORNING
I gesso a thrift-store globe and start building alien continents. I wonder what planet this'll be? Dry, I think, so I get some hot colors. My last one, Abyssia, where the seabottoms were continents and continents are abysses, turned out so wet--all green and blue.
THAT AFTERNOON
A friend drops by--the poet Patagia. We walk up Bernal Hill. Sun, hawks, wind, dogs. A high school class writing in the quarry, sprawled like basking literary lizards on the shale above the maze. Sit on a bench. Patagia reads me her first draft on meeting a grizzly in Alaska. Pass three gorgeous students half-dancing between Good Life Grocery and the library. Back at the house I play her my new songs--Lyment, Childhood's End and First Impressions. Patagia suggests changing a word at the end of Lyment. Subtler, funnier.
I'm as subtle as a brick, so it's nice to have a poet on tap.
THAT EVENING
Slumming time! I read Power Girl, a mainstream comic (rare for me; I'm strictly a manga/underground/independent comix geek. But I thought I'd peek). Women have volleyball breasts, but otherwise the art by Amanda Conner is quite likable. Even the story's more character-driven than I expected. A little blah, but hard to put into words what's missing. Maybe my dreams can...
THAT NIGHT
A long dream--a whole other life, really. I even sleep and dream dreams inside the dream. The one constant in my new life: I keep visiting a huge family in Singapore or Kuala Lumpur. I'm in love with a daughter of the clan. Should I move there?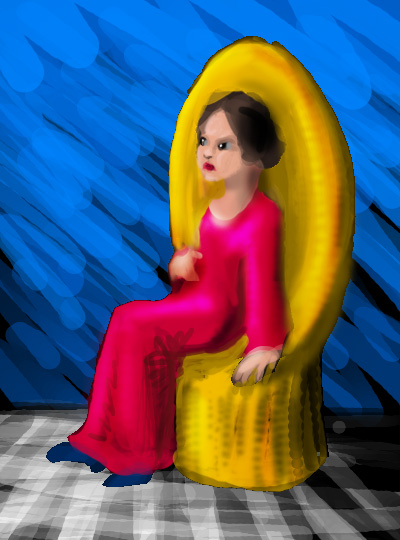 They introduce me to the clan matriarch, a frail, birdboned woman with a falcon glare. It goes badly. Deep mistrust, especially on her end. She mentions omens of a disastrous split in the clan, and implies I'll be the cause--luring away their beloved daughter.
I go away and study those omens too. But I see a different warning--that the matriarch and I both love my girlfriend too much to let her go. But fight over her and we'll wreck the clan! All will lose. But we don't have to.
So I meet her again, privately this time. Say "Neither of us can give her up. Yet we dislike and distrust each other. The only way to prevent a fight is to avoid each other. Since your whole life is here, I won't move to town, won't join the family, won't see you--only visit her privately. But you must accept that. We must not fight."
Will she do it? Can she? She's no fool--my reading fits the omens AND avoids civil war. But it'll be hard! She's been unchallenged monarch so long, indulging all her whims. This will take discipline--not to crack the whip.
Later, I find a big dream journal with a scribbled outline of an epic dream the night before last, that I forgot to type up. My notes are hard to read--written when half asleep. But it seems to have a similar message--avoid confrontation or we all lose. That dream was also set in an Asian matriarchal clan, though a happier one. A big cast, too! A party with a conga line is cartooned across the page, dividing the text like a meandering river. Each hastily caricatured dancer has a personifying thought or two scribbled around, like a Byzantine whole-body halo.
The dance looks like fun, but the dream warned plainly--stay away! I can visit my girl, but if I join the clan we'll all regret it!
Since the dream confirms my reading of the omens, I swear to learn self-control and avoid the matriarch. The cost of a tug-of-war is just too high.
Then I wake to find my girlfriend and her possessive mom and the dream journal and my interpretation of it and my oath... all were a single epic dream.
NOTES IN THE MORNING
Avoid the clan, just visit girlfriend: Patagia said "My husband grew up in a crowded family; he needs solitude and space." Remember this as I date; I too need a lot of solitude.
The birdlike little matriarch resembled my mom not Power Girl, but they both disdain men. Power Girl won't chase guys she likes, yet she puts THEM down when THEY initiate. Snotty? Gay? Or just prudish? In a spa with her best friend, PG blurts: "This isn't a swimsuit, it's a thought balloon!" A superhero finds a swimsuit indecent? Check out your working costume, lady! Yet I accepted her denial because I grew up with it. Thanks Mom!
ACTION 1: date, but be warned I need solitude; don't indulge my snuggly side so much I cage my lone wolf. He just can't join the conga line.
ACTION 2: When I catch myself thinking women aren't into men (thanks Mom!) don't fight it--that just makes it worse! But how do you not-fight old brainwashing?

Hide and meditate? ("Don't think about elephants!")
Apologize for my strangeness, try to explain its roots?
Make dumb gender jokes as so many guys do?
Pay for ten more years of therapy? (ouch!)
Melt in embarrassment to a puddle of goo?

When you catch yourself in old insanity, and get warned not to get tangled in a fight, what can you do?
Sigh. This is why Jung thought dreamwork was a long, long haul.
---

LISTS AND LINKS: epic dreams - dreams within dreams - dating and dating advice - moms - omens - peace and peacemaking - family and community - love vs solitude - self-interpreting dreams - Marcy, my mom - sexism (either way), shame, and healing from abuses - Power Girl - Singapore - Malaysia - still, it's better than my troubles with My Muslim Mother-In-Law

World Dream Bank homepage - Art gallery - New stuff - Introductory sampler, best dreams, best art - On dreamwork - Books
Indexes: Subject - Author - Date - Names - Places - Art media/styles
Titles: A - B - C - D - E - F - G - H - IJ - KL - M - NO - PQ - R - Sa-Sh - Si-Sz - T - UV - WXYZ
Email: wdreamb@yahoo.com - Catalog of art, books, CDs - Behind the Curtain: FAQs, bio, site map - Kindred sites