Boom! Boom! The great green hands drum down
on the moonlit road. On my left, one fist pounds
a lane, then a truck-masher slams to my right. I'm
eerily calm for one in doom-radius. Caught between.

The reason is: this King Kong is me. I passively ride
in Gargantua's placid mind. We together stride
up the road. We follow orders. There's my green
whalesize foot. Freeway snaking up through low
wooded hills. Tramp up to a pass. Ahead, see San
Francisco. Our foray's goal! My job's to smash
the City flat, expunge this human infestation.

I've been equipped with a sense of smell so subtle
that though my very nostril's a cathedral
I can (in this cool sea air) scent a single
cellared human under many pancaked floors.

Fee, Fie, Fo, Fum! Not quite fairytale, but I'm
a fine foe-hunter. And at my Titan-scale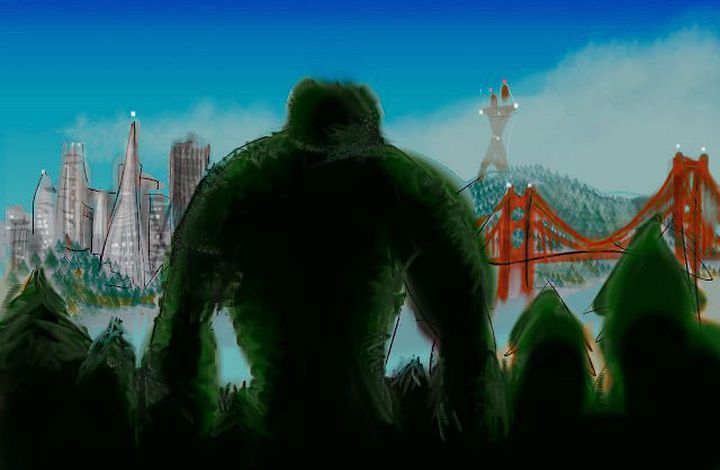 the whole city's barely three strides wide. I
demolish downtown, worrying loose the silver
waist-high towers--each set aside, on a side,
to after-flatten. Next I mash the hill-tracts, like
crunching cuboid snails unwelcome in the vegs,
then wrestle down those smugly grinning bridges.
All the while I'm twinly aware. Dimly scent fear
from those fleeing monster me--and I ride,
raft the lazy bayous of his idle thought.
For to him this city-smash is naught, no more
than my stomp-flat of outbound cardboard,
Monday morns. Mundane. Apocalypse as chore.