AMERICANS SHOOT ANYTHING: by Wayan; 1990/5/2, a predictive dream.
Canals and locks. American soldiers find an underground village and force everyone to evacuate to
a warship, "for safety". The villagers turn into birds so if it's a trap they can escape. Next morning...
CAUTION: ESP, GUNBOAT DIPLOMACY

ANGELS AND SHARKS: by Wayan; 1975/10/11, a surreal warning dream
I was an angel slipping through matter, who, like a shark, needed to
keep moving to breathe--stop and I'd drown in the world, lose myself...

ANNIE, GET YOUR GOWN!: by Wayan; 1988/9/14, a comic dream.
I'm Annie Oakley, sharpshooter, facing something scarier than gunmen: a formal ball
introducing me to my new husband's family--Austrian aristocracy! What's an American gal to do?

ANNOYING GODDESS: by Wayan; 1993/12/10, a dance/pregnancy/sexchange/goddess dream
I was a pregnant dancer on the Fertility Goddess's new TV show, but I was mad at her...

APOLOGETIC OGRE: by Wayan; 1990/3/1, a nightmare.
I hop on a bus in mythical Greece, and this woman's guardian angel acts racist. OK, I'm an ogre. So?
CAUTION: ANOTHER HANDGUN TRAGEDY
ARAGORN'S LIVER: by Wayan; 1983/1/29, a nightmare.
I'm a hobbit in Silicon Valley, stalking Ring-wraiths down El Camino. But one of them's stalking me...
CAUTION: VIOLENCE, MADNESS

ARCHANGEL: by Wayan; 1997/10/19, a dream-farce--or is it?
Sure I've been through hell, but how the hell did that get me elected archangel? And why's my butt itch?
CAUTION: ITCHY BUTT

ARCTIC CHANGELING: by Wayan; 1981/6/30, a dream on roots.
I'm a shy woman in a truckstop town who learns why I don't fit in. But will I, among my real kin?...
THE ARTERIA: by Wayan; 1994/5/24, a raw, personal tale of three nightmares.
Hypnotherapy provokes nightmares of body-part shops, secret libelers, and madmen in space...

THE ARTIFACT: by Wayan; 1983/1/16, a gender- & species-bent dream of the far future
I was a reptilian archeologist, a million years from now.
What I dug up at the beach threatened my marriage...

ASCENT: by Wayan; spring 1997; a comix-panorama on recurrent mountaineering dreams.
All that spring I dreamed of climbing, cold, fatigue, risk, and fear.
But shamanic training involves toughening; ascent isn't always easy flight...

ASTRALNAUT: by Wayan; 1994/7/30, a reverse ghost dream.
I have amnesia. Plus, I'm dead. But I have this great NASA job! Only there's a saboteur...
CAUTION: SNOTTY ABOUT CHRISTIANS AGAIN

THE B SIDE OF THE PENIS: by Wayan; 1996/8/26, a sex dream about reprogramming.
I erase my sexual tape, and start over. Am I male, female, gay, straight? Uh-oh! What SPECIES?
CAUTION: MESSY SEXUAL BOOBOOS
BABY'S COMING: by Bruno Oliveira; late summer 2011, a genderbent dream
I'm very pregnant and feel bloated. My mom says "That's what you get for not using a condom"...

BACKACHE DIALOGUES: by Wayan; 1993/12/10, four bizarre diagnostic dreamlets.
I asked my dreams why my back hurt. They told me: pregnancy, marsupial pouches, snapping turtles...

BACKWARDS CAUSATION: by Jo; 2008/3/3, a dream where I dream a dream in which I dream
No matter who I dream I am, twin secret agents dog me, eating my soup, playing my games...
CAUTION: PHILOSOPHY!
BALLOONS: by Stan Brakhage; 1975/5/7, an epic, apocalyptic flying dream after a bad plane flight
I'm a schoolkid again, fleeing an eruption of sewage. We escape in a balloon.
Earth is beautiful, but I know this flood of shit will drown the whole world...
BARN OWL FUSION: by Patagia; 2006/3/9, linked transformation and flying dreams
An owl flew at me, and I fused with it. The next thing I knew, I was a redtail hawk...

THE BASEBALL KISS: by Wayan; 1983/8/4, a dreamtale on choice.
The Prime Minister of England breaks my nose, so I become a flock of squirrels
to seek revenge. Should I let go?

BASTARD UNICORN: by Wayan; 2012/6/28, a dream about ambition
Since I'm half-unicorn, my ambition drives me to share power and help the whole
herd--that's how unicorns rise. But among human politicians...

BAT AND UMBRELLA: by David Small; c. 1960/3/1, a nightmare exposing deadly child neglect
I'm an orphaned bat in an alley in a storm. I mistake a broken old umbrella's ribs & flaps
for... my Mom! I unfold Mom, and discover...
CAUTION: LIFE-THREATENING CHILD NEGLECT

BATMAN'S LOVE: by Wayan; 1996/3/26, a dream-epic of love and time.
A New Age graduation party spurs a wild dream of the spiritual odyssey of Catwoman,
starring Alexander the Great, Batman, God, and Rumi the poet (played by Frank Zappa)...
CAUTION: MORAL RELATIVITY

BATTERED, WITH SYRUP: by Wayan; 1998/11/6 & 11/21, two healing dreams.
I'm a battered girl who sings in a mall. The Dictator (of all people) helps me start healing and learn to fly...
CAUTION: BATTERING AND ITS CONSEQUENT DAMAGE

THE BEACH: by Patricia Benefield; pre-1985, a surreal painting of recurring dreams
Birds enchant me, and they long have frequented my dreams.
Sometimes, as in The Beach, I am a bird/woman...

A BEAM OF FLIGHT: by Wayan; 1992/4/19, a dream of love and shellshock.
I'm a dance teacher, I'm King Kong, I'm a shell-shocked elf, I'm a wild bird flying...
CAUTION: GAY-POSITIVE ROLE MODELS, OH NO!
BEFORE BED: by Mary Ruefle, ca. 1995, a dream-poem on stewardship
In the cathedral, before the nation, I solemnly crown someone with my own detached head...
BELLE OF THE BALL: by Bonnie; 2006/5/2, a sexy ghost dream
Iíll win a house if I can survive a night in the Haunted Pavilion! But it turns out Iíve been here before--before I was born...
CAUTION: GHOST ORGY
BEYOND THE BUOYS: by Wayan; 1981/2/12, a short punning dream.
I'm a fairy queen at the beach, chasing a girl who's a strong swimmer. Yep, she swims beyond the buoys...
CAUTION: BAD LESBIAN PUNS

THE BIG CRUNCH: by Wayan; 1979/5/9, a cosmic nightmare.
I'm a girl being stalked. I get drastic--scrunch up the universe & shake it out! And is THAT enough?
CAUTION: ANXIETY, GUILT, POSSIBLE APOCALYPSE

BIG FLAMING AIRPLANES TRYING TO LAND: by Jack Kerouac, late Oct. 1953, a double nightmare
Two DC-6s catch burn over New York. Me? I'm a naked child in a Babylonian temple in Jersey...
A BIKE ODYSSEY: by Wayan; 1994/7/24, a day trip echoed in a dream.
By day, I bike across San Francisco; by night, I'm an abused English heiress with a dangerous artifact...
CAUTION: MOLESTATION BY DISSOLUTE COUNT
BILL COSBY'S WIFE: by Wayan; 1994/5/5, one of many creepy dreams about a comedian I loved.
I'm Bill Cosby's wife, finding it hard to cook for him without a stove or fridge...
CAUTION: SLANDER, I HOPED. I HOPED WRONG.

BIRD ASSASSIN: by Adam Shaw, art by Jesse Reklaw; pre-2000; a no-kindness-goes-unpunished dream
I'm a giant cartoon bird. I had to assassinate a friend--twelve times!
Eleven times I killed him, but I spared him the twelfth. He said...

THE BIRD MARATHON: by Wayan; 1982/7/10, a comic nightmare with serious overtones.
A bizarre marathon, and the Princess is the prize. But she doesn't WANT to be, so she sets out...
CAUTION: BLOODY BIRD

BITE THE BULLET: by Wayan; 2000/1/25, a flightmare.
We unearthed a sacred treasure, but now a mob of believers are out to lynch us! I better fly...
CAUTION: SACRILEGE AND BAD PUNS

BITTER TRANSFORMATIONS: by Selena; 2017/10/18, a diagnostic gender identity dream
I finally admit who I am, and the truth is bitter...
CAUTION: GENDER DYSPHORIA, MENTION OF COPROPHAGY, POSSIBLE SITCOM SPOILER

BLACK DUCKS QUACKED FIRST: by Wayan; 1990/9/13, a dream-farce on Shadows of Greats Past.
My sister & I try to sing an original, but every note summons old jazz greats, leaving us
no musical elbow room! So I quack like a duck. Nope! Giant ducks appear, and say...
CAUTION: RACIAL ANXIETY? GIANT DUCKS!

BLEEDING HEART, the SELF-HEALING CORPSE, and IN THE FUTURE DESERT:
by Wayan; 2002/5/29 - 2004/5/11, a diagnostic, predictive dream-series; Bleeding Heart as comix
A tree-girl moves to Hollywood to make film deals, but jealousy stabs her...
CAUTION: BLOODY ASSAULT, GAY DRYADS, MUTANT NUDITY

BLESS MY PHOBIA: by Wayan; dreamed 1992/8/15; story + silk painting.
I was Eve's guardian angel the second time round, and I blew it again. But this time, it came out right....
CAUTION: BREASTS AND BEASTS

BLOWN OR STEER?: by Wayan; 2006/9/16, a flying, species-bent, advisory dream
I'm a shy wild cat locked in a zoo paddock with elephants and lions
till I remember how to fly! But just levitate, blown about by the wind?
Or can I steer my own course?...

BLUE CRYSTALS: by Wayan; 1979/5/20 dream offering guidance.
Throw a dream-crystal, or dangle it by a thread, and it'll point the way to go...
CAUTION: NUDITY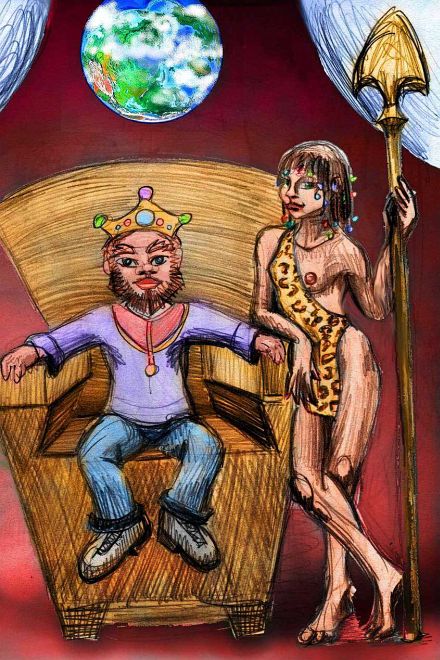 BLUE SOUP, NO SPARK: by Wayan; 1985/6/1, an epic dream on outgrowing God
A visit to a world where they fear blue soup ends in death and resurrection, so I'm pissed at my boss--God.
CAUTION: DEATH, REBIRTH, SACRILEGE... JOB BURNOUT
BOND: by Wayan; 1981/10/31, a nightmare where I'm the nightmare.
I'm James Bond. Captured and questioned, I lie to the enemy: the senators of the
Committee on Intelligence Activities. Till I see myself through their eyes...
CAUTION: SPY SEX, SPY MENTALITY

BOY BODY: by Wayan; recurring dream 1959-62, a comic on body image. Or illus. text version
A recurring childhood dream on how weird a boy-body is when you've been a girl too many lifetimes.
CAUTION: PUBLIC HUMILIATION, NUDE MONSTERS, SILLY GENITALIA

BREAK FREE: by Emily Joy; 2006/5/11, an encouraging dream on the price of safety.
I search for family skeletons, but then a talking plant on TV inspires me to seek the sun and fly free.
But certain velociraptors and barbarian swordswomen object...
CAUTION: DUELS, FISH ABUSE, THE F-WORD

BRICK AND SKIN: by Wayan; 1988/10/18, a dream of spiritual stretching.
I'm analog myself, but in Tibet, I meet a digital shaman whose body's a sort of ...

THE BRIDGE: by Wayan; a 3-page comic from two linked dreams, 1989/5/28 & 1989/10/1.
The Hunt of the Unicorn (yeah, guess who I am), as I fly through the worlds fighting Reaganism...
CAUTION: MOCKS THE GREAT COMMUNICATOR

BRITISH TRIANGLE: by Wayan; 2019/8/18, a dream of another life.
I'm a middle-aged British writer in a triad with a sculptor and a dairy farmer
who seem happy sharing me. But it's a small town, so we must be discreet...
CAUTION: TRIAD THAT WORKS

THE BROADS: by Wayan; 1978/11/19, a dream on self-image distortion.
We all wear magic beltbuckles. Twist one--your body stretches from squat to willowy. Except mine...
CAUTION: SEX, BODY-IMAGE DISTORTION

BROWN DRESS: by Wayan; 1984/2/11, 9-page digital comic of a sexy healing dream.
A champion swimmer tells me how she turned a sexual humiliation into excitement and liberating power...
CAUTION: NUDITY, SEX, SHAME, PSYCHOLOGICAL COMPLEXITY

BUGS AND ROOSEVELT: by Wayan; 1982/5/2, a wild predictive dream illustrated as an epic poem
I'm Bugs Bunny. I torment Daffy Duck till I learn that in many time-branches the New
Deal happened late... or never. I decide to prod a reluctant Franklin Delano Roosevelt...
CAUTION: FIRESIDE PETTING, DUCK TORTURE, BAD POLITICS

BURN: by Sierra Loucks; 1990?, a five-year-old's nightmare
I was at the beach with my friends. It was fun. But gradually they were
laughing at me, not with me. Then they picked up burning sticks...
CAUTION: GRUESOME

BURN HIS TREE: by Emily Joy; 2007/2/7; two linked nightmares on art
Malevolent artwork terrorizes my baby and me! What's to be done?...

BUTTERFLY: by Zhuang-zi; about 300 BC, a dream questioning identity.
I dreamed I was a butterfly, fluttering about, content with my lot. Suddenly I awoke and was Chuang-tzu again...

CAMERA STRIKE: by Wayan, 1996/10/19, a dream within a dream with a point.
I dream I'm a lemur-girl in an emotional maze.
I wake to find I'm really a satyr cartoonist.
Funny, we have a lot in common! I wake to find...
CAUTION: PHALLIC SATYRE

CAPITOL REEF: by Wayan; 1996/1/27. Drawn daydream of a mid-air orgy (or is it mid-water?)
News of a new national park fused with a science show on cleaner-fish spur a fantasy of dolphins, cats and...
CAUTION: FISH ORGY; MOCKS THE ANGEL MORONI, TOO
CARSELVES: by Miriel; 1993/5/14, a parental valuation dream
I dreamed I was a classic hippie bus. My big brother was a lovingly customized Mustang. Both of us
were old, but collector's items. So our parents decided to sell us. Their asking price was...

A CAT AND HER GIRL: by Wayan; 1979/5/15, a deep little dream.
I'm a doctor in the future, trying to heal the neurolink between a girl and her cat...

CATRISE: by Wayan; 2000/2/21, a sexy flying dream; acrylic painting.
I'm an alien exchange student in Palo Alto High School. I get stared at--they wear clothes, they don't fly...
CAUTION: FELINE NUDITY

CENTAUR AND STAR: by Wayan; 1994; digital portrait of recurring dream figure
I'm a centaur. I never left Eden. I'm still in the Garden. You are too, every night, in dreams...
CAUTION: BREASTS

CENTAUR QUARTET: by Wayan; 1982/2/26, 83/12/24 & 84/10/16, recurring dreams of my spirit family.
Can our interspecies family survive? Our very instincts clash around solitude/boundaries, sex and incest
CAUTION: SEX, INCEST, REPRESSION/DENIAL

CHAKAT: by Katie Hofgard; 2003/4/22?, a dream self-portrait
I dreamed I was a cattaur...
CHANGING IDENTITIES: by Mary Arnold-Forster; 1910-14? a dream of alternating selves.
I was the new girl among rich students, then an adult among snobs, then a girl again--always craving freedom...

CHANGES, or, A WHISPER OF RESISTANCE: by Wayan; 1980/9/25, a dream of identity-chaos.
An identity earthquake that just wouldn't stop. I transform half a dozen times, and so does everyone else...
CHAPLIN: by Wayan; 1974/5/22, a dream on loneliness.
I'm Charlie Chaplin doing magic tricks with the Ring of Power. And I don't even WANT power, just love...

CHART THE GROWTH: by Brenda Ferrimani; 2004, painting of an incubated, oracular dream
I asked my dreams "What's my truest purpose?"
I dreamed my body was a tree, and a voice said "Chart the growth"...

CHEETAH: by Wayan; 1978-86, a poem on turning dreams into art.
I'm a cheetah working as a baker in Coconino County, Arizona, haunted by Krazy Kat...
CHELSEA AND THE PRESIDENTIAL COMPLEX: by Wayan; 1999/12/25, an odd political (?) dream.
I was hot tubbing and flirting... so how'd I end up as Chelsea Clinton running for office?

CHUNKS, or, BABEZILLA!: by Wayan; two dreams 1990/10/4 and 1991/9/4 told as digital comics.
I meet a giant psychic baby feared by 12-step people. So I go to the beach and find
I'm a shark-bit girl who can have her missing chunks sewn back in--if I still have room for them...

CITY OF BEES: by Wayan; 1994/8/2, a diagnostic dream-comic.
A bee-doctor in the city of Propolopolis diagnoses me as having a rare syndrome, Ambition Denied...

CLAY AND HOP: by Wayan; 2009/10/30, a dream poem with sketches; Dreamverse #63
I touch the secret soul of a cancer survivor, upsetting her. To apologize, I become a goofy hopping god...
CAUTION: FONDLING SACRED FIGURINES

CLIFFMARE: by Wayan; 1988/10/8; a dream of lust vs freedom.
I was a wild mare in heat, torn between longing for sex, touch, love...and the fear of being tamed.
CAUTION: HORSE FRUSTRATION

CLOCKMAN HEDGEHOG: by Wayan; 1992/10/5; digital sketch of being rejected by my own sex fantasy!
I was a man made of clocks trying to get a date with a hedgehog-hair woman...
CAUTION: ANOTHER HORNY GUY WHO DOESN'T GET FAR

CLOTHES MAKE THE HERO: by Wayan; 1995/4/9, a dream on the power of tackiness.
I always laughed at those silly superhero outfits. But when it's my turn to fly, I find out why...
CAUTION: LANGUAGE

COEURL: by Wayan; 1980/2/26, a dream of surprise transcendence
I'm trapped in an alien hotel, my true love has gone radioactive,
and the only way out is to turn into a giant, scary...
CAUTION: CLOSET LESBIAN. LITERAL CLOSET.
COMYN RESTRAINT: by Wayan; 1983/3/25, a dream on abandon.
I'm from a race of self-policing psychics, starting to wonder if we've created our own Inquisition...

THE CORE ISSUE: by Wayan; 1992/6/25, a dream from multiple viewpoints
The tale of a gray heart trying to heal leads to unicorn-hostage drama in the Transamerica Pyramid...
CAUTION: SEX, MAFIA THREATS, VIOLENCE

CORPSE-BUG: by Wayan; 1994/12/1, an allegorical sex nightmare.
I'm a hippie girl in San Francisco, in hard times. To escape the Four Horsemen, I lie down with Death...
CAUTION: GANGS, CREEPY SEX

CORVI AND FEY: by Wayan; 2016/6/14, a shamanic dream of reuniting estranged symbiotes
I visit a world of ravenish people, the Corvi, who banished their
partners the wish-granting Fey, calling them parasites. I decide to meddle...
COSMIC EGG AND ENERGY BIRD: by Wayan; 1971/12/4, a childhood mystical dream.
A mystical vision of the Cosmic Egg gets messy when it hatches and the Bird escapes...

COUNTERPOINT: by Susan Vasiljevic; 2011, a surreal dream painting
I find myself in a church-like setting. Above me, couples in 18th century dress dance joyfully.
It provides a wonderful, Ďcuriousí moment to pause and reflect... before my journey must continue.

COYOTE PAJAMAS: by Wayan; 1983/12/17, a Dantesque dream-epic.
I'm Coyote, keeping the Business Prophet from taking over Dante's Peak. But it turns too personal...
CAUTION: IDIOTIC VIOLENCE
A CRAIGSLIST BARGAIN: by Wayan; 2006/10/1. A dream of another life; possible ESP.
Iím an Asian kid in Pacifica, California. My parents annoy me, so I offer them for sale on Craigslist. A cop appears...

CREATURE BECOMES CREATOR: by Wayan; 2015/2/5, three linked advisory dreams on world trends
A weird little forest god bred me from an ordinary deer into a creature who can
almost pass for human. But World War 2 killed my god, and now I'm growing into...
CAUTION: NUDITY, CROSSBREEDING

CUBIST CHARLIE BROWN: by Wayan; 1977/4/1, a cubist nightmare.
We're Cubist cartoon characters, trapped in a strip gone mad. But my dad stays calm! Too calm...
CAUTION: SEAS OF BLOOD... OR IS IT RED INK?

CURSE HER IN THE OAK: by Wayan; 2009/9/28, a short dream poem with sketch; Dreamverse #56
I'm a girl in rural Victorian England working as the county's magical protector. I have my
hands full: a gang of thievish orphans has holed up in an invisibility tree! Showdown at the oak...

DARE TO BE FAT!: by Wayan; spinoff picture from a 1997/8/20 dream.
I was an anorexic fox-girl, till this phrase galvanized me. Now I pump iron and eat what I like, and...

THE DARII: by Wayan; 1994/8/15, a predictive dream of another life.
I'm trying to prevent a race war, but can I kill someone I admire? And if so, can I live with it?
CAUTION: RACISM, VIOLENCE, INTENSE GUILT

DATIN' DEMON: by Mark Varitz and Wayan; 1989/12/3; Mark's dream triggers one by Wayan.
I meet my personal demon, and discover it has a personal demon: me! Am I worse than my Shadow?
CAUTION: LANGUAGE, NUDE MONSTERS
DAWN'S DIVORCE: by Dawn Z; 2002/3/1-21, an outrageous dream sequence
While going through a painful breakup, I kept having sexy, lucid, psychic dreams...

DEAD RIGHTS! DEAD RIGHTS!: by Wayan; 1983/10/1, a dream of the other side.
I die young, to get it over with, like chickenpox. As I slowly revive, I face bias against the dead. So..

DEATH DATE: by Jim Shaw; 1994 (early?), a possibly predictive shamanic dream
I become a werewolf and climb into a strange attic. I find a grave marker for
an old friend--but her death date is two years in the future...

DEERMAN'S CHALLENGE: by Melissa McClanahan, 2002?-2007?, a recurring nightmare figure
I used to dream of this violent anthropomorphic being. At times I'd put on his deer-skull head
and become him, inflicting and inciting violence. Naming him gave me some control...

DEMON BUDGETING: by Wayan, 2011/9/27, a nightmare on letting things blow over
A demon invades our police station, takes over our captain and lieutenant, and pushes them to fight.
But I know demonic possession can't last long. Our copshow's special effects budget is too limited...

DEMON-SUMMONING IS JUST A MISDEMEANOUR: by Jo; 2017/7/26, a gender-bent diagnostic nightmare
I protect my friends from a demon, but the dream-guardians I summon terrify me...
THE DENUNCIATION: by Georges Perec; August 1972, a dream of war-trauma finally healing? Dream #124
1941. My dad and I are denounced to the SS. We're put in with monsters; I'm a snake or fish myself.
But the Nazis become a photo album, I go to a memorial, I cry, it's 1947, peace...
CAUTION: HOLOCAUST MEMORIES

DESERT EYES: by Wayan; 1984/3/4, a dream of portals.
We desert-hobbits break through to a world of jungle giants who
see differently from us. Will they believe us about the UFOs?
DETACHABLE PENISES: by Wayan; 2012/8/9, a brain-mapping conundrum dream
I don't have an erection. I have two. But how can my brain register feelings from an extra organ it's not built for?
CAUTION: PHALLIC SYMBOLISM? OR SOMETHING ELSE?

MY DEWCLAW: by Wayan; 1997/6/30; dreams within dreams within dreams
Body after body is peeled away revealing truth inside truth...
CAUTION: GROTESQUE

DINO FOR A NIGHT: by Wayan; 2017/7/9, a sci-fi-movie dream poem
I'm turned into a small dinosaur and treated as a guard dog. But I meet a dino girl. We have fun,
once we see it's a movie--they won't kill off the love interests. Hollywood rules make us invulnerable...

DINO TREASURE: by Wayan, 1996/9/1, a treasure-hunt dream.
At the Psychic Faire, I'm a deer-man in a gang hunting treasure, led by a rough tough dinosaur...

DOCTOR VENTRIL: by Wayan; 1978/9/22, a nightmare where I'm the nightmare.
A doctor lures me into his office. What he turns out to be scares me less than how I defend myself...
CAUTION: VIOLENCE, ARACHNOPHOBIA

DOG THIRST: by Cecy and Wayan; 1991/10/7, shared or telepathic dreamlets
CECY: In a desert, a thirsty dog jumps out of a tree--the first known dog suicide...
WAYAN: I'm a talking dog. Our owner denies us enough water, so we protest...

THE DOGGYSEY: by Wayan, 2009/11/26, a dream Odyssey predicts my own artistic path
I find I'm a fox singing the Disney musical version of a canine epic: the tale of Odysseus the
Mutt and his purebred Big Brother vying for the paw of Penelope--and the throne of Ithaka...
CAUTION: POLTERGEIST

DOME: by Wayan; 1999/1/31, a dream peeling off a lie.
I'm actress Nicole Kidman, clinging to the dome of City Hall like King Kong, ripping it to shreds! Why?
CAUTION: VANDALISM, REVERSE SEXISM, EXHIBITIONISM

DOPPELBRUDER: by Wayan; 1985/5/9, a dream of a self at war over... labels?
Lured to a parallel, feudal world by a marriage-vow, I'm trapped in my double's arrogant, twisted mind...

THE DOUBLE: by Julie Doucet; Nov. 1992, a lucid alter-ego sex dream.
Looking in a mirror, Julie goes lucid. She changes herself into a man
and pulls her mirror-image through the glass...
CAUTION: CARTOON NUDITY

THE DOUBT: by Wayan; 2007/2/15, an undream trance-painting
Painting an abstract watercolor, I drifted into trance, and found myself climbing a
thorny slope. Deer in the brush. Great peaks around. Had I gone wrong?

DRACULA'S SANDWICH: by Brenda Ferrimani; 1997/8/22, a death/rebirth nightmare-painting
Dinner with Dracula goes well, considering, except for the mayonnaise. But suddenly I'm drowning!
No one sees or hears me. Am I a ghost, am I dead or alive? And how would anyone notice?

DRAGON ME: by Preston Young and Katie Hofgard; 2005/2/14? a collaborative dream-portrait.
Preston dreams he's a dragon and his girlfriend Katie drew his portrait from his account
A DREAM WITHIN A DREAM: by Afton Jandro; c.1983, a transcendent dream
Africa. The elephant seemed attracted to a strange wave of white heat. It faded to nothingness. Suddenly we too were enveloped.
I became flame. I was consumed. I was a thought center, alone in a white void. To create a new life I had only to speak the word...
CAUTION: DEATH

DREAMTALES: by Wayan; 1996-2006, a 250-page collection of dream comics
"I've always dreamed other lives. Other bodies. Other times. Other worlds. I draw my lives..."
EASTER HEALING: by "Clairity"; 2008/03/23, a joyful lucid dream
I will a clay cat to come to life, then start healing real cats and dogs and...

EDITH KEELER: by Wayan, 1975/10/8, an incubated dream giving multiple answers
I asked my dreams to show me my Shadow--what I deny. It showed me at least FIVE! And in every
time-branch, a runaway truck crushed me--the Truck of Ideology. Not that I seemed able to avoid it...
CAUTION: RECURRING DEATHS

THE EGG PROBLEM: by Wayan; 1990/3/2, digital painting of a magical dream.
I was an intellectual ballerina trying to stop zombies hatching from stone eggs...

THE ELEVEN CENT ORACLE: by Wayan; 1998/11/12, a dream about collecting... change.
I'm a migratory girl who's lost my tribe. I find eleven coins, cross the world, and pay the Oracle...

ELIZABETH'S SOLE ESCAPE: by Wayan, 2017/7/29, a genderbent nightmare on... genes?
I'm Queen Elizabeth I, but I made a mistake--focused too much on art and culture.
Now, plotters who I overlooked smash in my bedroom door. I snatch a vial of poison...
CAUTION: NIGHTMARE REFLECTS REALITY

EMBER IN THE BRAIN: by Wayan; 1983/3/31, a dreamtale on anger.
I'm the Incredible Hulk, forced to do emergency brain surgery. For the patient's burning from within...
CAUTION: VIOLENCE AND UNLICENSED MEDICINE

THE ENTWINED CHILD AND MADAM PURR-SAY: by PurplePurplePurple; 2013/7/5, twin poem-dreams
I dream my autistic son, miraculously high-functioning, recites a math-poem to a crowd...
Then I become cartoon cat Madam Purr-Say and chant my own defiant poem at the dream gods...
CAUTION: FIRST POEM AUTISTIC, SECOND PISSY

ERMINE, or, GOTHMOG'S GHOST: by Wayan, 1984/2/11, a gender-bent & species-bent warning dream
I'm a delicate little ermine-chinchilla whose best friends are all sewer rats.
They push their food and drink on me, and I nibble to be polite...


THE ERTHEDNI: by Wayan, 1977/1/8, three transformation dreams, the last with advice
1: I'm starving in a lush valley; a cult claims all the food, the water, even the air.
2: I'm drowning in a cage but find a corner with water I can breathe--just barely.
3: I'm a merman with a wise friend who hints I need to leave those who starve & drown me...
CAUTION: DOMESTIC BATTERING (OFFSTAGE)

ESCAPE BY INTUITION: by Wayan; 2010/1/11; four dreams of breaking through
I must see a community as a whole, and intuit my way out of a sealed room, and spot details, and join a trio in bed...
CAUTION: NUDITY IN LAST DREAM

THE EVEREST MARATHON: by Wayan; 1986/4/12, a wild dream epic, part 3 of Unicorn Tag.
In the great race up Everest, I become an e-snake, cross 3 eco-bubbles, beg a
wary deer-taur to splice my spine, help Ariane my childhood crush, and solve
the Dream Equations. Climbing Everest takes not strength but... trust?
EXECUTE ME!: by Wayan; 2014/1/27, a harsh revolutionary dream
I'm condemned to die for fighting a regime that's killed my minority with impunity
for centuries. I have no regrets. They'll hesitate now, knowing they too can die...

FACULTY WIFE: by Wayan; 1998/1/6, a sexy but disorienting dream.
I'm a faculty wife bored out of my mind until two students have sex in my yard. I ignore HIM and jump HER...
CAUTION: SEX

FADING AWAY IN THE LIGHT: by Lilian Verkins; 2013, painting of nature-spirit dream?
I was a child again, sitting on a bench, watching young maidens dance.
But as I grew older, they faded away in the light of adulthood...

FAERIE: by Wayan; 1995/7/18 & 95/8/6: two linked dreams of postmodern Faerie, with sketches
I'm the daughter of a mortal doctor working in Faerie as it faces social upheaval (and I look for a decent date...)
FALCON AND FÜHRER: by Miriel; 1985/7/31, an epic flying/transformation dream
A mysterious "Führer" hypnotized all my companions. So I become a human-sized falcon and hunt him...

FALL AT THE RIGHT SIZE: by Wayan; 2018/7/14, a dream shape-poem on a lifesaving indecision.
I fall off a tower, but I can change size. Tiny things fall slower, but they also tempt the local falcons!
Be big & hit hard, or tiny & be eaten? There's a third choice, but I sorta fell into it...
FALLING INTO A TESSERACT, and Meeting a Being of Pure Energy: by Dustin Latham, 2019/11/7
I knew I was on my bed, yet I felt myself falling into a tesseract--huge, crystalline, colorful.
Inside I met an energy being who explained I'm not meant to die yet; this was just training...
CAUTION: UNCONVENTIONAL GOD

FALSE ALARM: by Wayan; 1996/5/23, a nightmare I lived as a kid.
In school, I'm seen as a freak--lied to, set up for little pranks. Not just by my classmates--my teachers...
FATHER LOOMS: by Wayan; 1983/?, a nonliteral diagnostic nightmare.
I was a 30ish woman discovering that my chronic pelvic inflammation was from childhood molestation...
CAUTION: MOLESTATION IN DREAM-PAST

FEATHERWOLF: by Wayan; 2018/9/20, a joyful gender/species-bent flying dreamlet.
A shapeshifting girl lets me try her spell--I become a
wolf-raven-parrot-human blend. Weird, but I love flying...
FIBONACCI: by Wayan; 2011/4/18, a dream-poem with answers
My friends are all computer programs. But then, so am I. But it's not so bad, because...
CAUTION: DREAM-PUNS
FINALLY I'M AN OLD WHORE: by Jack Kerouac, Jan/Feb 1953, a burnout dream... or his fears for the future
Finally I've turned into an old whore... a silly Jack Kerouac whore with that same old tired old gasafaycagoo...

FIRST DREAMFLIGHT: by Wayan; 1969/11/11, two dream-results from my first dreamwork experiment.
I never flew in my dreams. I felt cheated. So one day I set out to CREATE dream-flight...
FIRST NIGHT IN FIJI: dreamed May 1980 by S---; an unheeded warning dream
Far from home, about to wed a man I barely knew, I dreamed I was a lion in an open cage I dared not leave...


FISHERGIRLS: by Wayan; 2.6M, 42 illus.; 1996/7/15; a sexy dream epic.
I had an epic dream lasting subjective weeks--a true other life. It wasn't Earth and we weren't human.
I was a teenage lemur, sailing with two friends into unknown waters--a rite of passage. One night,
my friends curled round me, I saw I didn't WANT to pass the test, be declared a woman, marry, and have pups.
I loved my girl friends. In a world lacking the very word, I was groping toward queerdom.
Sailing into unknown waters! "Here be dragons," the old maps say. And they were right...
2600K loads slowly? Try it in parts: 1: HOME, 650K, 2: VOYAGE, 1200K, 3: BACK 750K.
CAUTION: NUDITY, SEX, QUEER TEEN ANGST, ANTI-FUNDAMENTALISM

FISHERGIRL IN WATERCOLOR; OVAL: by Wayan; 1996/7/26 pencil & watercolor
Leaf and me, on our boat in the lost city, from the epic dream FISHERGIRL. My first sketch of the dream...
CAUTION: TRIBAL NUDITY

FIVE HEARTS: by Wayan; dreamed 1989/1/11; sexy psychic unicorn dream-comic (text only: FIVE HEARTS)
I'm a nurse pulled through a glowing well to a world ruled by a five-hearted unicorn, who wants me to...
CAUTION: NUDITY, SEX FANTASIES, LONGING, MELANCHOLIA
FLEEING KAMPUCHEA: by Laura Lawrence; early 1990s?; recurring nightmares of a future client's life
My Cambodian village was burned, my family murdered. At 12,
I was the oldest survivor; I led a band of kids to the border...

FLIGHT, MARGARET, MOUSE, DOG: by Paul Nash, dreamed 1895-9 + Feb. 1913; art by Dave McKean
As a child, landscape artist Paul Nash dreamed of flying over the countryside
of southern England. But he was threatened by the legendary Black Dog...

FLIRTING WITH NAPOLEON: by Wayan; 1995/1/21, a future-oriented dream
I'm a woman living in a space habitat. A new Napoleon invades us, and damages our life-support.
I fight him--but I'm attracted, too. We need to ally to fight the second invasion...

FLOCK WISDOM: by Alder; 1958, a magic comic frustration dream
My eighth grade class is a flock of birds migrating south for the winter, but we donít migrate the easy way...

FLOATING HORSES: by Wayan, 1972/8/10, a flying/transformation dream advising patience
That day, I did bad art. That night, my friend & I get turned into levitating horses--
though some of our fellow fliers, like the mummified Inuit, are kinda creepy...

FLY AWAY HOME: by Wayan; 1996/12/26, a dream of flight and kindness.
I'm an alien castaway, hiding my wings. But Earth feels like home now! If I could fly here, would I stay?

FLY, DANCER!: by Wayan; 1993/4/2; an advisory dream.
In my ballet class, we were learning to leap. But I wanted to FLY. So I went outside alone...

FLY-PARADISE: by Wayan; 1978/12/15, an automatic-writing poem that worked like an advisory dream
I'm a fly lured to a bright but sealed window. The only way out is to ignore the light
and brave the dark--and only when a door opens. Patience AND boldness...
FOUR DRAGONS: by 'Rasselon'; 2009/11/24, a dream of aerial duels
By a lake I've seen in many dreams, four dragons attack. I become one too, and duel them in mid-air...

FOUR EYES!: by Wayan; 1984/5/28, a metaphoric dreamlet.
I started life as twins, but slowly we fused. I still have four eyes, though. Then, one day...

FOUR SCREENS: by Wayan; 2018/1/24, a dream urging me to drop some armor--but not all
I dream my Doors of Perception have four layered screens--when one is plenty to keep out mosquitoes...

FOX STORM: by Wayan; fractal painting of dream (date lost, but pre-1998/8/11)
I might have been less cowed by the storm-face, if I'd seen it was made of little foxes just like me...

FOX TEMPLE: by Wayan; 2019/11/16, a mythic dream with sharp advice
AWAKE: I watch Okko's Inn. Little Okko sees spirits--until she grows up and quits settling for ghosts.
DREAM: I explore a temple, meet a fox-spirit... and see I never was human. Time to quit settling for...
CAUTION: GAUZE-ROBED PRIESTESS

FRAN SAYS "THAT'S WHAT PSYCHIC IS": by Wayan, 1982/1/15; a self-flagging predictive dream
I turn into my friend Fran, who I haven't see for months. Then I'm me, in a hot tub,
talking to Fran, who's now a sort of lemur-girl. She insists I'm psychic.
I'm skeptical. I just get hunches, if I relax in hot water. She says...

FRANCHISE!: by Wayan, 1995/10/12, a dream-comic (ill. text ed.) with a serious warning.
I was the first woman made High Commissioner of Baseball. One day a team of mutants begs a franchise...
CAUTION: EXHIBITIONISM, BAD TEAMWORK, HORNY BEES

FREEBIRD TOWER: by Wayan; 1975/1/10, a rebellious flying dream
I was a bird-girl, the pet of some rich, royal humans. I summoned
a storm of rebel birds, flooding the moat and driving out our owners...
CAUTION: BIRDGIRL NUDITY

FRIEND-RING: by Wayan; 2017/1/6, a dream of divine intervention--My Little Pony style
I'm a horse chosen by the gods to join a Friend-Ring--a group mind. That's great for
the street crazies I get to help heal. Not so great for me, injected with madness...
CAUTION: CRITIQUES THE CULT OF FRIENDSHIP
FROG ORDERS: by Wayan; 1986/7/4, a dream on piety.
I'm in medieval England on a mission from God, but I meet a Priestess on a mission from...well, we argue.

FUTILITY: by Wayan; 1973/11/23, a time-machine dream.
I'm Liza Doolittle on Mars. With Mr. Wells's Time Machine. Lost, in fact. Can I get home? Should I?

GALILEO FALLS: by Wayan; 1979/11/7, a mysterious dream .
I was a closet unicorn. SO closet, I didn't even know what a unicorn was,
till I went to college and met Lindsay, who was half and could pass...

GARDEN OF THE GODS: by Wayan; 1995/10/6, a dream of slowth.
In the Garden of the Gods, I sit through sun and rain. For gods aren't the gardeners, they're the crop...

GARGOYLE GO-BETWEEN: by Wayan; 1996/11/22, a Hogwartish dream.
I'm odd kid out in my wizard school, till gargoyles raid, and I puzzle out their tongue, to become...

THE GENERAL: by Wayan, mid-December 1975, a nightmare warning of real danger
I'm a child in a Latin American city who's murdered on the street. Then I'm my brother,
seeking my own murderers. I find the General behind it! Unfortunately...
CAUTION: DYING. DYING TWICE. AND THEN NEARLY AGAIN, AWAKE...

GIRL WITH A PROBLEM: by Wayan; 1997/4/12, a surreal dream.
I date a girl with a mysterious syndrome, but soon I become a monkeyfaced con-man. And SHE becomes...

GIVE TRAVIS ONE MORE CHANCE: by Wayan; 1980/10/13, a desperate dream.
I'm detective Travis McGee's lover. But we always die by the book's end! My solution is drastic...
CAUTION: HARD-BOILED HANDGUNS
GLASS EATER: by Wayan; 1982/12/10, a dream on managing ESP.
I live in an asylum for fragile psychics. When one man over-uses his talent, he compulsively eats glass...
CAUTION: DON'T TRY THIS AT HOME

GOD-SHIELDS: by Wayan; 1990/8/21, a confusing dream of growth.
I'm a fat guy hired as a temp by some unethical gods. Or are they trying to teach me something?

GOLD EATER: by Wayan; 1993/1/15 dream drawn as 9-page comic.
I'm an orphan shapeshifter enslaved by a gold-eating monster. But I meet a cat-girl with a hammer...
CAUTION: BAD FOSTER-DAD; CAPITALIST MONSTER; VIOLENCE (TO VENDING MACHINES)

GOSPEL GIRL: by Wayan; 1986/11/17, a stubborn dream.
I'm a girl in a desert who God tells to preach a new gospel. But the locals, unlike ancient Rome, have guns...
CAUTION: VIOLENT MARTYRDOM

GRAMPA GOT AIMED: by Wayan; 1987/6/17, a psychic dream.
The girl I love has a family that'll stop at absolutely nothing to destroy us. But I'll fight for love...
CAUTION: SEX; EMOTIONAL VIOLENCE; MOLESTATION HISTORY

GREEN RAY, BLUE WINGS: by Wayan, 1974/7/14, a joyful apocalyptic dream
High in the Sierra during a thunderstorm, I dream aliens steal the gold, and the sun's
going nova. But Life wants us to conquer space, so we all grow wings...

GREENBIRD SAVIOR: by Wayan; 1983/6/2, a divine comedy.
Time-travel the Navaho way! But our bread-pipe gets hijacked, so we call the Bird. Who shows up, all right...
CAUTION: NON-STANDARD SAVIOR, EVIL DREAM PUNS

GRIEF KIVA: by Wayan; 1980/2/16, a lucid psychic dream.
In a Hopi underworld, I find even lucid dreaming can't cure guilt and grief over losses yet to come...

GYRLFALCON: by Wayan; 1971/11/26, a genderbent, speciesbent & predictive dream
I'm a Gyrlfalcon in a theater, fighting the Wolverine and his Morlocks with my lover the Green Lion...

HALF-TWIN: by Wayan; 1995/7/4, a dream on the real roots of trust
In a world obsessed with genes and pecking order, we're half-sisters--
very different, yet we support and trust one another. Our society's just wrong!...

HAUNTED BUT HAPPY: by Wayan; 1990/10/13, a labyrinthine dream.
Some Christian oneirologists barge into the Haunted Firehouse. But I pose for nude unicorn photos, and...
CAUTION: DUMB CHRISTIANS, EXHIBITIONIST UNICORNS, ETC.

HAWK AND CAT: by Wayan, 1981/6/2, a dream of ethics and terror.
My best friend is a cat. Problem is, I'm a rare hawk--a Cat-Eater. I never, ever would, but...

HAWK RIDGE: by Wayan; 1990/2/15; primitivist digital dream-painting
I dreamed I was a gull in Middle Earth fighting Sauron, though he
blurred my vision; but my hawk-eyed gullfriends helped me out...
HE SAW: by Jeffery Beam; c.1983, a nightmare with three selves
I, sleeping me, watch dream-me find a third me who saw too much
in the kitchen. Unconscious or dead? I just don't know...

HEART CHAKRA: by Wayan; 2011/5/8, a dreamlet blending Indian mysticism and the movie Megamind
I'm a digital superhero, rubbing red-orange oil into my fake skin. I have six more
colors of oil to rub in, six more chakras to heal. But first things first!...

THE HEDGE KING: by Wayan, 1992/6/14, a gender-bent dream epic.
I change sex to infiltrate a sinister castle, unaware its Lord can spot a shapeshifter--being one himself...
CAUTION: A DISTURBING BEDSIDE MANOR. I MEAN, MANNER.
THE HEIDEGGARIAN BARBARIAN: by Jo, 2007/02/02, a dream of hopping between two characters
I was two-thirds of a love triangle, but I always lost out. Flying was some consolation...
CAUTION: RAT DEATH, EVIL WHALES AND ADULTERY
HELPLESSLY LUCID: by Alder; 2007/6/23, a lucid dream in which Iím powerless!
Iím a homeless elf. Weíre a persecuted minority group. I know Iím dreaming and try to change it but...
HERMIT IN THE PIPE: by Wayan; 1999/5/2, a dream of the end.
I'm a holy man sneaking into a sewerpipe at the beach, to pop anxiety pills in shame. Do they even work?
CAUTION: CHEMICAL CRUTCHES

HERON HAREM: by Wayan; 1981/6/14, a dream with a moral.
I'm a heron working in the Civil Service. I want to blow the whistle, but then how would I support my...
CAUTION: BIRD-SLAVERY?

HICKOPHOBIA: by Wayan; 1996/5/13; 2-page dream-comix (or plain text version)
Whenever I run out of ballet class to Japanese without asking my classmate Wendy out, I change sex...
CAUTION: LANGUAGE

HIS MINE: by Wayan; 1985/12/2, a wild dream epic.
I'm a hobbit seeking Henry Fonda's haunted gold mine. And find it. Or is that chocolate?
But I get caught in a shamanic showdown in a bar where they serve real spirits...

A HISA ON OLYMPUS: by Wayan; 2014/6/15, a dream on the need to slow down
I'm a hisa, a primitive alien who solves a high-tech crime for the humans. Then I hike home,
step by step, down a great shield volcano. Because shuttles leave your soul behind...
HISTORY CHANGES: by Wayan; 1994/11/22, a dream of an alternate life.
I'm the token Chinese guy in a jazz band in backwoods Brazil, in the old colonial days, when...

A HOBBIT IN L.A.: by Wayan; 1990/1/8, a dream on wishes.
I'm a hobbit woman in Los Angeles, hiding a magic weapon
from Sauron. No, not THAT weapon. The wishing-bucket...

HOBBIT SNIPER: by Wayan; 1998/10/13, a dream on strategy.
I'm a sniper in a desert battle of men against hobbits. Guilty for not fighting openly, but that'd be suicidal...
CAUTION: MATH AND WAR

HOLY ZEN MONK: by Wayan; 1978/4/24, a dream of suicide as political protest
I'm a Zen monk riddled with holes from a weird disease the government denies
is real. So as a protest, I stand naked atop a wall and let the air-sharks take me...
CAUTION: SURREAL SUICIDE
HOMO REDUX: by Winston Weathers, pre-1988, a nightmare of revenants
All his guilty dead were coming home, begging to be let in...
And then he was on the outside, looking in at the lone living man...
CAUTION: GUILT, GRIEF, THE LIVING DEAD

THE HORSE VOTERS: by Wayan; 1995/4/30, a dream on race? Or...
19th century horsebreeders crossbred more than they admit. One suggests I look hard in the mirror...
CAUTION: UNSEEMLY SENATORIAL DISCOURSE

HORSES OF THE AQUARIUS: by Wayan, 1956-8, poem on recurring childhood dreams.
In my earliest memory, I'm a wild horse near Shiprock who recurrently dreamed
I was a human child. The two lives alternated for years, each a dream to the other...

HORTA'S EGGS: by Wayan; 1984/1/17, a dream of re-evaluation.
I fight to save a nest of 50,000 eggs that'll hatch... psychics!
But my friends want to exterminate them! Who's wrong here?

HOT POT CAT LOT: by Wayan; 1992/8/6, a delayed-action psychic dream.
After a bad writing class, I meet a shy catgirl guarding a Mongolian Hot Pot, and discover who I am...

HOT TO TROT or BRAIN TRAUMA or HUMPIN' THE HOG or SAD-EYED SWAN OF LOVE:
by Wayan; 1993/8/4, a bizarre, epic dream on finding your way
I'm a mare hot to trot (and get laid) in the Big City, but my gay Star Trek friend's brain trauma
makes her a clueless alien with a bo(a)ring sexlife--until a sad swan enfolds her in love...
CAUTION: ALIEN POSSESSION, CARTOON PIG SEX, SMOKING SWANS
A HOTEL ODYSSEY: by Wayan; 1994/2/21, a Borges dream.
I live in the Infinite Hotel, but the other guests in my wing are no fun. It's time to set sail...

HOW THE WAYAN GOT ITS NAME: by Wayan, 1986/5/23, a predictive dream on names (& manes)
A telepathic unicorn-lion says my true name is Wayan. And my true species? I'm like him!
I wake, change my name to fit the dream, move to a new city. Near my new house,
my dream-name is scratched into the concrete sidewalk...
HOW TO BE HAPPY: A FABLE BY TOLKIEN: by Wayan; 1994/6/16, a dream, not by Tolkien.
I'm a librarian in an English village hit by fads--new philosophies and lifestyles. I learn what works:
THE HUMAN BUTTERFLY: by Peter Wortsman; 1986, a bizarre dream
I wanted to be human, but Mom said "You'll always be just a lousy caterpillar." So I slipped inside
a human girl. After some arguments with her boyfriend, I got born as a human-faced butterfly...
CAUTION: UNDERAGE SEX AND MOM

HUNT AND PECK: by Patagia; 1997/6/16, a dream on the creative non-struggle.
Iím a brown sparrow scratching in the dirt, looking for bugs. Focused, tireless, I hunt and peck...

HUNTERS' FIRE: by Wayan; 1997/9/8, a nightmare that may be a memory.
I'm an orphan shot at by hunters. They shoot my sister! But no one believes me...
CAUTION: VIOLENCE
HYDROGEN INITIATION: by Wayan; 1981/1/6, a shamanic nightmare.
I'm an initiate in a Sung Dynasty monastery. But I have no idea how far the hazing can go...
CAUTION: DON'T TRY THIS AT HOME
I AM A BIRD by Nancy Price; 1948, a dream of another life... well, two.
I live as a small falcon, glad I'm no longer human. But when that life ends...

I AM THREE: by Wayan; 1957-58, my three earliest dreams.
My first memory is of being a wild horse and waking up to find I was suddenly a human child...

I AM A SILKY IN THE SEA: by Wayan; 1986? Watercolor on shapeshifting in dreams.
"I am a man upon the land; I am a Selkie in the sea..." Silky or selkie means a were-seal...

I AM NOT A MAN: by Wayan; 1996/11/28, a dream of Middle Earth.
I can help slay a monster and save my friends--if I deny I'm human.
My denial has grave consequences, but it's absolutelytrue...
I DIED AND WALKED AMONG THE LIVING: by Starvibes, 2013/1/4, a warning dream?
My little daughter and I hardly notice when a truck kills us. Unseen, I calmly observe the alarm of the living...

I DO, WE DO: by Victor Henderson; 1982/2/16, a dream & painting on swapping faces
A surgeon persuaded me to swap my face with another man's. But I found I felt compelled
to carry on his life, not mine--to pass for him. And when I demanded my face back...

I DREAM OF... ME: by Linda Medley; 1990-91, a dream-comic, the seed of Castle Waiting
I wake in a hobbit-hole. My love looks worried. What's wrong with me? A badger
takes me to see wizard Sean Connery, who gives me feathers to eat, and I become...

I FIGHT FOR BEAUTY: by Wayan; 1990/1/1, an incubated dream within a dream within a dream.
From Hawaii to Wyoming, I fight for beauty, always waking to find I'm someone new...

I GOT OUT: by Wayan; 1992/1/4, a psychic dream drawn as a 9-page digital comic
I flee our love triangle when Abe turns mean. He's telepathic, but
I have my escape all planned: the goldfish, the snakepit, the caves...
CAUTION: THREESOME, SNAKES, MOTORCYCLE FATALITY

I THOUGHT HE LIKED ME: by Wayan; 1994/8/16, a dream of rejection... or worse.
I join the Seattle Tribal Council, which of course means marrying them all. The husband I'm to sleep with
on our Council Honeymoon seemed to like me, till he pulls that practical joke...
CAUTION: GROSS!

I WANT MY INHERITANCE: by Wayan; 1989/12/18, a dream on family brainwashing.
My family calls me a blonde bimbo and won't give me my inheritance, so I take drastic steps...
CAUTION: MORAL HAIRSPLITTING

I WAS A SEX SLAVE: by Wayan; 1994/11/20, a dream on isolation
I'm a slave dancer. I run for it, and make it over the border. But my owner comes looking for me...
CAUTION: NUDITY, SLAVE SOCIETY

I WAS AN ELEPHANT HANDLER: by Wayan; 1989/4/3, a genderbent stagestruck dream.
I was an elephant trainer longing to be a star--to win the girl on the flying trapeze. Who's probably straight...
CAUTION: FLIRTING LESBIANS, OR POSSIBLY ELEPHANTS, OR MAYBE LIBRARIANS

THE ICE CREAM KISS: by Wayan; 1993/11/27, an uncomfortable dream.
I'm Joe Leaphorn, in (of all places for a Navaho detective) a coven in San Francisco watching a creamy...

ICK! DOGS!: by Wayan; 1990/1/3, a Star Trek dream.
I'm Jean-Luc Picard, and my Enterprise has been taken over by a pack of brilliant, paranoid wolves...

THE ILL-FORMED TALE: by Wayan; 160K, 1981/4/7, a wild dream anti-epic.
To reach the Peak of Happiness on the Isle of Dreams, I must pass four Perils--but they're all backwards...
CAUTION: RELIGIOUS NUTS, KNIVES, NUDE ALIENS, BACKWARD PLOT...

I'LL TRY: by Wayan; 1990/7/5. Experiment: dream sketch to video to digital picture-poem.
An early self-portrait rebelling against my gender and trying on beauty to see what'd change...

I'M A VESTA, NOT A MAN!: by Wayan; 1980/1/6, a dream of when it's over.
I'm the animal guardian of a deep crater, but when a human girl rejects me, I set out to leave...
CAUTION: ORAL SEX, UNREQUITED LOVE, SPECISM
I'M AN INTERSEX AND I'M OKAY: by Wayan; 1992/11/7, a body-image dream.
I discover I'm not exactly a man OR a woman; so why not throw out their standards and roles and be me?
CAUTION: SEXUAL SELF-EXAM
I'M NOT BAD FOR A ROBOT MOM: by Wayan; 1993/11/12, an evaluatory dream.
I'm an android struggling to raise a boy genius. But even human moms of prodigies share my problems!

IN A REHEARSAL ROOM: by Wayan; 1982/10/20, a sexy dreamlet on shyness.
I dreamed my fears faded like ghosts, as we made love in the rehearsal room. But invisible is not gone...
CAUTION: UNDERAGE SEX

IN IO: by Wayan, 1981/8/7, a wild otherworldly dream with 3 illustrations.
I live on Io. It's nicer than its photos. At least inside, where the oceans are--where I grow a second head...

IN THE SHADOW OF MAN: by Wayan; 1994/3/4, a dream on how to escape the cage
I'm a lab animal who discovers voice software and creates a personal zine, testifying for our rights...
IN THE STAR; 1988/9/12 by Wayan; an epic, out-of-body, intrastellar quest-dream
I tour the heart of a red supergiant, where dreaming souls explore
their fears and heart's desires, unconstrained by solid matter...
CAUTION: SWEDENBORGIAN VISION, UNICORN NUDITY

IN THE VAULT: by Wayan; 1983/4/6, a dream of treasure.
I was a sheltered girl till I entered my family's secret ancestral vault. I didn't expect to meet...

INUIT MEDITATION: by Wayan; 1989/11/16, a comically surreal dream.
I'm the first tuna to get a scholarship to Stanford.
Naturally I sign up for a course in Inuit Meditation...
ISHI AND SNOID: by Wayan; 1993/8/4, a dream of stretching.
I'm a California Indian wandering through time, keeping the secret of time-travel from the reckless...

IT WASN'T EASY: by Wayan; 1983/2/24, a dream of escaping my family's unrealism
An Arabian prince kidnaps my girlfriend and me. We eventually escape his flying palace, but she gets trapped in
Victorian underwear, while I escape feuding politicians by turning myself into a truck tire. NOT a smart move...
CAUTION: BOGUS VICTORIAN SEX-EUPHEMISMS
IT'S A DEAD MAN'S PARTY: by Wayan; 1988/10/18, a nightmare of identity.
I find myself at a creepy party supporting a dead man who's running for office. And am I Dan Quayle?
CAUTION: HORROR BEYOND HORROR. YOU ARE DAN QUAYLE.