AMERICANS SHOOT ANYTHING: by Wayan; 1990/5/2, a predictive dream.
Canals and locks. American soldiers find an underground village and force everyone to evacuate to
a warship, "for safety". The villagers turn into birds so if it's a trap they can escape. Next morning...
CAUTION: ESP, GUNBOAT DIPLOMACY

APOLOGETIC OGRE: by Wayan; 1990/3/1, a nightmare.
I hop on a bus in mythical Greece, and this woman's guardian angel acts racist. OK, I'm an ogre. So?
CAUTION: ANOTHER HANDGUN TRAGEDY
ARAGORN'S LIVER: by Wayan; 1983/1/29, a nightmare.
I'm a hobbit in Silicon Valley, stalking Ring-wraiths down El Camino. But one of them's stalking me...
CAUTION: VIOLENCE, MADNESS

ARCTIC CHANGELING: by Wayan; 1981/6/30, a dream on roots.
I'm a shy woman in a truckstop town who learns why I don't fit in. But will I, among my real kin?...

BACKACHE DIALOGUES: by Wayan; 1993/12/10, four bizarre diagnostic dreamlets.
I asked my dreams why my back hurt. They told me: pregnancy, marsupial pouches, snapping turtles...
BARN OWL FUSION: by Patagia; 2006/3/9, linked transformation and flying dreams
An owl flew at me, and I fused with it. The next thing I knew, I was a redtail hawk...

THE BASEBALL KISS: by Wayan; 1983/8/4, a dreamtale on choice.
The Prime Minister of England breaks my nose, so I become a flock of squirrels
to seek revenge. Should I let go?

BASTARD UNICORN: by Wayan; 2012/6/28, a dream about ambition
Since I'm half-unicorn, my ambition drives me to share power and help the whole
herd--that's how unicorns rise. But among human politicians...

BAT AND UMBRELLA: by David Small; c. 1960/3/1, a nightmare exposing deadly child neglect
I'm an orphaned bat in an alley in a storm. I mistake a broken old umbrella's ribs & flaps
for... my Mom! I unfold Mom, and discover...
CAUTION: LIFE-THREATENING CHILD NEGLECT

THE BEACH: by Patricia Benefield; pre-1985, a surreal painting of recurring dreams
Birds enchant me, and they long have frequented my dreams.
Sometimes, as in The Beach, I am a bird/woman...

BIRD ASSASSIN: by Adam Shaw, art by Jesse Reklaw; pre-2000; a no-kindness-goes-unpunished dream
I'm a giant cartoon bird. I had to assassinate a friend--twelve times!
Eleven times I killed him, but I spared him the twelfth. He said...

BITE THE BULLET: by Wayan; 2000/1/25, a flightmare.
We unearthed a sacred treasure, but now a mob of believers are out to lynch us! I better fly...
CAUTION: SACRILEGE AND BAD PUNS

BLACK DUCKS QUACKED FIRST: by Wayan; 1990/9/13, a dream-farce on Shadows of Greats Past.
My sister & I try to sing an original, but every note summons old jazz greats, leaving us
no musical elbow room! So I quack like a duck. Nope! Giant ducks appear, and say...
CAUTION: RACIAL ANXIETY? GIANT DUCKS!

BLOWN OR STEER?: by Wayan; 2006/9/16, a flying, species-bent, advisory dream
I'm a shy wild cat locked in a zoo paddock with elephants and lions
till I remember how to fly! But just levitate, blown about by the wind?
Or can I steer my own course?...

BRICK AND SKIN: by Wayan; 1988/10/18, a dream of spiritual stretching.
I'm analog myself, but in Tibet, I meet a digital shaman whose body's a sort of ...

THE BRIDGE: by Wayan; a 3-page comic from two linked dreams, 1989/5/28 & 1989/10/1.
The Hunt of the Unicorn (yeah, guess who I am), as I fly through the worlds fighting Reaganism...
CAUTION: MOCKS THE GREAT COMMUNICATOR

BUGS AND ROOSEVELT: by Wayan; 1982/5/2, a wild predictive dream illustrated as an epic poem
I'm Bugs Bunny. I torment Daffy Duck till I learn that in many time-branches the New
Deal happened late... or never. I decide to prod a reluctant Franklin Delano Roosevelt...
CAUTION: FIRESIDE PETTING, DUCK TORTURE, BAD POLITICS

BURN: by Sierra Loucks; 1990?, a five-year-old's nightmare
I was at the beach with my friends. It was fun. But gradually they were
laughing at me, not with me. Then they picked up burning sticks...
CAUTION: GRUESOME

BUTTERFLY: by Zhuang-zi; about 300 BC, a dream questioning identity.
I dreamed I was a butterfly, fluttering about, content with my lot. Suddenly I awoke and was Chuang-tzu again...

CAMERA STRIKE: by Wayan, 1996/10/19, a dream within a dream with a point.
I dream I'm a lemur-girl in an emotional maze.
I wake to find I'm really a satyr cartoonist.
Funny, we have a lot in common! I wake to find...
CAUTION: PHALLIC SATYRE

CATRISE: by Wayan; 2000/2/21, a sexy flying dream; acrylic painting.
I'm an alien exchange student in Palo Alto High School. I get stared at--they wear clothes, they don't fly...
CAUTION: FELINE NUDITY

CHART THE GROWTH: by Brenda Ferrimani; 2004, painting of an incubated, oracular dream
I asked my dreams "What's my truest purpose?"
I dreamed my body was a tree, and a voice said "Chart the growth"...

CHEETAH: by Wayan; 1978-86, a poem on turning dreams into art.
I'm a cheetah working as a baker in Coconino County, Arizona, haunted by Krazy Kat...

CITY OF BEES: by Wayan; 1994/8/2, a diagnostic dream-comic.
A bee-doctor in the city of Propolopolis diagnoses me as having a rare syndrome, Ambition Denied...

CLIFFMARE: by Wayan; 1988/10/8; a dream of lust vs freedom.
I was a wild mare in heat, torn between longing for sex, touch, love...and the fear of being tamed.
CAUTION: HORSE FRUSTRATION

CLOSE THE GATE: by Emily Joy; 2004/11/19, a dream of decision.
My foxy lover teases and tempts, but I can't let him into the patio for fear he'll hurt the rabbitsÖ
CAUTION: UNFUNNY BUNNY PUNS

COEURL: by Wayan; 1980/2/26, a dream of surprise transcendence
I'm trapped in an alien hotel, my true love has gone radioactive,
and the only way out is to turn into a giant, scary...
CAUTION: CLOSET LESBIAN. LITERAL CLOSET.

CORVI AND FEY: by Wayan; 2016/6/14, a shamanic dream of reuniting estranged symbiotes
I visit a world of ravenish people, the Corvi, who banished their
partners the wish-granting Fey, calling them parasites. I decide to meddle...
COSMIC EGG AND ENERGY BIRD: by Wayan; 1971/12/4, a childhood mystical dream.
A mystical vision of the Cosmic Egg gets messy when it hatches and the Bird escapes...

COYOTE PAJAMAS: by Wayan; 1983/12/17, a Dantesque dream-epic.
I'm Coyote, keeping the Business Prophet from taking over Dante's Peak. But it turns too personal...
CAUTION: IDIOTIC VIOLENCE

CREATURE BECOMES CREATOR: by Wayan; 2015/2/5, three linked advisory dreams on world trends
A weird little forest god bred me from an ordinary deer into a creature who can
almost pass for human. But World War 2 killed my god, and now I'm growing into...
CAUTION: NUDITY, CROSSBREEDING

DARE TO BE FAT!: by Wayan; spinoff picture from a 1997/8/20 dream.
I was an anorexic fox-girl, till this phrase galvanized me. Now I pump iron and eat what I like, and...

DEATH DATE: by Jim Shaw; 1994 (early?), a possibly predictive shamanic dream
I become a werewolf and climb into a strange attic. I find a grave marker for
an old friend--but her death date is two years in the future...

DEERMAN'S CHALLENGE: by Melissa McClanahan, 2002?-2007?, a recurring nightmare figure
I used to dream of this violent anthropomorphic being. At times I'd put on his deer-skull head
and become him, inflicting and inciting violence. Naming him gave me some control...

DEFENDING MYSELF BEFORE A JURY OF MEN: by Jack Kerouac, 1958?, a transcendent advisory dreamlet
I'm on trial. As I argue in my own defense, I float over the court! The jurors murmur
"Why does he even bother protesting? He's beyond this world"...
THE DENUNCIATION: by Georges Perec; August 1972, a dream of war-trauma finally healing? Dream #124
1941. My dad and I are denounced to the SS. We're put in with monsters; I'm a snake or fish myself.
But the Nazis become a photo album, I go to a memorial, I cry, it's 1947, peace...
CAUTION: HOLOCAUST MEMORIES

DESERT EYES: by Wayan; 1984/3/4, a dream of portals.
We desert-hobbits break through to a world of jungle giants who
see differently from us. Will they believe us about the UFOs?

MY DEWCLAW: by Wayan; 1997/6/30; dreams within dreams within dreams
Body after body is peeled away revealing truth inside truth...
CAUTION: GROTESQUE

DINO FOR A NIGHT: by Wayan; 2017/7/9, a sci-fi-movie dream poem
I'm turned into a small dinosaur and treated as a guard dog. But I meet a dino girl. We have fun,
once we see it's a movie--they won't kill off the love interests. Hollywood rules make us invulnerable...

DINO TREASURE: by Wayan, 1996/9/1, a treasure-hunt dream.
At the Psychic Faire, I'm a deer-man in a gang hunting treasure, led by a rough tough dinosaur...

DOCTOR VENTRIL: by Wayan; 1978/9/22, a nightmare where I'm the nightmare.
A doctor lures me into his office. What he turns out to be scares me less than how I defend myself...
CAUTION: VIOLENCE, ARACHNOPHOBIA

DOG THIRST: by Cecy and Wayan; 1991/10/7, shared or telepathic dreamlets
CECY: In a desert, a thirsty dog jumps out of a tree--the first known dog suicide...
WAYAN: I'm a talking dog. Our owner denies us enough water, so we protest...

THE DOGGYSEY: by Wayan, 2009/11/26, a dream Odyssey predicts my own artistic path
I find I'm a fox singing the Disney musical version of a canine epic: the tale of Odysseus the
Mutt and his purebred Big Brother vying for the paw of Penelope--and the throne of Ithaka...
CAUTION: POLTERGEIST

DOPPELBRUDER: by Wayan; 1985/5/9, a dream of a self at war over... labels?
Lured to a parallel, feudal world by a marriage-vow, I'm trapped in my double's arrogant, twisted mind...

THE DOUBT: by Wayan; 2007/2/15, an undream trance-painting
Painting an abstract watercolor, I drifted into trance, and found myself climbing a
thorny slope. Deer in the brush. Great peaks around. Had I gone wrong?

THE EGG PROBLEM: by Wayan; 1990/3/2, digital painting of a magical dream.
I was an intellectual ballerina trying to stop zombies hatching from stone eggs...

EMBER IN THE BRAIN: by Wayan; 1983/3/31, a dreamtale on anger.
I'm the Incredible Hulk, forced to do emergency brain surgery. For the patient's burning from within...
CAUTION: VIOLENCE AND UNLICENSED MEDICINE

THE ENTWINED CHILD AND MADAM PURR-SAY: by PurplePurplePurple; 2013/7/5, twin poem-dreams
I dream my autistic son, miraculously high-functioning, recites a math-poem to a crowd...
Then I become cartoon cat Madam Purr-Say and chant my own defiant poem at the dream gods...
CAUTION: FIRST POEM AUTISTIC, SECOND PISSY

ERMINE, or, GOTHMOG'S GHOST: by Wayan, 1984/2/11, a gender-bent & species-bent warning dream
I'm a delicate little ermine-chinchilla whose best friends are all sewer rats.
They push their food and drink on me, and I nibble to be polite...


THE ERTHEDNI: by Wayan, 1977/1/8, three transformation dreams, the last with advice
1: I'm starving in a lush valley; a cult claims all the food, the water, even the air.
2: I'm drowning in a cage but find a corner with water I can breathe--just barely.
3: I'm a merman with a wise friend who hints I need to leave those who starve & drown me...
CAUTION: DOMESTIC BATTERING (OFFSTAGE)

THE EVEREST MARATHON: by Wayan; 1986/4/12, a wild dream epic, part 3 of Unicorn Tag.
In the great race up Everest, I become an e-snake, cross 3 eco-bubbles, beg a
wary deer-taur to splice my spine, help Ariane my childhood crush, and solve
the Dream Equations. Climbing Everest takes not strength but... trust?
FALCON AND FÜHRER: by Miriel; 1985/7/31, an epic flying/transformation dream
A mysterious "Führer" hypnotized all my companions. So I become a human-sized falcon and hunt him...

FEATHERWOLF: by Wayan; 2018/9/20, a joyful gender/species-bent flying dreamlet.
A shapeshifting girl lets me try her spell--I become a
wolf-raven-parrot-human blend. Weird, but I love flying...

FIRST DREAMFLIGHT: by Wayan; 1969/11/11, two dream-results from my first dreamwork experiment.
I never flew in my dreams. I felt cheated. So one day I set out to CREATE dream-flight...
FIRST NIGHT IN FIJI: dreamed May 1980 by S---; an unheeded warning dream
Far from home, about to wed a man I barely knew, I dreamed I was a lion in an open cage I dared not leave...


FISHERGIRLS: by Wayan; 2.6M, 42 illus.; 1996/7/15; a sexy dream epic.
I had an epic dream lasting subjective weeks--a true other life. It wasn't Earth and we weren't human.
I was a teenage lemur, sailing with two friends into unknown waters--a rite of passage. One night,
my friends curled round me, I saw I didn't WANT to pass the test, be declared a woman, marry, and have pups.
I loved my girl friends. In a world lacking the very word, I was groping toward queerdom.
Sailing into unknown waters! "Here be dragons," the old maps say. And they were right...
2600K loads slowly? Try it in parts: 1: HOME, 650K, 2: VOYAGE, 1200K, 3: BACK 750K.
CAUTION: NUDITY, SEX, QUEER TEEN ANGST, ANTI-FUNDAMENTALISM

FISHERGIRL IN WATERCOLOR; OVAL: by Wayan; 1996/7/26 pencil & watercolor
Leaf and me, on our boat in the lost city, from the epic dream FISHERGIRL. My first sketch of the dream...
CAUTION: TRIBAL NUDITY

FLIGHT, MARGARET, MOUSE, DOG: by Paul Nash, dreamed 1895-9 + Feb. 1913; art by Dave McKean
As a child, landscape artist Paul Nash dreamed of flying over the countryside
of southern England. But he was threatened by the legendary Black Dog...

FLOCK WISDOM: by Alder; 1958, a magic comic frustration dream
My eighth grade class is a flock of birds migrating south for the winter, but we donít migrate the easy way...

FLOATING HORSES: by Wayan, 1972/8/10, a flying/transformation dream advising patience
That day, I did bad art. That night, my friend & I get turned into levitating horses--
though some of our fellow fliers, like the mummified Inuit, are kinda creepy...

FLY AWAY HOME: by Wayan; 1996/12/26, a dream of flight and kindness.
I'm an alien castaway, hiding my wings. But Earth feels like home now! If I could fly here, would I stay?

FLY-PARADISE: by Wayan; 1978/12/15, an automatic-writing poem that worked like an advisory dream
I'm a fly lured to a bright but sealed window. The only way out is to ignore the light
and brave the dark--and only when a door opens. Patience AND boldness...
FOUR DRAGONS: by 'Rasselon'; 2009/11/24, a dream of aerial duels
By a lake I've seen in many dreams, four dragons attack. I become one too, and duel them in mid-air...

FOX STORM: by Wayan; fractal painting of dream (date lost, but pre-1998/8/11)
I might have been less cowed by the storm-face, if I'd seen it was made of little foxes just like me...

FOX TEMPLE: by Wayan; 2019/11/16, a mythic dream with sharp advice
AWAKE: I watch Okko's Inn. Little Okko sees spirits--until she grows up and quits settling for ghosts.
DREAM: I explore a temple, meet a fox-spirit... and see I never was human. Time to quit settling for...
CAUTION: GAUZE-ROBED PRIESTESS

FREEBIRD TOWER: by Wayan; 1975/1/10, a rebellious flying dream
I was a bird-girl, the pet of some rich, royal humans. I summoned
a storm of rebel birds, flooding the moat and driving out our owners...
CAUTION: BIRDGIRL NUDITY

FRIEND-RING: by Wayan; 2017/1/6, a dream of divine intervention--My Little Pony style
I'm a horse chosen by the gods to join a Friend-Ring--a group mind. That's great for
the street crazies I get to help heal. Not so great for me, injected with madness...
CAUTION: CRITIQUES THE CULT OF FRIENDSHIP
FROG ORDERS: by Wayan; 1986/7/4, a dream on piety.
I'm in medieval England on a mission from God, but I meet a Priestess on a mission from...well, we argue.

GALILEO FALLS: by Wayan; 1979/11/7, a mysterious dream .
I was a closet unicorn. SO closet, I didn't even know what a unicorn was,
till I went to college and met Lindsay, who was half and could pass...

GOLD EATER: by Wayan; 1993/1/15 dream drawn as 9-page comic.
I'm an orphan shapeshifter enslaved by a gold-eating monster. But I meet a cat-girl with a hammer...
CAUTION: BAD FOSTER-DAD; CAPITALIST MONSTER; VIOLENCE (TO VENDING MACHINES)

GREEN RAY, BLUE WINGS: by Wayan, 1974/7/14, a joyful apocalyptic dream
High in the Sierra during a thunderstorm, I dream aliens steal the gold, and the sun's
going nova. But Life wants us to conquer space, so we all grow wings...

GREENBIRD SAVIOR: by Wayan; 1983/6/2, a divine comedy.
Time-travel the Navaho way! But our bread-pipe gets hijacked, so we call the Bird. Who shows up, all right...
CAUTION: NON-STANDARD SAVIOR, EVIL DREAM PUNS

HAWK AND CAT: by Wayan, 1981/6/2, a dream of ethics and terror.
My best friend is a cat. Problem is, I'm a rare hawk--a Cat-Eater. I never, ever would, but...

HAWK RIDGE: by Wayan; 1990/2/15; primitivist digital dream-painting
I dreamed I was a gull in Middle Earth fighting Sauron, though he
blurred my vision; but my hawk-eyed gullfriends helped me out...
HELPLESSLY LUCID: by Alder; 2007/6/23, a lucid dream in which Iím powerless!
Iím a homeless elf. Weíre a persecuted minority group. I know Iím dreaming and try to change it but...

HERON HAREM: by Wayan; 1981/6/14, a dream with a moral.
I'm a heron working in the Civil Service. I want to blow the whistle, but then how would I support my...
CAUTION: BIRD-SLAVERY?

HIS MINE: by Wayan; 1985/12/2, a wild dream epic.
I'm a hobbit seeking Henry Fonda's haunted gold mine, but I end up in a showdown in a shaman's bar...

A HISA ON OLYMPUS: by Wayan; 2014/6/15, a dream on the need to slow down
I'm a hisa, a primitive alien who solves a high-tech crime for the humans. Then I hike home,
step by step, down a great shield volcano. Because shuttles leave your soul behind...

A HOBBIT IN L.A.: by Wayan; 1990/1/8, a dream on wishes.
I'm a hobbit woman in Los Angeles, hiding a magic weapon
from Sauron. No, not THAT weapon. The wishing-bucket...

HOBBIT SNIPER: by Wayan; 1998/10/13, a dream on strategy.
I'm a sniper in a desert battle of men against hobbits. Guilty for not fighting openly, but that'd be suicidal...
CAUTION: MATH AND WAR

HORSES OF THE AQUARIUS: by Wayan, 1956-8, poem on recurring childhood dreams.
In my earliest memory, I'm a wild horse near Shiprock who recurrently dreamed
I was a human child. The two lives alternated for years, each a dream to the other...

HORTA'S EGGS: by Wayan; 1984/1/17, a dream of re-evaluation.
I fight to save a nest of 50,000 eggs that'll hatch... psychics!
But my friends want to exterminate them! Who's wrong here?

HOT POT CAT LOT: by Wayan; 1992/8/6, a delayed-action psychic dream.
After a bad writing class, I meet a shy catgirl guarding a Mongolian Hot Pot, and discover who I am...

HOT TO TROT or BRAIN TRAUMA or HUMPIN' THE HOG or SAD-EYED SWAN OF LOVE:
by Wayan; 1993/8/4, a bizarre, epic dream on finding your way
I'm a mare hot to trot (and get laid) in the Big City, but my gay Star Trek friend's brain trauma
makes her a clueless alien with a bo(a)ring sexlife--until a sad swan enfolds her in love...
CAUTION: ALIEN POSSESSION, CARTOON PIG SEX, SMOKING SWANS

HOW THE WAYAN GOT ITS NAME: by Wayan, 1986/5/23, a predictive dream on names (& manes)
A telepathic unicorn-lion says my true name is Wayan. And my true species? I'm like him!
I wake, change my name to fit the dream, move to a new city. Near my new house,
my dream-name is scratched into the concrete sidewalk...
THE HUMAN BUTTERFLY: by Peter Wortsman; 1986, a bizarre dream
I wanted to be human, but Mom said "You'll always be just a lousy caterpillar." So I slipped inside
a human girl. After some arguments with her boyfriend, I got born as a human-faced butterfly...
CAUTION: UNDERAGE SEX AND MOM

HUNT AND PECK: by Patagia; 1997/6/16, a dream on the creative non-struggle.
Iím a brown sparrow scratching in the dirt, looking for bugs. Focused, tireless, I hunt and peck...
I AM A BIRD by Nancy Price; 1948, a dream of another life... well, two.
I live as a small falcon, glad I'm no longer human. But when that life ends...

I AM THREE: by Wayan; 1957-58, my three earliest dreams.
My first memory is of being a wild horse and waking up to find I was suddenly a human child...

I AM A SILKY IN THE SEA: by Wayan; 1986? Watercolor on shapeshifting in dreams.
"I am a man upon the land; I am a Selkie in the sea..." Silky or selkie means a were-seal...

I AM NOT A MAN: by Wayan; 1996/11/28, a dream of Middle Earth.
I can help slay a monster and save my friends--if I deny I'm human.
My denial has grave consequences, but it's absolutelytrue...

I DREAM OF... ME: by Linda Medley; 1990-91, a dream-comic, the seed of Castle Waiting
I wake in a hobbit-hole. My love looks worried. What's wrong with me? A badger
takes me to see wizard Sean Connery, who gives me feathers to eat, and I become...

I'M A VESTA, NOT A MAN!: by Wayan; 1980/1/6, a dream of when it's over.
I'm the animal guardian of a deep crater, but when a human girl rejects me, I set out to leave...
CAUTION: ORAL SEX, UNREQUITED LOVE, SPECISM

IN IO: by Wayan, 1981/8/7, a wild otherworldly dream with 3 illustrations.
I live on Io. It's nicer than its photos. At least inside, where the oceans are--where I grow a second head...

IN THE SHADOW OF MAN: by Wayan; 1994/3/4, a dream on how to escape the cage
I'm a lab animal who discovers voice software and creates a personal zine, testifying for our rights...

INUIT MEDITATION: by Wayan; 1989/11/16, a comically surreal dream.
I'm the first tuna to get a scholarship to Stanford.
Naturally I sign up for a course in Inuit Meditation...

JESSICA THE MERMAID: by Jessica, mid-1977, dream-provoked dream
At a dream workshop for kids, James's trickster dream-figures provoked Jessica to dream one chased her;
fleeing, she jumped off the Golden Gate Bridge, became a mermaid, and married the trickster...
JOVE'S LIMBO: by Wayan; 1994/11/27, a dream of astral muckraking.
Half elvish, rejected, I wander the worlds, and find a limbo built by Zeus--but do the inmates deserve it?

THE KENNERBIRD: by Wayan; 1973/5/20; a naive shamanic dream.
I'm a cartoon flamingo; with my sisters, the frog and the rabbit-squirrel, I meet our Maker--the cartoonist...
KIOSK: by Wayan; 1994/5/1, a 4-page dreamcomic on the power of song (or illustrated text version)
I'm a sexy singing beast, the Krelkin, trying to lure the Reading Man out of his Moral Kiosk...
CAUTION: NUDITY, INTERSPECIES FLIRTATION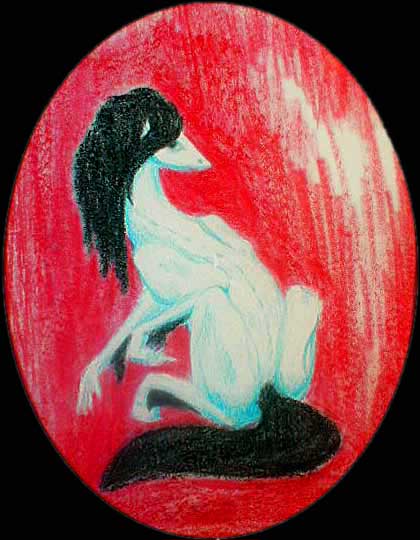 A KRELKIN SMEARED: by Wayan; 1996/9/23; a dream of bold intervention .
I'm a slender, clever krelkin. I draw me, but then red rage erupts and I trash myself... can I be saved?

LACED WITH TERROR: by Wayan; 1999/5/3, an anti-nightmare.
Researchers show me weird little objects like shoelaces that drive people mad with fear...

LANDSCAPE FROM A DREAM: by Paul Nash; recurrent dreams 1895-9, painted summer 1937
As a child, Paul Nash dreamt he flew over rural southern England.
As an adult surrealist painter...

LEARNING SCALES: by Wayan; 1985/6/26, an epic dream of Chinese dragons.
I find myself in astral China. The Empress is banished, the Jester rules. Wisdom is lost.
We need an Imperial Dragon...

LEOPARDS AT THE FRINGE: by Wayan; 2014/3/28; poem of a cryptomnesic species-bent thespian sex dream
I'm at the Fringe Festival, onstage in a Performance Orgy, playing two roles:
a leopard with human pets and a leopard's human pet. But I'm not quite playing...
CAUTION: STAGED ORGY
THE LIZARD LESSON: by Wayan; 1996/12/12, a hard-hittin' shamanic dream.
I'm a shaman in Nunavut who shows a rubber lizard and his foxy niece that reparations have limits...

LOBSTER ECSTASY: by Wayan; 1970/11/1?, a teenage lobster love dream.
One of my first recorded dreams--how I foolishly turned away from Lobster Love...
CAUTION: CHITINOUS SEX

LORD OF THE UNDERWORLD by Wayan, 1989/2/11; a chthonic transformation dream
I go ahead of my fellow spelunkers and blunder into the Lord of the Underworld's court of glowing pools where
dragons swim. I become one! Coiled with my two mates, I stare at my old friends. Will they even know me?
CAUTION: SCALY THREESOME

LOST AGAIN: by Wayan; felt pen, 1983/2/27, sketch of daydream? or dream?
I was a bird-person in a post-nuclear future, touring North America on the wing. But ruins all look the same...
CAUTION: ALL YOU LOVE IS GONE

MAELEN AND ME: by Wayan; 1972/5/1, a transmigrational dream.
I'm a psychic circus animal who's just managed to teleport my humanoid girlfriend. It's for our act, but...
CAUTION: PETTING

MANTA MOTHS: by Wayan; 1990/10/3, a transcendental nightmare echoing a dream 8 years before, (1982/1/22)
Manta Moths pick us off us explorers... or do they? An old scroll spoke of fear leading to transformation...

MENDELIAN CHIMERAS: by Wayan; 2015/1/1, a New Year's dream warning of medical uniqueness
I meet a girl who's a Mendelian hybrid of human, animal and peavine! But I'm no more human than she is...

THE MER BUILDING: by Wayan; 2001/2/23, a dream of a double life.
Iím a puma with a night job as a cellist. But my day job with The Architectives is the bizarre one...

MERBOY: by Al Davison, 1961, a joyful dream remembered from infancy
At around one year old, Al dreamed, while in hospital, that he was a merboy
leaping from the sea, trying to figure out how to swim in the air, too...

MIGRATION THROUGH FIRE: by Wayan; 1999/9/3, a dream of what matters.
I'm a shaggy primitive whose tribe's outgrown our caves. We migrate, and meet two new species of people...

THE MOUSE BANNER: by Wayan; 1986/9/4, a dream fable.
I'm a mouse with a protest banner saying "FREEDOM!", having a slight argument with a cat...
MOUSE WORKOUT: by Eric, ca. 2005/9/28, a nightmare for my own good?
I'm a mouse trapped and tortured in a maze/machine who gets killed four different ways at once...
CAUTION: OW, OW, OW, OW
MY DREAM OF CELIBACY: by Sibbie O'Sullivan, c.1984, a flirty lost-opportunity mermaid dream
I lie on the bottom of the pool. The life guard lifts me in his strong arms. We flirt till my legs fuse, ready to go deep;
but he says "It's only a part-time job" and turns away. In day, the highschool pool lies empty, widowed of water...

MY FAVORITE DREAM OF 1991: by Mary Fleener; 1991, a joyful dismemberment dream.
My friend Carol and I are carrots. We crawl out of our vegetable bed
through the kitchen window, and end up happily hot-tubbing in soup...

MY PET MONSTER: by Katie Hofgard; 2005/5/17?, an erotic nightmare
I'm a sexy monster, but my sister sells me to the Devil as his bride...
CAUTION: SEXY CREATURE, ROTTEN SISTER

MY TREE: by Wayan; 170K, 12/12/2007, 2-page comic of a persistent delusion.
I keep feeling I'm a reincarnated rainforest creature just passing for human. When all I want is...
CAUTION: TOBACCO

MY WILDCAT WOUND: by Wayan; 1994/7/8, a dream on gender trauma.
I'm a wildcat in a cat/fox team led by a woman who wants us to merge with a man/wolf team...
CAUTION: LANGUAGE

A NEVADAN ASS: by Wayan, 2007/5/17, a dream-poem on sabotage in art AND love
DREAM: on a Nevada ranch, I'm a were-horse into mares--when I'm human. And when I'm a stallion?
Why, cowgirls! Always date the wrong species--just to be sure of rejection.
NEXT DAY: I let a class of commercial artists critique my dream-comix. Just to be sure of rejection...
CAUTION: FURRYPHILIA, SELF-SABOTAGE

NIGHT MARE: by Wayan; 1990/11/23; digital painting inspired by a friend's dream.
I dreamed I was a feral mare: gentle, affectionate, sensual, but gone wild, wary of being tamed again...

NO BLUE RIDER: by Wayan; 1996/1/21; digital painting of my first dream, in Franz Marc style.
My first memory is of being a wild horse, and waking up to find I was now a human child...

OCTOPIA: by Wayan; 1996/3/21, a spiritual dream-comic on play; ill. text version
I'm a stratospheric bat who finds a flying swastika. Is it creeping fascism?
Or a Hindu blessing? Neither! It's an Octopian frisbee. I return it...

OFFICE NIGHTINGALE: by Wayan; 1982/9/21, a dream warning I'm in the wrong place
I'm a lonely bird flying in a glass office. Seeking friends, seeing reflections, I fly into windows.
Ow! There's hope of escape only where no false friend beckons...

ON DRAGONS: by Roswila; July 1986, three poems of dragon dreams
The first two dragons numb my pain. I demand it back, and soon regret my haste.
But the third dragon I seduce, for I'm a dragon now...
THE ONI PLAGUE: by Wayan; 2018/2/2, a dream implying our leaders are sociopathic
Humans and elves like me can get along, but not oni (Japanese demons)--they'll hurt anyone for gain...
CAUTION: POLITICAL BITTERNESS

PLANET CAT: by Wayan; 1995/11/12, a First Contact dream of love.
I'm the first man on Planet Cat, falling in love with my guide. And then I'm the Cat, falling for an alien ape...
CAUTION: NUDE CAT

POINTED EARS, POINTED DREAM: by Wayan, 2019/1/4, a surreal dream
I walk home in cold rain; my hooded robe soaked. It has holes for my long pointed ears.
Hit a thriftshop to buy a dry one, and run into two girls I crushed on but ran away from:
Danielle is comforting Cary who's crying. Their ears are pointed too. Wait--who are we?...
CAUTION: GUILT FOR SINS OF OMISSION?

POKER WITH A DEMON: by Wayan; 1980/8/15; a comic predictive financial dream.
I'm authorized to play high-stakes poker with a scary-looking but rather nice demon...

POLYGON DREAMS: by Wayan; 2007/4/23, a 32-page comic on the effects of shapes
What if comics panels and layouts weren't so square? I try triangles,
pentagons, hexagons, circles, spirals--and some serious stuff pops out...
CAUTION: IDEAS, OCCASIONAL NUDITY, MENTIONS ABUSE

PREGNANT WITH KRYTHA: by Wayan; 1998/2/3, a monomaniacal dream
My best friend and I are shapeshifters; I seduce him, just so my daughter Krytha can be born...
CAUTION: MAMMALIAN NUDITY, PHEROMONAL SEDUCTION, RECKLESS PREGNANCY
PUPPY: by Naoki Higashida; March or April 2015, a role-reversal dream
I walk home with a puppy to meet my mum, who addresses the dog by my name
and invites him in, while I head for my doghouse in the garden...
RABBIT WORLD: by Wayan; 6-page comic of a 1990/9/26 shamanic dream.
I'm a telepathic rabbit defending our world from space-laser attack. We do, but do we modernize too much?
CAUTION: IDEAS

RACCOON MOON: by Wayan; 1993/11/22; a short psychic dream.
A precognitive dream about levitating snake girls, raccoons, and lunar eclipses.
CAUTION: MY SNAKE BREASTS

REBEL OWL: by Wayan; 1971/10/9, a dream so mysterious it mystified its inhabitants
My city's invaded and occupied. I become a gigantic Owl and fight with impossible stamina.
But in the end I'm dead, stuffed, on a museum wall. Can I let go NOW?
CAUTION: WAR
REDNECKS: by Tad Ramspott; c. 2000/10/20, a dream of shadows and underdogs
I face two gunmen fleeing an invasion of dragons I support--since inside I'm a dragon. But I won't hurt them. Why?

REDUCED TO THE STUDHOUSE: by Wayan; 1980/11/16, a warning dream.
I'm not a normal wolf: I'm a were-woman. When I turn wolf again, I'm in heat; but I want to be alone! So...
CAUTION: SEX TALK

REFLECTIONS IN THE POOL: by Wayan; 184K total, 2 panoramas; a 1994/7/2 dream.
Night. A mirror-maze of contradictory preachings. But in the secret mermaid pool, I find love.
Then... sphinx-angels war in the air! A war of riddles. Can I, a batwinged devil, make peace?
CAUTION: SEX, NUDITY, MEAN ANGELS, AND ONE HAPPY DEVIL

REVOLUTION IS MESSY: by Emily Joy; 2006/4/26, a political dream
When whites invade, two shapeshifting Native American cubs resist architecturally...

RUNNING BIRD: by Alder; 1953, a kinetic nightmare with double selves.
I'm a flightless bird hopping down a line of marble columns rising from the sea, as they topple behind me...

SATYR: by Wayan; 1999/4/1, a frustrating wish-fulfillment dream (yes, both).
I'm a faun, the oracle for a Greek village. But my predecessor set up rituals I want to change...
CAUTION: SEX, PAGANISM, SELF-SATYRE

SATYR AND TWILIGHT: by Wayan; 2018/9/1, an epic dream perhaps foreseeing the pandemic
A spell kills off nearly all humanity and mutates the rest of us. Now I'm a satyr living in a co-op home with
unicorns, dryads, cattaurs, and shy vampires. Thing is, I prefer the Apocalypse to what came before...
CAUTION: NUDE CREATURES

SCISSORS AND FOX-FLIGHT: by Wayan; 1996/8/20, a marsupial flying dream.
Camping in strange mountains (Australia?), I can't sleep. So I nightwalk, and find I'm changing...

SELF-PORTRAIT AS A YOUNG COYOTE: by Wayan; 2000/1/23; portrait of recurring dream self.
I'm more a dream artist than a realist, but one day I set up a mirror and looked in it...

THE SERMON OF CARMEN DOG: by Wayan; 1990/9/10, the ultimate public-speaking nightmare.
Animal poets at an open mic. My turn! And I find... I'm one. A creature without grammar...
SHARK SENSE: by Wayan; 1988/12/9, a diagnostic dreamtale.
I'm a circus tiger, then a performing shark. One day, I block my human partner's high dive... Why?

SKINK WEDDING: by Wayan; 2018/3/9, an out-of-lizard-body dream poem
I get assigned a life as a skink. Eat flies, mate, do my lizard pushups, but
behind my daily mind, my soul gets so bored it finally flies out...
SLUGS: by Patagia; 2010/11/24, a molluscan dream poem
My friend and I are banana slugs on the forest floor. We wander out into chaparral, and across a bike path...

SMOKING REX: by Wayan; 1989/3/29, a dream of unlikely alliance.
A cigar-smoking tyrannosaur moves into our neighborhood,
upsetting us bluebirds and vampire bats. So we...

SNAKE APOLOGY: by Wayan; 1972/6/24 or 25, a dream on solving communication problems
I'm a snake being hunted by the FBI. I know English, but I can only hiss.
So I need to find an indirect way to show I'm peaceable...
A SNAKE PROMPT: by Rebecca Solnit; before 2005, a brief but effective warning to pay attention
As I recalled what I'd dreamed the night before, a snake, I looked down and saw my foot was poised to come down on...

SNAPDRAGON : 2009/12/17, an illustrated dreampoem.
I'm a werewolf-girl in love with a gender-dysphoric weredragon in love with
a man who's very, very patient with all our crazy shiftiness...
CAUTION: NUDITY (SKIN, FUR and SCALE), SHIFTY PEOPLE (BI, WERE and QUEER)

SOUL-SHARD: by Wayan; 2000/10/5, a rebellious dream
I'm a wolf in an ashram studying astral travel with my spirit-wife. Our souls blend a bit, enraging
our guru, a Hindu god, who sends demons to make us stop this spiritual "contamination"...

THE SPHINX APPROVES: by Wayan; 1991/5/2, a dreamtale on growth.
A great war shrinks to wrestling, then hopping from page to page! Once they were worlds to me, but now...

A SPHINX IN CLAY: by Wayan; 2017/2/25, a dream urging me to face my heritage. Also sculpt!
I'm a half-sphinx--human dad, sphinx mom--stuck in human form so far.
Will I ever learn to shift? I practice--sculpt my elegant feline future self...
CAUTION: SPHINX NUDITY

A SPHINX'S SKETCHBOOK: by Wayan; dreamed 1994/7/2 & 7/19; a 23-page dream-comic
I find the sketch-journal of a beautiful winged sphinx who left her mythic isle
to explore a great city of crazy bipeds, called San Francisco...
CAUTION: SPHINX SEX, SPHINX ATTITUDE

SPIN, SPIN, FLY AGAIN: by Wayan; 2009/8/8, Shakespeare in drag inspires a flying-dream & poem
Night. I'm scared of the men in the park--till I see they're all gay. I dance,
and as darkness flares to dawn, remember how to fly--regain my falcon-wings...

SPIROGRAPHY: by Wayan; 1997/9/29, a one-page cartooned spiral autobiography
Laying my timeline in a Fibonacci spiral, it's clear great changes come in a pattern--
as soon as I've digested the last couple, a new revelation/revolution appears...
CAUTION: CARTOON NUDITY, HEAVY ISSUES

STALLION, NOT MARE: by Wayan; 2018/2/12, a road-rage weirdo provokes an even weirder dream
DAY: a stranger screams "BITCH! Plant a TREE!" Thinks I'm female and wants to fight over an old bumper sticker?
DREAM: I'm a horse detective. In shades, lipstick, & high heels I try to pass as a mare. Absurd! A stallion in drag...
CAUTION: HORSE NUDITY. OH WAIT, THAT'S NORMAL.

STREAMLINING: by Wayan; 2004/11/10, a dream within a dream
I dream I'm an otter, and wake into a dream about sculpture--and learn my style's due to my species...

STRETCH NOW!: by Wayan; 1991/7/25 lost dream plus 1991/11/13 digital sketch
DREAM: I was a cheetah seeking a book of cheetah rolemodels, but this specist librarian harassed me...
PAINTING: months later, dream forgotten, I painted myself without knowing why as a cheetah stretching...

STRUCK BY THOUGHT: by Wayan; dreamed 1956-7, 71/11/26, 78/12/28, 82/10/5, & 83/9/12
A picture-poem experiment: one dream per stanza!
Five short dreams exploring the weight of culture on our animal selves...

SULE SKERRY: by Wayan; 1984/8/13, a non-nightmare.
My sister and I are on a ship abandoned by its crew, heading full-steam for the rocks, when...

SWALLOWED!: by Wayan; 1990/7/30, a warning dream.
An ancient pictograph inspires me to try a meditative technique: shrinking and letting myself be eaten...
CAUTION: DON'T TRY THIS AT HOME

SWAN: by Wayan; 1995/4/8, a transformation dream; 3-page dreamcomic (or as ill. text)
I wake amnesic in a cabin in Alaska, in a dress printed with self-putdowns.
I track down the wizard who cursed me. He turns me into a swan! Worse?
No! His first curse was on a human being, and now I'm a bird. My mind is free!...

THE SWORD DANCE: by Wayan; 1988/4/29, a very unlikely predictive dream.
I visit my friend Xanthe's lungs, where I meet a swordswoman in a red bikini. I get a unicorn pendant,
go lucid, and become a heron too, but next day, it's the red-bikini-swordswoman I actually meet...

TAROT: THE WINGED COYOTE (Freedom!): by Wayan; tarot card from a dream, 1979/3/14.
I dreamed I was the Spirit of Mexico: a winged coyote flying around Sonora howling at the moon...

TEMENOS: by Wayan; 1997/6/17, a psychic dream.
I'm at a Robert Bly camp for men only. But I'm no man--not even human--some faun or satyr-like species...
CAUTION: THIS 'TEMENOS' IS A SACRED PHALLIC IMAGE

THROUGH THE WIRES: by Wayan; 2007/9/16, two surreal contrasting dreams
I meet some alien wolves, and see the social scene as they do--pack, status issues. But then...
I cross a pasture & slip thru a barbwire fence, as I explain cows, wires & organic life to an energy-being...

TIGER TALL: by Wayan; 1992/7/3, a marathon dream.
I'm a tiger from Planet Cat, visiting Earth to run in San Francisco's "Bay to Breakers" race.
I knew racial tensions were high, but why is William S. Burroughs out to kill me? Oh. Because...

TIME-CAT: by Wayan; 2013/11/23; a self-flagging predictive dream
I'm a cat person, grooming. But not MY fur--it's a woolly mass of timelines!
We cats travel time, smoothing out snarls... Then I wake, go to a party, and...

TO HELL: by Katie Hofgard; 2003/4/19?, a nightmare of loyalty
I loyally served a demon who punished me until at last he sent me to hell. And STILL I didn't rebel...
CAUTION: BLOODY ABUSE

TOWERS: by Wayan; 1998/11/15, digital. Based on flying dreams (but no specific dream)
Cities are fun when you're a bird--all those updrafts and perches and nests with great views...

TRESPASSERS IN MALANCHAI: by Hyal; Feb 1996, an epic dream with a psychic intrusion.
A maneless lion-boy wins his people's respect. While training, he sees weird trespassers
who seem to be from someone else's dream... and ten years later, he finds that dreamer.

TRINITY: by Nashoba Hostina; 2002? A nightmare of losing best friends to romantic love
We were inseparable: the tiger, the fox, and the wolf.
Together our magic lit up the darkness around us, until...

TRUMPOCALYPSE UNDERLING: by Wayan, 2020/5/3, a reality-based nightmare
Donald Trump is Satan. I'm just a low-level devil, under his thumb.
I feel helpless to stop his businesslike plans for the Apocalypse...
CAUTION: POLITICAL RAGE; PREDICTS COVID'S LATER WAVES

12 SWALLOWS, 700 DAUGHTERS: by Wayan; 1972/10/14, a dream poem on compassion; Dreamverse #5
Alchemy demands I kill ten swallows. I refuse! Instead, twelve birds and I fuse and fly over a magic wood...

TWO PLANES: by Wayan, 1994/9/6, a multistaged psychic dream.
An assassination plot using two planes triggers an invasion of our kingdom. Flee? Fight?
I'm a peaceful hobbit who'd rather be playing Frisbee with the dryads...

AN UNDERCOVER TROLL: by Wayan; 1994/7/6, a dream of personal growth taken too far...
Disguised as a literary troll, I spy on the Neo-Nazis, but my disguise
can't last much longer: I ate a magical herb, and I'm growing...

VERA AND HER PRIDE: by Bethany Sellers; 2005, a dream-portrait of an inner feline family.
I found myself in a whole pride of cat-people like me, each one representing some side of me...


UNICORN TAG: by Wayan; 1986, a linked series of illustrated dreams.
Animal teachers, mostly equine, drag me (as I scream NO!) beyond plain dreamwork into shamanism...
Chapter 1: The Deer Party: by Wayan; 6 illus.
Chapter 2: Ariane's Honeymoon: by Wayan; 8K
Chapter 3: The Everest Marathon: by Wayan; 1 illus.
Chapter 4: Who'll Be My Love?: by Wayan; 100K, 4 illus.
Chapter 5: Dreamrider: by Wayan; 7K, a nondream interlude
Chapter 6: Half Shaman, Half Statesman: by Wayan; 170K, 4 illus.
Chapter 7: Eight To A Horn: by Wayan; 2 illus.
Chapter 8: Black Magic: by Wayan, 7 illus.
Chapter 9: Misfits On Mars: by Wayan; 300K, 7 illus.

THE VAT MESSIAH: by Wayan; 1985/2/27, a major dreamtale.
In our cult, we lie in vats of goo till we grow wings. But we're feared more than we knew...
CAUTION: SPECIST LYNCH MOB, NUDE IN SCHOOL, LESBIAN FEELINGS, OBSCENE CARROT

VESTA ON ISIG MOUNTAIN: by Wayan; 1982/late May; crayon showing worldview of dream being.
Vesta are animal guardians of the land. This isn't a portrait of a vesta, but how I see when I AM one...

A VIAL CRIME: by Wayan; 1984/5/21, a cartoon dream protesting that I wasn't me today
I'm a flying fox in England. I see a poisoning and call for help. Ugly knockoffs of
Peanuts characters attack me! The real Peanuts gang defeats them; Snoopy drives
the victim to the hospital, saving her. It really is vital to be... authentic.
CAUTION: PUNS

WAPATO BIRDS: by Wayan; 1986/2/2, a subtly psychic dream.
I'm a Wapato Bird: part crane, part elk, part tree-bud. Despite my
shyness, I must lead our people's migration to the Grand Teton lakes...

WATERCATS: by Wayan; 1987/9/10; an epic, clear predictive dream
I dream I find a few 'extinct' watercats--in a slum! They talk. They say I'm one of them,
brainwashed to think I'm human. I wake, go to a dinner, and hear a tale of... watercats!

WATERSHIP DOWNTRODDEN: by Wayan; 1983/6/22, a dream of another life.
I'm an intelligent rabbit in an alphamale's harem, organizing a feminist movement...

WAYAN SAYS: by Wayan; dreamed 1986/5/23 & 1991/7/25, silkpainting 1992/5/9, digital 1994/2/25
I'm a lean loose cheetah who works best in short bursts
and long lazy rests. If I start acting human, I overwork...
WELLS'S QUEST: by Wayan; 1992/7/14, a benevolent dream.
I'm on a world inhabited by hobbits when H.G. Wells shows up, looking for a Ring of Power...

'WE'RE ALL HUMAN': by Wayan; 1987/3/13, a dream trial.
For flirting in the astral cafeteria, we all get sentenced to group therapy--
till I catch the lie in my life. What lie? Read the title...

WERECAT SYNDROME: by Wayan, 2017/4/23, dream advice on Asperger's. Or masculinity?
Werecat Syndrome runs in my family. Academics assume I'm a savage predator.
Why? All I want to do is rub up against girls and find one who purrs back...

WEREMAIDS: by Wayan; 2020/5/14, a species- and gender-bent dream.
I'm a weremaid, able to pass as human but growing a tail in water. I meet a cute but sad girl,
and deduce she may be like me--just in the closet. Worse! Turns out she thinks she's a freak...
CAUTION: DAMAGE FROM CLOSETING

WEREWOLF TRANSFERENCE: by Larry Vigon; fall 1997?; a nightmare reversed by courage
Chased by the old movie Wolfman, I get tired of fear and turn on the monster. I take on his wolfness!
But in me, wolf-nature manifests differently--as a human body with a calm, happy wolf's head...

WEREWOLF PARADOX: by Garvin Jabusch, art by Jesse Reklaw; pre-2000; an ironic nightmare
I must outrun the rising moon so I don't turn into a wolf and
kill my friends, but only a werewolf is swift enough to...

WHALE SPEAKS: by Brenda Ferrimani; dreamed 2014? An epic dream painting.
I dreamed I was a whale swimming against a Christian ebb tide,
trying to lead humans to a cleaner spiritual current...
CAUTION: HARD ON AMERICAN CHRISTIANITY

WHAT E.S.P. IS FOR: by Wayan; 2012/12/10, three dreamlets on my real nature and purpose
I dream ESP isn't just for oneself.
A romance between a wolf singer & a deer guitarist.
I'm furry too, and better accept it!

WHICH ROAD? 1999/1/13. Digital sketch of a dream voting for slow.
I was on a path winding over grassy hills, while humans zoomed by on a freeway below...

WHITE-KNUCKLE FAIRNESS: by Wayan; 1999/3/23, a dream of not being me.
I'm a conscientious saurian who feels obliged to duel with a hot-tempered friend.
Preparing, wanting to fight fair, I don't just file my spurs blunt, I...
WINGS by Nancy Price; 1948, two bird-people dreams, one psychic
I have a long chat with two songbirds. Next I'm a parrot, living in rainforest. Then the mail comes...

THE WIZARD'S HORSE: by Wayan; 2018/9/3, a magical dream about... toxic waste?
I'm a wizard's horse, trying to warn him about a toxic spell on a roadside corpse...
Wake into a second dream, but try to return to being a dream-mare and warn my rider...
And then wake to realize my Nightmare was warning about a home-renovation project!

WORKIN' FOR PEANUTS: by Wayan; 1990/12/11, a crude but perceptive dream.
I'm an elephant working in a diner. In the bathroom, I inadvertently summon the Genie of the Urinal...
CAUTION: PISSED PACHYDERM
YUM YUM!: by Wayan; 1985/1/31, a smelly dream.
At work, a toxic potluck. I say no! And dream I'm a scent-oriented alien tossing back stink-grenades...