World Dream Bank home - add a dream - newest - art gallery - sampler - dreams by title, subject, author, date, places, names

Ragnhild's Tree and Halfdan's Curls

Dreamed c.850 by Queen Ragnhild Sigurdsdotter and King Halfdan of Norway

From Heimskringla, or, The Chronicle of the Kings of Norway: Halfdan the Black's Saga (13th century?)
HALFDAN'S MARRIAGE WITH HJORT'S DAUGHTER
Sigurd Hjort was the name of a king in Ringerike, who was stouter and stronger than any other man, and his equal could not be seen for a handsome appearance. His father was Helge Hvasse (the Sharp); and his mother was Aslaug, a daughter of Sigurd Dragon-Eye, who again was a son of Ragnar Lodbrok. It is told of Sigurd that when he was only twelve years old he killed in single combat the berserk Hildebrand, and eleven others of his comrades; and many are the deeds of manhood told of him in a long saga about his feats.
Sigurd had two children, one of whom was a daughter, called Ragnhild, then twenty years of age, and an excellent brisk girl. Her brother Guthorm was a youth. It is related in regard to Sigurd's death that he had a custom of riding out quite alone in the uninhabited forest to hunt the wild beasts that are hurtful to man, and he was always very eager at this sport. One day he rode out into the forest as usual, and when he had ridden a long way he came out at a piece of cleared land near to Hadeland. There the berserk Hake came against him with thirty men, and they fought. Sigurd Hjort fell there, after killing twelve of Hake's men; and Hake himself lost one hand, and had three other wounds.
Then Hake and his men rode to Sigurd's house, where they took his daughter Ragnhild and her brother Guthorm, and carried them, with much property and valuable articles, home to Hadeland, where Hake had many great farms. He ordered a feast to be prepared, intending to hold his wedding with Ragnhild; but he delayed because his wounds healed slowly; the berserker Hake of Hadeland had to keep to his bed all the autumn and beginning of winter.
Now King Halfdan was in Hedemark at the Yule entertainments when he heard this news; and one morning early, when the king was dressed, he called to him Harek Gand, and told him to go over to Hadeland, and bring him Ragnhild, Sigurd Hjort's daughter. Harek got ready with a hundred men, and made his journey so that they came over the lake to Hake's house in the grey of the morning, and beset all the doors and stairs of the places where the house-servants slept. Then they broke into the sleeping-room where Hake slept, took Ragnhild, with her brother Guthorm, and all the goods that were there, and set fire to the house-servants' place, and burnt all the people in it. Then they covered over a magnificent waggon, placed Ragnhild and Guthorm in it, and drove down upon the ice. Hake got up and went after them a while; but when he came to the ice on the lake, he turned his sword-hilt to the ground and let himself fall upon the point, so that the sword went through him. He was buried under a mound on the banks of the lake.
When King Halfdan, who was very quick of sight, saw the party returning over the frozen lake, and with a covered waggon, he knew that their errand was accomplished according to his desire. Thereupon he ordered the tables to be set out, and sent people all round in the neighbourhood to invite plenty of guests; and the same day there was a good feast which was also Halfdan's marriage-feast with Ragnhild, who became a great queen. Ragnhild's mother was Thorny, a daughter of Klakharald king in Jutland, and a sister of Thrye Dannebod who was married to the Danish king, Gorm the Old, who then ruled over the Danish dominions.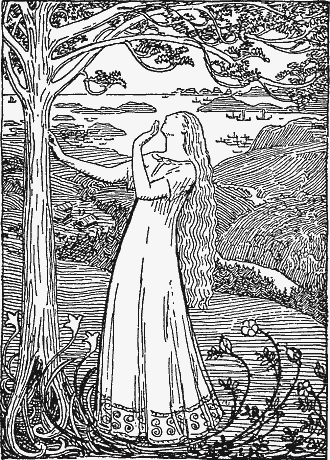 OF RAGNHILD'S DREAM
Ragnhild, who was wise and intelligent, dreamt great dreams. She dreamt, for one, that she was standing out in her herb-garden, and she took a thorn out of her shift; but while she was holding the thorn in her hand it grew so that it became a great tree, one end of which struck itself down into the earth, and it became firmly rooted; and the other end of the tree raised itself so high in the air that she could scarcely see over it, and it became also wonderfully thick. The under part of the tree was red with blood, but the stem upwards was beautifully green and the branches white as snow. There were many and great limbs to the tree, some high up, others low down; and so vast were the tree's branches that they seemed to her to cover all Norway, and even much more.
OF HALFDAN'S DREAM
King Halfdan never had dreams, which appeared to him an extraordinary circumstance; and he told it to a man called Thorleif Spake (the Wise), and asked him what his advice was about it. Thorleif said that what he himself did, when he wanted to have any revelation by dream, was to take his sleep in a swine-sty, and then it never failed that he had dreams. The king did so, and the following dream was revealed to him.
He thought he had the most beautiful hair, which was all in ringlets; some so long as to fall upon the ground, some reaching to the middle of his legs, some to his knees, some to his loins or the middle of his sides, some to his neck, and some were only as knots springing from his head. These ringlets were of various colours; but one ringlet surpassed all the others in beauty, lustre, and size.
This dream he told to Thorleif, who interpreted it thus: -- There should be a great posterity from him, and his descendants should rule over countries with great, but not all with equally great, honour; but one of his race should be more celebrated than all the others. It was the opinion of people that this ringlet betokened King Olaf the Saint.

King Halfdan was a wise man, a man of truth and uprightness--who made laws, observed them himself, and obliged others to observe them. And that violence should not come in place of the laws, he himself fixed the number of criminal acts in law, and the compensations, mulcts, or penalties, for each case, according to every one's birth and dignity.

Queen Ragnhild gave birth to a son, and water was poured over him, and the name of Harald given him, and he soon grew stout and remarkably handsome. As he grew up he became very expert at all feats, and showed also a good understanding. He was much beloved by his mother, but less so by his father.

EDITOR'S NOTES
Ragnhild's son Harald (the baptized boy whose father loves him "less"): Harald went on to fulfill both his parents' dreams: as King Harald, he unified all Norway for the first time and converted much of the population; it was the beginning of their rise from barbaric hinterland to civilization.
Dates: mid-ninth century, but it could well be 840 or 860.
The two dreams: may be real, pure myth, or real but polished to generic blandness by 400 years of oral telling before the saga was first written down. Their predictions are pretty generic. Compare them with Gunnhildr's Birth Dream--she has far less reason to think her son will rise to greatness, and the imagery is eerie and unique: it strikes one as a real dream. Still, Ragnhild's Tree, and the medieval woodcut illustrating it, have become icons for Norway of their rise as a nation: from bloody Viking roots to unparalleled peace and prosperity. And nearly all European dream-accounts from this era have this pious patina; that doesn't mean the original dream was made-up. Even modern dreams must be read between the lines and under the surface!
This is one of the oldest dream-images in art.
A king so hungry to dream that he slept in a pigsty to snare one: Ha! What some people will do in the name of dreamwork! Sure puts modern sleep labs to shame.
--Chris Wayan
---

LISTS AND LINKS: royalty - trees - blood - pain - predictive dreams - long-term predictions - dreamwork - dreams from the sagas (mostly Icelandic) - woodblocks and other prints - Norway

World Dream Bank homepage - Art gallery - New stuff - Introductory sampler, best dreams, best art - On dreamwork - Books
Indexes: Subject - Author - Date - Names - Places - Art media/styles
Titles: A - B - C - D - E - F - G - H - IJ - KL - M - NO - PQ - R - Sa-Sh - Si-Sz - T - UV - WXYZ
Email: wdreamb@yahoo.com - Catalog of art, books, CDs - Behind the Curtain: FAQs, bio, site map - Kindred sites