A Lanky Man two meters tall. He hands
me a leather Leash. Gutteral, commands
"Walk my Mutt to Burlingame." 20 miles! Yet I
meekly take this unpaid quest from Bony Guy.

Hours, miles later, my Dogs hurt. Sick of the hike,
and this loud reckless Terrier chasing every Bike,
car, kid, dog & cat in sight. Deaf to command,
for I'm no Master, just his God's unhired Hand.

At last he catches and bites a Cat. Deep cuts--
the poor cat bleeds on flank and gut
till fur mats, a red-glint Morass of Felt.
"BAD dog!" I roar, (un)covering my guilt.

He whines "I didn't do it!" What? He can TALK?
The smartest Dog in the World! But, and, but
the Stupidest smartest dog in the world. I shout
"Liar! I saw. Your Teeth, her Blood."
"That's not blood!" says the Dog. Red drip.
Jeez. What a comrade on this Dismal Trip!
Since even a Mistrained Dog understood
English, I apologize to the poor Gnawed Cat--

"I'm so sorry. He's a bad, BAD dog.
Don't hide. Go home and get your Pet
humans to clean and bandage that--
it's near the gut. Rest, take care--you'll live."

The silent cat limps off. I pray she'll Forgive
my Lapse: on duty, I saw mere Bark and Bluff
when he sought Blood. To bind the Demon Mutt
I carry him blocks. But miles to go--I cannot Lug

him Miles--joints ache. So tired of being Sick!
As I tramp, my Memory gropes for his Name,
this stupid, vicious, Lying little Dog. Chet?
Jeb? Charlie, Jimmy, Jamie? Closer, but...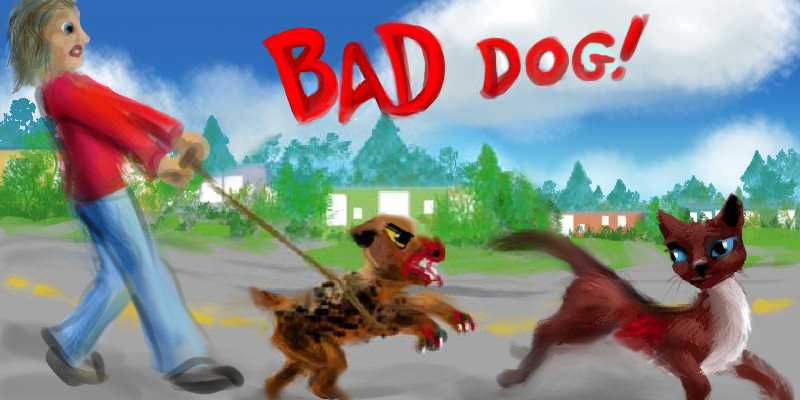 Chay not Jay. Oh, yeah, that was it:
Cheney. Well, that explains a Lot.