World Dream Bank home - add a dream - newest - art gallery - sampler - dreams by title, subject, author, date, place, names

The Griffins' Lesson

Dreamed 2018/6/1 by Wayan
1: SET UP!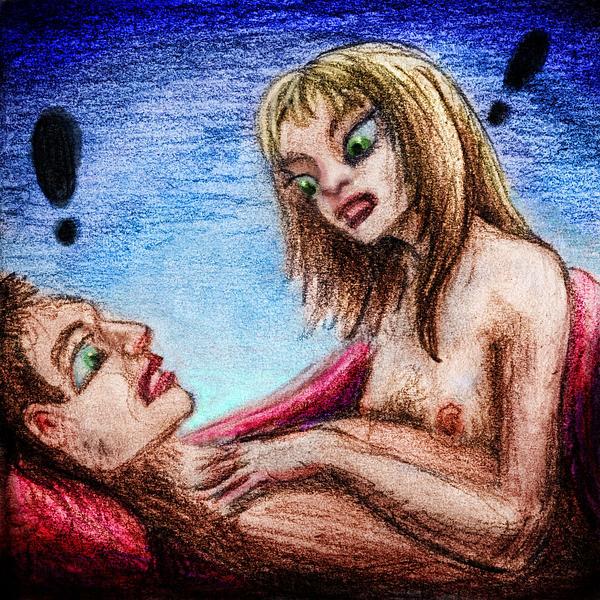 A teenage girl and boy are having nightmares, and I live through each right along with them. Can't recall what his was, but it was bad; and hers I recall all too well: rape.
They both wake up abruptly to find they're in bed together, with no memory of how they got there--just their nightmares. They're not strangers--indeed, they're related--cousins I think. But they're not lovers and never have been.
Nor are they drinkers. Why amnesic? Drugs, hypnosis, a spell? What was DONE to them?
Both look equally troubled--I just don't believe either of them did it. Whatever 'it' was.
I pull back from the scene, and lay out cartoon panels and word balloons to tell this nested nightmare as a one-page comic. Unconsciously, I change them from cousins to siblings to heighten the incest element. When I notice, I change it back; for I only knew in the dream that they were related--not sure they were close cousins, or if they'd even consider sex incestuous. Though both their dreams-inside-my-dream did have sexual fears, incest didn't jump out.
What was the core theme? Not sex at all. Memory theft! Someone was messing with their minds, not just their bodies. Setting them up.
Why? Who gains? It makes no sense.
NOTES NEXT MORNING
Incest tension: apparently no longer an issue for me... but what are these other unresolved sexual fears?
Memory theft: core theme of Matt Kindt's paranoid comic Mind Mgmt; I just read vol.1. And in JR Kowal's Ghost Talker, Ben, a ghost, sticks around trying to solve his own murder, but starts to forget, as ghosts do; he barely moves on in time.
SIX DAYS LATER
I see an episode of Jane the Virgin. Rafael wakes amnesic in bed with a stranger, and Jane finds them. The girl turns out to be hooker paid to drug him and stage this morning-after scene, to drive off Jane. It backfires--the girl recognizes Jane, is an online follower, and next day warns her it was a set-up. The show clearly echoes my dream. How? Why? Let's ignore that, and just act as if I saw the show the day before my dream, and it reacted to it. Reverse the time sign. It's legit for particle physics, why not for dreams?
So... what themes from the show did the dream play up? What looks on the surface like shameful drunken sexual irresponsibility turns out to be a malicious set-up for unknown purposes. Then the teens' nightmares don't look psychological, showing their (or my) fears--instead they seem to be warning them they're being set up! Drugged, stripped, put into bed together.
What's the dream warn me of? I'm not clear, but it involves forgetting. And hints it isn't necessarily self-sabotage. Is someone distracting me?
ACTION: Beware dating until this gets clarified! And look for nonsexual ways I could be getting played.
2: THE GRIFFINS' CART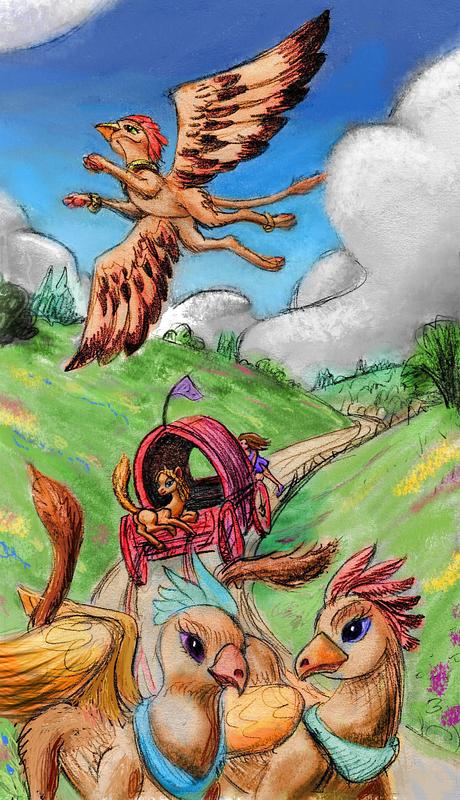 Today I read lots of surreal, experimental, clever comics like Dash Shaw's Body World, Jillian Tamaki's Boundless and Matt Kindt's Mind Mgmt. Thing is, I admired their skill, but I didn't like them. Amoral, kind of cold.
But now, dreaming, I find a graphic novel I DO like, full of fantasy, romance and sexy magic creatures, with a layered, footnoted plot with lots of options where you can choose to jump to other pages; just as dense and weird as Shaw, Tamaki or Kindt, but with more likable characters, more humane values. Warmer.
Open the book at random... and fall into the story.
Suddenly, I'm riding on a wooden cart, a sort of gypsy-wagon, through farm-hills toward a small town. Griffins are pulling it. Well, taking turns; each pulls a while, then wriggles out of the yoke, stretches like a cat, and leaps into the air on eagle wings. Not just a break from work; different work! They spiral up to scout and dive every few minutes to shout "All clear ahead!" Bandits have been reported in these hills, so we need lookouts.
The crew's not exclusively griffins--there's one human-looking girl, and a talking pony. I suspected this might be the world of My Little Pony--some griffins in its hills--but the pony sure clinches it. Central Equestria!
They're all cheerful, relaxed, fun to travel with. Some cross-species flirting... Griffins and ponies are cuuuute.
For me, the strangest thing about the scene isn't the diverse company; it's the cart. The undercarriage isn't wood or metal, it's made of... semantics! Grammatical, logical propositions, about eight of them, interlocking. They look like chopsticks with words burnt into their sides, with sockets near (but not at) the ends; to create longer struts or logical inferences, sticks don't link end to end, but run parallel a few inches.
I snicker. 'I have seen the understructure, and it works.' Those funny side-sockets make the logic loose and flexible, maybe even telescoping; a cart supported by axiom-axles that adaptable can handle even the roughest terrain.
The griffins and their friends will make it through.
NOTES NEXT MORNING
Cartoon, talking pony, cart in Equestria's hills: The Great And Powerful Trixie's traveling magic show, on My Little Pony. Trixie lives in her cart. But alone--and lonely (her boasting drives off friends). This cart's happier--friends and lovers, three species working together. Better... semantics?
Flirtatious griffins: Elda, in Diana Wynne Jones's Year of the Griffin, a novel arguing it's worth paying for the right school. You may not find mentors even in a top school--lots of mediocrity and hypocrisy even there; but you do need peers! Friends and lovers who support your passions and life-goals. Hmm. "Friendship Is Magic"?
Loose, flexible joints: MY joints. I have Ehler-Danlos Syndrome--a mutation giving me loose, stretchy, weak collagen--lotta dislocations & joint pain. Made me an Aspie, too (high-functioning autistic)--my neurons just aren't sheathed well. Literal bared nerves.
Chopstick, flex, maybe too loose: the top of one of my Venetian blinds cracked this week. I glued two chopsticks on as splints, but only one end stuck properly. Gotta reglue the loose end. Wish glue fixed EDS too. Nope.
Cart founded on grammar/logic: Trixie refers to herself in the third person, as "The Great and Powerful Trixie", never simply "I". Sheer ego, or does her copycat magic leave her unable to say "I"? The dream hints that my weak boundaries, blurring "I" and "you", may have advantages. Increased empathy? After all, EDS gave me Asperger's syndrome--autistic problems, but also an IQ near 200. Curse? Blessing? Both.
ACTION: Learn from Elda. Plan ahead! I've been sick for years, and I drifted; but now I'm healing. So seek colleges or other places I'll meet kindred spirits, as Elda did. (Ones full of geniuses and mythical creatures, riiiight. Not so easy!)
SIX DAYS LATER
I see The Fault in Our Cutie Marks, a My Little Pony show starring Gabriela, a manic griffin. Her over-enthusiasm is meant to be comic, but I find I just like her. How many people are just... joyful?
Physicalized logic: Cutie Marks! Gabriela is multi-talented but can't figure out what her life's focus should be. She consults the Crusaders, three young ponies who've made a name as counselors helping ponies manifest their Cutie Mark, the brand naturally appearing on a pony's flanks around puberty, portraying your nature--a physicalized logical proposition! But griffins, like humans, get no such physical prompts. Eventually Gabriela separates her two desires--a visible mark she just isn't built for, and what the mark shows: a life-path, which she CAN find.
Griffin pulling cart: My eyes pop out when this touch-feely griffin helps unstick a talking pony's wooden cart. Not just motifs like friendly griffins or physicalized symbols, but a whole scene straight out of my dream!
ACTION 2: Learn from Gabriela. I don't need clever, cutting-edge friends into violence, cynicism, paranoia or dystopia. As Countess Coloratura sings: "I'm just a pony"--a psychic freak as in Mind Mgmt, yes, but a gentle, herbivorous psychic freak. So seek sunny, positive friends and lovers--Eldas and Gabrielas.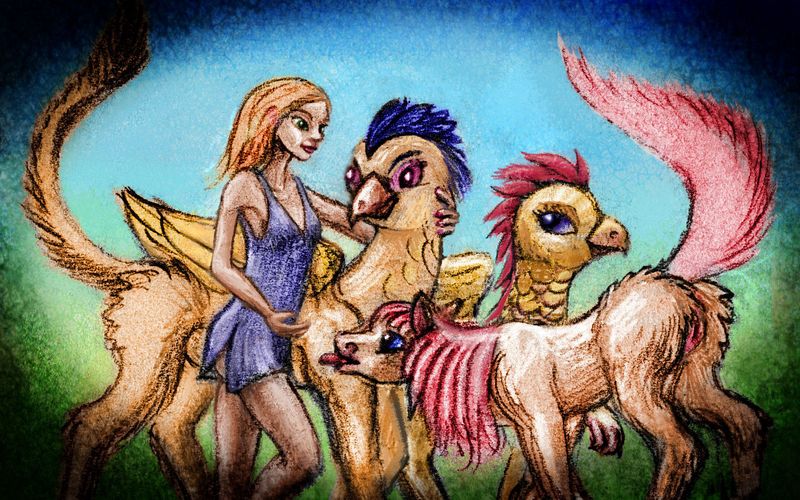 COINCIDENCE?

The standard, and quite valid, argument for coincidence and against ESP goes: "A million car-crashes and a million dream car-crashes--of course a few align by chance!" But that argument assumes reasonably common dream-contents. How many dreams have you had of a fake "couple" drugged and posed by a hidden third party? How many times have you dreamt of sexy griffins pulling wooden carts to help sentient horses?

And it wasn't one bizarre, unlikely dream, but two, both looking exactly the same distance ahead. Why, and how, I don't know. But a good 5% of my dreams anticipate motifs like these--specific and bizarre.

All coincidence? There's skepticism, and then there's... contortionism.
---

LISTS AND LINKS:
Set Up! nightmares - fears - sexual exploitation - false waking & nested dreams - beds - memory & amnesia - incest - healing from abuse - TV-inspired dreams?
Griffins' Cart: weird dream beings - animal people - griffins - horses - on the road - flirting - architecture - language, symbols, math & logic - friends - life-paths - TV again - My Little Pony
Both: predictive dreams & ESP in general - dream advice & warnings - pencil art - Year of the Griffin provokes a dream of The All-Genius Class - a girl foils kidnappers with Her Cutie Mark

World Dream Bank homepage - Art gallery - New stuff - Introductory sampler, best dreams, best art - On dreamwork - Books
Indexes: Subject - Author - Date - Names - Places - Art media/styles
Titles: A - B - C - D - E - F - G - H - IJ - KL - M - NO - PQ - R - Sa-Sh - Si-Sz - T - UV - WXYZ
Email: wdreamb@yahoo.com - Catalog of art, books, CDs - Behind the Curtain: FAQs, bio, site map - Kindred sites