World Dream Bank home - add a dream - newest - art gallery - sampler - dreams by title, subject, author, date, places, names

THIEU, I'M SORRY

Dreamed 1997/11/1 by Chris Wayan
A bank of time-fog. Rising from the soft gray mist is a crag with an immense spire that looks grown, not built. The City of the Future, rising above the fog of time.
It's dramatic, even beautiful in a macho way, but it feels wrong to me: built too high, built too sharp, out of touch with the earth. Behind the crag are huge boxy towers, like the Chicago skyline. The fog clears a bit, and I see more of the city, the houses and streets--it doesn't look like an evil place. But not beautiful, either, except that one dramatic spire... and drop. Dull, if anything. Just damn big.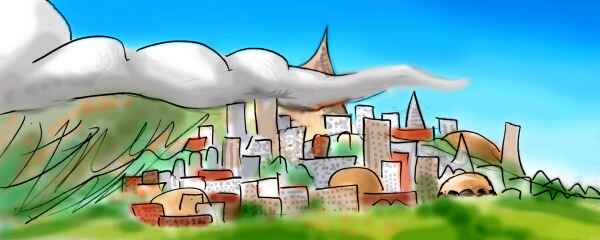 I enter Future City on foot. At least I'm with friends who know the place. Still, I'm uneasy; I have no passport or visa, and my ancient money will be worthless here. If they even use money still. Mark, a dreamworker who's toured the city before, tells me "Just hang out in the B Cafes, they're pretty safe--anonymous people, food plain but edible, and the music's acoustic. We should avoid the A Clubs, they're more avant-garde and prestigious and interesting, but there's too much risk of being caught. C and D clubs are anonymous enough, but they can be violent." I worry that I'll be allergic to B food even if Mark thinks it's harmless, but we try a sidewalk cafe, a B. People leave us alone at least. I'll have to reserve judgment on the food.

Cops walk by, each with one private eye. The other eye, the public eye, is a camera lens that their superiors peer through. Ugh. New in town and already I hate City Hall.

Uh-oh. Now MY vision is changing! I have partly artificial vision myself! But instead of one natural eye and one camera, each eye is mixed: 3/4 of the signals my optic nerve picks up are of the physical world before me, but 1/4 are signals from another plane of existence! At first I think it's just UV or heat or radio waves, but I see a ghostly second world superimposed on the dominant one. I feel disoriented--the two visual fields clash, make me dizzy. I can't attend to both at once. But I'd better get used to it--because it's not going away. It's not static, not some error! The other world comes through clearest when my visual field in this world is dark and quiet. A recessive second world, as real as the dominant. Just masked by physicality, like a recessive gene!

I decide it's just too hard to get around on foot in Future City, so I start skimming winglessly, following the fogbank toward the top of the crag-spire at the heart of town. I land on its terraced shoulder, in a crowd of young people who picnic and play guitars and lie on the grass enjoying the view. I sidle up to the brink, and peek over. Scary! It's changed again. Not a spire now--we're on the lip of a gigantic well, a good three kilometers deep. Windows and balconies all the way down! The Pit, they call it.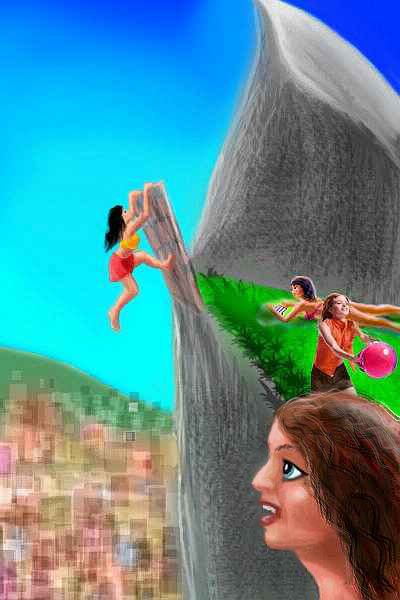 The crowd is waiting for a special event: the announced, public suicide of a town leader. I slowly step through the crowded picnickers toward the spot. Someone's composing a cynical song about her already, sings "Adieu, Thieu." I see her now, ahead, standing on the edge, an Asian girl no more than 25. I feel sad that she's killing herself. I'm partly being selfish: she's cute, she has a nice aura, and I'd ask her out if she weren't part of this spy-eye government. But maybe that's why she's doing it.
If she IS doing it. She looks reluctant and resigned, not suicidal. IS it suicide? Or... execution?
The City suddenly extrudes a steel wall with windows between her and the rest of us, then tilts it outward. She clings to it as long as she can and I realize with horror that it's true, this isn't suicide at all. Murder. Political murder
She falls silently into the Pit. Long seconds of freefall until she's receded to a dot and is gone.
She never cried out.
I feel bad--happened too fast for me to fully realize it wasn't her choice, too fast to do anything to stop it. Now I wonder if Thieu was a whistle-blower, fighting the police state I fear this city's become.
My friends and I are the closest people to the spot where Thieu was pushed off. The grass starts moving, carrying us along with it. The floor reverts to astroturf, then to corrugated steel. Walls grow up around us till we're in a sort of open steel gondola like a roofless subway car. The mechanism which grew the wall that isolated and killed Thieu is returning to its storage place, now that the execution's over. After a moment of panic, I calm down--a low-ranking City worker is with us; it's meant to be ridable, it isn't going to fold up and crush us. She looks more like a cocktail waitress than a plane or train attendant--what a short skirt, and what whimsical looking insignia... Oh! I recognize it now! That's Sailormoon's outfit! Maybe she'll help us.
But Sailormoon just stands there, glancing shyly at us, then away... damn. She's in her shy, alter-ego mode. That's the trouble with superheroes...
But then what's MY excuse for shyness?
The gondola zooms on, through branching tunnels, as Sailormoon and I take turns dropping our eyes and not speaking... Damn! She's so cute! Say something!
Silence.
The tunnels aren't subwayish at all; more like the basement corridors of a school or hospital. Our car pauses at some junctions then turns and charges on. I start to suspect it's remote-controlled by a human making choices, not returning automatically to end a fixed program. Of course, I could ask Sailormoon. Just open your mouth, Wayan... come on...
Deep in the City of Time, the shyness-battle goes on and on...
MEANWHILE, GRANDMA
Grandma is disoriented too. She's been flying in the time-fog still covering most of the City of the Future, looking for her friend, a bird--genetically engineered into a person? Still only about seagull size, so she's not easy to spot in this mist. Grandma can't find her, just lots of natural birds. Only they don't look natural to her anymore, for somehow, inside the fog of time, Grandma shrank.
She's smaller than they are, now! And, to her horror, they shriek and attack, big as pterodactyls or dragons to her, tearing at her with beaks bigger than her head.
Terrified, she dives back into the fog. She flutters on, feeling smaller and smaller, though it's hard to be sure, with no reference points. Still, she's grateful for the fog; in clear air she'd be torn apart, eaten alive by now.
She has brown moth-wings now, and thinks "I must be getting very small... only one bite for a bird."
Who or what brought this nightmare on her? Grandma thinks back to the people she's met... and bumbles out of the fog-bank for a minute. She lands on a ledge on a spire, and the birds dive at her... only to veer off shrieking alarm, for she's human-sized again!
Takes a lot more trial and error to realize what controls her size: just her expectations. She sought birds, and became one; she feared being a bird's meal, and became one; she thought of humans and resumed being one. "You are what you think, on the astral plane."
So what... so what did Thieu become? Thieu, who clung to life, not death, in her last moments? When she fell into the fog of time... what happened to her? Can I assume she's dead?
Not a tidy ending, not an ending at all--but then, I've always preferred foggy endings to death.

WHEN I WOKE
The city and the spire=
1) Juxtapoz Magazine had an article on the world-wide rivalry to build the tallest tower.
2) I read a futurological book, The Engineer In The Garden, opening with an image of a woman in a mile-high spire in a big future city, and calls this Utopia! This is the best he can imagine? Yep--the rest are dystopian nightmares! The Green model, mainstream here in California, isn't even mentioned, let alone scenarios with radical changes in humans, gengineered intelligent nonhuman species, or terraformed worlds. Given the book's narrow vision, I wonder if Future City wasn't Utopia or Dystopia, but just... Myopia.
3) I recalled an old science fiction tetralogy on cities: James Blish's Cities in Flight. I was shocked when the hero of one book (who shares my nickname, so I identified) is, in the sequel, shot by the City Fathers for treason, like Thieu.
My money's no good here = my corner shop rejected a 'nickel' I gave them--it turned out to be a Philippine quarter!
Camera-eyed cops = In the film City of Lost Children, the cultists each have a camera-eye. Again a hint that we got trouble, friends, right here in Future City!
The 3:1 ratio of my vision = the Mendelian ratio between the expressions of dominant and recessive genes. The dominant usually masks the recessive, but it's still there and can manifest. Just like the spirit world, it seems!
Thieu = this hot Vietnamese girl with the bare stomach who I kept running into on Irving Street today... I was way too shy to talk to her but I wanted to. So Thieu probably = flirting, dating... sex. Why "Thieu"? That may have been her name--it'd be just like my dreams to tell me via ESP what I was just too shy to ask.
The murderous wall = I wall myself off from others and kill my social and sex life... true.
Happens too fast to stop = my habits block most of my hunches and urges before I even get much chance to notice them, let alone choose whether to follow them.
Passively riding the gondola = I let my friend Ingrid lead me around today--no initiative.
Sailor Moon = sexy and powerful in uniform, but her shy day-persona often forgets her full self. I feel more like Sailormoon's schoolgirl side now. I think Sailormoon's appearance was prompting me to go lucid, and remember my own dream-powers. If I'd reminded her who she really was, I bet she'd have helped--Sailormoon wouldn't let the City murder that girl Thieu!
Grandma wasn't MY grandma. She was 99 year old Maya, from Starhawk's book The Fifth Sacred Things, plus the psychic dreamers in that book who lived on Strawberry Hill in Stow Lake, working as San Francisco's early warning system. So Grandma = my dreams and psychic defenses!
Grandma shrinks, becomes vulnerable = my defenses shrank this week--I felt fragile. Also, I recently dreamed Suzanne Somers was shrinking slowly to pocket-size--a curse, to punish her for coming out on TV about having been molested. Theme and variations!
Torn apart by birds = I read today that the eagles of Lake Shasta are returnng since DDT was banned. They snag fish too big to carry, tow them to shore, tear them up alive and carry the pieces home. The paper said "everyone" is glad. Well, except the fish! There's a back side to every story.
Fog protects Grandma = I've felt absentminded all week, ever since I dreamed of a dead baby, stifled or crushed, and buried... I think it's buried childhood stuff I can't handle yet, so I've been zombifying... sometimes, dullness can be protective!
Gulls = girls? Do I fear girls will all want a piece of me, is that why I'm not dating?
"You are what you think, on the astral plane" is from The Collective Unconscience of Odd Bodkins by Dan O'Neill.
---

LISTS AND LINKS: biotechnology - time travel - big-city dreams - weird dreams of Mark - vision - political dreams - violent dreams - flying dreams - babes - opportunities lost - frustration dreams - astral travel - size matters - same dreamer, second dream inspired by James Blish: Owl and Cheese - Dan O'Neill - an epic dream of Starhawk - an early, silly dream of Suzanne Somers

World Dream Bank homepage - Art gallery - New stuff - Introductory sampler, best dreams, best art - On dreamwork - Books
Indexes: Subject - Author - Date - Names - Places - Art media/styles
Titles: A - B - C - D - E - F - G - H - IJ - KL - M - NO - PQ - R - Sa-Sh - Si-Sz - T - UV - WXYZ
Email: wdreamb@yahoo.com - Catalog of art, books, CDs - Behind the Curtain: FAQs, bio, site map - Kindred sites