DINO SINGULARITY: by Wayan; 2012/3/30, a paleontological speculation in a dream.
Peering in a spacetime gate, I wonder if all the dinos went extinct. Would we spot an ancient Singularity?


DO YOU LOVE ME, JOHN?: by Wayan; 1991/7/6, a dream on the courage of the shy.
I dream of a future where blondes are a too-cute endangered species. How can they survive? Like this...
CAUTION: NUDITY
DOG AIRPORTS: by Wayan; 1999/5/4, a dream of misplaced worship.
Okinawa in the far future, when the world is run by dogs. Except they worship us, and we aren't there...
DREAM HERDING: by Nancy Potter; 1978/11/8 & 11/11, two comic, surreal dreams
FERRY: the crossing is rough, but I'm warned I must find my own sea-legs...
BUZZ OFF: I step into a family photo, but I'm not welcome in the past...

DUBIA: by Wayan; summer 2003, a nondream sculpture/prophecy/travelog.
What Earth will look like 1000 years from now, with doubled CO2, flooded coasts and melted poles...
CAUTION: CALLS GEORGE W. BUSH A BIG FAT LIAR

EDITH KEELER: by Wayan, 1975/10/8, an incubated dream giving multiple answers
I asked my dreams to show me my Shadow--what I deny. It showed me at least FIVE! And in every
time-branch, a runaway truck crushed me--the Truck of Ideology. Not that I seemed able to avoid it...
CAUTION: RECURRING DEATHS

ELIZABETH'S SOLE ESCAPE: by Wayan, 2017/7/29, a genderbent nightmare on... genes?
I'm Queen Elizabeth I, but I made a mistake--focused too much on art and culture.
Now, plotters who I overlooked smash in my bedroom door. I snatch a vial of poison...
CAUTION: NIGHTMARE REFLECTS REALITY
THE ENCHANTED WOMAN: by Anna Kingsford; Feb. 1877, an epic prehistoric dream.
Goaded by a green spirit of envy, an Ice Age sorceror kidnaps Adam's Eve, arresting human evolution...

EQUESTRIAN NUNAVUT: by Wayan, 2017/4/27, a dream of a utopia in an unlikely place
After a hard day in the recording studio, I dream of our wiser successors,
after we drown America: the sentient equines of Greenland and Nunavut...
CAUTION: SKINNYDIPPING UNICORNS
THE ETHICS OF LUCIDITY: by Wayan; 1994/2/19, a thoughtful dream on time and cause.
I'm at a symposium on how our beliefs alter not just the future, but the PAST...
CAUTION: CONTAINS IDEAS
EYE OF TOOTH, or, THE SCORE: by Wayan; 2014/1/28, a cryptic dream prescription
I'm a time-traveling revolutionary seeking a coded message from Pancho Villa.
I find it in a music score... but what's an Ojo de Diente? When I wake...
EYEBOLT: by Wayan; 2005/10/1, a squeamish dream
I'm on a British train, sitting across from a respectable-looking woman with a big bolt stuck in her eye...
A FACTORY FIRE: by J. W. Dunne; 1900, a detailed predictive nightmare.
Dunne dreamt of a fire with smoke so toxic it killed people on
a balcony in open air! Then came the evening newspaper...

FALL OF A PRINCE: by Wayan; 2006/11/17, a dream on the morality of predicting.
A time-traveling historian's caught in a moral dilemma: warn an ancient prince
that in her history books he died of a fall? Can you change fate? Should you??

FAMILIARS: by Wayan; 1986/4/2, a dreamtale on the dark side of reading.
In ancient Britain, as Christianity moves in, I'm a slave--sailing through centuries, but never free...
F.I.P: by Dr A (c.1947), a Cambridge man (1960?), a London girl (c.1916) and a Midlands mum (July 1958)
Examples of inexplicable moods that appear (after the fact) to be reactions to future events...

FIREBIRD AND MINOTAUR: by Wayan; 1996/9/29, 4 images; a diagnostic dreamtale.
I'm a cripple watching a sexy Greek Opera starring Whoopi Goldberg. Then I realize I'm in it...
THE FIREBREAK OF MEN: by Wayan; 1997/2/13, a herstorical dream.
The Europeans have another great war, killing off their men. Will that break the cycle of violence? Like a...

FISHEL AND FRISH AND FIREBIRD: by Wayan, 2003/12/4, a seven-year dream.
Why do the guests arriving for our seven-year reunion include
part-time giants and dog-headed gods? They tell me...

FIVE ELVISH DREAMS: by Dolores J. Nurss; 2005/6/10-2005/6/19, an incubated lucid-dream sequence
1: I visit Elrond and Bilbo in Elvenhome, but overthinking traps me in a timeloop;
2: Elrond says he renounces seriousness for joy, and plans a great, inclusive party;
3: I feel unworthy, but set out on a desert quest with Elrond's young apprentice;
4: I meet joyful, drunken, singing elves but hide in a tree, too shy to join in;
5: I meet a nervous elven singer and a dolphin trapped in a tiny pool in my bedroom...

FLUID REALITY: by Wayan; 1983/8/8; a magical dream-sea voyage that turned out to be predictive
On my quest I find magic portals, snarky flower-fairies, undersea redcoats,
reassembling bodyparts, living chess, and Nosferatu the Cheating Vampyre...

FORESEE ELECTION, BUT BLIND TO SEX: by Wayan; 2012/10/23, a predictive dream only half heeded
On hearing the election results, a girl at Esalen Hot Springs joyfully dances naked
around me. I heed the dream's prediction about the election, but not about...
CAUTION: NUDITY

FUR FETISHISTS PIONEER CAMOUFLAGE: by Wayan; 2014/3/8, a time-travel dreamlet in FOAM FURS


FUSE FOREVER: by Wayan, Late Dec. 1975 or early Jan. 1976, a cosmic/erotic dream?
Cops shoot at us, but my first lover Pat and I dive down a rainbow wormhole, making love and fusing forever...
CAUTION: BAD COPS, (non-explicit) SEX

FUTILITY: by Wayan; 1973/11/23, a time-machine dream.
I'm Liza Doolittle on Mars. With Mr. Wells's Time Machine. Lost, in fact. Can I get home? Should I?
FUTURE BOOKS: by Jim Shaw; c.1994, a dream lesson on reading
In a repressive, thought-controlled future I find some old banned books;
I tell my student "Reading these makes life more interesting--and angry..."

FUTURES: by Wayan; 2003/9/22, a nondream ecological sculpture series
A set of travelogs (with orbital photos) of Earth, Mars and Venus on the same day--as they are 1000 years from now...
FUTURIANS: by Wayan; 1997/11/11, a dream on innocence.
A time-loop introduces me to a future self full of innocent enthusiasm. Maddening!
CAUTION: LANGUAGE

A GAMER'S DREAM: by Mark Nelson; 2002/3/5; A collage of real-world events brought into dreams
I face a barrage of deadly challenges out of every action film I've seen and every game I've ever played...

GEORGE AND WILMA: by Wayan, 2011/10/25, an animation-mashup dream done as a poem
George Jetson is married to Wilma Flintstone--though they're both big cats.
When George comes home high on mushrooms, he doubts what's on his bed...
CAUTION: CARTOON ADULTERY

GIRL IN THE WATER: by Wayan, 2000/10/7, twin dreams on... dreamwork?
In a California with no Gold Rush, wild deer carry a girl over the San Fernando hills to a secret dream-pool...
Then in a Japantown hotel lobby, that girl floats meditating in a huge aquarium, as local gossips lie about her...
GRAVESTONE: by "Miss S."; late 1930s-1946, a recurring clairvoyant/predictive nightmare
I'm walking up a churchyard path. My hair clings to me, damp. Horses wander. I'm drawn to one graveside...
THE GREAT PEACE: by George Antheil; early 1922; two predictive dreams that change a pianist's life
I dream it's after a great war; I hear the music I must write, and meet the girl I must marry...

THE GREAT WAVE: by Wayan; 2009/4/24, a dream-poem about the future; Dreamverse #52
I find myself sketching the slope of progress up to the coming singularity, and notice a hidden stability...

GREENBIRD SAVIOR: by Wayan; 1983/6/2, a divine comedy.
Time-travel the Navaho way! But our bread-pipe gets hijacked, so we call the Bird. Who shows up, all right...
CAUTION: NON-STANDARD SAVIOR, EVIL DREAM PUNS

THE HEDGEHOG DISPENSARY: by Wayan; 2004/10/2, furtopian watercolor 12-page dreamcomic (or text + pics)
A rabbit shaman makes his student drape dead hedgehogs round her neck til she bleeds. How to free her?
CAUTION: FURRY NUDITY, ABUSIVE MENTOR
HELP, NOT CURE: by Wayan; 1996/12/26, a dream on autism.
Gay angels try to help an autistic woman. Change her past? Only if they pass the Ass-Backward Guardians!

HERSELF IN REVERSE: by Wayan; 2013/6/13, three surreal future-prompting dreamlets
1: In a theater I meet weird big-eyed ballerinas, & realize I'll choreograph for them soon...
2: A sorcery student & her powerful future self flying back through time meet & fuse...
3: A squirrel-mage meets his future self too. He gives us a mild fever to protect us against a deadly plague...
CAUTION: NOT FOR TOTAL SKEPTICS ABOUT PREDICTIVE DREAMS

HOP TO THE SHAH: by Wayan; 2010/5/18, a flying political dream
Diplomacy's failed. To stop the impending Iranian War single-handed,
I hop like a monster flea across Iran to corner the New Shah...

THE HORSE VOTERS: by Wayan; 1995/4/30, a dream on race? Or...
19th century horsebreeders crossbred more than they admit. One suggests I look hard in the mirror...
CAUTION: UNSEEMLY SENATORIAL DISCOURSE
HUCK FINN'S WISH: by Wayan; 1995/12/8, a dream of flight and sabotage.
A mysterious stranger offers free wishes to the kids of Hannibal, Missouri. Tom Sawyer wants to fly...
CAUTION: VIOLENCE
I CAN'T JOIN THE TRIBE: by Wayan; 1997/8/12, a nightmare on madness.
After the eco-crash, I try to join a tribe in the jungle that was Oakland. But they reject me, for good reason...

I OVERSLEPT: by Wayan; 1992/6/12, a dream of loss.
I oversleep. A lot. All my friends are dead, along with my century...
ISHI AND SNOID: by Wayan; 1993/8/4, a dream of stretching.
I'm a California Indian wandering through time, keeping the secret of time-travel from the reckless...

THE ISLAND FURIES: by Wayan; summer 1975, a dream of self-control.
When warring Greek isles kill a peacemaker, her three best friends start a vendetta! But she wanted peace...
CAUTION: HATE NURSED TOO LONG
ďJUST A FEW MORE YEARS!Ē: by Wayan; 2008/1/2, a nightmare on the coming crash
I found myself defending humanity before an astral jury, begging them to delay the great die-back...
THE KING OF PERSIA: by Wayan; 1990/4/1, an annoying family dream.
My dad has a time machine, so he generously invites the King of Persia over. And offers him MY room...

KISS OF A SAVAGE: by Wayan; 1993/10/28, a dream of deep time.
I wake to find I'm a museum exhibit 15,000 years from now--a primitive man...

KNIGHTLY: by Wayan, 2019/2/12, a dream-poem on a wide time-vista
Huge gold construction cranes loom over medieval castles. Not rebuilding, but
hoisting knights to the heights. I get a ride up, and see a wide timescape...

LIFECYCLE: by Wayan; 1980s. Pencil sketch of daydream
The life-loop. A woman bears a child who grows up to become herself, who bears a child who...
CAUTION: SKETCHY NUDITY

LILY OXYGEN: by Wayan; dreamed 1984/1/19, drawn 2000; a strong psychic dream.
I'm Emily Dickinson reborn in 2100 as a breeder of hydroponic lilies, till my dad drafts me as
an Arctic energy-prospector, where I meet a ghost, a fiery Beast, a new me, and the girl of my dreams...
CAUTION: QUEER-POSITIVE, NUDE PROSPECTORS, GNOMIC DICKINSON QUOTES

THE LION KING: by Wayan; 1995/9/15, a time-travel dream on social skills.
When I wake up, animals rule the earth. How do they cope with specism? Well, it's complex...

THE LITERAL EMPIRE: by Wayan; 1997/11/17, a dream on flexibility.
I join the alliance against humorless humanoids who are invading funny-animal planets...

THE LONGEVITY INSTITUTE: by Wayan, 2019/5/7; a dream on a family mutation
On the show Finding Your Roots, it turns out my dad's a genetic experiment born in...
1880?! The experiment worked; my sisters and I are slow-maturing, long-lived mutants...

LUCID LIVING: by Wayan; 2007/4/8, a quasi-lucid dream of the future with 9 illustrations
Honesty induces a joyful state with lucidlike powers.
So I bike across the Lake of Time, open the book of my future, and see...
CAUTION: SEXY SKETCHES FROM THE FUTURE

LUCID ON THE MOON: by Wayan; 1980/2/23, a long-term psychic dream.
I'm on the run, on the moon. Cyborgs toss bombs at me. Yikes! Is this what melted Mare Orientalis?
CAUTION: NUCLEAR IRRESPONSIBILITY
THE MAGIC WORDS: by Wayan; 1974/5/29, an early dream on word-magic.
Humanity in the future desperately needs the magic words from the past to free them. But... "pickle?"
A MAMMOTH FIGHT: by Wayan; 1996/2/26, a dream of another life. A tacky other life.
I'm a fight promoter whose biggest deal ever is maybe too big for me. How'd it become a four-way bout?
CAUTION: CRASS ACT

MARJANE: by Wayan; 2005/6/3, a nightmare about... articide? Watercolor comic or illustrated text
I'm cartoonist Marjane Satrapi. I passively tag along with friends (and a fiancé I tend to forget)
in the Mission District of San Francisco. But they blunder into real trouble...
CAUTION: VIOLENCE

MARS REBORN: by Wayan; 15 pages, 27 photos, 2003/9/22, a tour of a sculpted/virtual world
Mars as it will be 1000 years from now, terraformed. A guided tour with photos...

MARTIAN TIME-LOOP: by Wayan; 1994/5/2, a dream of the future shaping the past.
I'm a small boy in a ship docking in Mars Orbital Station. I meet a strange man: myself as an adult! Uh-oh...

THE MEDIEVAL POISONERS: by Carla Young, 2010/1/3; illustrated non-nightmare
Two medieval women poison one another. One dies in my arms; the other may just survive. Why did they...?
CAUTION: MURDERERS

MENTOR: by Wayan; 2001/6/13, six advisory dreamlets.
I meet a shapeshifting mentor who warns of coming war (9/11?). Then a sentient book, "The Art of War," gets intimately involved...
CAUTION: ELECTRODES, LIBROPHILIA
MEREDYTH AND LILLY: by Meredyth Watts; May 2010, 2010/11/14 and 2010/12/7, episodic dreams
I dream over & over of the same place, time, & woman. We fall in love. Strangely, I'm the one who gets pregnant...

MESOPOTAMIAN ARMORY: by Wayan, 2008/8/6, a shape-poem based on a dream
An ancient Mesopotamian city learned to make catapult-bombs of powdered
manure. But excessive stockpiles & bad housekeeping led to Armageddung...
CAUTION: BABEL-MYTH DEBASED

MIDNIGHT'S CHILDREN: by Wayan; 1992/9/5-6, a literary/diagnostic dream.
I'm in a tribe of post-Crash kids with psychic powers, trying to keep nukes from rising again...
CAUTION: CHILD SOLDIERS
THE MIWOK RITE: by Wayan; 1999/11/20, a dream fable.
A ritual in a future society makes me laugh. I tease a futurian, insist it's really a old Miwok rite...

THE MOOMIN COMMISSIONERS OF TIME: by Wayan; 2008/9/17, a dream-poem, Dreamverse #27
A new Eve asks the Time Commission to send her and her baby back to Ethiopia
45,000 years ago. But they're shy Moomintrolls, not humans...

MY FUTURE ART: by Jim Shaw; between 1987 & Jan. 1995; a self-fulfilling dream prophecy
This woman shows me a book of my art. I'm not sure I want to see them--some pieces are from my future...

MY SINE-FRIEND: by Wayan; 1984/3/6, an emotional dream of time and rebirth.
An animal-girl I know lives like a sine-wave, first forward in time, then backwards, dying at every zero...

NEANDERTHAL EXTINCTION: by Wayan, 2008/7/30, an academic argument turned horribly personal
I challenge my teacher's claim human historical patterns are universal.
She challenges me by dragging us both back to the Ice Age and...
CAUTION: VIOLENCE

NEOLITHIC: by Wayan; 1992/9/21; a time-travel dream on the roots of art
I'm at a Neolithic art show. A Stone Age critic says "Viewers struggle to interpret signs as the signified."
I think they're just baffled how those animals can be stuck on a cave wall yet still be running around...
NEW LEVEL!: by "Julian"; 2006/5/22, 3 gamelike dreams in one night, two of them epic
My mom and I road-duel an alien beetle, then investigate a deepspace Marie Celeste;
then I spy for the Angevin Empire to protect the Crown Jewels...
THE NIGHTMARE EFFECT: by Emily Joy; 2006/12/14, an anti-nightmare.
My own fear creates a field of time/speed distortion; can I use it against my attackers?

NUCLEUS: by Wayan, 1979/3/18, a surreal dream of character-insight, set inside an atom
I dream my theatre friends are particles dancing inside an atomic nucleus--
particles that reveal their character, motivations and power. And I'm one too...

OCARINA, or, MILLION-YEAR SENTENCE: by Wayan; 1972/5/27, a lucid / predictive dream.
I go lucid and drive my bed to the Nevada desert where I see my next million years. And so far, itís been true...


OHLONE AT THE MALL: by Wayan; 1994/2/1, a dream of what matters
I see two Ohlone women around 1900, starving, naked, despised, their land stolen--and still way happier than...
CAUTION: NUDITY

ORE PIRATES, by Wayan, 2009/5/29; a dream-poem, Dreamverse #45
I'm in a movie version of prehistoric Baja California, mining nuggets that howl,
when pterodactyl-worshiping pirates glide in trying to snatch our ore...

ORPHEUS AND POOH: by Wayan; 1972/4/9, a dream echoing Cocteau's film Orphee--before seeing it
I meet my true love during a coup. We go through Hell together, like Orpheus and Eurydice--only we...

PASTLIFE MIDDEN: by Wayan; 1998/12/28, a past-life dream.
I bike deep into Time Hall, barging through security gates of amnesia, to climb the midden of the past...

PHARAOH HOOKS: by Wayan; 1989/7/31, a deadpan joke of a dream.
My sister and her friend the snake-woman tell me the facts of life: the golden hooks, the piglets...
CAUTION: UNRELIABLE GYNECOLOGY

PICARDIAN ANGELS: by Wayan; 1993/1/7, a dream of time and wishes.
I walk on Martinique with Captain Picard of the starship Enterprise. He's here to see a dreamy boy...

PIPES AND TIME: by Wayan; 2017/12/21, a dream of the far future that came true next day
A timetraveler shows me a hotspring shrunk to a quarter of its old flow.
Valves? Pipes? Or drought, from climate change? This IS the future.
A day later, a local main breaks, and our water flow shrinks to a quarter of normal...

THE PLANETOCOPIA INTERVIEW: David Cole of "Whose Fault is That?" questions Wayan; 2009/5/6.
The roots and reasons and back-stories for the nineteen virtual worlds making up Planetocopia...
POWER OFF: by Wayan; 1997/6/17, a dream of brainwashing.
Captain Kirk (Starfleet, retired) saves us all from terrorists at a powerplant, but he forgot something...

PRECAMBRIAN SLEUTH, or, MURDER BY ATMOSPHERE: by Wayan; 2013/6/2, a warning dream-poem.
I'm a detective sent to a research station two billion years ago. The ancient atmosphere isn't just anoxic, but deadly...

PRESIDENT OF THE WORLD: by Wayan; 2009/10/19, an illustrated dream poem; Dreamverse #61
I get stuck with a one-year mandatory gig as President of the
World, just as Saudi Arabia collapses, and fools rush in...

QUAIL TV: by Wayan; summer 1981, ink, shamanic cave drawing.
Quail, spelunking again, finds ancient cave paintings of the Cult of the Fossil TV...

RAINBOW TUNNEL: by Wayan; 1995/4/9 (MP3+lyrics), a global-warming nightmare song
In our steamy future, after the cities drown, I'm hiking through Rainbow Tunnel, when I meet a holy man...

RAZI AND THE HOLY WINO OF SHASTA: by Wayan; 1994/9/1, a redemptive epic dream
20,000 years from now, a deer-harpist named Razi finds the Holy Wino's not quite the ruin he seems...
CAUTION: BAD PENGUINS, DEER NUDITY, RUDE DRUNK
RED LIGHT by Nancy Price; 1948, a predictive dream of the past!
I'm in my home town, but at two times at once! Murderous boys explain why: I died here in 1861...
RED UNCLE, RED CANYON: by JB Priestley; c.1907 and c.1925, two dreamlets looking years ahead
As a boy I dreamt my uncle (a calm man) glared at me in red rage; I was terrified. A decade later, in a bar...
I dreamt I saw, over a balcony rail, bright-colored, spectacular scenery. Years after in Arizona, I took a detour...

REGRESSION THERAPY: by Wayan; 2016/6/19, an incubated dream (answering a waking question)
I dream of a therapist who allows kids to regress to crying babies; they take weeks
to re-mature to face the present. Will it work for me? Can't see why not...

A RENAISSANCE WOMAN: by Wayan; 1997/7/3, a dreamtale.
I'm an abused girl turning tricks to survive. But this is San Francisco: I join a prostitutes' co-op, and meet...
CAUTION: PROSTITUTES WITH SELF-RESPECT, OH NO!
RESERVATION FOR BIZARRE AND EXTINCT BEASTS: by Orion Scribner; before 2003/9/7; ukiyoe of a dream
A futuristic science fiction adventure dream. We rode a feathered, bipedal dinosaur, and got chased by...

THE RESTLESS FILTER: by Wayan; 2011/2/4; a dream explaining my loneliness and American politics
I'm a kid in Nevada around 1950, learning that both my folks are lone wolves who gave me a genetic double dose...
CAUTION: RACIAL THEORY ABOUT... LIBERTARIANS?

RIBBING: by Wayan; 1992/12/25, an assertive dreamtale.
After seeing 150 years of family photos, I dream of being teased by time-traveling cheerleaders, and...

THE RINGMAN'S SQUIRREL: by Wayan; 1982/9/17, a dream of a time after us.
One day, in the ruins of an American city whose name was lost, I met a Ringman under an oak...
CAUTION: GROSS WORK, IF YOU CAN GET IT
RIVERBANK BLISS: by "Anonymous #11"; c. 1920, a mood-predicting dream
Eleven years after I dreamt of that green dress and green riverbank and dreamy day, I was convalescing in...

THE ROAD OF MY LIFE: by Wayan; 1999/12/12, pencil; a life-map.
The white road is my life history, told in women: friends, lovers, relatives, ancestors--and one past life...

SAFETY GETS ME HOT: by Wayan; 1997/3/27, a dream on sensitivity.
I'm trapped in a post-apocalypse pulp story! Fun for my readers, but not for me! How to escape?

SALIA AND CHUR: by Wayan; 1989/2/25, a psychic Star Trek dream.
Our starship signs up a strange new woman whose quirks turn out to be fallout from slavery...
CAUTION: SEX, ABUSE ISSUES

SATYR AND TWILIGHT: by Wayan; 2018/9/1, an epic dream perhaps foreseeing the pandemic
A spell kills off nearly all humanity and mutates the rest of us. Now I'm a satyr living in a co-op home with
unicorns, dryads, cattaurs, and shy vampires. Thing is, I prefer the Apocalypse to what came before...
CAUTION: NUDE CREATURES

A SEAMY REALITY: by Wayan; 1999/10/21, a surreal predictive dream.
Sharp seams between realities cross Silicon Valley; I end up in the Dark Castle of the Oracle. When I wake...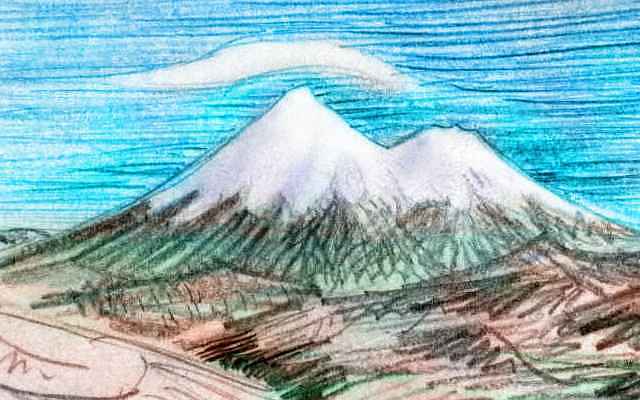 SHASTA STANDARDS: by Wayan; 1998/9/19, a dream of social change.
In a future where we gengineer ourselves instead of others, we no longer have to choose lesser evils...

SHEEPISH: by Wayan; 1985/9/24, a clear but stupid psychic dream.
Floundering through the snows of 1917, I fall in love with actress
Linda Evans, who is a sheep teaching ballet. When I wake...
SHEVEK'S TIME-SLIP: by Wayan; 1996/10/14, a chronohomeostatic dream.
Shevek invents time-travel and discreetly alters the past. But the future alters
Shevek's present, to undo his changes! Who's sabotaging him? Or... WHAT?

SHOVED OFF A CLIFF: by Wayan; 2017/9/7, a nightmare-warning (I'd asked what to do next).
Atop a sea-cliff, I meet a young couple in love. One look at me and they
push me off! When I see I can't save myself, I try to take them with me...
CAUTION: NIGHTMARE BARING UGLY TRUTHS
SILKY RELENTS: by Wayan; 1997/3/8 a dreamtale on undoing old injustice.
My anima Silky plans to kill a man who hurt her. Instead, we make them re-enact it, with variations...

SILKY'S REVOLUTION: by Wayan; 1995/9/4, a historical dream.
I'm in an alternate-history American Revolution with Silky the
talking black mare. We sail for Europe as diplomats...

SINGULARITIES: by Wayan, 1995/5/18 etc. (recurrent dream); drawn late 1994.
Black holes can be scary enough outside you, but what if you have dormant ones inside you?

SIPHONIA: by Wayan; 30 p, 2006-14, a nondream virtual world, in progress; maps, tours
First, suck up 90% of Earth's seas. Now wait 90,000 years for life to adapt. The continents are now
Tibetan plateaus above steamy new Deeps, ruled by giant parrots, ravens and otters...
SLEDDING NEAR C: by Albert Einstein; around 1890-95; a transcendent career-advice dream
Sledding at night, I approached the speed of light, and the stars turned colors I'd never seen...

SMALL MIRACLES: by Wayan; 2008/9/7, two dream-poems (Tiny Scientists and Barberry); Dreamverse #23
Things start materializing in my house: first three tiny naked scientists, then a huge impossible fruit...
CAUTION: NUDE SCIENTISTS

A SMOKE IN THE SIXTIES: by Wayan; 1983/12/2, a genderbent, predictive, self-flagging dreamlet
I'm a girl in the 1960s, but not a native--a time-traveler. I'm smoking with friends (not necessarily
tobacco)--but I have this strange sense smoking may lead to serious danger. I wake, get invited
to the film Terms of Endearment, and watch Shirley Maclaine and Debra Winger enact my dream...
SORRY WE DRANK ALL THE BEER: by Wayan; 1986/6/3, a dream on the use of rage
The future. Humanity's trapped--no energy. Because aliens looted our world before we evolved! Now...

SPLASH!: by Wayan; 12" acrylic painting, late 2002, from 1983/1/16 dream.
While I study how humans went extinct, my
daughter happily splashes in the sea...

STARHAWK THE WITCH: by Wayan; 1983/8/19, 6. illus., an epic, milestone dream.
DAY: I read Starhawk's Dreaming the Dark, on building unity, undoing capitalism;
DREAM: I'm forced to become Time Pilgrim, warning of the dangers of community--indeed, of unity...

SUMMON A SECOND HER: by Wayan; 2010/3/9, a time-loop dream
I meet a flutist I like, but she's busy playing. So I conjure a second her with free time to listen to herself with me...


SUPPORT TEAM: by Wayan; 2005/6/6, a dream-comic on what creative leaps need
I'm a married couple--the cook and laundress for an English observatory in 1948.
Why are we testifying to a Labor Party committee that we WANT to be servants? Well...

TAOIST DEBUT: by Wayan; 2012/9/16, a dreamlet on book-learning vs. living experience
I'm at the court of Jenghiz Khan, as rival priests try and fail to convert the Mongols
to this faith or that. Then a Taoist demigod walks up...
TEACH DREAM E.S.P.: by Wayan; 2012/2/14. An advisory dream with an intriguing model of time.
I'm co-teaching a class on ESP. My specialty's sending warnings to my own past self to change the present...

TEHURA TRIES COMICS: by Wayan; 1994/7/19. pencil, Xerox, erasable crayon.
I dreamed a sphinx artist visited humanity and drew the crazy natives. I copied her sketchbook...
CAUTION: NUDITY, PAGANISM, SLACKERISM, ACTUAL IDEAS
THEREMIN'S NOT UP AND RUNNING: by Wayan; 1998/8/28, a dream parable.
I'm in Theremin's lab, around 1930, trying to play one of his experimental instruments. Why won't it work?

THIEU, I'M SORRY: by Wayan, 1997/11/1, a troubling dreamtale.
Visiting Time City, I witness the "suicide" of a woman named Thieu but suspect it was really assassination...
CAUTION: SUICIDE? MURDER?

THIRD EYE: by Wayan; 2009/3/25, three diverse dreamlets on the same theme: enlightenment
Three sisters flash me. But one has a third eye in there! Clothed, it's blind. Was she flirting or just enlightening herself?
In the future, nearly all cars self-drive. I'm the last driver using my own muscles and mind. Can I hold out?
A friend projects all history's wars on a chalkboard to show: democracies don't fight each other. So to get peace...
CAUTION: NUDITY

THREE WAYS TO FLY: by Wayan; 2010/11/10, a dream prompting a shift for the World Dream Bank
I'm shown pictures of three different magical ways to fly. But
the third shows no actual flight--just someone giving away the magical means...

TIME-BUBBLE: by Wayan; 2008/9/1, a dream-poem, Dreamverse #19
In a city crawling across a marshy world, I find a detonating bomb frozen in a time-ball.
Why not detonate it somewhere harmless, why carry this around?

TIME-CAT: by Wayan; 2013/11/23; a self-flagging predictive dream
I'm a cat person, grooming. But not MY fur--it's a woolly mass of timelines!
We cats travel time, smoothing out snarls... Then I wake, go to a party, and...

TIMEDOORS OF THE GODS: by Wayan; 1998/2/17, a mysterious initiatory dream.
I'm mortal, yet I'm offered a residency in the Commune of the Gods,
along with Xena the Amazon Warrior and... Little Red Riding Hood?

TIME PIRATES: by Wayan; 1979/6/6, a genderbent pirate dream about... healthcare?
I'm a modern girl facing pirates from the 17th Century Caribbean. Outgunned, but I
have something intimidating to bluff with: perfect teeth...
TIMESHOT!: by Wayan; 1999/1/2, a warning dream.
I provoke a shooting! Wandering through time, I forget how much some cultures fear witches...
TIME WARP: by "Erwre Qerwgeqwr"; 2010/2/5, a nightmare recurring 4 times in one night
A timewarp started to swallow my house. It looked normal outside, but everyone inside was in a trance...

THE TOMBSTONE TEST: by Wayan; 1986/8/18, a deceptive dream.
I walk in a vast graveyard full of history's most famous
people and treasures. But it's all fake, built to test your...

TORNADO FADE: by Rick Veitch; pre-1995; a time-travel nightmare
We escape tornadoes by fading out and rematerializing in a future dream...
But one of the tornadoes manages to follow us from the old dream to new...

TRAIL OF POGS: by Wayan; 2004/9/6, my dreams' response to the first Burning Man dream-workshop
A trail toward Freedom has extra markers, for it's three trails, superimposed! Not all the cues are for us...

THE TRAIN ON TIME CAFE: by Wayan, 1981/12/20, an epic political dream.
Silicon Valley goes enthusiastically fascist. I hide in a berry patch. They build a shining world, and then...

TUBA BEANS: by Wayan; 1996/3/24, a Star Trek dream.
Changelings invade our orbital station, selling drugs, kidnapping teachers--but Constable
Odo can handle that. What's weird are the beans pouring out of that kid's tuba...
TWO CENTURIES OF PROGRESS: by Edwin Muir; 1938-9, two dreams and an extraordinary mini-essay
Yesterday, Hitler marched into town. I was born before the Industrial Revolution, and am now about 200 years old...
UNCONTROLLED TIME TRAVEL: by Jo; 2007/7/13, a time-slipping dream.
Iím a drug-addicted amateur dramatist. A fat balding businessman and I bring humanity back from extinction, but...
CAUTION: TORTURE (brief), ADVOCACY OF WAR, HUMAN EXTINCTION (offstage)
UNEXPLODED SPHERE: by "Anonymous #10"; c. 1904, a precise predictive dream
As a boy I dreamt of a war; officers marked the landing-spot of an unexploded black sphere. Years later...

UNICORN TIMEFORKS: by Wayan; dreamed 2019/5/25, a shamanic warning dream
A man enslaves a unicorn and makes her split time, for his profit! But the timeforks
don't heal as he expected. So the unicorn takes unilateral action (sorry).
Those time-forks look like our current political war. Prepare for sharp kicks...
THE UNWILLING GUIDE: by E.M. Martin; 1914/12/29, a nightmare of occupied England
In a wood full of snipers, Martin has a hard moral choice: lead, leave or turn in a group of strangers who may be spies...

THE VAT MESSIAH: by Wayan; 1985/2/27, a major dreamtale.
In our cult, we lie in vats of goo till we grow wings. But we're feared more than we knew...
CAUTION: SPECIST LYNCH MOB, NUDE IN SCHOOL, LESBIAN FEELINGS, OBSCENE CARROT

VENUS UNVEILED: by Wayan, 2004/8/30; a virtual world with c.200 photos, maps, portraits.
Tour Venus as it will be in 1000 years, after terraforming: paradise for dozens of intelligent species!
VIRGINIA'S TRAIN: by Emily Joy; 2005/9/24, a psychic dream and poem
We lose control of our new time machine, which seems to have its own agenda...
CAUTION: CONTEMPLATION OF SUICIDE, CHRONOLOGICALLY IMPAIRED DREAMER

WASHINGTON'S DUNE: by Wayan; 1992/1/18, a dream on perseverance.
George Washington faces sniper fire, kamikaze birds
and critics claiming the fight for freedom is doomed...
WELLS'S QUEST: by Wayan; 1992/7/14, a benevolent dream.
I'm on a world inhabited by hobbits when H.G. Wells shows up, looking for a Ring of Power...

WERE-TROUT: by Wayan; 1997/8/2, a dating-advisory dream.
I'm a one-legged hopping hermit in the ruins of LA, and my only hope
for love is to conjure up a girl out of a trout and a puppy...

WHILE THE MEN WERE HUNTING by Wayan, 1981/11/3; a crayon-ink-Xerox art-prayer.
In cave times, while the men were all out hunting, it was
the women who learned to paint the cave walls to summon...

WHY PROGRESS IS SLOW: by Wayan; 1991/1/26 & 2/16, twin timetravel dreams
Time-hopping through centuries, I learn how slow
deep social change is. How we cling to the old horrors!
WISHING RICOCHETS: by Wayan, 2017/7/18, a shamanic dream on will and restraint.
Trapped in segregation-era Florida, I force a racist waitress to go bother someone else.
Disastrously, she does. Someone more vulnerable. Self-assertion's not always wise.
CAUTION: KLAN THREAT

WHOSE DREAM WAS IT?: by Wayan; 2008/10/18, a nested-dream poem, Dreamverse #35.
I'm a Chinese kid fleeing the Japanese Occupation in 1938. As we near San Francisco,
I wake to find it's all my dad's dream. Wait--he's alive again? But he was never a refugee.
Is it a pastlife memory? If so, whose--his or mine?

WITWEET WAYAN: by Wayan, 1979/1/10, a dream of butch and femme.
Six generations in the future, I find a poodle who can defuse the bomb my snotty friends can't...
CAUTION: MAD SCIENTIST, EXHIBITIONIST GIRLFRIEND, POODLE MOCKERY

A WOMEN'S WORLD: by Wayan; 1996/8/6, a psychic dream.
I visit Earth during an all-female era. I'm a woman, can pass for local--so why do I lie to fit in?
CAUTION: SEXIST SLUR
WONDERFUL SPECTACLES: by Anna Kingsford; 1877/1/31, a clairvoyant advisory dream
A mystic postman delivers a letter on the world's best glasses and a reply from me, telling how to find them...
YGGDRASIL COLONY: by Exarian; 2009/4/20, an Asimovian dream
I dream of three colonies in the deep future. We outlived the universe itself, but can we survive each other?
CAUTION: WAR, GENOCIDE, POLITICAL ALLEGORY

YOU CHIPHEAD! : by Wayan, 1997/1/31, a sarcastic dream.
Chips are faster than brains these days, so everyone's upgrading--everyone but me...
YOU NEED TO FIND HER: by B. Bigham; 2010/4/27, a strong psychic dream of history
I walked into a 19th century home--and family quarrel. Decades passed in seconds; then
the house burned--with me in it. Two years later I learned the house and its history were real...