World Dream Bank home - add a dream - newest - art gallery - sampler - dreams by title, subject, author, date, place, names

Nucleus

Dreamed 1979/3/18 by Wayan
For Vic, Nancy, Lucinda, Ed, Cynthia, Val, Edith, Karen, Lorraine, Mark, Peggy, Carol, Michael, Judy, Jennie, David and Rich
Introduction
In the late 70s for a couple of years I was homeless and battered by a woman I'll call Kay. I finally broke away in mid-1978. I'd stayed so long out of guilt, and knew I needed to change so no one else could capture me. I did dreamwork, alone. It was all I had; too sick to work yet, I was broke.
Then I found Prometheus Center in Palo Alto, where Vic Lovell was directing a rowdy, hippie version of Psychodrama mixed with Encounter plus dashes of Gestalt and improv. One by one, audience members stepped into the center-stage spotlight to worked on an issue; actors dove in, playing parts and fleshing out primal dramas. Everyone participated: in fight scenes, even the audience held up pillows in a ring to protect combatants. For several years was a regular at the big, raucous Inner Theater and a smaller, more introspective leaderless group. I acted some, but mostly I just watched and learned. It taught me half of what I know about people.
You know where the other half came from: you're about to read one. Well, three: Nucleus is a trio of dreamlets about my new community. I recorded EIGHT dreams that night; these were just the, well, nucleus. The raw dream-entries totaled 1,070 words, my lifetime record to that point. Whatever it meant, the dream was major.
1: Vic's Demons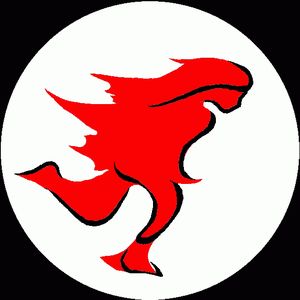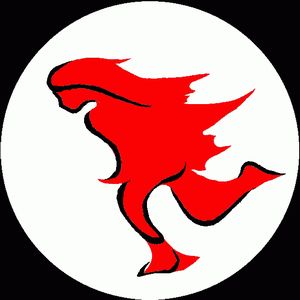 Friends and I explore a mountain-island-jungle-gym-city, like a mix of Disneyland's Matterhorn and Tom Sawyer's Island. The surface is cloth; in spots you can slip beneath and hide. But mind the swampy patches! It's like a mansion abandoned and overgrown--like that jungly LA mansion in The Mafu Cage (bad movie).
The city's linked somehow to Vic Lovell, director of the Inner Theater. Did he build this whole city as a lesson for us?
Vic lets loose some demons that do mischief. For each of us there's a demon twin. Each demon's a bright, solid color; mine is red. We must chase them down. Very hard, as they're FAST!!! But we succeed.
Then we must catch several at once--the only way is to ally with my captured twin. We must capture two or three more wild demons. Must bring them all in at once, too, to claim we've won. But we do it!
But now that I stand holding 'em, I feel the game is futile. They'll run off as soon as I let go, which I do. Can catch 'em... but not keep 'em.
2: Lucinda's Mesons
To open Psychodrama, Vic does a warmup: "Close your eyes and picture the Hindu concept of Maya, the world as illusion..." But it works a bit too well! I open my eyes to find our meditation has sent us all to a strange space: a big rounded chamber, not quite spherical--a dodecahedron, with twelve pentagonal faces. The corners are rounded though, as if blurred by uncertainty or smoothed by time. The gravity here is very low--or time is slower. Each person or clique in the Psychodrama community is a smaller ball or polyhedron floating round the cavern, glowing in sourceless light. We're like bubbles in a lava lamp.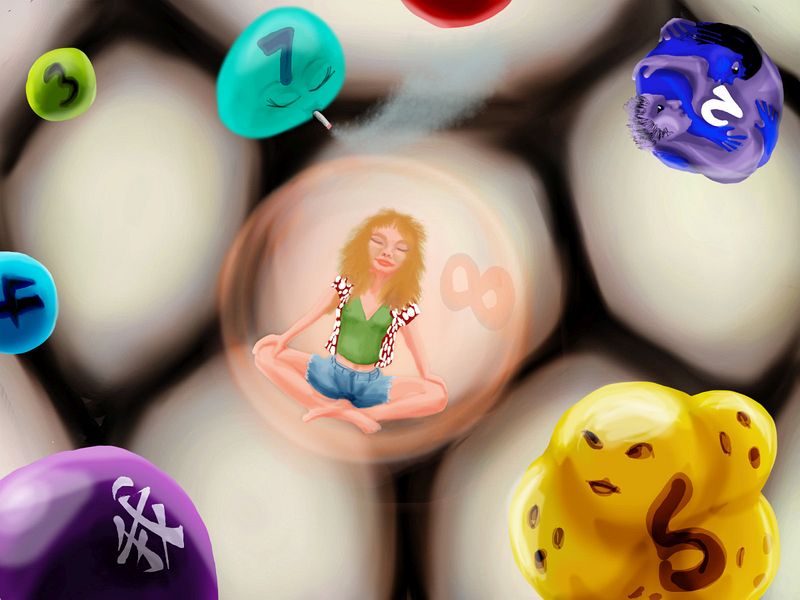 Vic and his girlfriend Nancy are each a sort of bean-shape like a fat crescent moon or a Yin and a Yang; they interlock tightly at right angles, together forming a small purplish ball with a "2" marked on the side. So tight they've distorted each other? I'm afraid so...

Edith the painter and her sprawling family form a loose, everchanging polyhedron marked 5 or 6.

Lucinda is a solitary Eightball, fuzzy as her hair, orange-cream, in the exact center of the room.
A faceless purple particle rolls by. No name, no number. But on its side is the Chinese character "wo", meaning I or me. I think "Really I should scrawl that character on every particle, since they're my view of people, not the people themselves."
Totally me? I'm at least partly responsible for the classification and representation system of color and number. I can even fiddle with it. Within each 'hedronal nucleus are subatomic particles. One has this person's name on it; others are color-coded, one to match each person/polyhedron in the room. People's views of their friends? Rather than bearing names or numbers, each of these colored particles has scrawled on its side the TOTAL number of particles in the room. The community as a whole matters more than I realized?
In this atomic room, we nucleons DANCE. I'm nervous and wild-clumsy at first. I decide I better let the gravity decide the pace, and slow down--dance in fishy slow motion--flowing somersaults, tai ji moves. Much better! Now I feel right.
Nancy Treiber likes my slow dance and is impressed--comments to Vic "I didn't think he was like that"--I think she expected only wired-and-jangly out of me. Since Nancy's a dancer, her opinion means a lot to me.
Lucinda Fuzzball anchors the center still; we all dance around her warm blur. What is it about that fuzz?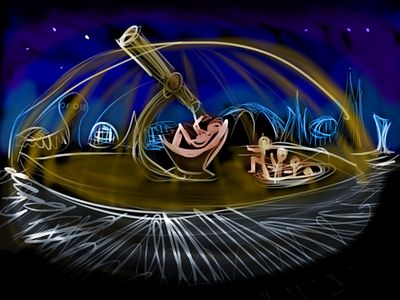 3: A Million Years Later
The ancient city from the first dream, revisited. But now it's one million years old! The fountains and statues have all rusted. Even the stainless steel with the Million-Year Guarantee is 3/4 gone.
We are only spirits now.
Alone, a melancholy ghost, I climb the old main tower. A dry fountain at the top. I sit in the basin, which still swivels like it used to; it's like the view-chair atop the starship Dark Star.
A tourist group climbs the steps, admires the view. At first I assume I'm invisible--a ghost after all--but then they look at me in surprise. Can SEE me. I'm alive!
Or one mighty solid ghost.

Notes in the Morning
Demons, each one intense color: the aspects of self explored in Psychodrama? Actors take on extreme roles--pure anger, calm, fear, love.
My demon's red: either anger or a crisis mentality. After two years with a batterer I tend to see potential violence in every encounter.
Demons are so fast they're elusive: I get frustrated in Psychodrama, feel I can't retain the insights I get. Briefly experience extreme sides of me, but can't incorporate them, make them ongoing.
We're particles inside an atom: this image echoes that classic Buddhist picture of the world as a group of minds arranged in a floating spherical array of shiny ballbearings; each reflects all the others!
The atomic structure: Prometheus's social universe is radial as an atom, with electron shells of visitors, regulars, participators and occasional actors, core actors, directors. But my dream thinks that unlike most theaters, THIS one has MULTIPLE power centers.
Low grav: "not grave", not dangerous, as living with violent Kay was. In Kay-type crisis, my speed & hypervigilance were needed; but not in a suspended place like Psychodrama. Slow down, calm down! Nancy the dancer approves.
The details of each cluster are diagnostic:

I'm solitary but passionate or intuitive (purple). Also note that I'm a power center, something I don't feel when awake. But the dream insists I am.
Vic & Nancy's relationship seems complementary, making a whole, but internally it distorts each of them. I've suspected tension there from things they've both said. Strong sexual attraction pull them tight as nuclear force--and I've envied that they found each other--but they have real differences and may feel bent outa shape.
Edith's large family is a looser nucleus. No single one is a power center, but collectively they are, each bringing a different energy.
Lucinda: is embroiled in a dramatic love-triangle with Cynthia and Ed in the core actors' group. Oddly, my dream sees her not as tangled up with them, but instead, both solitary and central! Like me, a paradoxical power figure.



Lucinda's fuzziness is symbolic too: she's a proton in this atom, and the fuzz around a proton is created by mesons. Lucinda's brother who got more attention is named Mason! I think the dream's saying her feelings about Mason getting more (partly birth order, partly sexism) have turned her fuzzy/evasive the way mesons make protons look fuzzy! (Yes, dreams can make scientific puns. Why not?)
Eightball:

In pool it's the one you DON'T want to pocket; note Lucinda here stays in the center! But her palette was orange-peach-cream, not black like the 8-ball in pool.
Could be infinity, sideways, not an 8! In this weak gravity, who knows what's up?
An oracle! The Eightball was a toy our family had: a dwarfed bowling ball you query & shake. Fluid-filled, with a smaller message-ball floating inside like the yolk of an egg. This little answer-ball floated up to a display-porthole to show one triangular facet with oracular words--'yes', 'no', 'unclear'... For years, though I knew a dodecahedron has pentagonal faces, not triangles, I thought of that answer-ball as a dodecahedron though it had to be an octahedron or icosahedron. Anyway, a dream of mine that mentions both eightball and dodecahedron is referring to that toy--and is flagging itself as an oracular dream, answering questions and predicting the future. As indeed it purports to directly in part three, where I learn I'm playing a very long game indeed.

Dark Star: the first feature film by the team who made Alien, and anticipating it; survival games set on a decrepit starship, Dark Star.
The million-year-old city: echoes a couple of recent dreams, but also a very old one, Ocarina, which also felt predictive of my life's arc.
Afterword, 2017

This dream, in hindsight, was a turning point; during the years I was battered, my dreams were survival warnings. Here they shifted gears--using senses honed by a struggle for survival to assess my new community's people, tensions, and power centers. From then on, my dreams took a long view, trying to heal me, build up skills and strengths, teach me about people, about myself, teach me subtlety (not my strong point!)--shifting gears from crisis and survival to deep growth.

Jung (and not just Jung) writes as if dreams always work for longterm individuation and soul-growth. Yeah, sure, often--if the dreamer is safe. But if you're cold, hungry, bruised, or fearing that midnight knock on the door from the cops, dreams have other functions.

It's not binary--survival or personal growth. A third face of dreaming is creative play. Nucleus combines physics, psychology and puns to show me how it feels to be a proton--or a friend.
---

LISTS AND LINKS:
General: psychodrama & therapy - weird dream beings - symbols & logos - science - surreal & shamanic dreams - healing from abuse - digital dream art
Vic's Demons: hunts - sports - twins & doubles - multiplicity - demons - color - personality integration - frustration
Lucinda's Meson: size - flying - I'm Just Not Myself Today! - platform-bent dreams - friends - community - names & puns - dance - nuclear, diagnostic & self-flagging dreams
A Million Years Later: cities - time - I'm Just Not Myself Today! - ghosts - loneliness - longevity & life-paths - long-term predictive dreams - Ocarina (1972)

World Dream Bank homepage - Art gallery - New stuff - Introductory sampler, best dreams, best art - On dreamwork - Books
Indexes: Subject - Author - Date - Names - Places - Art media/styles
Titles: A - B - C - D - E - F - G - H - IJ - KL - M - NO - PQ - R - Sa-Sh - Si-Sz - T - UV - WXYZ
Email: wdreamb@yahoo.com - Catalog of art, books, CDs - Behind the Curtain: FAQs, bio, site map - Kindred sites