World Dream Bank home - add a dream - newest - art gallery - sampler - dreams by title, subject, author, date, places, names

THIEF OF DREAMS

Dreamed 1996/11/29, painted 1999, playscript 2001, drawn as comix 2003, by Chris Wayan.
Small screen, slow loading? Illus. text version
INTRODUCTION
This dream needs an introduction! Are you always yourself in dreams? Not me--I'm often others. But whoever I am, normally I stay whoever I am! Stability.
Not here! First I'm a butler in mad Count Coyote's castle, reminding him to eat between painting his dream-visions; then I trade souls with the French maid, who's really an undercover detective trying recover the Count's stolen paintings; and then I swap souls with her girlfriend, a lesbian freshwater mermaid!
In each incarnation, I get closer to the truth about the Count's missing dream-art. Looks like the Pervert Pope stole it. Censorship? We mermaids don't stand for THAT! So I set out with my underwater camera to catch the Thief of Dreams, so I can marry my true love...
I drew the dream as comics without conventional panels, the action just flowing round the page--the only way I could capture the underwater feel of the dream. If it's hard to read, try the illustrated text--a playscript, basically.
Is THIEF OF DREAMS true? Yes. I can't swear to every detail--my dream recall's good, but not word for word! But I lived in this castle, I knew these people, I saw these events. This tale is not fantasy, but biography.
Dream biography.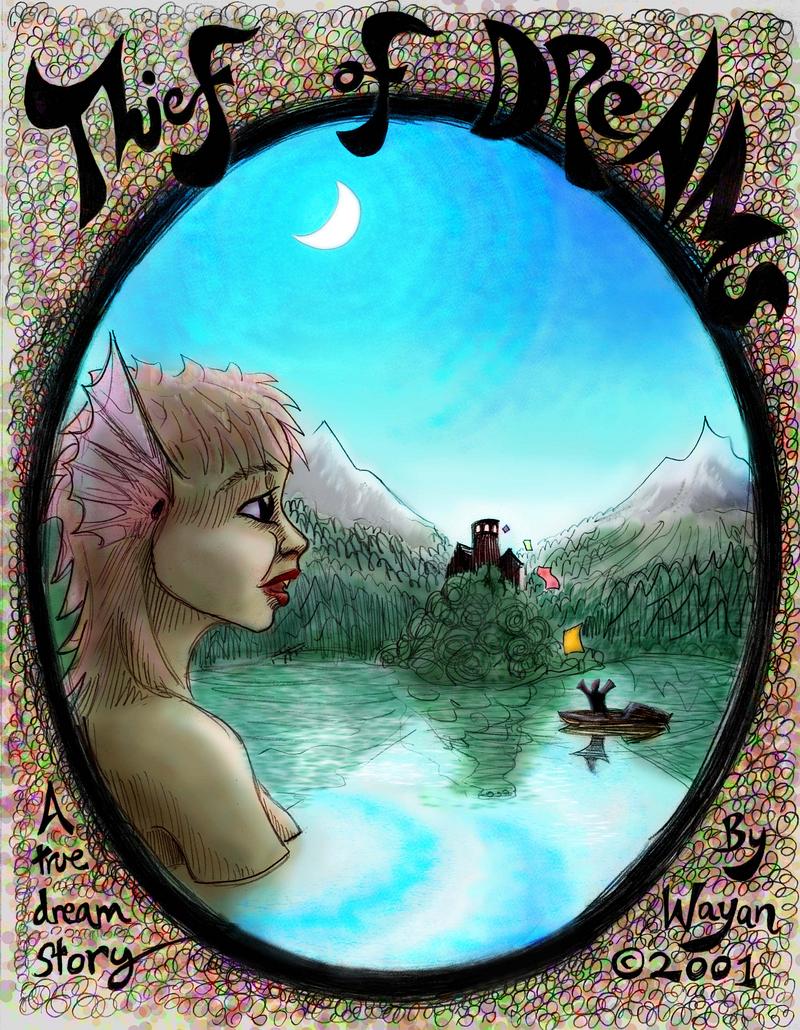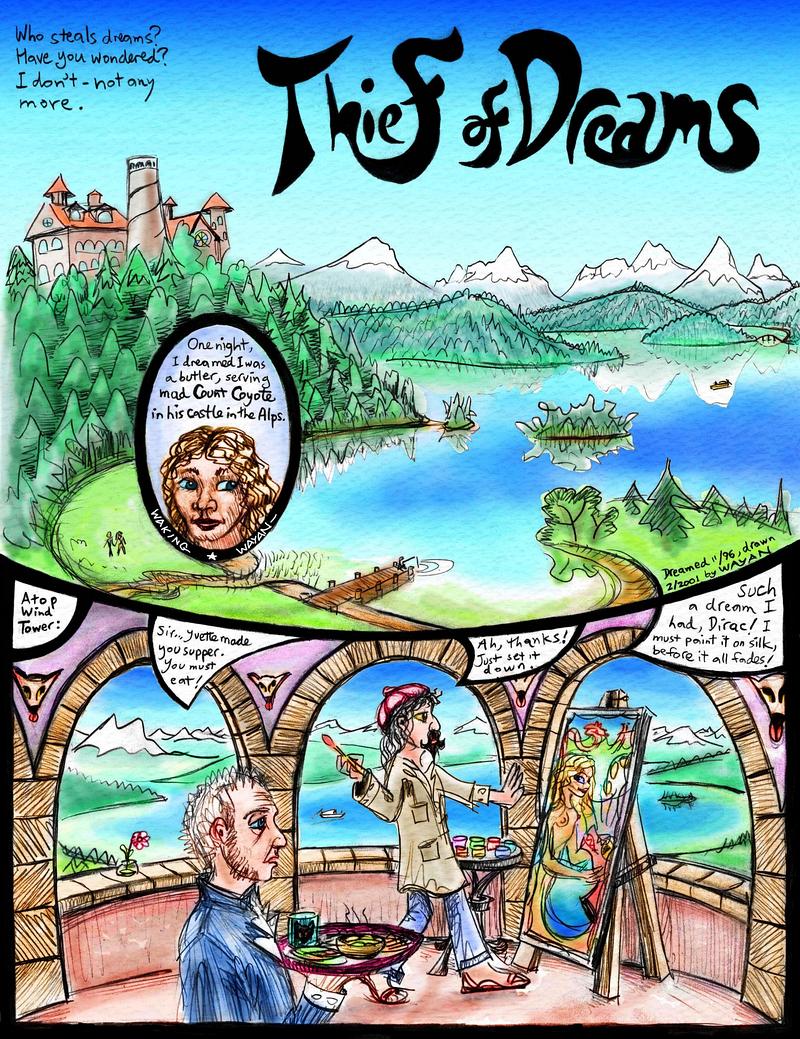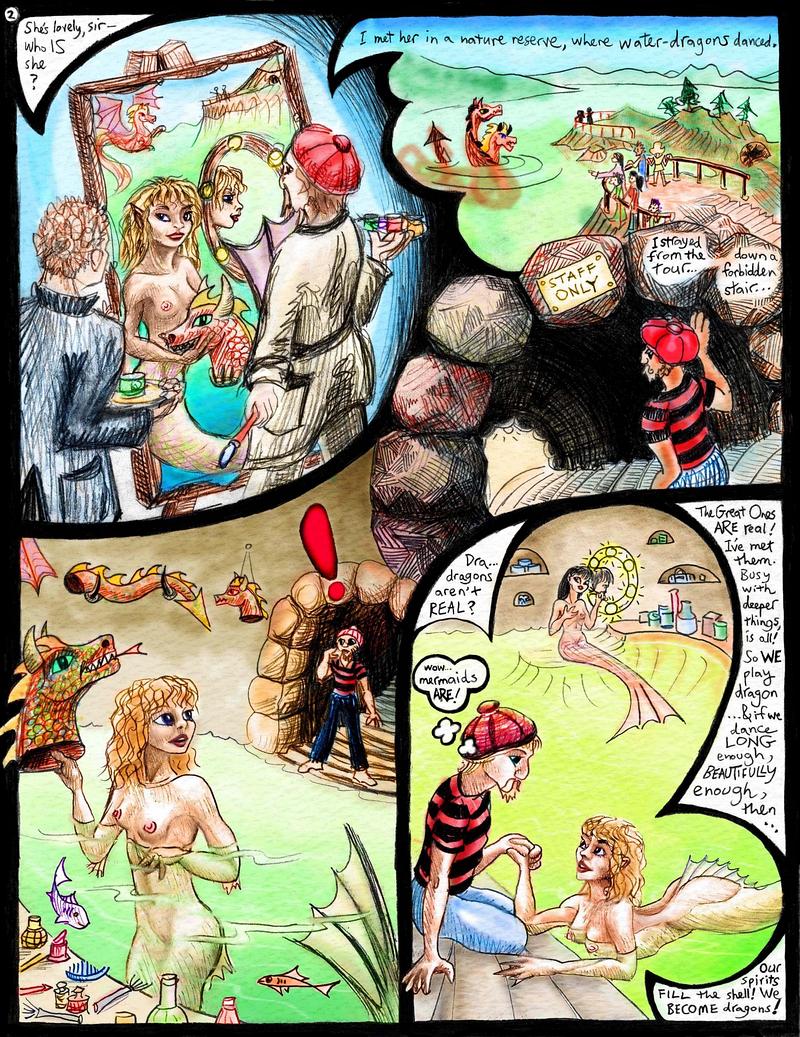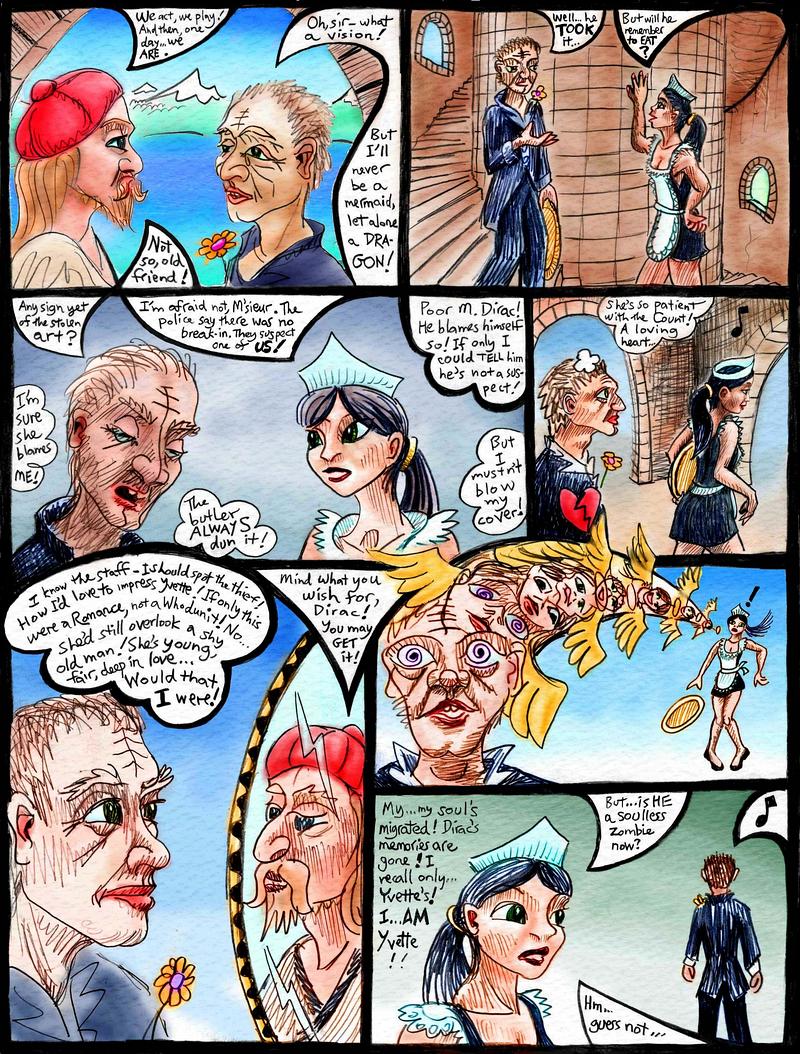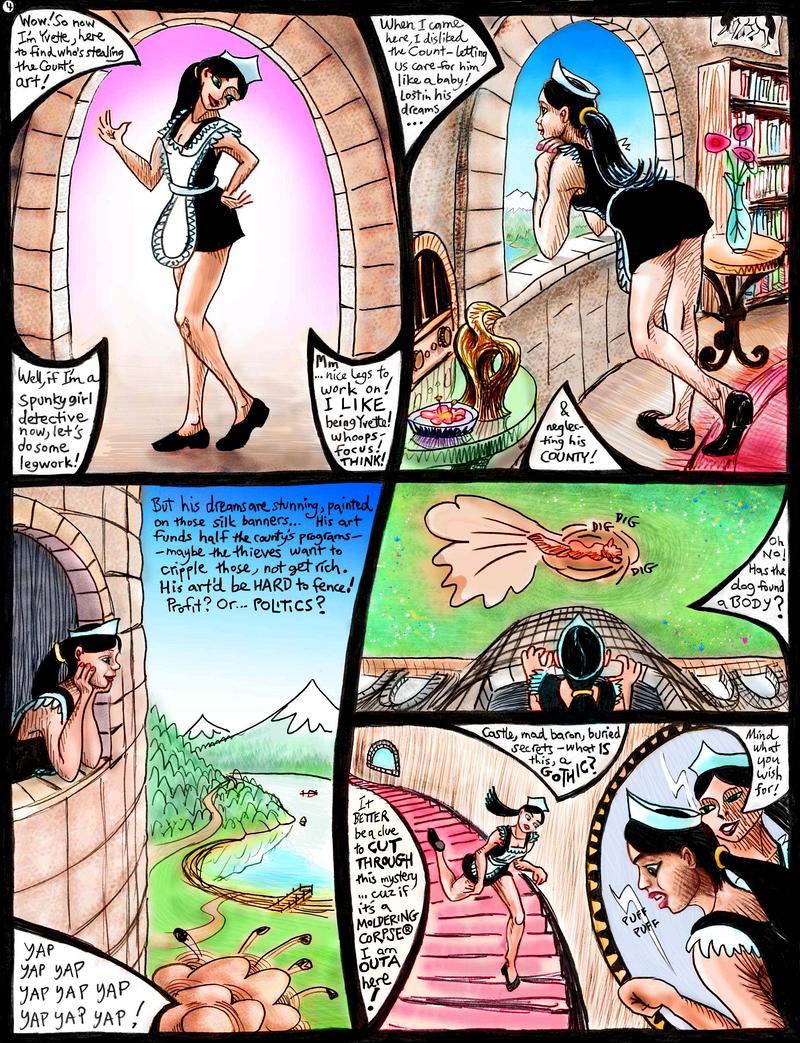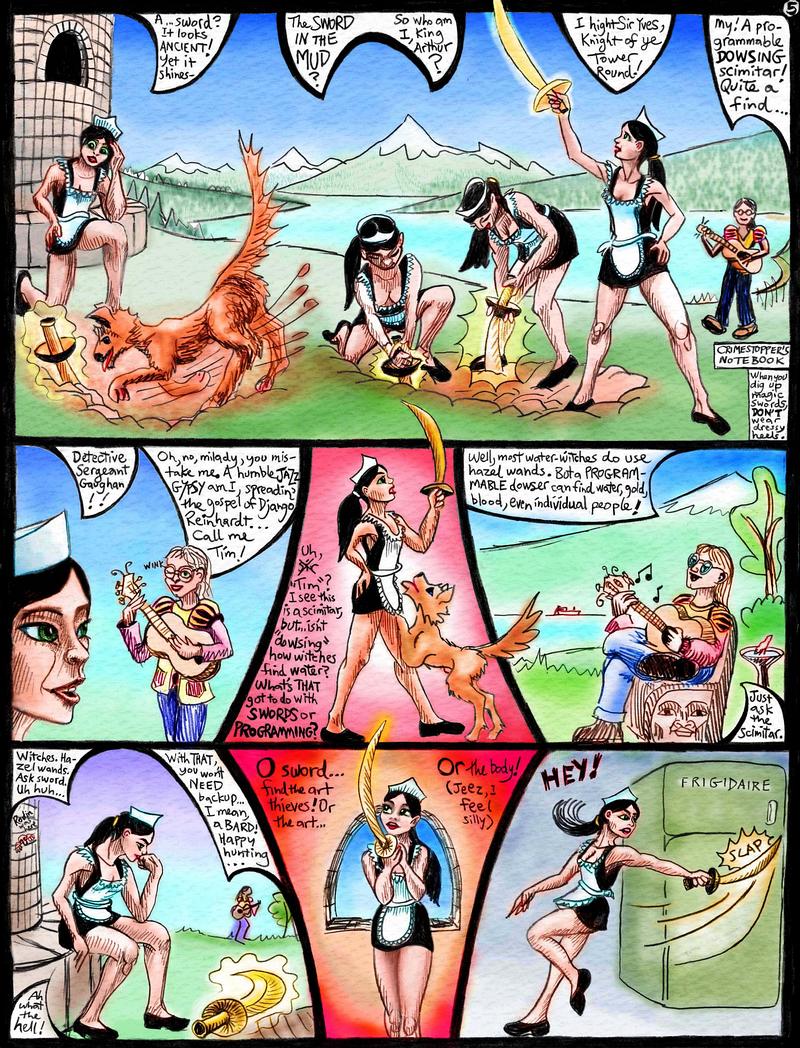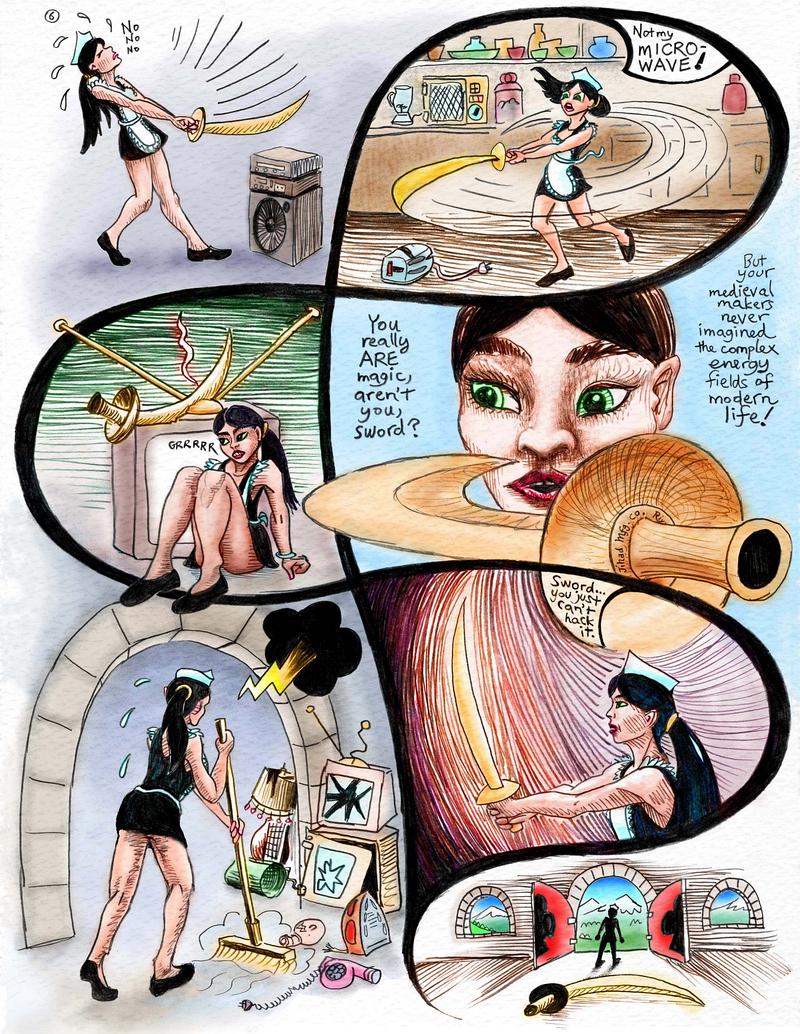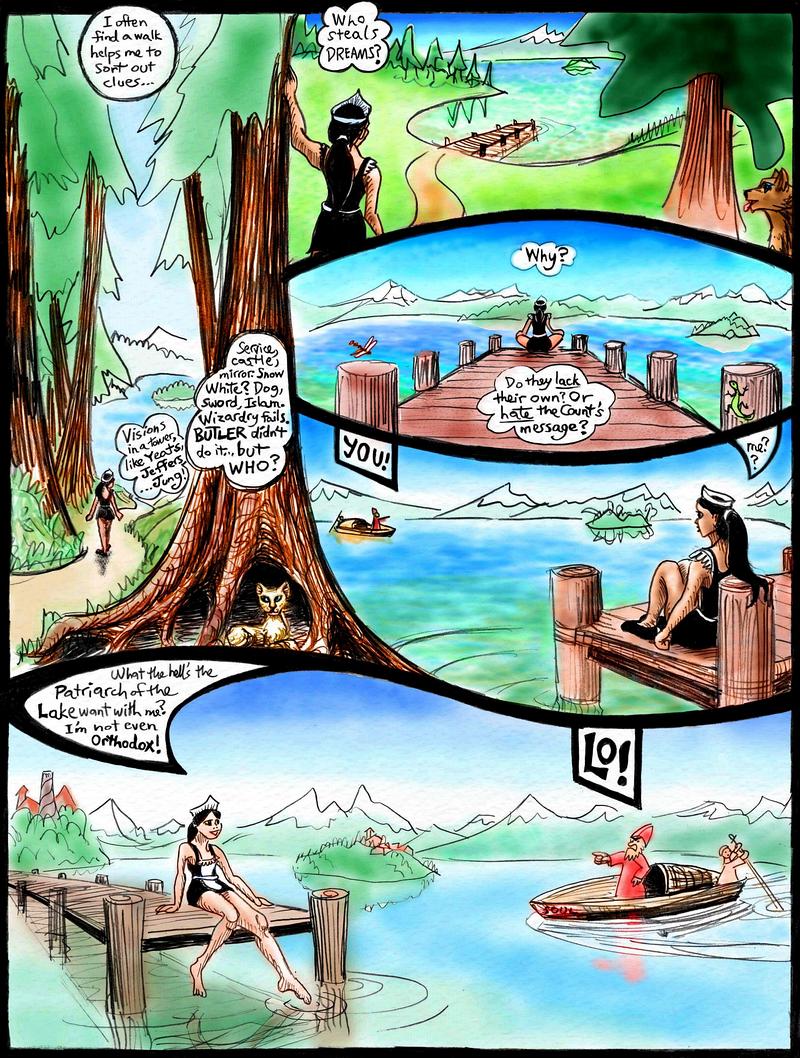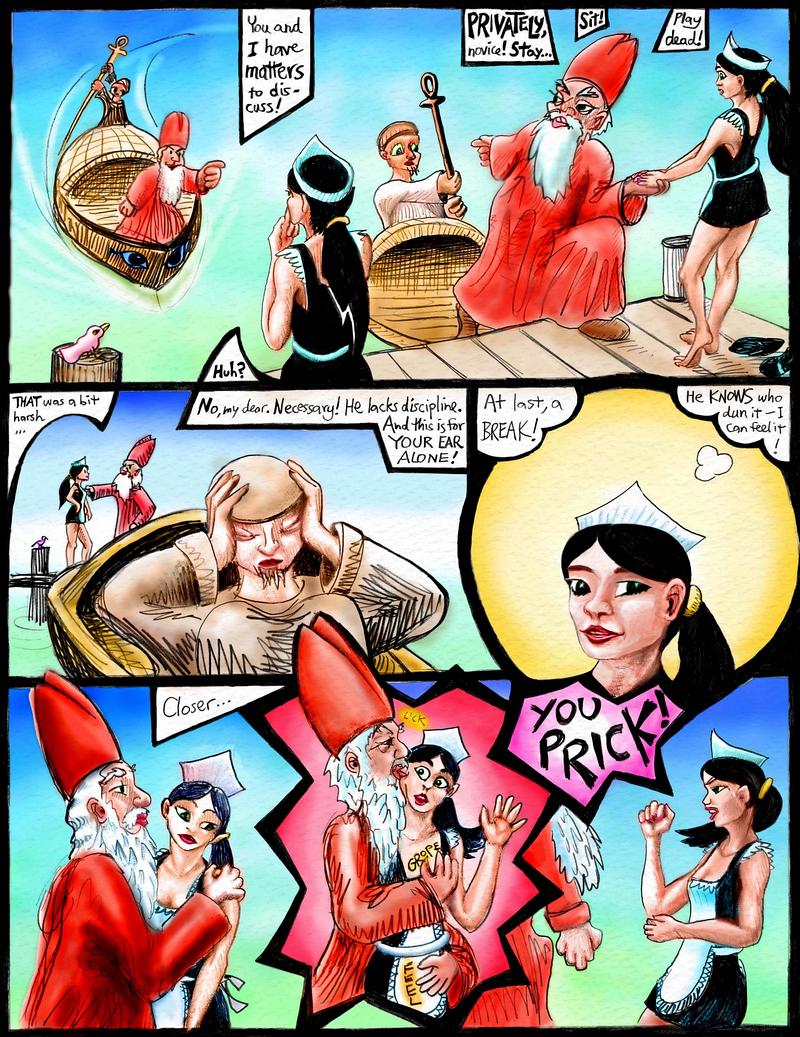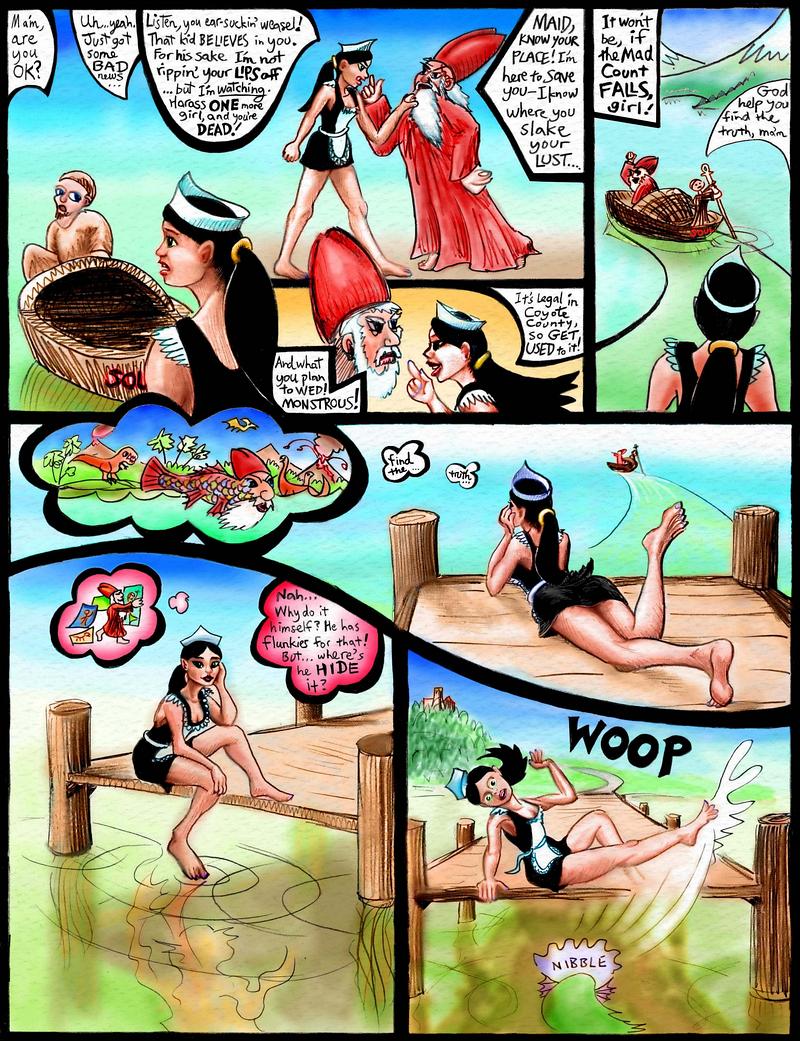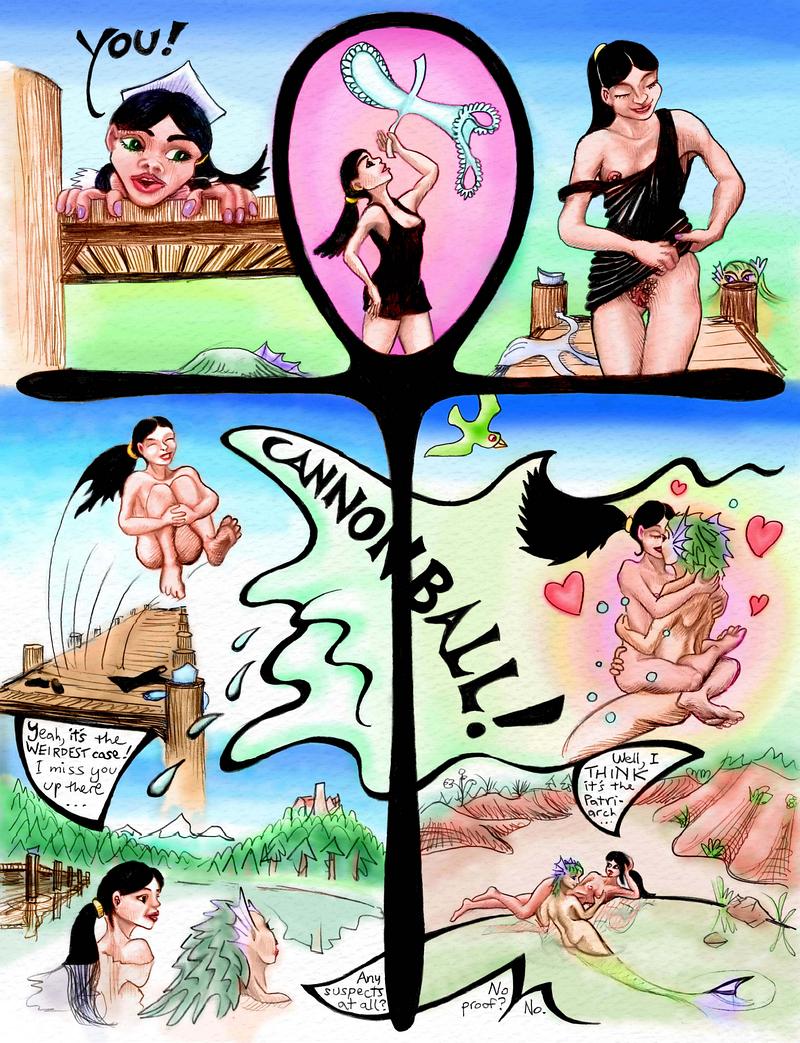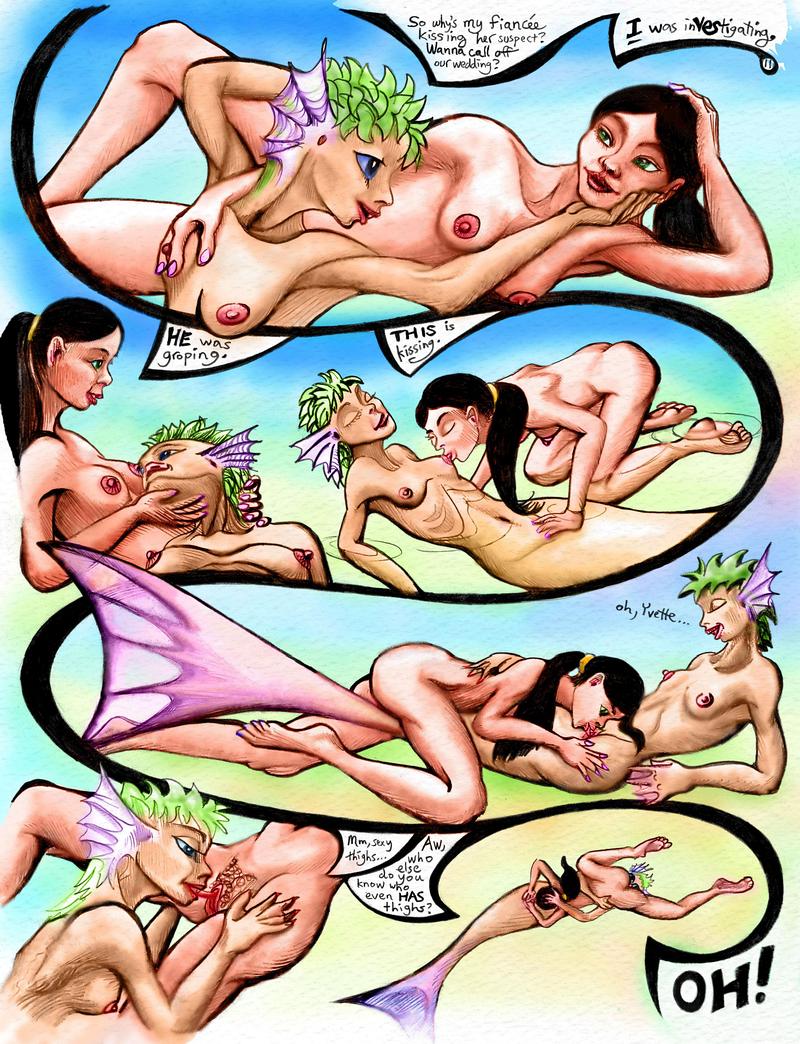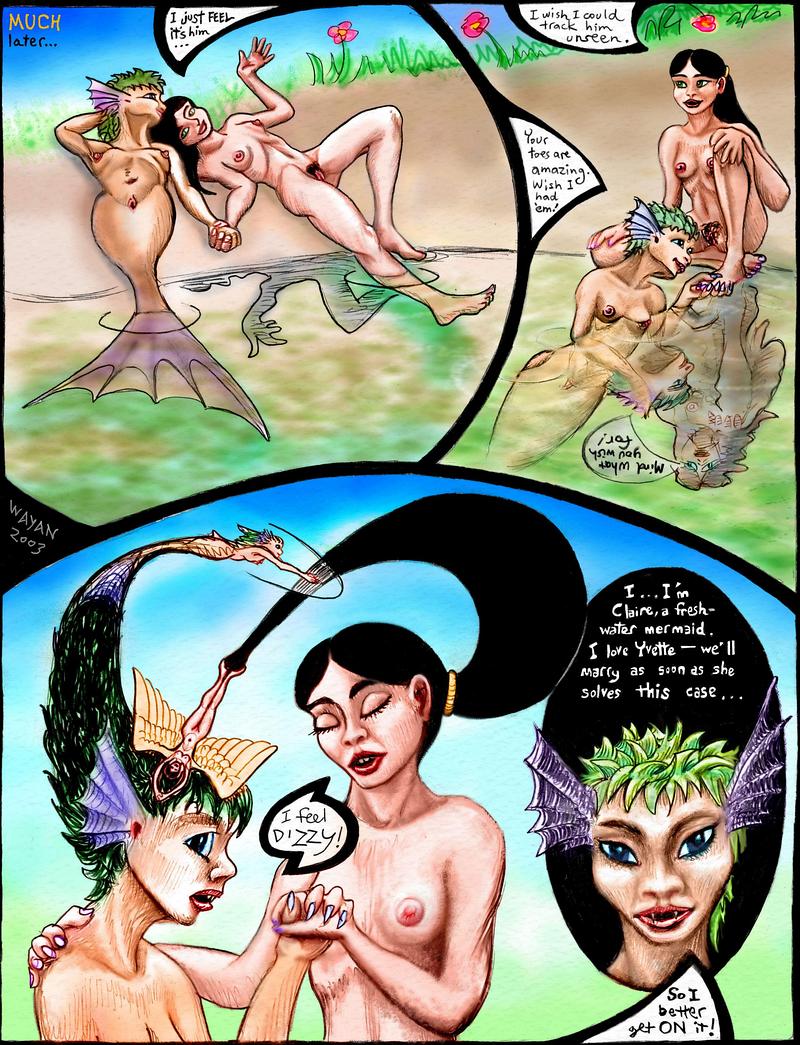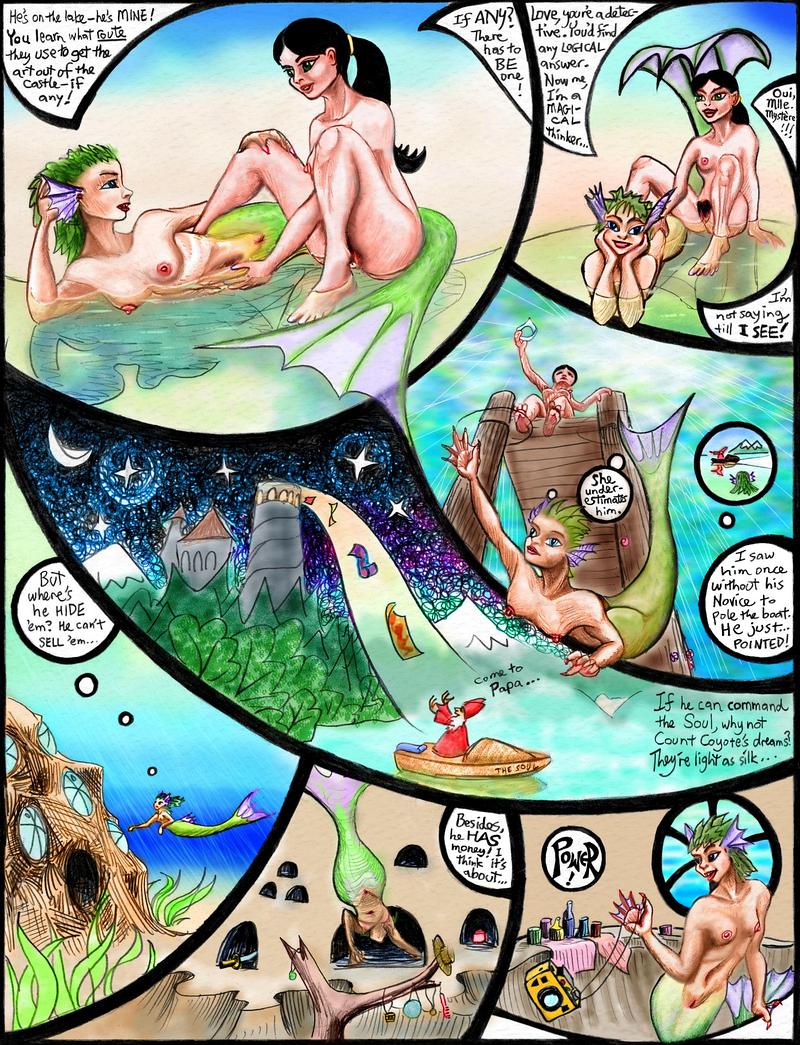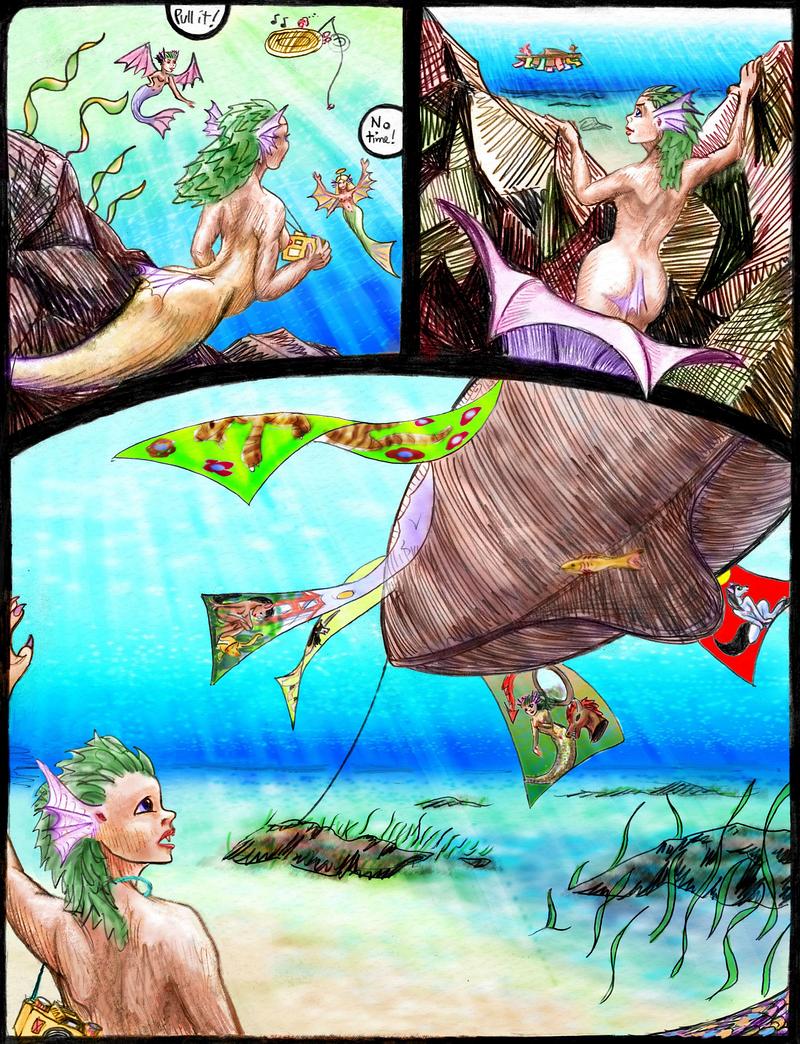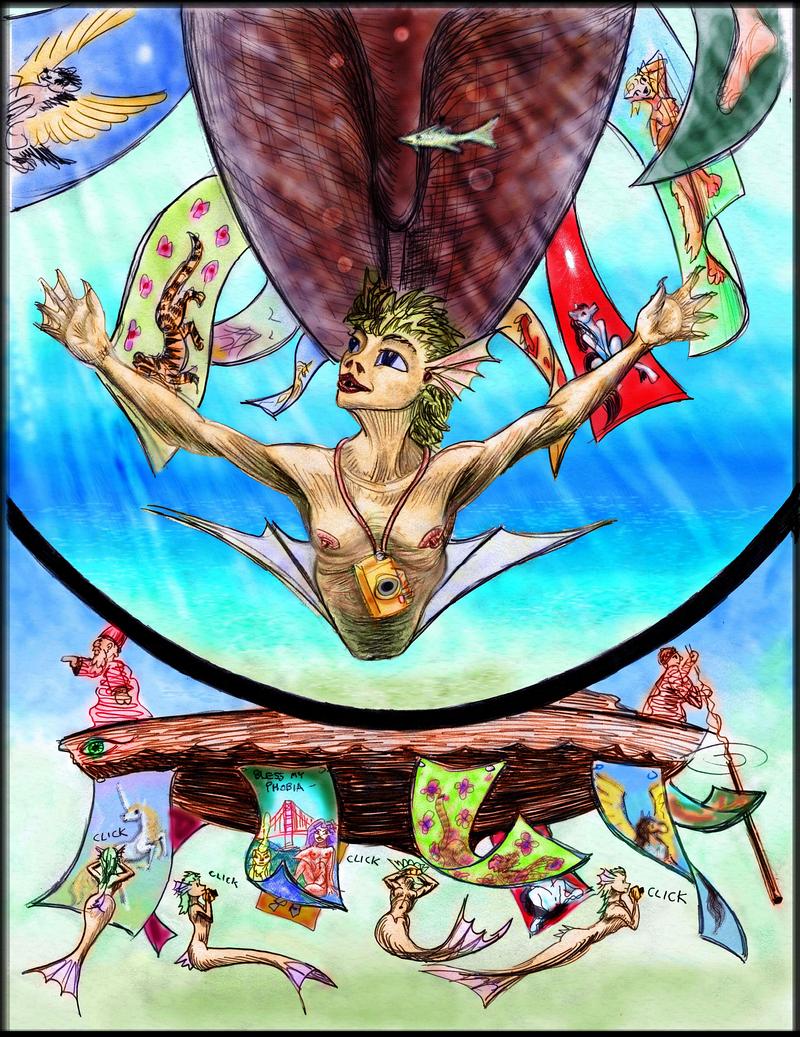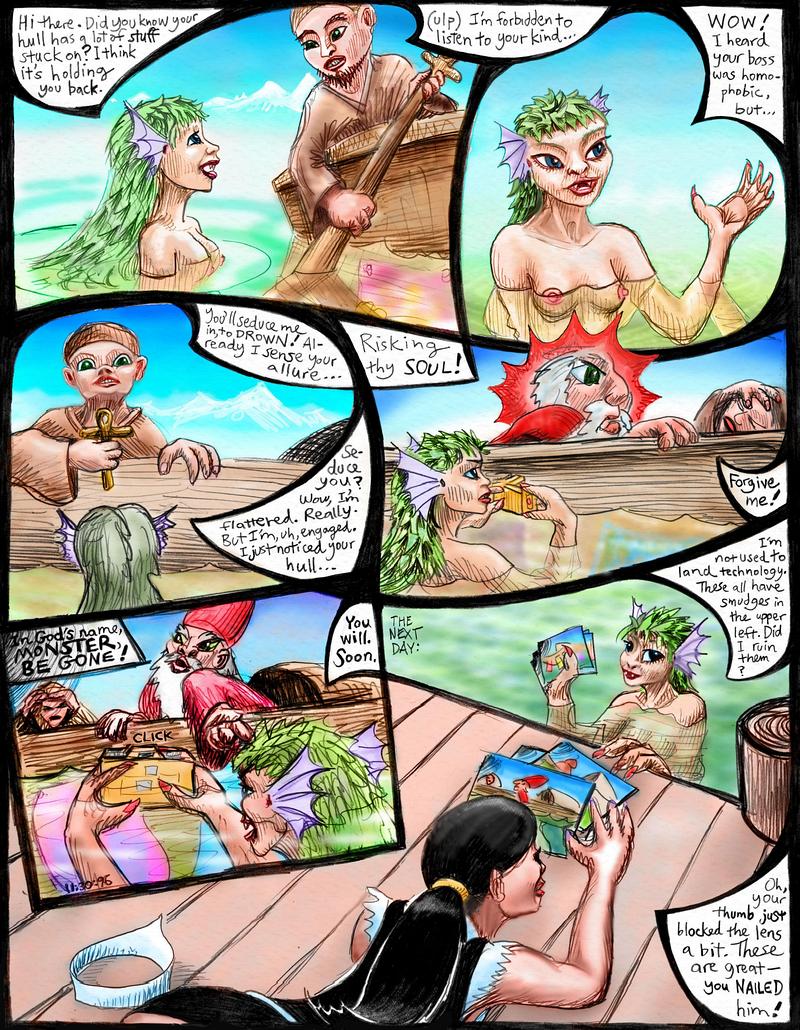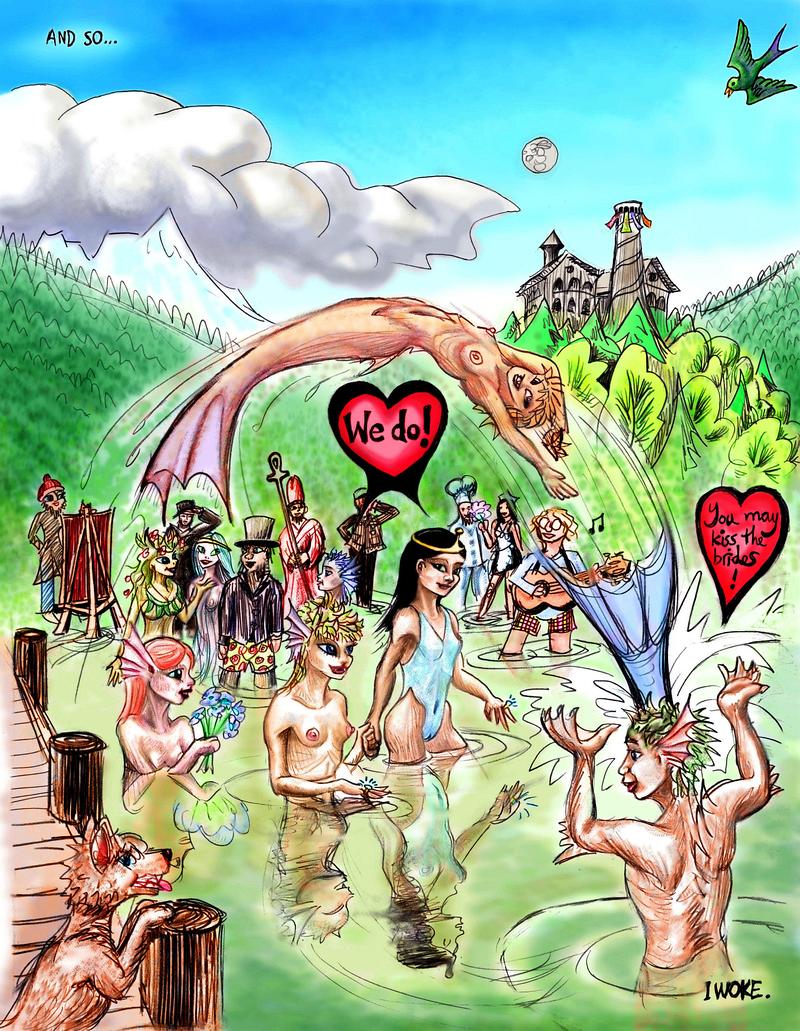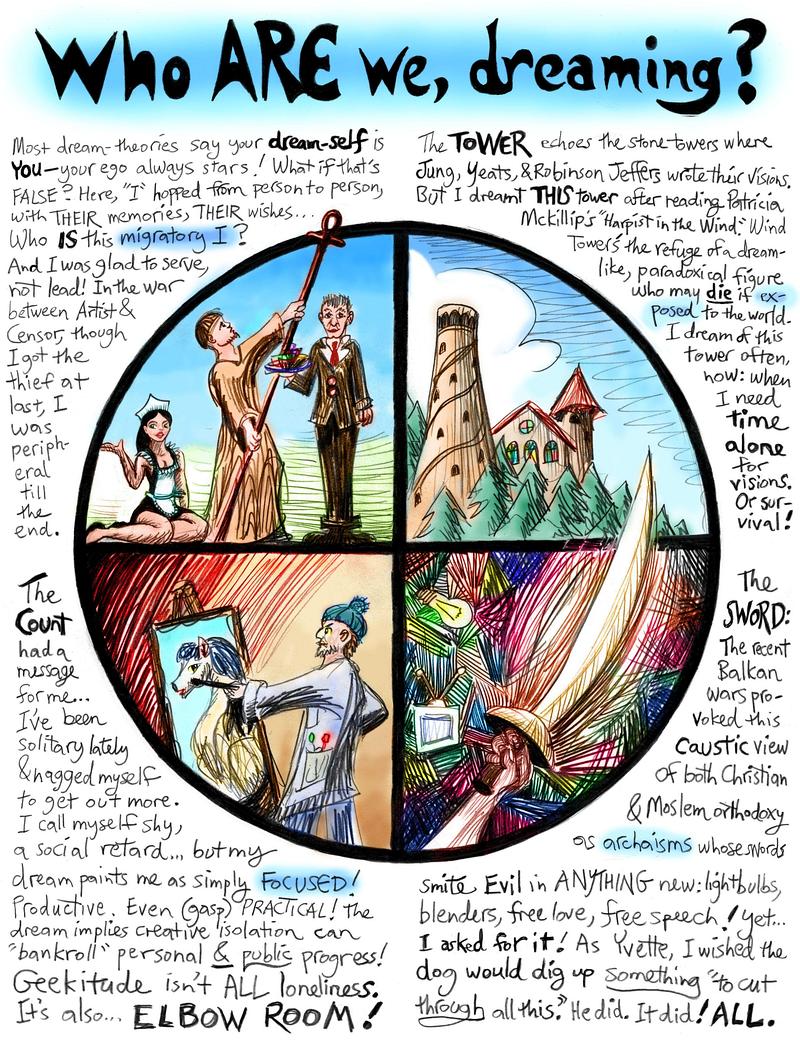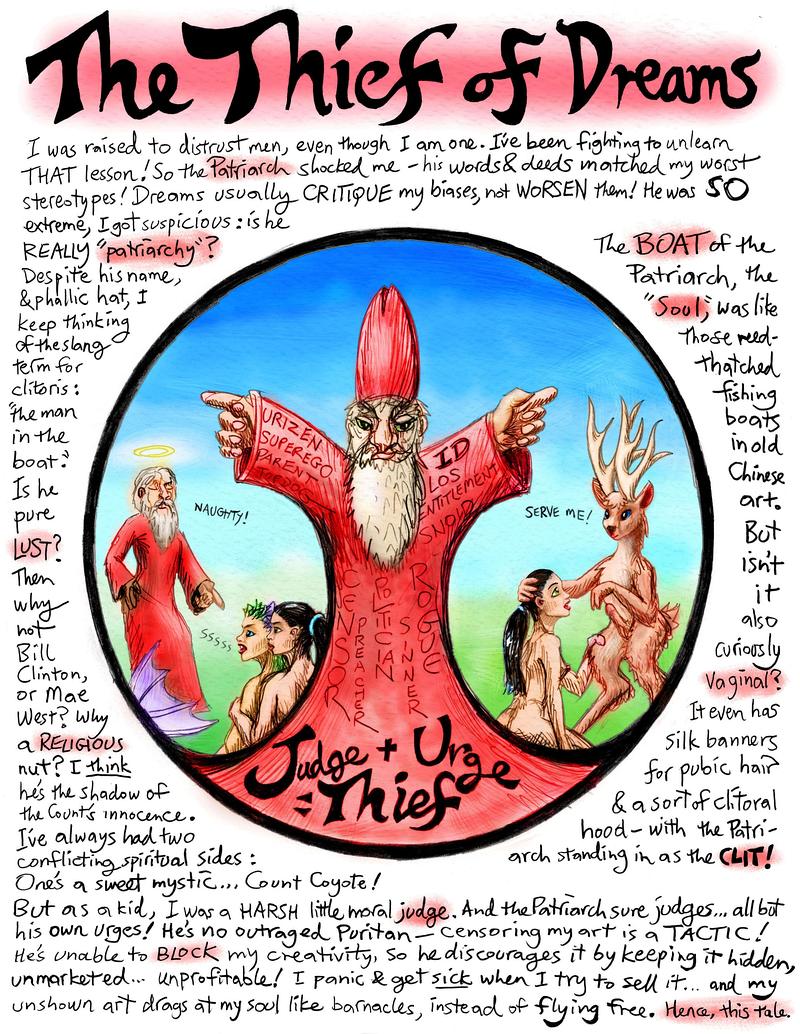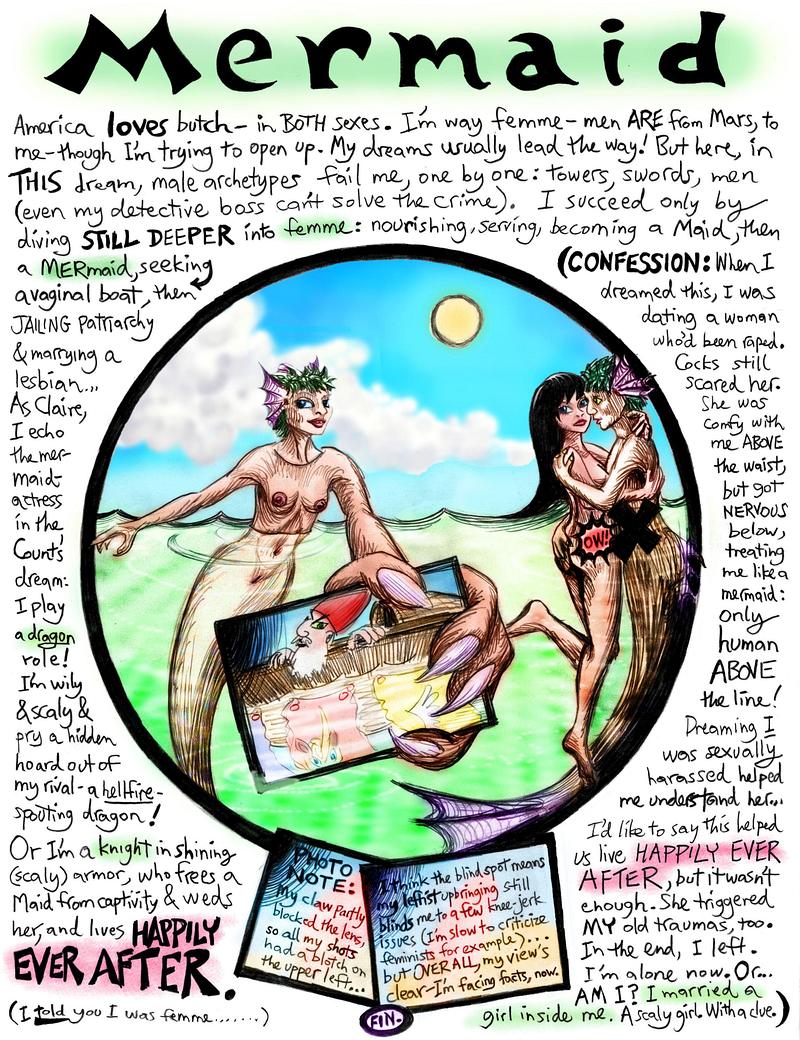 NOTES IN THE MORNING
A mystery that's not mysterious at all, where the chief suspect hardly even tries to hide the crime? When a dream-plot seems illogical, maybe you're mistaking signal for noise. If "whodunit" is obvious, maybe, just maybe, the dream's point is something else: whydunit? When I sabotage myself, do I really know why? Or do I just think I do?
The thief of dreams... I was raised to distrust men, though I am one. Hard work to unlearn that! So the Patriarch shocked me--his words and deeds echo my stereotypes of men. Dreams usually critique my biases, not confirm them! In fact, this guy was so extreme, I got suspicious: is he really "patriarchy"? Despite his name and phallic hat I keep thinking of the slang term for clitoris: "the man in the boat." Is he pure, gender-free lust? Then why not Bill Clinton, or even Mae West? Why a religious nut? And what a strange hybrid he is--half judge, half urge. But I think I know this Patriarch. I have two conflicting spiritual sides: one's pure Count Coyote, a sweet, all-embracing mystic... but as a kid, I was a harsh little moral judge. And the Patriarch sure judges--except his own urges! He's no outraged Puritan, that's just a cover; he's hornier than any of the art he censors. These days, he can't block my creativity, so he tries to keep it hidden, unmarketed and unprofitable! His waking tactics? Cause panic and illness when I try to show or sell my art! So my unshown art drags at my soul like barnacles, instead of flying free in heaven's air.
Transmigration... Who ARE we, dreaming? Most dream-theories say your dream-self IS you -- your ego always stars! What if that's false? Here, "I" hopped from person to person, with their memories, their wishes... Who is this migratory I? And I was comfortable serving, not leading as the ego wants to. In the political struggle between artist and censor, Count and Patriarch, I was neither one.
The count had a message for me. I've been solitary lately, and nagged myself to get out more. I call myself shy, a social retard... but my dream paints me as simply focused. Productive. Even (gasp) PRACTICAL! The Count's art-sales funded social programs in the dream--implying that creative isolation can "bankroll" personal and public progress. Geekitude isn't all loneliness. It's elbow room, too.
The tower echoes the stone towers where Jung, Yeats, and Robinson Jeffers wrote their visions; but I dreamt this tower after reading Patricia McKillip's "Harpist in the Wind." In that book, Wind Tower's the refuge of a dreamlike god who'll die if exposed to the world. I dream of this tower often now: when I need time alone for visions. Or survival!
The sword... the Balkan wars provoked this caustic view of both Christian and Muslim orthodoxy as archaisms whose swords find and smite evil in ANYTHING new--lightbulbs, blenders, free love, free speech! Yet, trouble though the sword was, I asked for it! As Yvette, I wished that the dog would dig up something "to cut through all this." He did. It did! All. A lesson there! I got the magical certainty I wanted... but it was maladapted to modern life.
The Patriarch's boat... the "Soul" was like those reed-thatched fishing boats in old Chinese art. But isn't it also curiously vaginal? It even has silk banners for pubic hair and a sort of clitoral hood -- with the Patriarch standing in as the clit!
The mermaid... America loves butch--in both sexes. I'm way femme--men ARE from Mars, to me--though I'm trying to open up. My dreams usually lead the way! But here, in THIS dream, male archetypes fail me, one by one: Towers, swords, men (even my detective boss can't solve the crime). I succeed only by diving still deeper into femme: nourishing, serving, becoming a Maid, then a MERmaid, seeking a vaginal boat, then jailing patriarchy and marrying a lesbian. As Claire, I echo the mermaid actress in the Count's dream: I play a dragon-role! I'm wily and scaly and pry a hidden hoard out of my rival--a hellfire-spouting dragon! Or I'm a knight in shining (scaly) armor, who frees a maid from captivity and weds her, and lives Happily Ever After. (I told you I was femme...)
A confession. When I dreamed this, I was dating a woman who'd been raped. Cocks still scared her. She was comfortable with me above the waist, but got nervous below, treating me like a mermaid: only human above the line! Dreaming I was sexually harassed helped me understand her. I'd like to say this helped us live Happily Ever After, but it wasn't enough. She triggered MY old traumas, too. In the end, I left. I'm alone now. Or... am I? I married a girl inside me. A scaly girl. With a clue.
Photo note... My thumb-claw partly blocked the lens, so all my shots had a blotch on the upper left. I think this small blind spot means my leftist upbringing still blinds me to a few knee-jerk issues (I'm slow to criticize feminists for example) but, the dream reassures me, they're marginal blots: overall, my view's clear--I face the truth now.
A FOOTNOTE ON TAROT: the dream brims with Tarot imagery and archetypes:

The Patriarch is the Hierophant or High Priest.
The castle is the Lightning-Struck Tower -- with the Count's wild dreams as the lightning! This card symbolizes revolution--intriguing, for the Count is both an aristocrat AND a social radical.
The dog is from the Fool's card: animal commonsense. "Instinct picking up the key..." I guess that makes me, Yvette, the Fool; but then, I've always suspected that...
Claire? All bets are off! The Priestess? The Queen of Cups? Or is she... a Knight in shining (scaly) armor?
All four Tarot suits are richly represented too:
Earth, pentacles, body, senses: the dragon's cave where the count meets a living treasure. And, of course, digging for the Sword in the Mud!
Air, swords, the mind: Wind Tower, built on dream-income... And that hyperactive scimitar!
Water, cups, heart, feeling: dowsing, the lake, the mermaid, the soul-boat...
Fire, wands, spirit, intuition: the Count's creative fire, the dragon-wannabe he meets in her lair, the Patriarch's hell-fire! Hazel wands, the modified fleur-de-lis on the castle door, and of course the Egyptian ankh: the sign of life.
A 2017 NOTE
Twenty years later, my dream of feminists fighting to expose a lying, thievish, blustery groper who abuses his powerful office seems less mystical--or even personal. It's just the daily news!
And what does that imply about your dreams now? Are they really about your psyche, as Freud and Jung thought? Or are they warning signs from still further down the road?
---

LISTS AND LINKS: art and artists - dreams about dreams - towers, especially the recurring image of Wind Tower - Patricia McKillip - Yeats - Count Coyote's dream (yes, it was a real dream of mine) - theft - politics - souls - cross-gender dreams - swords - buried memories - fanatics - popes and patriarchs - ships and boats - clitoral symbols - rape, exploitation, and harassment - mermaids - lesbians - a second dream of being a gay mermaid: The Mermaid Tow - sex dreams in general - lesbian sex - underwater dreams - religion - freedom of expression versus censorship - out of the closet! - dream weddings - round art - paintings - dream comics - long-term predictive dreams

World Dream Bank homepage - Art gallery - New stuff - Introductory sampler, best dreams, best art - On dreamwork - Books
Indexes: Subject - Author - Date - Names - Places - Art media/styles
Titles: A - B - C - D - E - F - G - H - IJ - KL - M - NO - PQ - R - Sa-Sh - Si-Sz - T - UV - WXYZ
Email: wdreamb@yahoo.com - Catalog of art, books, CDs - Behind the Curtain: FAQs, bio, site map - Kindred sites