BAND-AIDS: by Bagheera Pardus; c.1985, a lucid re-entered nightmare turned to joy.
Giant snakes chased me. I go lucid, turn & slay one. As I woke, the snakes cried. So I re-entered...
CAUTION: SNAKES, BEHEADING, REHEADING
BARN BURNING: by Denise Levertov; 1929?; a childhood nightmare
I'm in a barn full of peaceful animals lit by a golden glow. And then they all blacken, crinkle, and corrugate like burnt paper...
BAYSHORE AND CHARTER: by a Redwood City man; July 1951, a lifesaving predictive urge
I burst into tears for no reason and for 15 minutes begged my brother-in-law not to go, then said...
CAUTION: GRUESOME

BERYL'S DOG DAYS: by Wayan; 1988/1/25, a psychic dream farce.
My friend Beryl wants me to help rob a bank, so she can
cut off her breasts and be a great opera singer...
BERYL'S KUNDALINI: by Wayan; 1997/8/26, a clarifying dream.
My friend Beryl's ghost makes mad love to me--just long enough to swipe my Kundalini energy...
CAUTION: SUCCUBISM?
BETTY STOPS BY: by a Kentucky woman pre-1961, a farewell visitation dream?
I was moved that Betty came to see my two babies despite her illness, but shocked when her father told me...
THE BIKE KNIGHTS: by Wayan; 1992/7/6, a cautionary Jungian dreamtale.
Two unarmed sisters defeated a dragon who's now slaying an army of knights on bikes. What changed?
BILLIE: by Billie's Mom; 1945/1/20, a psychic warning dream
My son Billie, his Navy uniform soaking wet, cried "Oh, Mom--it's so terrible!"
and shrank into a baby again as I held him...
CAUTION: EXPLOSION

BIRD ASSASSIN: by Adam Shaw, art by Jesse Reklaw; pre-2000; a no-kindness-goes-unpunished dream
I'm a giant cartoon bird. I had to assassinate a friend--twelve times!
Eleven times I killed him, but I spared him the twelfth. He said...

BLACK WINTER: by Jeff Knabel; 1997, a dream-song from a possibly predictive nightmare
I dreamed a large meteor had struck the Earth. I found my Dad just as the shockwave hit...
CAUTION: APOCALYPSE

BLEEDING HEART, the SELF-HEALING CORPSE, and IN THE FUTURE DESERT:
by Wayan; 2002/5/29 - 2004/5/11, a diagnostic, predictive dream-series; Bleeding Heart as comix
A tree-girl moves to Hollywood to make film deals, but jealousy stabs her...
CAUTION: BLOODY ASSAULT, GAY DRYADS, MUTANT NUDITY

BLOODLINES: by Jenny Badger Sultan; 2005/7/30, 9/1 and 9/3; a compound dream-painting
A man obsessed with blood and death disturbs me, but I have to admit I share his interests...
Next the blood comes home; a surgeon wants to flay my tongue...
Next, witch-children rebel against a bloody flossing ritual and fly away on broomsticks...

BLOODY STYX!: by Wayan; 1989; digital painting of nondream vision.
What I saw in the river bordering the land of the dead...
CAUTION: GORE, BUT RESTRAINED, TASTEFUL GORE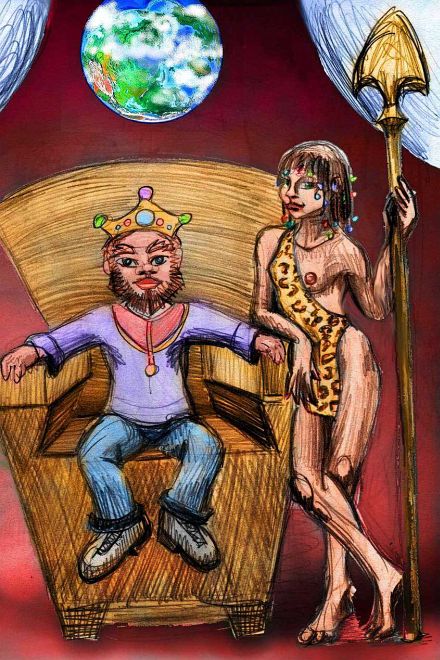 BLUE SOUP, NO SPARK: by Wayan; 1985/6/1, an epic dream on outgrowing God
A visit to a world where they fear blue soup ends in death and resurrection, so I'm pissed at my boss--God.
CAUTION: DEATH, REBIRTH, SACRILEGE... JOB BURNOUT
THE BOAT IS SINKING: by Mrs Griffiths; 1734/8/6, a recurrent warning dream
Mrs Griffiths has the same nightmare three times before she asks her nephew to skip a fishing trip...
BODY-SWITCH: by Wayan; 2000/6/10; a dream of a castaway soul
Spies kidnap a girl and move her soul into a madwoman's body. Can she survive? Recover? Even thrive?

BONE CARVINGS: by Larry Vigon; c.1999; a numinous dream with silly illustrations
At the beach, a deaf boy with a strong aura asks "Are you here for the coin?"
He buries horse skeletons in the sand; the bones are carved with symbols...
BONES DON'T LIE: by Emily Joy; 2006/12/13, a gruesome nightmare on guilt.
I know I'm a murderer; what isn't so clear is what I killed and why...
CAUTION: DISMEMBERMENT, GUILT, DREAD
BOTH MOURN, BOTH DIE: by "J.H., Esquire", 1694/12/9, a double premonitory dream
J.H. dreamt both his mother and Queen Mary appeared in mourning. Within days, both were dying...

THE BOULDER DISSOLVES: by Myoe Shonin; mid Dec. 1230, an old monk's dream of liberation
I was trapped inside a boulder, but as I chanted it melted around me until it resembled a discarded skin...

BOYS DON'T CRY: by Wayan; 2000/1/7, twin sex nightmares reacting to a movie seen two days later!
DREAM 1: My date Lana changes to my housemate Alder to my dead friend Beryl, who talks of pastlife trauma...
DREAM 2: Sexy deer-girls and ice dancers get me and my sister hot, but a ghost disrupts impending incest...
TWO DAYS LATER: I see Boys Don't Cry--settings, situations, characters & even names from my dream!
CAUTION: DEER BREASTS, NEAR-INCEST, FILM ON TRANNYCIDE

THE BRUNDIBAR SEA: by Wayan; 2005/12/18, a mystical manifestation dream
Biking, I stray into the steamy Brundibar Sea. My bike dissolves!
But hot-tubbers explain the Sea manifests what you visualize. Yay! Uh-oh...
CAUTION: MYSTICISM AND HOLOCAUST HISTORY

BURN THE EGGS: by Wayan; 2008/1/20; a magical advisory nightmare with 15 sketches.
Fighting an absolutist theocracy, my dragon-soul burns the
church's dragon-nursery. The cost is terrible: a black vortex...
CAUTION: ROMANTIC THREESOME GETS BURNED
BUTLER'S CROSSING: by David's father; 1941/8/24, a (heeded or unheeded?) warning dream
He saw a vehicle coming toward him at great speed. The light was so bright it blinded him. He screamed...
CALPURNIA'S DREAM: by Calpurnia, wife of Caesar; 44BC/3/14, a warning.
The night before Julius Caesar's death, his wife dreamed he'd be killed and tried to warn him, but politics...
CARRIED UP: by Wayne Miller, 1972/3/3, epic nightmare turning transcendent
I'm in a huge colonnade. An army of blood-painted men sacrifice the dove of peace. Their masked leader drinks its blood.
But then I'm carried upstairs to meet... the prophet Daniel! I'm amid the angels, on the ceiling of the Sistine Chapel...
CAUTION: BLOOD-DRINKING THUGS
CART WITH HUSBAND: by Mrs. T, pre-1961, a predictive nightmare
A cart came by, drawn by a white horse, on its way to the hospital. In that cart was my husband....
CAUTION: ANGUISH, DEFEAT, PREDESTINATION

A CAT AND HER GIRL: by Wayan; 1979/5/15, a deep little dream.
I'm a doctor in the future, trying to heal the neurolink between a girl and her cat...
CHASM by Nancy Price; 1948, a telepathic nightmare.
The scenery's so lovely my mother walks off a cliff! As I wake, a neighbor falls out a high window...
CLAIRAGONY: by a Philadelphia woman, Aug 1951, a sympathetic heart attack her mind misattributes
I had a heart attack--but it faded in minutes! The phone rang. I knew at once my dying mother was gone...
CLOCKS STOP, CLOCKS START: 1953/10/3 and pre-1961; two family reports of psychokinesis
Indiana: Father's favorite clock, a cuckoo clock, stopped at exactly the time he died...
Florida: an old clock silent for years started up at 10:20, the time of my husband's death the day before...

COCO CHANEL'S PUSSY: by Wayan; 2010/4/26; a film-pun-sex dream
Coco Chanel's fashion workers want me to screw Coco's cat, so she'll stop screwing them financially...
CAUTION: SEX KITTENS

COEURL: by Wayan; 1980/2/26, a dream of surprise transcendence
I'm trapped in an alien hotel, my true love has gone radioactive,
and the only way out is to turn into a giant, scary...
CAUTION: CLOSET LESBIAN. LITERAL CLOSET.

COFFINS: by Beryl and Wayan; 1983/11/5, dark parallel/shared/telepathic dreams
Twin dreams of ghoulish games backstage at a theater.
And they anticipated real long-term ghoulishness...
CAUTION: SLOW DEATH
COLLAR OF GOLD: a Welshman of Kemmeis District; 1170s? A recurring dream of treasure
A rich man dreamt thrice that hidden in St Berner's Well near his house was a golden collar. He reached in and...
CAUTION: OW

THE COMING DARK: by Jenny Badger Sultan, 2002/3/2; a dream on one disaster averted, and one... not.
I climb down a cliff before night strands me; but in town, risky adolescent games cause a crash...

A CONVERSATION WITH ANOREXIA: by Wayan; 1994/6/25; two wild shamanic dreams.
That day I read Hilde Bruch's "Conversations with Anorexics" and face the fact I am one.
That night, in the land where anorexic horses heal, I enter the Kiva of Shamanic Pamphlets, and...

CORPSE-BUG: by Wayan; 1994/12/1, an allegorical sex nightmare.
I'm a hippie girl in San Francisco, in hard times. To escape the Four Horsemen, I lie down with Death...
CAUTION: GANGS, CREEPY SEX

CORPSES IN THE UPPER ROOM: by Jenny Badger Sultan, 1995/1/30, a dreamlet of death/regeneration
Bodies are laid out upstairs in a dirt bed. Potatoes will sprout.
The plants won't feed on the bodies, but they will support the vines...

CREATURE BECOMES CREATOR: by Wayan; 2015/2/5, three linked advisory dreams on world trends
A weird little forest god bred me from an ordinary deer into a creature who can
almost pass for human. But World War 2 killed my god, and now I'm growing into...
CAUTION: NUDITY, CROSSBREEDING
THE CREEK: by Louisa E. Rhine; c. 1925? a lifesaving predictive dream
I was camping by a creek. I went to get soap and returned to find my baby son face-down in the water...

CROSS THE BLACK RIVER ONE DEATH AT A TIME: by Wayan; 1990? Astral landscape
Buddhism is a 12-step program; it has its pitfalls for those of us who already detach all too easily...

CRYSTAL AND GUNSEL: by Wayan; 1997/7/2, a nightmare--psychic or not?
Gunsel kills my friend Crystal in a flaming aircar crash. But that's not enough--he comes back, and...
CAUTION: VIOLENCE

CYCLES AGO: dream by Maud Gonne, poem by WB Yeats; late July 1891, a dream-poem
We were as if brother and sister of old in the desert land;
they sold us in slavery together before this life had begun...

DAD'S DATES: by Wayan; 2008/8/17, a dream poem, Dreamverse #8.
After my mom's death, my dad starts dating again, while I hide out and wince. Can't I do anything positive?

DAD THE WORKAHOLIC: by Rick Veitch; pre-1995; an emotional blowout dream
In the paper factory where my dad worked all his life, I find him on
his deathbed. Even as he fades, he's still trying to please his bosses...

DALI CENTAUR: by Wayan; 1981/12/12; a surrealist nightmare.
I dreamed I saw what looked like an ink sketch by Dali of a horse--but I was dead wrong...
CAUTION: YUCK

DALLAS GMORK: by Wayan; 1984/8/21, a predictive nightmare
I'm a protester in Dallas, fighting Reagan's cops. A werewolf kills two of them.
I may be its real prey; is police harassment distracting the wolf from me?
CAUTION: VIOLENCE AND DISTURBING PREDICTION

DANCE OF THE SUN: by Wayan, 1972/10/23, an epic mystical dream
I cross a hostile continent to a magic commune, fall in love with a flying girl who slaps a
soul-spark into my head, and follow an alien goddess leading the Dance of the Sun...

THE DARII: by Wayan; 1994/8/15, a predictive dream of another life.
I'm trying to prevent a race war, but can I kill someone I admire? And if so, can I live with it?
CAUTION: RACISM, VIOLENCE, INTENSE GUILT

A DART IN HER CHEST: by Wayan; 1984/8/21, a predictive dream
A woman loses patience with sexual harassment in an Air Force training program, and
stages a die-in. But why's she wrapped in an orange towel, why a dart in her chest?
CAUTION: TROUBLING REAL-WORLD AFTERMATH
DEAD, ALIVE, DEAD: by a Minnesota teacher; well before 1960, a predictive... something.
Mrs Brown was dead; I recalled helping at her bedside. My mother swore she was alive and I'd never met her! Then...
THE DEAD BABY: by Wayan; 1985/8/4 a dream of hope.
My sister gives birth during a killer heatwave. The baby's dead. I play with the body, like a chimp...
CAUTION: GROSS
DEAD, NOT STUPID: by Wayan; 2000/1/20, a (psychic?)dreamtale.
My little sisters tell the detectives, "Daddy's ghost has a message for you" but they don't listen...

DEAD OR ALIVE? by Nancy Price; 1948, a surreal, poetic dream from the borderzone
Troutmet the moon-pigeon, Burtra the blackbird, a talking acacia,
my dead father and my dead gardener all give me afterlife-advice...
DEATH CHANTY: by E.M. Martin's friend; 1914/9/21, a psychic dream
An endless parade of drowned sailors sing a dirge. The dreamer woke in tears. Then the news arrived.

DEATH DATE: by Jim Shaw; 1994 (early?), a possibly predictive shamanic dream
I become a werewolf and climb into a strange attic. I find a grave marker for
an old friend--but her death date is two years in the future...

DESERT SLAVERS: by Wayan; 2015/5/29; a grim dream replayed a bit better
A gang of slavers catch my family. I flee on a bike but it breaks down. Stranded. Replay! This time I have a gun...
CAUTION: GANG, SHOOTING

DEVILMENT: by Wayan, 2017/8/13, two dreams on Queen Bee syndrome, fusing Milton & Milton Friedman
A Queen Bee devil kidnaps my grandniece; I kill her to free the child. Turns out even Hell's leaders are relieved.
She returns as a satanic housing developer. Slicker this time, but just as crooked. Must I kill her again?
CAUTION: DEVILS, VIOLENCE (NONGRAPHIC)

THE DIEBACK: by Wayan; 1998/10/12, an ecological warning dream.
A plague begins on terraformed Mars and spreads to Earth. Population biology made it inevitable...
CAUTION: OFFSTAGE POPULATION CRASH
DISSECTING PESSIMISM: by Wayan; 1997/4/14, a stubbornly educational nightmare .
A serial killer stalks our office, and our bosses deny it. When we defend ourselves, things turn weird...
CAUTION: VIOLENCE

THE DOCTOR KILLS A TERN: by Wayan; 1988/9/24. A dream poem, Dreamverse #4
Dr Who kills his best friend, a huge white tern, on a whim. Furious, I demand a rewrite...
CAUTION: WANTON MURDER

DOG THIRST: by Cecy and Wayan; 1991/10/7, shared or telepathic dreamlets
CECY: In a desert, a thirsty dog jumps out of a tree--the first known dog suicide...
WAYAN: I'm a talking dog. Our owner denies us enough water, so we protest...
DON'T SHOOT THE IBEX: by Jane Doe; 2005/8/9, a hunting dream.
My hunting license won't let me legally shoot a giraffe or ibex, but I do bag a prime Macy's salesman...
CAUTION: LICENSE TO KILL

THE DOOR THROUGH DEATH: by Wayan; 1981/10/25; a Greco-Egyptian nightmare poem
At death's door, my friend lets Cerberus devour her, so I can enter
Death's pyramid alive and expose the truth about the afterlife...
CAUTION: FATAL DOG ATTACK
DOUBLE DREAM: by "Anonymous #23 & 24"; pre-1963, two linked false-predictive dreams
Mother & daughter both dream Mum runs over a little girl. Next morning she
spots the girl in the road--warned, she swerves. But bystanders see no child...

DREAMKU, MARCH 2007: by Roswila; various dates up to March 2007; 31 dream-poems--mostly haiku
Dream poems laid out like a calendar. Themes? Horses, camels, abused girls, vampires--all want their freedom...

DREAMKU, APRIL 2007: by Roswila; various dates up to April 2007; 30 dream-poems--mostly haiku
Dream haiku laid out like a calendar. Roswila's favorite is the pirate, but mine is the were-salamander...
DUCK HUNT: by Craig, age 4; 1950/11/18, an ignored predictive nightmare
"I dreamed you were in the water, Daddy. You kept trying to come out of the water to me..."

EAT THE MOON: by Wayan; 2013/9/4; a weird shamanic dream-poem
Lights on the moon! Future cities shine. Gotta fix that time-slip. But in
shaman-space, the moon's a deerskull up a tree! I take it down, pocket its
jewel-city-eyes and try to stew the moon. I'm Coyote, so my cookery goes wrong...

EEL TOWER: by Wayan; 1981/4/23, a dream of longing.
I dreamed living in a body of flesh is like being trapped on a sinking cruise ship...
CAUTION: NUDITY (but she's just crying, not giving that guy a blowjob, okay?)

THE EGG PROBLEM: by Wayan; 1990/3/2, digital painting of a magical dream.
I was an intellectual ballerina trying to stop zombies hatching from stone eggs...
EMADRO: by Wayan; 1983/6/4, a wild dream on clinging--and letting go.
An elephant sinks in the North Sea, and the Oracle Mink says a wizard did it. Can old Lady Gandalf help?

EMBER IN THE BRAIN: by Wayan; 1983/3/31, a dreamtale on anger.
I'm the Incredible Hulk, forced to do emergency brain surgery. For the patient's burning from within...
CAUTION: VIOLENCE AND UNLICENSED MEDICINE
EXECUTE ME!: by Wayan; 2014/1/27, a harsh revolutionary dream
I'm condemned to die for fighting a regime that's killed my minority with impunity
for centuries. I have no regrets. They'll hesitate now, knowing they too can die...

EXPERIMENT WITH TIME by Nancy Price; 1948, a shamanic-initiation dream declined?
I meet a girl who's 16 and 61, who tells me dreams are lives, not messages.
But then I must fly over a sinister parade...

FAIRY WIFE: by Wayan; 1985/1/17, an epic dream of love and choice.
A fairy woman and a mortal man? Can't work! They're flighty, we're crude. Doomed, right?
Well, some people are so sure of it they decide to help things along a bit. Or a lot...

FALADA: The Goose Girl's Best Friend: by Mardi Storm, recurring predictive dreams c.1975-79, sculpted c.2000
I had recurring dreams in which a talking horse's head was nailed to a tree.
Strangely, this was before I read "The Goose Girl" in Grimm's fairytales...
CAUTION: GRIMM ALL AROUND

THE FEARFUL INSECT by Nancy Price; 1948, an episodic circular nightmare unified by a leitmotif
A bug with a horse-skull face reappears all through this nightmare of betrayal. I only know I feared it...
FERDINAND'S ASSASSINATION: by Joseph Lanyi; 1914/6/28, a historic predictive dream.
Lanyi dreamed in detail of the assassination of his friend Archduke Franz Ferdinand hours before it happened...
F.I.P: by Dr A (c.1947), a Cambridge man (1960?), a London girl (c.1916) and a Midlands mum (July 1958)
Examples of inexplicable moods that appear (after the fact) to be reactions to future events...

FIRE-CATS: by Wayan; 1981/10/10; twin dream-poems on over-discipline
For mere disobedience, I EXECUTE a forest-fire-fighting cat! So next
I'm trapped in a security-obsessed job; how do I like it? I flee...

FISH BIRTH: by Katherine Metcalf Nelson; c.1978/11/15; a nightmare
My little son accidentally tears the tail off our goldfish. The wound
looks vaginal. The fish, moaning in pain, turns into my daughter...

FLOATING HORSES: by Wayan, 1972/8/10, a flying/transformation dream advising patience
That day, I did bad art. That night, my friend & I get turned into levitating horses--
though some of our fellow fliers, like the mummified Inuit, are kinda creepy...
FOOT ON THE GAS: by Wayan; 1982/3/16, a creepy little warning dream.
My car's idling too fast. After hours of diagnosis, I notice a foot's on the gas! But not my foot...

THE FOREST BRIDE: by Jenny Badger Sultan; 1994/7/23 & 1994/12/10; opposing solstice dreams
In the midsummer dream, I'm at a wedding in the Russian forest;
in winter, I dream I hold an emaciated girl as she breathes her last...
A FOUNTAIN IN THE ARMENIANS: by Pauline Ramsey; early July 2006, a clairvoyant dream?
I spoke a proverb I'd never heard of when I woke. So I Googled it, and found it had meaning--dark meaning...
CAUTION: TURKISH JINGOISTS WILL NOT LIKE THIS DREAM

FRANKENSTEIN'S ORIGIN: by Mary Shelley; 1816/6/16, the (hypnogogic?) dream inspiring a famous book
I saw the pale student of unhallowed arts kneeling beside the thing
he had put together; I saw the hideous phantasm of a man stretched out...
FRANKLIN'S NECK: by a dying Kansas grandmother; 1953/7/5, an unheeded warning nightmare
"Oh no" she moaned. "I don't want Frankie to go to that camp. He must not go there." She began to cry...
FREUD WAS SOME WRONG ABOUT DREAMS, and THE AUTUMN BREEZE: by John Berryman; ca. 1967.
After a year of intense dreamwork, Berryman rejects Freud and accepts open-ended dreaming, and writes Dream Songs...
CAUTION: SIXTIES STONER REBELLING AGAINST SPELLING... and grammar... and punctuation...
GENNADIUS: by Gennadius, ca. 415 AD, apparently the first recorded lucid dream
Gennadius re-dreams a previous dream, helping him see he's dreaming. His guide points out spiritual implications...

GET YOUR BODY BACK: by Wayan; 1997/6/11, a dreamed parable.
A man dies--his body's chopped up. He ends in Hell. But he's a stubborn guy; he wants his body back. So...

GHOST DOGS: by Wayan; a 1993/4/2 temptation dream done as a 1-page digital comic
I meet a wolf who invites me to join Dr Who's pack of sexy Ghost Wolves.
Just one catch nobody mentioned. To be a ghost, you have to...
CAUTION: FLIRTATIOUS WOLVES

GHOSTS PUSH TOWARD THE SUICIDE DOOR: by Wayan, 1997/8/7, a nightmare that wants a break.
I live in a haunted house where ghosts push you to suicide. But they're as tired of it as I am...
THE GIANTESS OF THVERA: by Viga-Glum Eijolfsson; early 940s?, a very public clairvoyant dream.
Viga-Glum dreamt a giantess came to visit. "She is the spirit-guide of my grandfather in Norway. He is dead...
GRAVE: by Wayan; 1999, a poem of everyday life, if this is your everyday life.
So I looked out my window and saw this guy burying a tiny robed woman in a trench in the street...
GRAVESTONE: by "Miss S."; late 1930s-1946, a recurring clairvoyant/predictive nightmare
I'm walking up a churchyard path. My hair clings to me, damp. Horses wander. I'm drawn to one graveside...

GREAT GODDESS, or, SACRIFICE: by Jenny Badger Sultan; 1970; an epic painting of a troubling dream
I'm a priestess standing on a stone terrace, holding a ritual axe. Before me kneels a sacrifice to the Goddess...

GREEN SCREEN ANGEL: by Wayan, 2018/10/18, a bizarre predictive dream
A reporter interviews the guardian angel of my dead sister Jill in front of a
green screen. He's dissolving in grief--luminous holes show through...
GREG'S GIFT: by Sheila and Trish, reported by Janis Amatuzio; June 1995, three dreams (?) of a ghost
A woman dreams of her boyfriend recently killed in a car crash. Unremarkable so far. But he
also haunts his ex-babysitter, two thousand miles away, who had no idea he'd died...

GRIEF KIVA: by Wayan; 1980/2/16, a lucid psychic dream.
In a Hopi underworld, I find even lucid dreaming can't cure guilt and grief over losses yet to come...
HAIL AND FAREWELL by Nancy Price; 1947/6/6, a revenant dream-message
A dying colleague haunts me all night. He says "crossings are often unpleasant" but death's not bad...
HEAD ON MY TABLE: by Lauren Watley; 2011/2/16, a creepy dream-image with depth
After a day of troubling conflicts over race & art, I dream I'm handed a hot, heavy, mossy head--is it art, or alive?
HEADLESS NAG: by Jules Engel; 1975/5/25, nightmare of a corpse that won't quit
Every good party leaves a corpse or two. Cleaning up, I behead this one and drag it across the street to the
empty lot where we leave them. But its throat forms a toothless mouth and starts biting--well, gumming me...
HEADLINES: by "Anonymous #21"; 1942/8/4, 1954/1/1, and 1958/8/16, a set of psychic newsflashes
All my life I've had sudden visions showing violent deaths accompanied by headlines naming the victims...

HEDGEHOG AND WHITE RABBIT: by Wayan; 1972/12/1, a dream love story.
Hedgehog and White Rabbit stick together, through the snipers on Broadway,
through the dogs of winter, through cannibal soup...
HEIRESS AND MORTAL: by Wayan; 2011/2/16, a dark advisory dream
I'm a misfit--a mortal in an immortal world. Then I meet a girl with an unpredictable illness...

HELL CAFE: by Wayan; 2009/10/21, a dream poem w/sketch; Dreamverse #62
A Buddhist scroll shows me Hell Cafe, where diners become entrees. But I read the scroll
backwards! You can escape Hell just by walking out, against the traffic flow...
CAUTION: CANNIBAL SOULS
HELL HALL: by Anonymous #3; c.1920?, a dream of initiatory cannibalism
A revival meeting goes bad--suicides, 'long pig', a hell-pit. If you sup with the devil, carry a long fork!

HER HAND ON THE MANTEL: by Frederick Greenwood; before 1894; a disowned predictive dream
Greenwood dreams he finds a severed hand on a mantelpiece. The next day
it happens! But he sees no moral, so he dismisses it...

HORSEFALL... AND WORSE: by Wayan; 1997/5/15, a political nightmare.
Corruption in my town causes a bizarre death. But is that all? I smell smoke--will the city burn?

HOT TO TROT or BRAIN TRAUMA or HUMPIN' THE HOG or SAD-EYED SWAN OF LOVE:
by Wayan; 1993/8/4, a bizarre, epic dream on finding your way
I'm a mare hot to trot (and get laid) in the Big City, but my gay Star Trek friend's brain trauma
makes her a clueless alien with a bo(a)ring sexlife--until a sad swan enfolds her in love...
CAUTION: ALIEN POSSESSION, CARTOON PIG SEX, SMOKING SWANS

HOUSE OF BLUE LIGHT: by Wayan; 1994/4/3, a dark dream.
As my grandmother is dying, I have a dream about what really went on in her house...
CAUTION: CHILD SLAVERY
HOW TO SURVIVE NUCLEAR WAR: by Maxine Kumin; early 1980s, a dream poem.
In Japan, sick in bed, reading a book on radiation sickness, I dream of a restorative ritual for trees...
CAUTION: GRUESOME
HOWARD ANY TIME NOW: by Alice; pre-1961, a predictive dream of a ghost calling.
My dead father said "We're looking for Howard any time now. We'll be glad to see him..."

HOWL: by Wayan; June 1983, a picture-poem on a daydream of deep time
Surely the dinosaurs were as vocal as their little cousins, the birds.
But bass to the birds' soprano! So when dinos sang to the moon...
HUCK FINN'S WISH: by Wayan; 1995/12/8, a dream of flight and sabotage.
A mysterious stranger offers free wishes to the kids of Hannibal, Missouri. Tom Sawyer wants to fly...
CAUTION: VIOLENCE

HUNG BY ELDER: by Wayan; 1997/7/30, a nightmare.
A disowned heiress and I sneak onto the family estate, but they'll go pretty far to hide their skeletons...
CAUTION: VIOLENCE

HUNTERS' FIRE: by Wayan; 1997/9/8, a nightmare that may be a memory.
I'm an orphan shot at by hunters. They shoot my sister! But no one believes me...
CAUTION: VIOLENCE
I DIED AND WALKED AMONG THE LIVING: by Starvibes, 2013/1/4, a warning dream?
My little daughter and I hardly notice when a truck kills us. Unseen, I calmly observe the alarm of the living...

I NEVER SAW JUNG DIE: by Larry Vigon; 2003/11/28; a quasi-Jungian dream
My nonexistent brother is a bank robber about to be arrested; he says
"I never saw Jung die." Meaning not that Jung's alive, but just...

I OVERSLEPT: by Wayan; 1992/6/12, a dream of loss.
I oversleep. A lot. All my friends are dead, along with my century...
IDI AMIN: by Ben Bamber; 2007/6/25, a possibly predictive dream
I was teaching a class on democracy in Africa when Idi Amin walked in. The crowd turned violent, but then...

IN EL RIO: by Wayan; 1994/5/14, a singles nightmare.
My family runs a bar. I walk through, after hours. Who are all these silent figures?
CAUTION: UNHEALTHY READING FOR SINGLES
IN THE STAR; 1988/9/12 by Wayan; an epic, out-of-body, intrastellar quest-dream
I tour the heart of a red supergiant, where dreaming souls explore
their fears and heart's desires, unconstrained by solid matter...
CAUTION: SWEDENBORGIAN VISION, UNICORN NUDITY
THE INCEST DREAM: by Maxine Kumin; 1979? a dream-poem
As my brother was dying, I had a series of vivid premonitory dreams about him. But I was unprepared for...
INSURANCE: by a young widow; 1947, a dream of lucrative ghost advice
After my husband's death, I dreamed he pointed at a small black bag I hadn't opened. It held insurance policies...

IRENE'S DREAM: parallel (linked?) dreams by "Irene May" and Jack Kerouac, c. Aug 9 1953
IRENE tries to mold Francesca like clay to bring her back to life, and does--for a moment...
JACK finds his brother Gerard dead, and all Jack's words can't revive him...
IT'S A DEAD MAN'S PARTY: by Wayan; 1988/10/18, a nightmare of identity.
I find myself at a creepy party supporting a dead man who's running for office. And am I Dan Quayle?
CAUTION: HORROR BEYOND HORROR. YOU ARE DAN QUAYLE.

JACK DANIELS: by Wayan; 1983/10/14, three dreams critiquing a (real!) ESP experiment gone awry
A car crashes & burns--but the driver bailed! No one to save...
A miner stabs a baby "because everyone not underground is evil"...
Radar O'Reilly from MASH, President Calvin Coolidge and I confuse who's who...
JAKE'S MAGIC CARPET; 2006/12/12 by Zhea Zarecor; a reconciliation dream that grew to something more
Not long after Jake died, I dreamed he took me on a magic carpet ride. Since then, I've been flying...

JESSE'S DEATH: drawn by Joey Epstein from her father-in-law's dream; 1983/7/31, an apparent psychic dream
As Joey's infant daughter Jesse died, her father-in-law woke up 500 miles away and announced, "The baby..."

JOHN SAYS GOODBYE: by Mary Fleener; August 1973?, a comic of a psychic farewell dream.
After a summer apart I dream my friend John and I fly hand in hand. Bliss! Strange, he has long hair and no beard...
CAUTION: OFFSTAGE MURDER
JUMP OVERBOARD: by Graham Greene; 1925/12/11, a possibly psychic nightmare.
Wednesday night I dreamed I had to jump overboard... that night there was a wreck
off the Yorkshire coast in a storm and the captain ordered his men to jump into the sea...
JUNG'S CELLARS: by Carl Jung, mid-1909; his dream of the mind's structure--and a weird follow-up
My home seemed antiquated but pleasant. I found a stair down to a darker, medieval floor.
A dark stair led down to a Roman cellar. A trapdoor led down to a cave with ancient skulls...
JUST KNOWING: by a St Louis woman; summer 1934 and 1941/11/20, two very pure ESP experiences
I suddenly knew I had to get off the bus and wait for the next. We passed the first bus, on fire...
I was at Thanksgiving dinner when I felt my mother dying two thousand miles away...

KARMA AND HER SISTERS: by Emily Joy; 2006/12/27, a happy sexy flying dream that turned tragic.
One boring lonely day, I meet a cute teenage bunny who wants to play with me! But half an hour later…
CAUTION: LANGUAGE, INTERSPECIES FLIRTING, AND LOSS
KELLY FIELD: by an air cadet, 1941; an almost-lifesaving dream.
I dreamed a plane took off northeast, and flipped by the main hangar, killing two men. I forgot the dream until...

THE KEROUAC TREE: by Wayan; 2 ill., 1983/3/18, a dream of fame and time.
The true story of the very first tree-hugger. Not Kerouac! You'll never guess. In fact, you'll say it's impossible...

THE KEY TO OUR INHERITANCE: by Wayan; 2010/9/12; a nightmare whose victims organize
The dead treasure-hunter's will ordered us, his heirs, to convene in the wood.
Attacked there by a knight in armor, we near-strangers must unite to win our...

KING-MAKERS: by Wayan; 2000/2/21, a dream of mediation.
I'm a political aide to the leader of a hot-tempered, clawed, fanged alien people. And then my boss dies...

KITTY WANTS TO DIE: by Wayan; 1981/11/9, a nightmare baring a side of me ready to DIE to avoid stuff
Kitty, exhausted, stops fighting what's inside her, and lets herself die.
Crystalline alien worms burst out, growing till they loom over the spaceport...
CAUTION: ADDICTION ROOTED IN AVOIDANCE

THE LADY BATHES IN GRIEF: by Wayan; 1983/5/31, a long-haul psychic dream.
Why'd a spirit-woman come to our reservation to mourn a drowned guy? Her mirrors & candles tell us...
THE LAST MASS: by E.M. Martin; 1914/11/23, a dream of war invading a peaceful dreamland
For years Martin's dreams were all set in a parallel world untouched by World War, until...

LATER IN THE DAY, WE'LL CROSS OVER: by Jenny Badger Sultan; 2009/7/16; painting in the Box of Dreams
I know we will cross the water surrounding the heart of Jerusalem, but not yet...

THE LAUGHING GIRL: by Gordon Wagner, c.1977; a strong anima helps heal a trauma
I was one of just three to survive a roller coaster crash. I dreamed of a playful, laughing girl who drove off a cliff.
Dead, she lay on a bier in a surreal cemetery. But she woke and looked at photos of her old self with curiosity...

THE LEOPARD'S CLUE: by Wayan; 2012/3/17, an incubated advisory dream.
My boyfriend, a leopard, sniffs out a clue to an old murder involving me in a past life. But did I witness, die, or kill?

LET THERE BE LIGHT by Nancy Price; 1948, a nightmare of helplessness
Snakebite! I'm hooked to a health-monitor. If a red light comes on, I'm doomed. But voices start whispering...
LIFE FORCE: by Patagia; 2006/8/9 & 8/31, three career-advice dreamlets
Out of a Campbell's soup can poured life force: someone's last breath...
LINCH-PIN: by George Stevens; c.1895? a frustrating psychic dream
George sees a cart-crash pinning a friend. He yells to bystanders to free the wheel, but they can't hear him...
LINCOLN'S ASSASSINATION DREAM: by Abraham Lincoln, ca.March 31 1865, a predictive nightmare.
Lincoln dreamt his body was lying in state in the White House. A guard said he'd been assassinated. Two weeks later...
LION NOW, EMANCIPATION LATER: by Wayan; 2000/5/5, two dreams as my dad lay dying
We must hunt a man-eating lion to protect our village--our village full of slaves. But
we can't deal with our looming social crisis now--gotta focus on the lion in front of us..
CAUTION: SLAVERY, ILLNESS, DEATH

A LOVE AFFAIR: by David B.; 1993/3/23, a 11-page comic of a dark dream
My lover's face is shadowed and we are never alone together. Things slip from film-noir to open nightmare when...
CAUTION: SEX, DEATH, GUILT

MARJANE: by Wayan; 2005/6/3, a nightmare about... articide? Watercolor comic or illustrated text
I'm cartoonist Marjane Satrapi. I passively tag along with friends (and a fiancé I tend to forget)
in the Mission District of San Francisco. But they blunder into real trouble...
CAUTION: VIOLENCE
MARK'S DISSOLVE: by Wayan, 2015/7/31, a dream-poem of a world where death is different
My friend Mark is ready. He evaporates into the spirit realm--as we all do here when we die! Flesh to glass to air...

THE MEDIEVAL POISONERS: by Carla Young, 2010/1/3; illustrated non-nightmare
Two medieval women poison one another. One dies in my arms; the other may just survive. Why did they...?
CAUTION: MURDERERS
THE MEGARA INN: by an Arcadian Greek c.200 BC; two dreams that don't prevent a murder but do solve it
A traveler dreams his friend's attacked, but he ignores it. Next he dreams his friend begs him to at least avenge him...
MELTDOWN BABY: by Wayan; 1996/10/13, a guilty nightmare.
In a Mormon future, my baby climbs a tree and spontaneously disintegrates! I try repotting, but...
CAUTION: BAD PARENTING

MEMORY SNIP!: by Wayan; 1999/5/15, a dream on the cost of kindness.
My friend Mark does something I thought impossible: removes a snippet of my memory. Disastrous!
CAUTION: VIOLENCE... SORT OF
MEOPHAM AIR DISASTER: by G.H.M. Holms; 1930/7/18, a surreal predictive dream
Suddenly, out of the clouds, a man came shooting down, head first, at a terrific pace. He landed on his head with a sickening...
CAUTION: GRISLY
MERLOO'S BROTHERS: by Joost Merloo, two apparent psychic nightmares, 1943 and c.1946
Joost Merloo escaped the Nazis, but had two neurologically impaired brothers who couldn't flee.
On a troopship, he dreamed the Nazis burst into their ward...

MICMAC TOWERS: by Wayan; 2010/6/12, a quietly predictive surreal dream
I dream squatters build surreal towers in a city of junk. I wake, go to a movie, and see...
MISCARRIAGE: by John Donne; 1612, a clairvoyant hallucination.
Donne, in Paris, was alarmed by a vision of his wife holding a dead baby. At that hour, in England, his wife...

MOM THE ALIEN: by Wayan; 1981; a nightmare on family
Many kids anxiously dream their parents aren't their real parents. I dreamed my parents ATE my real parents...
CAUTION: HUNGRY MONSTERS
MOM THE MURDERER: by Wayan; 1996/3/7, a possible psychic dream.
My mom confesses to a killing, says tearfully she had to do it--but her reasons make no sense. When I wake..

MONKEY WITH A GUN: by Wayan; 2010/8/7, a predictive nightmare
A monkey who stole a handgun aims at a troopmate and fires, ignorant of the consequences.
The next evening I hear gunfire for real, and...
MONSTERS FROM MY SOUP: by Cyberwebspace; 2010/9/30, a stubborn nightmare
How'd that spider, dragon and T. rex get in my soup? I skip lunch.
Dig in the garden, but scaly heads pop out to nip at me. Persistent!
MOON-STRIPED TIGER PROWLING: by Sylvia Rosen, 1975/6/29; dream poem
The foul old fossil woman had carved and burnt her own flesh in the name of art;
we washed her till she was reborn young. It was my turn next to enter the water...
A MORAL CANNIBAL: by Wayan; 1995/2/15, a dream on logic and hunger.
A cannibal friend of mine is shocked at our burial customs, and argues his case in court using crabs...
MOTHER SUPERIOR: by Wayan; 1999/2/18, a nightmare with psychic tinges.
A creepy visit to the Leather Nuns: as fierce as Beorn in The Hobbit, but less hospitable...
THE MUMMY: by Wayan; 2003/10/13, a Rarebit Fiend nightmare.
A horror film and Rick Veitch's dream-comix provoke a nightmare
warning me that guilt about my dad is wrecking my life...

THE MURDERS: by four Wayans! 1971/7/14; a family has simultaneous psychic nightmares.
Nearly everyone in my family dreams of a mass murder as it happens nearby. But my dad's sure it's his own
evil id, and my mom clams up, and my sister forgets. And me? I doubt the whole thing for ten years, until...
CAUTION: NIGHTMARE VIOLENCE
MURDERS IN HAYWARD: by Anonymous #5; c.2002 or 2003, a psychic nightmare.
I dream I live in Hayward, California. One day my family's murdered. Years later I find that dream-street is real...

MY FUTURE ART: by Jim Shaw; between 1987 & Jan. 1995; a self-fulfilling dream prophecy
This woman shows me a book of my art. I'm not sure I want to see them--some pieces are from my future...
MY HUSBAND'S DEATH: by Gertude Pritchard; 1922, a predictive dream
I made my way through a great crowd to find my husband lying dead behind velvet curtains. Two years later...

MY LITTLE 'POCALYPSE: by Wayan, 2019/5/10; a predictive dream of a TV show making mass extinction cute
The 'toon actors from My Little Pony gleefully volunteer to die horribly in a TV documentary on the
impact in Yucatan that killed off the... dinosaurs? No! Unicorns, griffins, pegasi and dragons! As I
draw the dream, I get an email from the maker of a TV documentary on climate catastrophe...

MY SINE-FRIEND: by Wayan; 1984/3/6, an emotional dream of time and rebirth.
An animal-girl I know lives like a sine-wave, first forward in time, then backwards, dying at every zero...

MYRNA, LOOK AHEAD: by Myrna, drawn by her daughter Joey Epstein; before 1988, a dream of ghost advice
After Myrna's husband died, one night she felt him behind her in bed, and he whispered...

MYSTERY BETWEEN: by Wayan; 1980s, crayon and acrylic drawing on dreamnesia.
Okay, you got your heaven, and your earth, and between, you got...

NAIAD AND GOD-DOG: by Wayan; 1980/11/7, a manipulative dream-tragedy.
I love a Naiad who's lost her God. Tragedy strikes us. I'm devastated till I meet the aliens who explain...
NED'S KISS by Ned's mom and sister Ethel; pre-1961, cledonic dreams of a playful revenant
I wished I could kiss my son farewell. That week, Ethel called. "I dreamed Ned kissed you, not me!
I was hurt. He laughed like anything and kissed me too..."
NEW BRIGHTON MURDER: by Annie Howie Mudie; 1912/12/20, a sloppy oracular dream
Someone said "There's been a murder in the Victoria Hotel, and the murderer slept in your house." Three weeks later...
NEW LIFE: by Deena Metzger, between Sept. 1982 & Sept. 83, an apocalyptic dream
Nuclear holocaust. Outside, an ashen waste. I decide to cut my wrists in the tub. But a corpse already fills it.
A man drives up. A voice commands "Make a child!" I protest--the world's gone--but the voice says...
NEWS AT ELEVEN: by a widow-in-process; 1948/10/27, a somatized empathic waking nightmare
My heart began beating like a sledge hammer. I couldn't imagine what was happening, and got frightened...

NIGHTMARE FROM 'SISTERS': by Margarethe Von Trotta; before 1979, an unexamined nightmare
A dream of body parts--maybe, impossibly, alive--hung up like drying laundry. Von Trotta inserted it in a film
script to foreshadow a suicide, but seems deaf to any personal warning--as if it's not her dream at all...

NIGHTMARE STUDIO: by Gary Panter, 2003, a 5-page comic of his lonely surreal dream world
Rather than a dream narrative, this is a tour through Gary's common dreamscapes--
forgotten places, empty streets. Or ones you wish were empty...
NO TRAVELER RETURNS by Nancy Price; 1948/2/2, a predictive dream
I don't love my husband, so I'm stranded in the hotel between life & death, from which...
NOT A NICE DAY: by Gladys Clarke; 1925/3/18, an aural premonition
All day I expected a terrible scream, but had no idea why until I heard it. A woman in flames came out of her house...
CAUTION: GRUESOME DEATH
NOT SELF DEFENSE!: by Wayan; 1999/4/29, a warning dream.
I'm Tarzan, fighting off attackers. But I kill one helpless prisoner! Am I going too far?
CAUTION: VIOLENCE
NOT THREE!: by Wayan; 1996/11/11, an encouraging nightmare
I was wrong. I didn't survive three assassins. It's been seven! Why'd I forget the others?
NUKING HOOVER: by Wayan; 1997/2/16, a dreamtale about illness.
J. Edgar Hoover, founder of the FBI, stages a coup. Do we accept him as dictator, or nuke Washington?
CAUTION: VIOLENCE

OFF DOVER: by Wayan; 2010/9/30, a dream-based mini-sestina (poetic experiment)
I'm biking over the English Channel. So mild & easy after the Greenland-to-New-York run...


OLD AND IN THE WAY: by Wayan; 1999/5/3, a veiled predictive dream.
On the street called Old And In The Way, I meet a psychic I crushed on as a kid,
and then, in a hearth, fight the tentacled alien who's been stalking me...

ORIOLE GIRL: by Wayan; 1992/1/23, psychic dream told as illustrated poem.
While conducting a census of fairies in Golden Gate Park, I fall in love
with an abused oriole-girl, and we try to heal one another...
CAUTION: AWKWARD SEX

ORPHEUS AND POOH: by Wayan; 1972/4/9, a dream echoing Cocteau's film Orphee--before seeing it
I meet my true love during a coup. We go through Hell together, like Orpheus and Eurydice--only we...
THE OTHER ROOM by Nancy Price; 1948, a predictive dream
A writer I haven't seen for 40 years gives me a drink, but all I want is to find my mom in The Other Room...
THE OTHER SIDE OF THE TRACKS by Anonymous #35; summer 1934, a psychic dream
The engine pinned a young man under it. A crowd gathered, but no one saw the girl on the far side of the tracks...
OUR GOVERNOR: by Wayan; 1990/3/28, an anti-death-penalty dream.
I force the governor's chief aide to tour the new prisons for us artists, fags, and niggers.
He's appalled--but how many more noses must I rub in the governor's racism?
PARLOR GAME: by a bridge builder's wife; pre-1961, a party game interrupted by a real premonition
I had fun playing fortuneteller, until David. My hands turned icy. I asked "Where are you going?"

PEGGY'S CAKE: by Jenny Badger Sultan; l998/10/26 , a nightmare plus surrealist painting.
At a party I meet a friend I thought was dead. She's become a small talking rabbit made of cake, and I...
CAUTION: UGH
MR. PERCEVAL'S MURDER: by John Williams; 1812/5/2-3, a recurrent predictive dream.
Thrice I saw the Chancellor of the Exchequer shot in the House of Commons. I nearly went to London...

THE PLACE OF SPROUTING CORN: by Jenny Badger Sultan; 1989/1/10 & 1989/6/28, twin initiatory dreams.
I'm shown corn plants growing from skulls, and it seems like I must plant some skull-corn myself...
POISONED!: by Wayan; 1994/6/20, three linked dreams.
Poison takes many forms, from attitudes to environmental by-products to actions done deliberately...

THE POLYGAMOUS PILOT: by Wayan; 1990/9/25, an unlikely predictive dream.
My friend the Polygamous Pilot is up in an ice-storm, hanging powerlines on the sky, when...

PONYGIRL'S DIET: by Wayan; 2010/3/31, a furry health-advice dream
I dream of a half-pony half-human girl who can't eat either hamburgers or hay. She figures out an appropriate diet...

POOL ASSASSINS: by Wayan; 2017/3/1, a nightmare after hearing of a real assassination
Four women with guns attack me at a public pool. Trapped in the water, can I survive? Only by being ruthless...
CAUTION: VIOLENCE

POOL OF TRUTH: by Katherine Metcalf Nelson; 1983/10/1; a dream of shamanic descent
Night. A massive crash on the highway. Bodies strewn. Sickened, I descend a spiral stair to the Pool
of Truth. It gives no answers. Women spout platitudes. I go on, in pain, down past the polar bears...
CAUTION: THE DEAD

PRECAMBRIAN SLEUTH, or, MURDER BY ATMOSPHERE: by Wayan; 2013/6/2, a warning dream-poem.
I'm a detective sent to a research station two billion years ago. The ancient atmosphere isn't just anoxic, but deadly...
A PSYCHIC READING: by Wayan; 1981/10/13, a self-labeling dream
My friend Beryl's unconvinced that my dream of her death was a warning. Okay, it WAS hazy. But they get clearer...
PULLED UNDER: by Wayan; 1976/4/15, a nightmare.
One by one, we're pulled under the water, the earth... eaten. That's the fate of all flesh. And we're flesh.
CAUTION: HORROR
R101 AIRSHIP CRASH: by R.W. Boyd; 1930/10/3, a predictive dream
A large airship crashed onto a hilltop and burst into flame, silhouetting people who tried to escape, but...

RAZOR GHOST: by Wayan; 1974/5/5, a nightmare posing a problem.
A man slowly walled in by neighbors till he died, is now a mad, murderous ghost.
And he's me! Can I exorcise MYSELF?
CAUTION: VIOLENCE

THE RED BARN MURDER: by Ann Marten, c. 1827/12/15 and early 1828; two possibly psychic dreams
Ann Marten kept dreaming that her stepdaughter had not eloped but was buried under a nearby red barn...
CAUTION: MURDER

RED OCHRE, CLEAR LIGHT: by Jenny Badger Sultan; 2003/4/2 & 4/21; two possibly premonitory dreams
Mt Everest is snowfree and red; in the next dream I redden a sandstone cave with ochre. I feel uneasy...

THE RED SPHERE: by Madeline; 2006/12/13, twin (diagnostic? psychic?) nightmares
Calmly, I watch a girl trapped in a lab try to escape, and die; and watch a man lose his head to a hungry thing...
CAUTION: GRUESOME
REQUIEM FOR GINGER: MAGNIFICAT: by Lily; 2008/1/31, a dream on facing loss.
I dream I'm telling a tall tale about a cat-funeral with hung-over mice pulling the hearse. But it turns a bit too real...

RHINZL'S SHADOW: by Wayan; dreamed 1984/8/28; two unlikely predictive dreams.
DREAMS: 1: I can't afford language classes. 2: A beautyqueen rigs a stargate; I kill monsters & sell their bones...
NEXT DAY: I'm asked "Why don't you get a language degree?" I can't afford it! I go home & watch Dr Who...
A stunning girl fixes a spacetime portal. Smugglers kill alien monsters & sell their ashes as a drug...
CAUTION: VIOLENCE AND CREEPY DISPOSAL OF BODIES
RIB-CRUSHER: by Robert Southey; 1823/10/5, a nightmare leaving traces
I was in the grave. Worse, a living skeleton was trying to crush my ribs. Though terrified, I fought back, and...

THE RINGMAN'S SQUIRREL: by Wayan; 1982/9/17, a dream of a time after us.
One day, in the ruins of an American city whose name was lost, I met a Ringman under an oak...
CAUTION: GROSS WORK, IF YOU CAN GET IT

ROOSTERDOG: by Larry Vigon; 2003/4/22; a nested dream
In the woods I catch a beautiful rooster. It doesn't struggle; it turns into a dog.
We make friends. We sleep together in the wood; I dream we grow old together.
The dog's owner wakes me; farewell, dog! But at least the funeral has caviar...

RORAIMA JUMP: by Wayan; dreamed 2016/9/18, a surreal dream of deadly outrage
I'm a Brazilian in the Olympic waterfall-jumping finals. The Russian & American cheat--threaten my family.
I snap! Fight recklessly, knocking them off their ropes. We all tumble down the cliff...
CAUTION: BULLYING, VIOLENT REVENGE
THE ROWAN: by Graham Greene; 1921, a possibly psychic nightmare.
The ship I was on going down in the Irish Sea. It was not till yesterday,
looking at an old paper, I saw about the sinking of the Rowan in the Irish sea...
RUBBISH: by Naguib Mahfouz; dreamed 2001? A dream of advice from the dead.
My dead friend lost patience with the local dump, so I beat the trash--and out came shining people...

SAINT BARBIE: by Wayan; 2016/6/19, a dream of a meme we need
After a living Barbie doll dies while campaigning for niceness, I find myself invoking her
to shock people into decent behavior: "In the Name of Saint Barbie!"...
CAUTION: BARBIE, UNICORNS, IMPLICIT TRUMP CRITIQUE

SALIA AND CHUR: by Wayan; 1989/2/25, a psychic Star Trek dream.
Our starship signs up a strange new woman whose quirks turn out to be fallout from slavery...
CAUTION: SEX, ABUSE ISSUES

SASQUATCH FOOTPRINT: by Roswila; May 1996, a dream-poem on the loss of wildness
I meet a female Bigfoot, who, to my surprise, quietly speaks my tongue.
She's mourning the death of her infant son...

SATANIC LION'S WARNING: by Eldon B.; 2007/1/19, a nightmare with poltergeist activity
I fled a demon into a shadowy construction zone where an even worse telepathic lion-devil
lured me in with soothing flattery. I woke shaking--and then things in my room began to move...
CAUTION: DEMONS, POLTERGEIST PHENOMENA

SATURN BEACH: by Wayan; 1990/4/18, a playful advisory dream
Sunbathing on Saturn's rings with a girl who's preparing for reincarnation--like me.
She's cute, but she chucks litter in the Bay of Rebirth. Maybe not Ms. Right, then...

SATYR AND TWILIGHT: by Wayan; 2018/9/1, an epic dream perhaps foreseeing the pandemic
A spell kills off nearly all humanity and mutates the rest of us. Now I'm a satyr living in a co-op home with
unicorns, dryads, cattaurs, and shy vampires. Thing is, I prefer the Apocalypse to what came before...
CAUTION: NUDE CREATURES
SCHNEIDER TROPHY CRASH: by J. Lloyd-Owens; c. 1931/8/1, an overwhelming premonition
A newsreel showed a flier for the Schneider Trophy Air Race. I felt a violent shock and said "He's going to die..."
THE SEA WOLF'S BRAIN: by Wayan; 1999/11/21, a psychic dream.
For years the Sea-Wolf enslaved me. He said I had to fight him and win to be free. I'm ready at last...
SEARCHING FOR THE DEAD: by Acucena Q., 2007/3/4, a puzzling quest dream.
I search rivers and lakes around the world for someone dead. But the living I meet act as strange as ghosts...

THE SELL-FISH WITCHES: by Wayan; 1983/6/29, an epic corrective dream
My sister and I are runaways, developing psychic powers.
A cult of fish-selling witches wants to use us...
CAUTION: SIBLING INCEST, SPELL ABUSE
A SHARP CLICK: by Herbert W., 1932/5/30, apparent spirit-rapping
My friend Mr D. studied psychic research but was skeptical of telekinesis. But 24 hours after his own death...

SHE CRASHES AND BURNS: by Wayan; 2005/5/7, a diagnostic nightmare.
I ask my dreams how to find love. I dream of a 1920s bohemian girl
teasing stuffy folk. But her pranks turn dangerous, then deadly...
SISTER TO LIFE: by Edwin Muir; c.1920, a dream of shamanic healing
The glow seemed to come from within her, but I knew it flowed from my own breast. Her eyes fluttered...

SLEEPING BEAUTY: by Wayan, 1999/8/22, a warning dream on quitting too soon.
A girl lies dreaming in the street; no one can wake her. At last I yell
"Face it, she's dead!" But is she? I never try a fairytale kiss...

SO TIRED OF MY BONES: by Wayan; 1999/9/13. Ink painted on with cardboard wedges; acrylic wash.
In my drawing class it was antlers and bones and skulls, death death death till I was tired of MY bones...

SPEAKING FERN: by Wayan; 1991/3/25, a dream-prank.
A dead fern in my backyard starts sending me messages in some strange language...

SPIDER TOILET: by Jenny Badger Sultan, 2000/2/7 hypnogogic image and 2000/2/17 nightmare
First a lone image on waking, of a woman cradling a skeleton; ten days later,
a nightmare of spiders swarming out of my toilet, covering me...
A SQUARE IN THE HAND: by Anna Kingsford; 1887/4/12, an epic dream with an end-twist
I'm a French revolutionary facing the firing squad. But palmistry predicted I'll be strangely saved...
STARFISH: by Marc Ian Barasch, c. 1985; a multileveled, doubly predictive dream
A sacred starfish piloting a Cessna plane survives a crash. But can it survive a boy's clumsy rescue efforts?

THE STARMONT TRIATHLON: by Wayan; 1984/7/2, a magical marathon dream.
I meet the Red God of Running and Holly Golightly; we're in the triathlon up the world's greatest peak...
STAY ON THE SIDEWALK: by a Utah boy, pre-1961, a flawed warning nightmare
He said "Oh, Mom, I had a terrible dream. A car ran me down."
I said we could not live by dreams or we live a life of horror...
STEPMOTHER: by Catshall; c. 2014/9/24, a dream-haiku about revenants
I dreamed my stepmother moved in with my dead grandparents...
STICK IT BACK ON: by Wayan; 1980/7/15, a scattered dream still hiding a point.
The tollman on the new bridge to the Land of the Dead revives a beheaded woman by RANDOM action...
STOCKDEN'S MURDER: by Elizabeth Greenwood; Dec 1695-Jan 1696, six dreams solving a murder.
Greenwood dreamt her murdered neighbor's ghost gave her tips helping her catch his three killers...
THE STROKE: by Lesa; 2005/6/1, a predictive dream
A vivid nightmare that turned out a week later to be devastatingly true ...

THE STYGIAN SENTINELS: by SAO (Shawn Allen O'Neal); 1970s, a recurring astral dream.
The Crocodile King & the Geisha Queen, the couple who guard
the bridge over the River Styx, seem to quarrel a lot...

SUDDEN DEATH: by Cory; 2008/3/1 to 2008/3/14, a series of dreams on a friend's suicide.
I've had premonitory dreams of friends' deaths, but never ones clear enough to spur action...
SWIMMING CATS: by Starvibes, 2012/1/20, a mysterious dream image
Tracking two cats at night, I watch amazed as they dive in and swim gracefully across a swimming pool...

TALISMAN: by Wayan; 2016/3/3, a dream hinting I need some long-term dreamwork!
I'm a boy from a Southwestern tribe whose rite of passage is a bike race.
I wear a jasper pendant with mysterious powers...

TAROT: DEATH (Resurrection): by Wayan; Tarot card, 3x5", summer 1979.
So you die, and to your secular surprise, your soul metamorphoses into...
TED'S DEATH: drawn by Joey Epstein from her aunt's mid-1980s dream; a psychic dream
Ted died of CO2 poisoning in Hong Kong. His mom dreamed he came to tell her
it was painless. To prove he was real, he told her...
"TELL HIM I SAW HIS HEAD IN A BOX": by James Quinn; Jan/Feb 2003; peculiar ghost dream
Inside a Renaissance reliquary, I see a dried-up head--but is it St. Sixtus really? Weeks later...
I dream I'm in a cafe joking with my mom's ghost. I say "If you meet a guy called St. Sixtus, tell him..."
CAUTION: READ THE TITLE

TEN THOUSAND MAD GHOSTS: by Wayan; 1996/9/3, a psychic nightmare.
A toxic site in Silicon Valley isn't a chemical spill, but angry ghosts, killed in a camp and forgotten...
CAUTION: THE CAMP TURNS OUT TO BE REAL
TEN YEARS AFTER: by Anonymous #31; before 1951, a predictive dream.
I dreamed I drove through snow to my parents' home where my mother lay dead. Ten years later...

THANOS: from Dream to Performance: by Lili Berko, before 1988, a dream of birth & death
The ship carrying my mom to America sails on, as I drown in the sea;
They strap me down to pull out the pieces of my stillborn baby Obdale;
A family/gang called Thanotos invites me to join them...
CAUTION: MISCARRIAGE, DEATH

THEY'RE HANGING THE POLITICAL TRAITOR: by Jack Kerouac, late Sept. 1953, a sad dad dream
They're hanging the political traitor in my closet. I stand horrified.
The old man's resigned--no complaint. It's my father, I now realize...
THREE DREAMS: by Robley Wilson; July 4, 1975?; a dream-poem
Dead fish in a poisoned stream, dead kittens in a pit...
and advice from the woman who revives them with a touch.

TIBETAN DISASSEMBLY: by Wayan; 2007/7/5, a dream of a desperate ploy
A woman in Tibet disassembles herself! A local god hires her spirit,
but she uses the office equipment to backup her memories and...
CAUTION: DON'T TRY THIS AT HOME

TINA FEY TRIES TO FLY: by Wayan; 2017/4/24, a mystical feminist farce of a dream
In a world where speech is in Mayan glyphs, comedian Tina Fey (dressed for prom night)
climbs a Tibetan peak to learn levitation. But the flying monks are scared of women...
CAUTION: COOTIES; ROWDY JESUS; MAY FLUNK THE BECHDEL TEST
TITANIC IMAGE: by Graham Greene; 1912/4/14?, a child's nightmare as the Titanic sank
One image has remained with me for more than sixty years:
a man in oilskins bent double under the blow of a great wave...
TITANIC NIGHTMARES: by J. C. Middleton; 1912/4/3 and 4/4, two predictive dreams saving two lives
I saw the Titanic go down and people struggling frantically in the water. After my second nightmare I told my wife...

TO GET DOWN FROM OUR APARTMENT: by Jack Kerouac, ca. Halloween 1957, a telepathic nightmare?
My mom had to climb a ladder down the side of the Empire State Building; I'm told she fell and died...
TOASTING FORK: by Charles Dickens, August 1843, a surreal tragicomic dream.
A gentleman clad but in a sheet notified me that an old friend had died of a terrible disease. What disease? Well...
TRANSFUSION by a New York woman; 1950s? 3 predictive dreams over a 5-year span
I dreamt of the Du Pont lab where I'd work, and my neighbor's future coffin,
and the hospital where my sister-in-law would get a transfusion...
TRANSPERSONAL PUPPIES by a dog breeder; pre-1961, a cledonic dream of a ghost
The stranger seemed to know me. He said "Tell her about the little dogs, it will comfort her." Two weeks later...
TREASURE UNDER STONE, or, OOPS: by Daniel Healy; Jan. 1774, a recurring dream of treasure
Daniel thrice dreamt of money hidden under a great stone in a nearby field. He dug and found a surprise...
CAUTION: IRISH HUMOR
TRUE LOVE = CHOICE! by Ms. Mira; Jan. 2008, a dream-lesson on compassion and free will.
I'm on an alien world inside the minds of two women and a child struggling with moral choices in a civil war...
CAUTION: DEATH, LOSS
TWAIN'S BROTHER: by Mark Twain, early May 1858, a premonitory nightmare.
My brother Henry lay in a metal casket. He wore a suit of mine. On his breast were white roses, with
one red at the centre. A few days later, the boilers of the riverboat Henry worked on exploded...
VARTENA: by Wayan; 1986/9/9, a psychic nightmare.
I find myself coaching a violent version of water polo called Vartena. A friend near-drowns. The next day...
THE VENDOR: by Georges Perec; July 1971, a nightmare of societal amorality. Dream #77
I murder my wife. I try to sell her body as meat to a firm that'll turn her into wine.
But the transubstantiation has already happened, and the paperwork's undone...
CAUTION: GRISLY

VERITY'S WINGS: by Jenny Badger Sultan; 2009/8/21; painting in the Box of Dreams
My friend Verity's given a beautiful set of wings. I'm envious until I consider what angel wings imply...

A VIOLIN DEATH: by Wayan; 2015/11/24, a nightmare (vaguely) anticipating a real-life massacre.
A fiddler has recurring dreams warning he'll be run over with his violin. Reluctantly,
He sells it to a friend, and jams with him only in the woods, away from cars. But...
VOTERS GONE CRAZY: by Thomas Madden, c. 2009/2/5; a political nightmare
It's election time in Europe, but voters have gone crazy. Nazis invade England. In my library, Sarah Palin rots...
CAUTION: POLITICS GONE WACKY

VRILLASSA'S ONLY PRIEST: by Jo; 2007/2/10, a dream of meeting God
A job as the only priest on an island colony sounded perfect, only I'm the wrong religion...
CAUTION: DOGMATISTS AND DEAD BIRDS TALKING
WALTER'S DIVE: by Walter's father; pre-1961, a predictive dream disastrously forgotten
I dreamt my son Walter drowned in the creek by a certain tree. I woke in tears, and resolved...
WAR IN THE RING: by Bruno Oliveira; May 2011, a happy nightmare
War, monsters, plague and bombs are just thrills spicing up
this city rising from a tropical sea on an alien world...

WARM MOTHER: by Jenny Badger Sultan; 2001/3/24, 3/29, 3/30 & 4/1; dreams
I dream my mother takes over caring for my sick daughter; I feel pushed aside.
When I wake, I try to paint a more positive image of mothering.
For a week, dream after dream has opportunities for patience and letting go of jealousy...
WE GO IN PEACE: by Florence; pre-1961, a telepathic dream-report of another's death experience
My father-in-law looked me in the eye and said, 'Florence, the Lord is my shepherd and we go in peace'...

WHEN BLOOD FLOWS, THE DANGER IS PAST
by Jenny Badger Sultan; 2000/3/23 & 2000/4/19, twin dreams of carved women
A woman is knifed by the sea. I cradle her, but she's probably dying...
For my intitiation-ordeal, I have to cut designs in my own back! I can't reach, so...

A WIFE OR A GHOST: by Justin Masi; 2014? a surreal dream-painting-prose-poem on grief
My sister's fiancé Billy died a year ago. I didn't realize how deep the grief ran till I dreamed...
THE WILD HUNT: by Carl Jung; Sept. 1922, a clairvoyant dream hinting what death is
A huge wolfhound tore past me. My blood froze. The Wild Hunt was carrying off a soul...

WILD W.I.L.D.: by Dream Junkee; 2008/1/19, an epic lucid frustration dream?
I'm lucid but paralyzed. A weird child spies on me; is she controlling me?
Then I'm having sex--but if I come, I'll wake up! Then some thugs jump me.
I make sure they won't bother me again, but... is everyone in this dream out to distract me?
CAUTION: SEX, MUGGER-STOMPING

WITH WILD AND TURQUOISE EYES: by Joan-lee Woehler; c.1950, a dream of a Jungian Shadow
I slay the beautiful dragon attacking us, despite my regret.
And then, as I sleep, glowing eyes advance on our keep AGAIN...

THE WIZARD'S HORSE: by Wayan; 2018/9/3, a magical dream about... toxic waste?
I'm a wizard's horse, trying to warn him about a toxic spell on a roadside corpse...
Wake into a second dream, but try to return to being a dream-mare and warn my rider...
And then wake to realize my Nightmare was warning about a home-renovation project!

A WORLD DIES WELL: by Wayan; 1981/12/6, a dream of reconciliation.
A world-mind I never really liked dies generously, helping others; so I make my peace with it...
WORLD TOUR: by Sharon Boyle; 1937?, a nightmare told to her mom, poet Kay Boyle
This man comes into the chapel, makes a fascist salute, catches fire, and burns right down to his shoes...
YOU CANNOT STAY FOREVER: by Ursula Le Guin; c.1970, creepy hypnogogic verses
You cannot stay forever / on this side of the river
with darkness coming over / and salt has lost its savor...