BAND-AIDS: by Bagheera Pardus; c.1985, a lucid re-entered nightmare turned to joy.
Giant snakes chased me. I go lucid, turn & slay one. As I woke, the snakes cried. So I re-entered...
CAUTION: SNAKES, BEHEADING, REHEADING
BARN BURNING: by Denise Levertov; 1929?; a childhood nightmare
I'm in a barn full of peaceful animals lit by a golden glow. And then they all blacken, crinkle, and corrugate like burnt paper...

THE BEES' ANSWER: by Wayan; 1994/8/2, a diagnostic dream.
A bee-doctor in the city of Propolopolis diagnoses me as having a rare syndrome, Ambition Denied...
BILL COSBY'S WIFE: by Wayan; 1994/5/5, one of many creepy dreams about a comedian I loved.
I'm Bill Cosby's wife, finding it hard to cook for him without a stove or fridge...
CAUTION: SLANDER, I HOPED. I HOPED WRONG.

BLACKBIRD: by Anna Halprin; 2002-2005?, a recurring dream of a spirit guide.
At first I was afraid of the blackbird, who asked me to come away with him--I wasn't ready to die--
but now I see him as a friend and guide. One day when I'm ready, we'll fly--and I won't be back."
THE BOAT IS SINKING: by Mrs Griffiths; 1734/8/6, a recurrent warning dream
Mrs Griffiths has the same nightmare three times before she asks her nephew to skip a fishing trip...

BOY BODY: by Wayan; recurring dream 1959-62, a comic on body image. Or illus. text version
A recurring childhood dream on how weird a boy-body is when you've been a girl too many lifetimes.
CAUTION: PUBLIC HUMILIATION, NUDE MONSTERS, SILLY GENITALIA
BUT AS YESTERDAY by Nancy Price; 1948, a dream of being sacrificed
Our gods demand sacrifices. I let Mother mutilate me so I'd be unfit. But the priests turn out to be blind...
CAUTION: YOU CAN FEEL PAIN IN DREAMS

CAT DANCER: by Wayan; 1996/8/15; dream figure 15" tall; clay, wire, acrylic
I have recurring dreams of this sexy feline anima or familiar who loves dance.
CAUTION: MILD NUDITY

CATS AND DOG: RECURRING DREAM: by Lee Kennedy; 1994, a parental valuation dream
I kept dreaming demon cats tortured me. At last a vicious dog joined them. He wanted to kill me, but
the chief cat wanted to keep playing with her prey. I realized they were my mum and dad, and said...

CENTAUR BEACH: by Wayan; 1990. Two images from a set of recurring dreams.
Me and my sisters at the beach. Strangers rarely think we're related, and you can see why...

CHRYSALIS: by Wayan; 1999 acrylic painting of two dreams, 1997/10/6 and 1997/11/8.
Ballooning over Middle Earth with a metamorphosing butterfly-girl, we drift into forbidden territory:

CITY OF BEES: by Wayan; 1994/8/2, a diagnostic dream-comic.
A bee-doctor in the city of Propolopolis diagnoses me as having a rare syndrome, Ambition Denied...

CLAN TAUR: by Wayan; recurrent dream-family (best example: 1987/1/9); pencil studies 1998-2002.
I keep dreaming I'm in a multispecies family full of centaurs and satyrs, having a reunion at the beach...
CAUTION: NUDE BEACH, STRANGE RELATIVES

COAL FACE: by Al Davison; 1967, a recurring dream of coal-eating, magic and justice
In my home town there were tales of coal-eaters. I dreamed of a miner who
transformed the mine-owner into a canary--at a price. He became coal himself...
CAUTION: GRIM MINE, HARSH SACRIFICE
COLLAR OF GOLD: a Welshman of Kemmeis District; 1170s? A recurring dream of treasure
A rich man dreamt thrice that hidden in St Berner's Well near his house was a golden collar. He reached in and...
CAUTION: OW

A CONVERSATION WITH ANOREXIA: by Wayan; 1994/6/25; two wild shamanic dreams.
That day I read Hilde Bruch's "Conversations with Anorexics" and face the fact I am one.
That night, in the land where anorexic horses heal, I enter the Kiva of Shamanic Pamphlets, and...

CRUCIFERS: by Greg Hildebrandt; recurring nightmares 1969-71, painted 1971
In 1969, after breaking with the Catholic Church, Greg had recurrent nightmares about its history of atrocities
and cover-ups. Out of this came a series of paintings very unlike his famous book covers. This was the first...
CAUTION: MURDEROUS MOB

CRUISE: by "Michelle", 1990s; a recurrent predictive dream
I never go on cruise ships but I keep dreaming I'm on one and meet the same man, and marry him.....
CRUSHED BY NETLEY ABBEY: by a Mr Taylor; 1704? A warning dream.
A carpenter demolishes a ruined abbey despite dreams he'll be crushed by stones falling from a window...

DANCING WITH EMILY BRONTE: by Alice Sheldon/James Tiptree; 1943?, a literary love-dream
Alli/Tip could only imagine loving the strange, intense, and unavailable--and Bronte was all three..

DEERMAN'S CHALLENGE: by Melissa McClanahan, 2002?-2007?, a recurring nightmare figure
I used to dream of this violent anthropomorphic being. At times I'd put on his deer-skull head
and become him, inflicting and inciting violence. Naming him gave me some control...

DEMON-SUMMONING IS JUST A MISDEMEANOUR: by Jo; 2017/7/26, a gender-bent diagnostic nightmare
I protect my friends from a demon, but the dream-guardians I summon terrify me...

DESTRUCTION OF THE NIGHTMARE TOWERS: by Dustin Shuler; c.1955-1965, recurrent nightmare made performance art
As a kid, when I had a fever I always had the same nightmare: a high brick or stone wall
shaking apart, faster and faster. This scared me very much. Finally, in my teens, I...
DIRECT ACTION SAVES THE SHIP: by Alder; 2006/11/5; a dream-fable with instant replay.
A bomb's planted on our ship! But when a teen finds it, rather than fetch a responsible adult...
THE DREAM TO LAST YEARS: by Elizabeth Church;
2004? to March 2008; repeated meetings with a guardian--in dreams & out!
For five years now I've been dreaming of this guy. Many dreams, same guy...
EDITORS: by Gavin Ewart; late 1970s, recurring nightmares of censorship.
My new editor starts rejecting my poems. My new new editor rewrites them for me. I feel lucky not to be arrested...
ENCHANTED GLASS; before 1983, by Charles Gullans, a recurring nightmare of shapeshifters done as a poem
Their bodies shift, and alter. Antlers sprout... much has been taken, and something terrible is grafted...
CAUTION: RAMPANT PHILOSOPHY, HUMAN SUPREMACISM

THE ENTWINED CHILD AND MADAM PURR-SAY: by PurplePurplePurple; 2013/7/5, twin poem-dreams
I dream my autistic son, miraculously high-functioning, recites a math-poem to a crowd...
Then I become cartoon cat Madam Purr-Say and chant my own defiant poem at the dream gods...
CAUTION: FIRST POEM AUTISTIC, SECOND PISSY
EVERLASTING AND PERPETUAL NIGHTMARE: by Shawn King; c. 2009/2/10; two bits of a lifelong nightmare
Lucifer throws firebolts from a Montreal tower; monsters stalk us; next comes the flood...

FAIRY PRINCESS PALACE: 1992-, by Kavitha Subramaniam; a recurrent dream of prosperity
Ever since I was a little girl I've been dreaming of this luxurious bright-colored mansion...

FALADA: The Goose Girl's Best Friend: by Mardi Storm, recurring predictive dreams c.1975-79, sculpted c.2000
I had recurring dreams in which a talking horse's head was nailed to a tree.
Strangely, this was before I read "The Goose Girl" in Grimm's fairytales...
CAUTION: GRIMM ALL AROUND


FISHERGIRLS: by Wayan; 2.6M, 42 illus.; 1996/7/15; a sexy dream epic.
I had an epic dream lasting subjective weeks--a true other life. It wasn't Earth and we weren't human.
I was a teenage lemur, sailing with two friends into unknown waters--a rite of passage. One night,
my friends curled round me, I saw I didn't WANT to pass the test, be declared a woman, marry, and have pups.
I loved my girl friends. In a world lacking the very word, I was groping toward queerdom.
Sailing into unknown waters! "Here be dragons," the old maps say. And they were right...
2600K loads slowly? Try it in parts: 1: HOME, 650K, 2: VOYAGE, 1200K, 3: BACK 750K.
CAUTION: NUDITY, SEX, QUEER TEEN ANGST, ANTI-FUNDAMENTALISM

FLIGHT, MARGARET, MOUSE, DOG: by Paul Nash, dreamed 1895-9 + Feb. 1913; art by Dave McKean
As a child, landscape artist Paul Nash dreamed of flying over the countryside
of southern England. But he was threatened by the legendary Black Dog...

FLY, DANCER!: by Wayan; 1993/4/2; an advisory dream.
In my ballet class, we were learning to leap. But I wanted to FLY. So I went outside alone...
FLYING MACHINE: by George B. Burgin, c.1860 on, a recurrent flying dream
When I'm stressed, I build a set of luna-moth wings and fly invisibly. Though once a blind man caught me by ear...

FOAM, FURS, DREAMS: by Wayan; 2012-16, a blog + 170 pics; 43 dreams lead me to sew furry dream sculptures.
Dreams urge me to build furry dream creatures with joints, muscles & bones, then to heal myself by mating with them...
CAUTION: FETISHISM, FURRY NUDITY & SEX
FOLLOWING THE ELEPHANTS: by John Goldhammer; 1990s, a ten-year series of short dreams.
Dream-elephants slowly bring John to terms with the early loss of his dad--and lead him out of a cult he's outgrown..

FOUR LOVERS: by Wayan; c.1990/11/30; digital painting based on recurrent dream
A recurring dream of a fourway marriage of animal people. I don't think it's symbolic, but predictive...
CAUTION: FURRY SEX

FULL MOON KIDNAP: by Wayan; 2018/4/30, a dream warning that recurrent illness shapes the psyche
Every full moon, kidnappers jump me. Sometimes I escape, but when they succeed, they torture me till
the moon wanes. They're careful to leave no physical scars...
GENNADIUS: by Gennadius, ca. 415 AD, apparently the first recorded lucid dream
Gennadius re-dreams a previous dream, prompting him to notice he's dreaming. His guide points out the spiritual implications...

GINSBERG UNMASKED: by Rick Veitch; pre-1995; a diagnostic dream
Comics character Doctor Blasphemy, on stilts, bares his secret identity:
poet Allen Ginsberg! But who chopped off his missing fingers?
CAUTION: BLOODY FINGERS

GIRL INTO HERON: by Wayan, 2017/11/7, a dream-poem of an uncertain choice
Four thugs stalk a gawky girl through the Everglades. She treads on a black stone and...
becomes a blue heron! Her stalkers vanish--did they become birds too? Should I step up?
GOBLET OF GOLD: by Sophocles, between 450-406 BC; a detective dream.
A huge gold cup was stolen from the Temple of Hercules. Sophocles thrice dreamt Hercules named the thief...
GOOEY DICK: by R. Moreau; c. 2015/12/25, c. 2016/3/12, 2016/3/26, a recurring ambivalent sex dream
I keep dreaming of sex with my friend Connor, but notice a wound on his dick oozing white gunk. He claims it's common...
CAUTION: SEX, WEIRD GENITALIA

GOSHEN: by Percy Konqobe; 1940s-1960s?, a lifelong recurring psychic dream
I hear voices: "The road to success is in Kafkat, in a place called Goshen." I look back, and see seven male shadows...
GRAVESTONE: by "Miss S."; late 1930s-1946, a recurring clairvoyant/predictive nightmare
I'm walking up a churchyard path. My hair clings to me, damp. Horses wander. I'm drawn to one graveside...

GREEN DAY DREAM: by Cristy C. Road; early 1995. A recurring dream.
Green Day singer Billie Joe hocked a lugie on me in concert. I felt blessed...
CAUTION: EWWW

HAUNTED BUT HAPPY: by Wayan; 1990/10/13, a labyrinthine dream.
Some Christian oneirologists barge into the Haunted Firehouse. But I pose for nude unicorn photos, and...
CAUTION: DUMB CHRISTIANS, EXHIBITIONIST UNICORNS, ETC.
HIDE THE LIST!: by Anonymous; c. 1550, a recurrent warning dream.
A London Protestant dreamed Bloody Mary would find the congregation's member-list and burn them all...

HORSES OF THE AQUARIUS: by Wayan, 1956-8, poem on recurring childhood dreams.
In my earliest memory, I'm a wild horse near Shiprock who recurrently dreamed
I was a human child. The two lives alternated for years, each a dream to the other...

HUNTERS' FIRE: by Wayan; 1997/9/8, a nightmare that may be a memory.
I'm an orphan shot at by hunters. They shoot my sister! But no one believes me...
CAUTION: VIOLENCE
HYPNOGOGIC ASSAULT: by Dr Simon Forman; 1559-63, recurring hypnogogic images.
From age six on, Simon nightly climbs mountains and faces roaring floods in a sort of naptime bootcamp...

I AM THREE: by Wayan; 1957-58, my three earliest dreams.
My first memory is of being a wild horse and waking up to find I was suddenly a human child...

I FIGHT FOR BEAUTY: by Wayan; 1990/1/1, an incubated dream within a dream within a dream.
From Hawaii to Wyoming, I fight for beauty, always waking to find I'm someone new...

ILLUSIONISTS DON'T RULE: by Wayan; 1996/8/26, a dream on the strength of logic.
I read Allan Bloom's The Closing of the American Mind; I dream
I'm a pilot who deduces an alien illusionist's in my plane...
IT MUST BE SOMEONE SHE ATE: by Sorcha; 2008/10/11 and mid-Jan. 2009, a recurring comic news-nightmare
Cilda Spitzer and Hillary Clinton sentence America's bimbos to a shitty fate. But what of their cheating husbands?
JAKE'S MAGIC CARPET; 2006/12/12 by Zhea Zarecor; a reconciliation dream that grew to something more
Not long after Jake died, I dreamed he took me on a magic carpet ride. Since then, I've been flying...

JASHA EXPLAINS DEATH: by Wayan; ca. 1974/10/1; a 10-page painted comic with recurrent dream figures
Deep Duck's interview with Jasha the Krelkin goes rogue, as she urges tossing out human habits like... death?
CAUTION: REDWOOD-SPRITE SEX, PEEING ON TREES, DRUNK DUCK

JUNG'S DRAGONS: by Carl Jung, 1917/1/17 to mid-1922; recurring dream/trance figures
Jung's visions of dragons evolve from fiery destroyers
to thieves who can be forced to give up treasure
to peacful, luminous guardians of the sacred...
THE KEY TO HIS LIFE: by an English rebel's wife; 1745; a lifesaving oracular/psychic dream.
Twice a condemned man's wife dreamt of a key lost in rubble below a wall. The second time she went out to find it...
KIOSK: by Wayan; 1994/5/1, a 4-page dreamcomic on the power of song (or illustrated text version)
I'm a sexy singing beast, the Krelkin, trying to lure the Reading Man out of his Moral Kiosk...
CAUTION: NUDITY, INTERSPECIES FLIRTATION
KITTENS OR MOM?: by Jesse Reklaw; 1976-77, recurring nightmares of a choice
I was in Hell. My mom was in a cage suspended over lava. The devil
gave me a cruel choice: "Fry up these kittens or let your mom drop!"
CAUTION: CRUELTY

KITTEN'S QUEST: by Wayan; 2016/2/13, a dream-poem
I met two strange sisters on a train who turn out to be half-cat. They open my eyes
so I realize that my neighbor Elaine must be a shapeshifter too...
CAUTION: FLIRTATIOUS UNDERAGE CAT

KRELKIN: by Wayan; 1974/10/9, on nonhuman figures recurring in dreams
My psychology professor insists that nature spirits faded away as science rose.
But I still dream of krelkins! Jasha is the one I know best...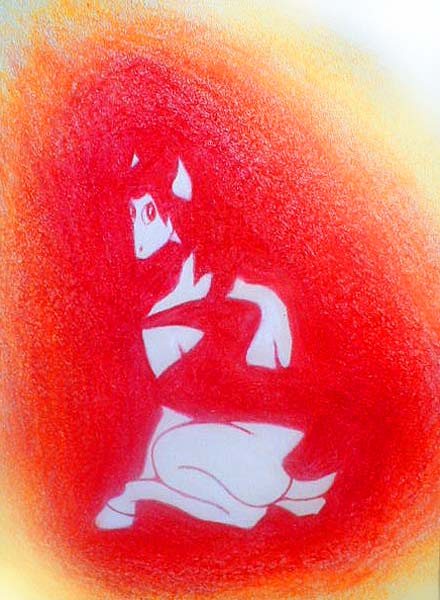 KRELKIN CAMOUFLAGE: by Wayan; 1981/4/21, 3 versions of recurring dream image
A sexy dream-creature hides by splitting her body visually,
her red mane and tail matching her background...

LANDSCAPE FROM A DREAM: by Paul Nash; recurrent dreams 1895-9, painted summer 1937
As a child, Paul Nash dreamt he flew over rural southern England.
As an adult surrealist painter...

LBJ OR WOODROW?: by Lyndon Baines Johnson; July-Sept 1955 and Feb-Mar 1968, recurring paralysis dreams
From the neck up I was me; from the neck down, Woodrow Wilson in his old age, paralyzed.
My presidential aides divided up my duties, and ignored me...

LBJ'S CAGE: by Lyndon Baines Johnson; May-June 1924, recurring teenage nightmares
I found myself in a cage, with only a bench and piles of old books. A mirror showed
I was old and twisted with speckled skin. In horror I said "I must get away"...

LBJ'S STAMPEDE: by Lyndon Baines Johnson; 1913-14?, a childhood nightmare anticipating a presidency
As a boy I dreamt I was trapped in a wooden chair, paralyzed, as a stampede
rushed toward me, just as my grandmother was paralyzed and chair-bound...

LEAN ON ME: by Wayan; 120K; 1987, 1992. Recurring dream image..
This couple keeps appearing in my dreams--as equals, as mount and rider, as friends, as enemies, as lovers...
CAUTION: NUDITY
THE LONGING TO BE SAVED: by Maxine Kumin; 1980? a poem based on recurring nightmares
I save our horses from a fire, but they run back in. Then it's
my family I must save from themselves. At last, it's my turn...
THE MEGARA INN: by an Arcadian Greek c.200 BC; two dreams that don't prevent a murder but do solve it
A traveler dreams his friend's attacked, but he ignores it. Next he dreams his friend begs him to at least avenge him...

NIGHTMARE STUDIO: by Gary Panter, 2003, a 5-page comic of his lonely surreal dream world
Rather than a dream narrative, this is a tour through Gary's common dreamscapes--
forgotten places, empty streets. Or ones you wish were empty...

ONCE A HERO: by Wayan; 1998/10/22-25, 17 images, a raw dream-series.
Sexy dreams of Chinese archeology, authorized by the fairies, make me face that my family abused me...
MR. PERCEVAL'S MURDER: by John Williams; 1812/5/2-3, a recurrent predictive dream.
Thrice I saw the Chancellor of the Exchequer shot in the House of Commons. I nearly went to London...
MOVING: by Roswila, 2007/10/13 and 2007/10/23; a recurring dreamku
My dreams support a radical break from my past--to let go of possessions and friends in a cross-country move...

NIGHTMARE STUDIO: by Gary Panter, 2003, a 5-page comic of his lonely surreal dream world
Rather than a dream narrative, this is a tour through Gary's common dreamscapes--
forgotten places, empty streets. Or ones you wish were empty...

THE PEN: by Elector Frederick of Saxony; 1517/10/30, a predictive political dream.
Frederick dreams a monk writes words on the door of Wittenburg's church
with a pen so big it pokes the Pope. The next day...
PIANOS IN THE SKY: by an Illinois woman; before 1948, a happy recurrent dream come true
My heart's desire was a new piano, as hopeless as owning a yacht. The dream: a huge space in the air, full of wonderful...

POLYGON DREAMS: by Wayan; 2007/4/23, a 32-page comic on the effects of shapes
What if comics panels and layouts weren't so square? I try triangles,
pentagons, hexagons, circles, spirals--and some serious stuff pops out...
CAUTION: IDEAS, OCCASIONAL NUDITY, MENTIONS ABUSE
PRACTICE IS REAL: by Wayan; 1998/1/6, three small dreamtales.
Three teasing sex-dreamlets chipping away at my shyness with women I like...
CAUTION: SEX TALK
QUICKSILVER DREAM WYRM: by Orion Scribner; before 2003/7/27; portrait of recurring dream figure
A bizarre dragon that runs a toyshop and plans revolution. He has skin and eyes like hematite,
black and metallic. His presence instills in you a kind of unsettled awe...

RAPA ITI: by Marc Liblin, 1954-1960s, recurring childhood dreams teaching him an unknown language
Only at age 33 did Marc Liblin at last meet someone who spoke his dream language.
He married her, and moved to Rapa Iti, the only place in the world it's spoken...

RARE BIT FIENDS: by Rick Veitch; pre-1995; a recurring dream personifying dreamwork?
The wildcat Rare Bit Fiends slinks out of the hills to stalk and maul
dreamers--until one day she rears up to teach a dream workshop...

THE RECURRING DREAM (CAT-BABY): by Julie Doucet; 1994/8/23-9/23-12/23, 1995/4/16: theme & variation!
Julie keeps dreaming that she gives birth to a cat, or a part-cat baby...
CAUTION: NUDITY, BIRTH, UNBIRTH, REBIRTH...

RECURRING SCHOOL NIGHTMARE: by Julie Doucet; July 1995, a dream of... oh, read the title!
Trapped in elementary school, Julie is forced to study the alphabet
until she declares "I'm a professional cartoonist, goddammit!"...
SABOTAGED BOAT: by C. G. "Chinese" Gordon; c.1861-4, a recurrent warning dream
I recognized the saboteur. If I had neglected that dream warning we all would likely have drowned...
SAURIANS: by Wayan; 155K, 1992, 4 digital dream portraits.
In dreams, I kept meeting a dinosaurian person who was proud, strange, beautiful.
S/he introduced me to two sisters I just had to paint...

EL SEÑOR DE LOS PÁJAROS: by Graciela Iturbide; 1980-83, recurring, possibly predictive dream
I dreamed a sentence over and over: "In my country I shall plant birds."
And I saw a man with many birds flying around him...
SEPTIC: by Steve (age 6), pre-1961, a recurring predictive nightmare
For three weeks he wakened screaming in fright; he said he "fell in a hole." Then, one snowy day...
SHADOWS ADMIRABLE: by Wayan; 1993/9/28, a dream on dreams.
A dream-lecturer says Shadows aren't just what we hate or fear, but what we admire yet see as "not us"...
CAUTION: IDEAS

SINGULARITIES: by Wayan, 1995/5/18 etc. (recurrent dream); drawn late 1994.
Black holes can be scary enough outside you, but what if you have dormant ones inside you?

SPORECOUNT: by Wayan; 1990/1/5, a dreamtale on patience through change.
I'm a hot archeology student till I open the wrong tomb. A plague
turns us into green moldy monsters--at first...
CAUTION: DISEASE, DEATH, GRIEF, SHAME
STALAGMITE VALLEY: by Maude Meagher; 1902?-07, a recurring childhood dream.
I found myself on a stone pillar in a valley. Invisible people sat on other stalagmites, but my voice didn't reach...

STAY GROUNDED!: by Wayan; 1988/2/27, an unexpectedly grounded dream.
I'm playing poker with a dragon. But we barely dare move: we're both crackling with thousands of volts...
STEPHENSON AND BELL: by Matthew Talbot; 1768, a recurring predictive dream.
A man in a blue coat on a white horse delivered papers from a nearby wrecked ship, signed Stephenson and...

STEVENSON'S BROWNIES: by Robert Louis Stevenson; 1850s-1880s, a series of dreams
Stevenson's dreams changed over decades: from childhood nightmares into
creative collaborators dreaming whole stories...
STRANGE GIRL STALKING ME IN MY DREAMS: by Mike Hanes; 2010/12/11, a dream recovering a lost dream!
This strange girl reminds me "I rode your bike recently but you forgot." She's right! Rode it in an earlier dream...

THE STYGIAN SENTINELS: by SAO (Shawn Allen O'Neal); 1970s, a recurring astral dream.
The Crocodile King & the Geisha Queen, the couple who guard
the bridge over the River Styx, seem to quarrel a lot...
THE SWAFFHAM TINKER: by John Chapman and a London shopkeeper; 1460s?, two interlocked dreams
Chapman dreams he must walk 100 miles to London Bridge; on the bridge, a stranger says
"dreams are nonsense! Why, I dreamt of buried treasure 100 miles away, in some town called..."

SWIMMER IN BLUE: by Wayan; 1984/4/26 drawing of recurring dream image.
I have recurring dreams of figures broken up by hair the color of the background...
CAUTION: MILD NUDITY

TEN THOUSAND MAD GHOSTS: by Wayan; 1996/9/3, a psychic nightmare.
A toxic site in Silicon Valley isn't a chemical spill, but angry ghosts, killed in a camp and forgotten...
CAUTION: THE CAMP TURNS OUT TO BE REAL
THORHADD'S FOURTEEN DREAMS: by Thorhadd of Berufjord, c.1018; 14 warning dreams (2 predictive)
Thorhadd's been slandering his enemy Thorstein. He spars publicly with a dream expert
who interprets all his dreams as: "Your tongue just can't quit!" True. It can't...
CAUTION: VIKING EGOS (AND BODY COUNT)
TIME WARP: by "Erwre Qerwgeqwr"; 2010/2/5, a nightmare recurring 4 times in one night
A timewarp started to swallow my house. It looked normal outside, but everyone inside was in a trance...
TREASURE UNDER STONE, or, OOPS: by Daniel Healy; Jan. 1774, a recurring dream of treasure
Daniel thrice dreamt of money hidden under a great stone in a nearby field. He dug and found a surprise...
CAUTION: IRISH HUMOR

TWO PLANES: by Wayan, 1994/9/6, a multistaged psychic dream.
An assassination plot using two planes triggers an invasion of our kingdom. Flee? Fight?
I'm a peaceful hobbit who'd rather be playing Frisbee with the dryads...

VIEWPOINT: by Wayan; 1991/6/9, a dream on pastlife amnesia.
I ask to see my past lives, and dream of a viewpoint where I can--but this Mormon ranger...

A VIOLIN DEATH: by Wayan; 2015/11/24, a nightmare (vaguely) anticipating a real-life massacre.
A fiddler has recurring dreams warning he'll be run over with his violin. Reluctantly,
He sells it to a friend, and jams with him only in the woods, away from cars. But...
WHO IS OUTSIDE MY WINDOW?: by Krista G.; 2008/6/25, a recurrent false-waking dream.
Someone's prowling outside my window. I'm paralyzed in bed, but I force myself into action...

WIRES: by Wayan; 1957-1963, a recurrent childhood nightmare resolved by drawing, 1999/12/8
I was bodiless but trapped. All I could see were these moving wires. Whenever a knot drifted by...
CAUTION: MADNESS, TORMENT, TELEPATHY, SEXUAL REBELLION

THE WITCH-PIMPS NEXT DOOR: by Wayan, 2015/12/19, a dream on healing from abuse
First I dream the neighbors are powerful witches offering dog-collared children
to the local men. Later, on a train, I meet two kids who managed to escape...
CAUTION: CHILD ABUSE, NUDITY
WYVERN: by Wayan; 1997/9/3 to 9/18, 22" ceramic sculpture; recurring dream figure.
I dreamed of a dragon-woman on a reef. She was my guardian, but she let me drown! She had her reasons...
CAUTION: SCALY NUDITY

YELLOW CRANE: by Na Liu; spring 1976, a recurrent childhood flying dream.
Each spring my mom took us up to Yellow Crane Tower.
One night I dreamed I rode the crane over the city of Wuhan...