THE HEAVIEST FLYER ON EARTH: by Wayan; 1979/1/25, a dream of clumsy flight
I can't turn into a bird like all my friends. The most I can do is grow wings and try to fly, solid-boned...

HER CUTIE MARK: by Wayan, 2016/8/7, a dream fusing Shakespeare, My Little Pony & the Three Graces
After seeing The Tempest with a tattooed Miranda, I dream she has a Cutie Mark on her flank--
a logo showing her life-purpose, life-path. But she's outgrowing it...
CAUTION: MILD NUDITY

HOLD HEAD: by Wayan; 1993; nondream digital sketch.
This started as an exercise in dramatic figure-drawing and shifted round into an exorcise in guilt...
CAUTION: NUDITY, SEXUAL CONFESSIONS

HOLY ZEN MONK: by Wayan; 1978/4/24, a dream of suicide as political protest
I'm a Zen monk riddled with holes from a weird disease the government denies
is real. So as a protest, I stand naked atop a wall and let the air-sharks take me...
CAUTION: SURREAL SUICIDE

HUMBLE THREE-EYED GIRL: by Wayan; 2008/12/30, a dream on giftedness and shame
I meet a circle of students with up to five eyes. The lone three-eyed girl
is embarrassed, indeed ashamed she's merely attained enlightenment...
HYDROGEN INITIATION: by Wayan; 1981/1/6, a shamanic nightmare.
I'm an initiate in a Sung Dynasty monastery. But I have no idea how far the hazing can go...
CAUTION: DON'T TRY THIS AT HOME

I LOST 400 POUNDS!: by Wayan; 1993/6/24, a motivational dream.
A gorgeous healer bursts through the wall to tell me "I used to weigh 500 pounds. It kept sex away! But..."

I WANT MY INHERITANCE: by Wayan; 1989/12/18, a dream on family brainwashing.
My family calls me a blonde bimbo and won't give me my inheritance, so I take drastic steps...
CAUTION: MORAL HAIRSPLITTING

I'M ALL EARS, DR. ESTES: by Wayan; 1995/6/7, not a dream, a portrait of a radio-trance.
Clarisa Pinkola Estes (who runs with the wolves) was on the radio, and this popped out of my mouse...
I'M AN INTERSEX AND I'M OKAY: by Wayan; 1992/11/7, a body-image dream.
I discover I'm not exactly a man OR a woman; so why not throw out their standards and roles and be me?
CAUTION: SEXUAL SELF-EXAM
JENNIFER MONTGOMERY: by Wayan; 1995/4/24, a journal extract
Her film about her teenage affair with a pedophile is troubling enough before the FBI steps in to blackmail her...
CAUTION: MOLESTATION/ABUSE ISSUES

JOKE PILOT: by Wayan; 1995/7/15, a dream of defiance.
Among aliens, humans are jokes. Fragile and blind, we can't fly starships. Unless we build our own...

LOBSTER ECSTASY: by Wayan; 1970/11/1?, a teenage lobster love dream.
One of my first recorded dreams--how I foolishly turned away from Lobster Love...
CAUTION: CHITINOUS SEX
LONGEVITY PLANS!: by Wayan; 1998/8/22, a nondream speculation.
Lifespans are growing, but do we incorporate that into our life-planning? Oh, hell, do I plan at ALL?
LOVE DAY: by Wayan; 1989/3/21, a sitcom dream.
On Love Day you can't mock anyone's come-on, of course; but in the bar "Cheers", Carla's mad at Diane...
CAUTION: PRO-BIGAMY?
LUCID GIRDERS: by Wayan; 1993/8/18, an illustrated dream about dreaming.
Stayed up late, painting foreshortening. Then I saw a scene in color, motion, 3D, and knew
I had to be dreaming: I was visualizing too clearly, THINKING too clearly, to be awake...
CAUTION: NUDITY

LUCID LIVING: by Wayan; 2007/4/8, a quasi-lucid dream of the future with 9 illustrations
Honesty induces a joyful state with lucidlike powers.
So I bike across the Lake of Time, open the book of my future, and see...
CAUTION: SEXY SKETCHES FROM THE FUTURE

THE MAD UNVEILERS: by Marie-Claude Girondé, early 2009, a dream painting.
The dancers, in a frenzy, stripped themselves. Not just their clothes; themselves...

MAKING PROGRESS STANDING STILL: by Wayan; 1990/10/1; a healing dream cartooned.
I dreamed I slowly climbed out of guilty longing to an exciting climax on the Escalator of Love...
CAUTION: CARTOON SEX, NUDITY, GENDER POLITICS

MANATEE: by Wayan; 1989/5/12-1992; digital nondream painting.
Beauty's link to status and privilege bothers me. The pretty get perks (or parks), while we uglies...
CAUTION: BREASTS, BEASTS, AND A BLOOD FLOWER
MATRONIZED: by Wayan; 1996/5/25, a real-life vignette.
An older woman I know nags me about food. Suddenly my mind flips our genders and weights...

MEDITATION BLUES: by Wayan, 1983/2/13, nondream sketches of meditative state.
Meditation's hard for me; I expect to turn on instantly, like a lamp plugged into Enlightenment...
MINOR SURGERY: by Wayan; 1999/2/25, a dream misinterpreted.
A man goes in for minor surgery and wakes up changed. I feel creepy, but for all the wrong reasons...
A MISCARRIED LIFE: by Wayan; 1981/2/12, a short dreamfable.
I'm Hattie, a pregnant girl on a Lewis and Clark expedition. I miscarry, and they tell me...

THE MAD UNVEILERS: by Marie-Claude Girondé, early 2009, a dream painting.
The dancers, in a frenzy, stripped themselves. Not just their clothes; themselves...
THE MAN WHO MISTOOK...: by Wayan; 1995/9/19, an insane dream.
I'm just an ordinary guy, who beats his son so he'll grow faster, and sees tits on drinking fountains...

MODELING A ME: by Wayan, 1994/8/29, a mirroring dream
I find a 3D program that shows your true self, the self that can love, IS love. And my wireframe is...

MOLLY'S PROSTHETIC: by Wayan, 1994/9/22, a dream predicting a mood drug will fail
My dad's new wife is a collie. Naturally, she wants a prosthetic arm. But she has no site to bind it to...
CAUTION: FURRY NUDITY, LEERING BUSINESSMAN, DOG WIFE
THE MOUNTAIN, THE MAGPIE AND THE ROAD: dreamed 2013/3/26 by Rustling Leaves; epic nightmare
I visit a beautiful artificial mountain with loved ones--but my demons overwhelm me one by one.
CAUTION: SUICIDAL FEELINGS, BODY HATE/FATPHOBIA, IMPLIED RAPE

MY SINE-FRIEND: by Wayan; 1984/3/6, an emotional dream of time and rebirth.
An animal-girl I know lives like a sine-wave, first forward in time, then backwards, dying at every zero...

NO FINGERS: by Wayan; 1993/10/6, an indirectly predictive dream.
My therapist has no fingers. A fingerless man intrudes on my session, and they use up my hour talking...

OHLONE AT THE MALL: by Wayan; 1994/2/1, a dream of what matters
I see two Ohlone women around 1900, starving, naked, despised, their land stolen--and still way happier than...
CAUTION: NUDITY

ON HER FOURTH BODY: by Wayan; 1993/11/25, a psychic dream-comedy.
A sexy gene-sculpted singer (an ex-cow on her 4th body) solves the riddle that's stumping Mr Spock...
ONLY A PIECE OF PAPER: by Wayan; 1980/12/15, a dreamsong.
Kate Wolf sings that ads are way dirtier than porn. But my memory slowly twists her message...
OTTO SUGGESTION TO A HORSE IN DRAG: by Wayan; 1995/8/8, a dream on body image.
My uncle mocks the racehorse he rides! Smears lipstick on this stallion, calls him a wimp... Why?

OVERLAY: by Wayan; 1984/2/11, 1995/8/26, and 2004/9/11, 3 dreams shape a 9-page comic on living with ESP
Dreams of translucent fairies, centaurs, robots & gnomes prompt me to cartoon
on transparent overlays to show how dreamworlds overlay ours...

PASSION: by Katie Hofgard; 100K, 2006, an undream portrait of a complex woman.
Talk about mixed messages! Or... is it really?
CAUTION: NUDITY, SLIGHT FIRE HAZARD
POISONED!: by Wayan; 1994/6/20, three linked dreams.
Poison takes many forms, from attitudes to environmental by-products to actions done deliberately...

POKEY?: by Wayan; 1993/4/15, a dreamtale on my soul.
My lover's turned into a tiny living pull-toy, trapped ankle-deep in a wheeled platform. Can I free her?

POPEYE MUSCLES: by Wayan; 1986/7/14, a grotesque dreamtale.
My body turns protean: big Popeye muscles pop out as needed, relaxing into stick-figureness...

THE POWER OF MOONLIGHT: by Carla Young, 2010/1/2; painting of a dream image
I wish I could be as body-free as my neighbor Jenna, hiking nude under the full moon...

PSYCHO-EGG: by Wayan; 1994/8/31, a diagnostic dreamtale.
I'm shown a crystal egg with a model of my mind in it. The mapping is unmistakable. How embarrassing!:

RAISE YOURSELF!: by Wayan; 1998, 17" mixed media sculpture; nondream .
Why wait for the Rapture when you can use a chinup machine and raise yourself off that cross?...
CAUTION: NUDE PSEUDO-CRUCIFIXION, SACRILEGIOUS SELF-HELP
THE ROYAL NONESUCH: by Wayan; 1988/4/15, a dream on the media.
My mom and sister take me to see a bondage film. But the movie steals my pants! I should have known...
CAUTION: WORSE THAN PEEWEE HERMAN

SEA MASSAGE: by Wayan; 100K, 1995/10/3, a puzzling dreamtale.
I can fly and breathe water. So I fly into art-rich mansions, though
not to steal--I earn plenty from undersea massage...

SELF-MADE COW: by Wayan; 2013/4/10, a surreal psychic dream.
I'm in Santa Cruz with my friend, a shocking-pink stuffed toy cow
with sewed-on accessories: big red lips, a floral wig, and a third eye. I wake,
draw the dreamcow--and my sister calls from Santa Cruz to sing me a song about...

SELF-MADE GIRLS: by Wayan; 2000/2/15, a public dream.
Two souls coalesce from bars of light into human beings by the power of words. Words like stupid, ugly...

SELF-PORTRAIT AS A YOUNG COYOTE: by Wayan; 1999.
Acrylic on wood, 23 x 15". Portrait of a recurring dream self.
I'm more a dream artist than a realist, but one day I set up a mirror and looked in it...

SELF-PORTRAIT WITH CONVOLUTED TONGUE:
by Wayan; early Sept. 1999. Pencil mirror-drawing.
Einstein's tongue got its own poster, why shouldn't mine?
After all, even the Ein Tongue can't do this...
SEVEN SQUARED: by Wayan; 1994/2/18, a dream about the IQ closet.
In our wizard-war, I've hidden my nature. At last I come out; but I can't tell the whole truth...

SHAMANIC CHEW-TOY: by Wayan; 2011/3/16; nested dreams of strange women
Compulsively honest spirit-women with waterjugs invade my friend's house.
I wake to find my girlfriend's obsessing on hair loss. To calm her, I babble about limb loss...
and wake again to find she was a dream too.

SHAPESHIFTER FEVER: by Wayan; 1989/1/30, a dream poem.
A summer love affair with a shapeshifting alien turns awkward when she gets a high fever, and...
CAUTION: UGH!

SHHHH!: by Wayan; 1981, daydream in ink.
A sudden image of a woman whose other lips not only talked, they wouldn't shut up. Worse yet, they...
CAUTION: NUDITY

SHOCKWAVE: by Wayan; 1996/7/27, a predictive nightmare.
My childhood home explodes into a vast pyroclastic cloud that comes boiling toward me, miles away...
CAUTION: DOOM

SHY NO MORE: by Wayan; 2008/8/13. A dream poem, Dreamverse #3
I play the lovers in a teen romance: shy abused boy, insecure girl. But I get tired of the script, and...
CAUTION: LANGUAGE

SILKY CROSSES THE ATLANTIC: by Wayan; dreamed 1982/8/24, painted 1994 (acrylic/ink/xerox).
After I fled my batterer, I was afraid to love--afraid I'd give up my freedom again for mere kindness...

SISTERS OF THE INTERFACE: by Wayan; 1983/12/21, a shamanic dreamtale.
My sister's beautiful; I'm plain. When she's murdered, I ride into the Interface Desert, where worlds meet...
THE SKIN'S COMPLAINT: by Wayan; 1996/11/17, a dreamtale.
A huge rubbery mass of skin complains I made it sick. I get tired of its whining, and...

SKUNKERPILLAR: by Wayan; 2018/4/7, an advisory dreamlet about metamorphosis
After I (sort of) foil some elf-burglars, a friendly elfwoman shows me
a black caterpillar, then the rare white-striped skunkerpillar...

THE SOLE FISHER OF THE EIGHTH NODE: by Wayan; 1986/9/25, a prescriptive dream.
The pier jutting into the sea of dreams has an 8th chakra at the end, where a lonely woman fishes for, um, sole...

THE SPARE: by Wayan; 1998/6/9, a disorienting dreamtale.
I wake to find I have two penises, one connected, one free-floating! How do its sensations reach my brain?
CAUTION: WANDERING WEENIES!

SPRINTERS AND SPHINX: by Wayan; 2009/11/13, a dream poem.
Divers made of ice win the Traffic-Leaping Olympics. But
I think they cheated! I seek my friend the Sphinx...
SQUASH WITH WHITE SAUCE: by Wayan; 1983/12/17, not a symbolic dream, no no
I'm in a department store trying on clothes when I notice there's a large zucchini growing from my crotch...
CAUTION: SQUASHY PENIS, ICKY RECIPE

STARVATION?: by Wayan; 1995/8/28, a journal extract on body image.
On a poster of a model who's around my weight, someone's scrawled STARVATION IMAGERY...
CAUTION: DEFENSE OF SKINNY PEOPLE

STILL DWARFED: by Wayan; 1991? Digital portrait of dream-selves, body-images.
When I start feeling worthless, I paint myself. But which me?
CAUTION: NUDITY, PAGANISM

SUCK MY CONE!: by Wayan, 1995/1/11, a bluesy dream.
Nerds built the blues. Rick Moranis, famous blues-nerd, makes a groupie suck his ice cream cone...
CAUTION: MOCKS MUSIC, RACE, VANILLA ICE (CREAM)...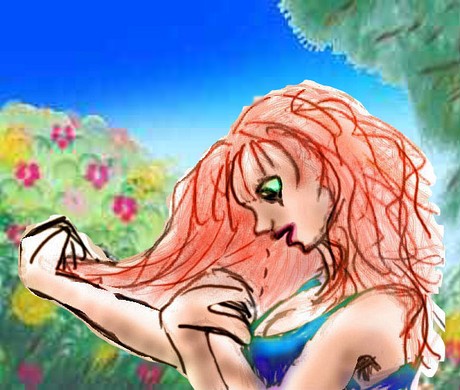 A SUDDEN SEX CHANGE: by Wayan; 1994/4/18, a wish-fulfilling dream.
I spontaneously change sex! At first I'm happy, but I find unexpected disadvantages...
SUNLIGHT'S THE CURE: by Wayan; 1990/12/29, a dreamtale.
I find the cure for an alien plague, then visit its homeworld, to find it has a curious variant...
CAUTION: SEX CUSTOMS OF THE NEWT PEOPLE! MY COUSIN'S GAY WEDDING!

SURPRISE THAT PENIS: by Wayan; 1986/2/18, a subtly psychic dream.
I hijack a Lacewing Chopper to install a new rubber-band engine, but the motor becomes a talkative penis, and...
CAUTION: ONE WEIRD WEENIE

SWISS-CHEESE FAIRY: by Wayan; dreamed 1983/7/15, sculpted 2000: ceramic/wire/silk, 17"
I met an elfin girl who's tattooed realistic vaginas all over her body, as... decoys? For she has...
CAUTION: NUDITY, TATTOOS, TABOOS...

THE SWORD DANCE: by Wayan; 1988/4/29, a very unlikely predictive dream.
I visit my friend Xanthe's lungs, where I meet a swordswoman in a red bikini. I get a unicorn pendant,
go lucid, and become a heron too, but next day, it's the red-bikini-swordswoman I actually meet...
TAKE STOCK OF YOUR PELVIS: by Wayan; 1980/1/11, a symbolic not-quite-sex dream.
A friend, stockpiling for Armageddon, makes me see that I value something peculiar: the knowledge of...
CAUTION: LANGUAGE

TAROT: THE ANOREXIC DANCER: by Wayan; Tarot card, 3x5", summer 1978.
The card of excessive self-denial, whether compulsive or artistic or spiritual...

THROUGH WALLS TO SEX CLASS: by Wayan; 2017/6/22, a therapeutic/advisory dream
A trusted college advisor says "Slip through cracks in the classroom walls!"
There's no direct route. Yoga to taekwondo to ballet to... a sex workshop!
CAUTION: ABOUT SEX
THYROID: by Marc Ian Barasch, c. 1985; a set of life-saving diagnostic nightmares
In 1985 I was flooded with nightmares about heads and necks. They had an unparalleled intensity...

TITANIA: by Wayan; 1981/12/7, 83/1/7 & 2/13 and 84/10/2, a dream-epic in installments
Clarence the sappy angel from It's A Wonderful Life and Milton's Lucifer land on Earth, offering treaties.
Who to sign with? Clarence thinks we're fine as is, but the Devil's a tinkerer, learning from failures. Failures
like me and my girlfriend Titania, the first android with a full palette of feelings. Like the feeling she's fake...

TOES: by Wayan; 1990 digital cartoon-map of dreamselves
My foot is a torso and my toes sprout conflicting personalities...
CAUTION: NUDE CARTOON

THE TORTURER: by Wayan; 1997/7/13, a predictive nightmare
A free-lance torturer chooses me for his victim. He has the right. I bluster, but when I fall asleep at last...
CAUTION: NO PAIN, BUT GORE

TWISTED!: by Wayan; 2003/6/23, 18 images; a nondream experiment
I twirled pinups into surreal not-quite-abstracts, to see just how twisted sex could get...
CAUTION: NAKED PRETZELS

UGLY AND HAPPY: by Wayan; 640 x 400, ca. 1991, digital finger-painting.
I try to make beauty, try to be beauty, but all the while, this voice keeps snickering...

AN UNDERCOVER TROLL: by Wayan; 1994/7/6, a dream of personal growth taken too far...
Disguised as a literary troll, I spy on the Neo-Nazis, but my disguise
can't last much longer: I ate a magical herb, and I'm growing...
UNDO THE PARALYSIS: by Wayan; 1985/7/14, a dream on persistence.
In a future society, I'm deliberately, permanently paralyzed. Yet my home-grown cure slowly works...

THE UNMAKING OF A DANCER: by Wayan; 1994/5/22, a journal extract on dance and health.
Ballerina Joan Brady quit, but ten years later, returned. Her body rejuvenated! So what can MINE do?

UTOPIA: by Wayan; 37 p, 3.9 MB, 2007/5/9, a painted essay on... wishes?
An improvised painting-series exploring my obsession for Utopia--and your deafening silence...
CAUTION: IDEAS, FURRY NUDITY, THAT GOSH-DARN MODERN ABSTRACT ART

VOR: by Wayan; 1984/3/27, an indescribable dream
Am I King Kong? No, it's a city of midgets! I leave and find I'm gay. Gay bugs come out of the closet too,
storming the fundamentalist flies of Heaven. And then Vor, the purple alien, does something peculiar...
CAUTION: LOOKS DOWN ON HOMOPHOBIC MIDGETS

WALRUSHMORE: by Wayan; 1982/1/8; a dream pun with political bite
In my sister's house I saw a magazine cover showing that famous
national monument in the Black Hills: Mt Walrushmore...

WARIA: by Wayan; 640 x 450, 1989, digital image based on a 1987/3/23 dream.
My life was a sex disaster. I felt ugly and sick. Then I dreamed I found a counselor
who really helped. But my parents warned me against her. Why? They explained:
WARNING: NUDITY

WAYAN SAYS: by Wayan; 1992-94. Digital portrait of dream-self
I'm a lean loose cheetah who works best in short bursts and
long lazy rests. When I get to thinking too human, I overwork...

WENDY NEGLECTED: by Wayan; 1996/7/22, a paradoxical dream.
Ari neglects Wendy till she doubts she's sexy. I show her she is. But am I using her too?
CAUTION: SEX TALK

WERE-TROUT: by Wayan; 1997/8/2, a dating-advisory dream.
I'm a one-legged hopping hermit in the ruins of LA, and my only hope
for love is to conjure up a girl out of a trout and a puppy...

WHY I LIE: by Wayan, 2016/10/7, a dream on privacy-guilt
In a class, asked to share a bit about myself, I lie. Why? Not only are people like me
illegal, my particular story would be seen as impossible...
WOMBERS: by Wayan; 1997/8/23, a journal entry on peace-at-any-price personalities
Nancy Friday describes a kind of weak guy disturbingly like me--I think chronic illness has...

WORM WIZARD, or, TITMAN'S CHAIR: by Wayan; 1997/4/23, a dream of bamboozlement.
In the castle of a wizard who's a were-worm, I let myself become
my businessman-friend's chair! Generous, huh?
WYVERN: by Wayan; 1997, 22" ceramic sculpture; recurring dream figure.
I dreamed of a dragon-woman on a reef. She was my guardian, but she let me drown! She had her reasons...
CAUTION: SCALY NUDITY
YUM YUM!: by Wayan; 1985/1/31, a smelly dream.
At work, a toxic potluck. I say no! And dream I'm a scent-oriented alien tossing back stink-grenades...

ZELIG FLIES: by Wayan, 1984/4/29, a psychic, lucid dream epic.
I careen from a sacrificial marriage-altar to the Oracle Harper's secret pool,
into the jaws of Leviathan and the joys of lucid flight, shifting from male to female
and gay to straight--till I meet the Dragonfly People themselves...
CAUTION: STUPID, STUPID SEX CULT!

ZYGOTE: by Wayan; 104K, 600 x 640, 1999.
It's true: after death, angels advise you where to go next.
But what if you get an over-eager travel agent?