ERMINE, or, GOTHMOG'S GHOST: by Wayan, 1984/2/11, a gender-bent & species-bent warning dream
I'm a delicate little ermine-chinchilla whose best friends are all sewer rats.
They push their food and drink on me, and I nibble to be polite...


THE ERTHEDNI: by Wayan, 1977/1/8, three transformation dreams, the last with advice
1: I'm starving in a lush valley; a cult claims all the food, the water, even the air.
2: I'm drowning in a cage but find a corner with water I can breathe--just barely.
3: I'm a merman with a wise friend who hints I need to leave those who starve & drown me...
CAUTION: DOMESTIC BATTERING (OFFSTAGE)

ESCAPE BY INTUITION: by Wayan; 2010/1/11; four dreams of breaking through
I must see a community as a whole, and intuit my way out of a sealed room, and spot details, and join a trio in bed...
CAUTION: NUDITY IN LAST DREAM

EVASION: by Marie-Claude Girondé, summer 2008?, a dream painting.
One pays for soaring high with solitude of the soul...

THE EVEREST MARATHON: by Wayan; 1986/4/12, a wild dream epic, part 3 of Unicorn Tag.
In the great race up Everest, I become an e-snake, cross 3 eco-bubbles, beg a wary deer-taur to splice my spine,
help Ariane (my childhood crush), and solve the Dream Equations. Climbing Everest takes not strength but... trust?
EVOLUTION'S DULL: by Wayan; 1997/7/22, a science rant.
Evolution is like baseball--a game of inches, efficiency, constraints. Surely we can do better....
CAUTION: CONTAINS THOUGHT

FAERIE: by Wayan; 1995/7/18 & 95/8/6: two linked dreams of postmodern Faerie, with sketches
I'm the daughter of a mortal doctor working in Faerie as it faces social upheaval (and I look for a decent date...)
FAIRE DINOSAUR: by Wayan; 1981/5/5. A dream of forbidden love.
I fall in love with a sexy T. Rex at the Renaissance Faire. Then things get weird...
CAUTION: DINO ABUSE
FALCON AND FÜHRER: by Miriel; 1985/7/31, an epic flying/transformation dream
A mysterious "Führer" hypnotized all my companions. So I become a human-sized falcon and hunt him...

FAMILIARS: by Wayan; 1986/4/2, a dreamtale on the dark side of reading.
In ancient Britain, as Christianity moves in, I'm a slave--sailing through centuries, but never free...

FAMILIAR WOOD: by Wayan; 1994/11/10, a dream of the borderzone.
Downtown San Francisco hides a magic wood, full of talking tigers. I must enter it to live a while...

FAMILY JESTERS: by Wayan; 2017/3/15, a dream mixing Kurt Vonnegut and My Little Pony
Coastal unicorns are slender; inlanders bloat. Genes, diet, both? Inland bosses enslave their gracile minority.
Performing pets! Jesters caged, chained & handicapped to heighten the wonder they can do their art at all...
CAUTION: TROUBLING SOCIAL ANALOGIES

FANFOX: by Wayan; 2001, self-portrait as a fox woman.
This foxgirl had my own uneasy mixture of exhibitionism and wariness. Baring sex, but not my face...
CAUTION: NUDITY

FANTASTIC RIDE: by Marie-Claude Girondé, spring 2007?, a dream painting.
The dreamer overflows from her egg, spills out to become a waterfall, a stampede of horses...

FAUNS: by Wayan; 110K, 5 pencil sketches of dream characters, 1994.
A group of coolly shameless fauns started teaching me outrageousness in my dreams...
CAUTION: FAUNS LACK INCEST TABOOS

FAWN AND DEMON: by Wayan; 1990/7/15, twin dreams of desire.
A doe I meet is as horny and shy as me. We're similar: torn between desire and fear...
Then I meet a slacker succubus. She may just let herself get seduced toward freedom...
CAUTION: SEX

FELINE WOMAN--AN ANATOMICAL PORTRAIT: by Wayan; 1996? pencil study of recurring dream figure.
A Leonardo style skeletal study of a cat person that grew into more of a character study. I just like her...
CAUTION: MILD NUDITY

FERRYGOAT: by Wayan; 2009/8/15, a dream warning what I was becoming; Dreamverse #48
That levitating bear's not tightrope-walking--she rides a goat strung like soap-on-a-rope. A goat that's me! I'm eating...
CAUTION: UGH!

FIGHTING A VIRUS: by Wayan, 1998/11/21, a diagnostic nightmare.
Coming down with a virus, I dream of a guy who INSISTS we must fight, it's just so FUN...

FIGURE DRAWING: CAT-MARE-GIRL: by Wayan; 1995/7/24; studio sketch, crayon.
Late in life-drawing class, Evangeline got tired and snuggled into a pillow-nest. She looked so feline...
CAUTION: MILD NUDITY

FIGURE DRAWING: DAPPLED: by Wayan; 2000/11/29, pastel digitally tweaked.
A pensive leonine woman resting on a tilted rock. A life drawing with certain imaginary spots.
CAUTION: MILD NUDITY
FILLING THE ANCESTORS' SHOES: by Wayan; 1995/9/24, a shamanic dream.
A dream of a shaman named Fred who tried to use a bear as a lightbulb. Fred, Fred, Fred...

FIRE-CATS: by Wayan; 1981/10/10; twin dream-poems on over-discipline
For mere disobedience, I EXECUTE a forest-fire-fighting cat! So next
I'm trapped in a security-obsessed job; how do I like it? I flee...

FIRST IMPRESSIONS: by Wayan; 2004/5/20, a dreamsong (MP3+lyrics); Dreamverse #0
I meet a monster--half earthworm, half giraffe. Then I realize she's kind of cute...
FIRST NIGHT IN FIJI: dreamed May 1980 by S---; an unheeded warning dream
Far from home, about to wed a man I barely knew, I dreamed I was a lion in an open cage I dared not leave...

FISHEL AND FRISH AND FIREBIRD: by Wayan, 2003/12/4, a seven-year dream.
Why do the guests arriving for our seven-year reunion include
part-time giants and dog-headed gods? They tell me...


FISHERGIRLS: by Wayan; 2.6M, 42 illus.; 1996/7/15; a sexy dream epic.
I had an epic dream lasting subjective weeks--a true other life. It wasn't Earth and we weren't human.
I was a teenage lemur, sailing with two friends into unknown waters--a rite of passage. One night,
my friends curled round me, I saw I didn't WANT to pass the test, be declared a woman, marry, and have pups.
I loved my girl friends. In a world lacking the very word, I was groping toward queerdom.
Sailing into unknown waters! "Here be dragons," the old maps say. And they were right...
2600K loads slowly? Try it in parts: 1: HOME, 650K, 2: VOYAGE, 1200K, 3: BACK 750K.
CAUTION: NUDITY, SEX, QUEER TEEN ANGST, ANTI-FUNDAMENTALISM

FISHERGIRL IN WATERCOLOR; OVAL: by Wayan; 1996, watercolor of a 1996/7/15 dream scene.
A watercolor portrait of Leaf and me on our boat in the lost city, from the dream FISHERGIRL...
CAUTION: TRIBAL NUDITY

FIVE HEARTS: by Wayan; dreamed 1989/1/11; sexy psychic unicorn dream-comic (text only: FIVE HEARTS)
I'm a nurse pulled through a glowing well to a world ruled by a five-hearted unicorn, who wants me to...
CAUTION: NUDITY, SEX FANTASIES, LONGING, MELANCHOLIA
FIVE HOUNDS, FIVE DEFENSES: by Wayan; 2015/9/18, an explicit advisory dream
Five agents hound me. Literal hounds--in trenchcoats. They stand for my five worst life-troubles. Luckily,
they can't cooperate--they're from rival agencies! And the dream spells out what works against each one...

FLAMINGOS: by Wayan; 1998; nondream acrylic, 20 x 30".
Part an experiment in wild textures, part a "Where's Waldo" game to see if you'd notice my self-portrait...
FLIGHTS AND CATS: by Colette; before 1949, a sketch of her dreamscape
Colette flies, sees a birdheaded turtle, wrestles a great playful cat, debates a snake, holds hands with a shy dog...

FLOATING HORSES: by Wayan, 1972/8/10, a flying/transformation dream advising patience
That day, I did bad art. That night, my friend & I get turned into levitating horses--
though some of our fellow fliers, like the mummified Inuit, are kinda creepy...

FLOATING WOLF AND BUTTERFLY: by Wayan; 2010/12/21; a furry advisory dream
The city museum's new levitating sculpture shows a space reef explored by
a floating wolf who needs no spacesuit--vacuum adapted!

FLOCK WISDOM: by Alder; 1958, a magic comic frustration dream
My eighth grade class is a flock of birds migrating south for the winter, but we don't migrate the easy way...

FLOWERHEADED CAT: by Wayan; 2005/8/17, two bizarre, sexy, advisory dreamlets
My co-worker flashes a lot. Her boyfriend helps--flaps her skirt up to bare her pussy. What's their agenda?
In a dream-sculptor's studio, I pet her lily-headed cat, who purrs. I think "At least her pussy likes me..."
CAUTION: EXHIBITIONISM, PUNS, PETTING

FLY-PARADISE: by Wayan; 1978/12/15, an automatic-writing poem that worked like an advisory dream
I'm a fly lured to a bright but sealed window. The only way out is to ignore the light
and brave the dark--and only when a door opens. Patience AND boldness...

FLYING BED, TALKING BIRDS: by Wayan; 2015/1/6, a one-word shamanic advisory dream
My bed floats high over southwest Morocco. Giant birds come fly lazily with me,
croaking "Faster, faster!" But I'm busy with anti-desert eco-planning...

FOAM, FURS, DREAMS: by Wayan; 2012-16, a blog + 170 pics; 43 dreams lead me to sew furry dream sculptures.
Dreams urge me to build furry dream creatures with joints, muscles & bones, then to heal myself by mating with them...
CAUTION: FETISHISM, FURRY NUDITY & SEX

FOINBREK THE MOOSE: by Wayan; 1993/12/4, a dreamtale on love and work.
My lesbian twin, who lives in the unemployment line, falls in love with a pushy moose from Brooklyn...
CAUTION: INEPT SEX
FOLLOWING THE ELEPHANTS: by John Goldhammer; 1990s, a ten-year series of short dreams.
Dream-elephants slowly bring me to terms with the early loss of my dad, and lead me out of a cult I've grown beyond...

FOUR-ARMED SINGER: by Wayan; 1996/5/16; a dream of baring your soul .
In our mutant future, a lovely horse-tailed four-armed girl sings her heart out--as clubgoers ignore her...
CAUTION: NUDE CABARET

FOUR ELEMENTALS: by Wayan, four recurrent 2009 dream-figures, 2010/1/1 to 1/14
For the New Year, I draw a group portrait of the old year's main dream-figures. Four needs came up constantly...

FOUR LOVERS: by Wayan; 1992; digital painting based on recurrent dream
A recurring dream of a fourway marriage of animal people. I don't think it's symbolic, but predictive...
CAUTION: FURRY SEX

FOX-BOY: by Wayan; 1997/2/28, a dream fable.
A boy offends his uncle the King, who transforms him into a fox. Grounded! But Fox-Boy runs away...

FOXCOMB: by Wayan; ink 1990 tinted 2001; daydream of recurring dream character
I visited the first bioengineered fox-person with working thumbs, to see what she thinks of hands...

FOXES: by Wayan; 1991. Digital dream-based painting..
Long ago I saw a marvelous Hiroshige print of a fox convocation, lit by moon and foxfires...
CAUTION: LESBIAN SPOOKS

FOX-MOTHER: by Wayan; 2008/8/12, a dream poem; Dreamverse #2.
The goddess of the Cult of Clutter catches a little thief, and tastes her to see if she's worthy...

FOX ON THE TRAIN: by Wayan; 2015/1/9, an advisory dream-poem plus digital painting
I'm a guard on a train crossing the desert who falls in love with a refugee fox-girl,
despite heavy specist peer-pressure and the archaic Railway Code...
CAUTION: NUDE FOX

FOX-SHEPHERDESS AND RAVEN: by Wayan; 1998, wet-on-wet acrylic of daydream.
I don't know if the fox-shepherdess ate all her sheep, or if she herded invisible and quite different things...

FOX STORM: by Wayan; fractal painting of 1998 dream (exact date lost).
I might have been less cowed by the storm-face, if I'd seen it was made of little foxes just like me...

FOXY ANCESTOR: by Wayan; 1998/7/25, a subtle dream.
A famous inventor is descended from foxes. Their faces teach me something about beauty and character...
FREAKY DREAM, or, HEART IN MY STOMACH: by Ratiries Steelclaw; c. 2004/3/30, a dream comic
I felt like my heart was in my stomach. My friend Lyx opened me up and confirmed it was. She scolded me for eating it...
CAUTION: URP
FROG: by Wayan; 120K, 2000/4/19, a narrative digital picture-poem
I was single and tired of kissing frogs. Then I realized--I AM one. Or worse: a pretentious polliwog...
FROG ORDERS: by Wayan; 1986/7/4, a dream on piety.
I'm in medieval England on a mission from God, but I meet a Priestess on a mission from...well, we argue.

THE FUR SIDE, or, GESTELLA: by Wayan; 2013/7/2; a dream-critique of a feminist fable
After reading a fable about a murdered werewolf, I dream a tough old woman with
goldeh wolf eyes joins our school lunch table, where the furry minority sits...
CAUTION: CRITIQUES SUSAN PALWICK

GALILEO FALLS: by Wayan; 1979/11/7, a mysterious dream .
I was a closet unicorn. SO closet, I didn't even know what a unicorn was,
till I went to college and met Lindsay, who was half and could pass...

GARGOYLE GO-BETWEEN: by Wayan; 1996/11/22, a Hogwartish dream.
I'm odd kid out in my wizard school till gargoyles raid us, and I puzzle out their tongue, to become...

(ON THE OLD) GENDER TRAIL: by Wayan; late 1995, digital picture-poem with dream intrusions.
For me, the path to love is difficult, elusive, convoluted...

GEORGE AND WILMA: by Wayan, 2011/10/25, an animation-mashup dream done as a poem
George Jetson is married to Wilma Flintstone. But they're both big cats.
And when George comes home, high on mushrooms, he doubts what's on his bed...
CAUTION: CARTOON ADULTERY

GHOST DOGS: by Wayan; 107K, digital comic of a 1993/4/2 dream of temptation.
I meet a wolf who invites me to join Dr Who's pack of sexy Ghost Wolves. There's just one catch...
CAUTION: FLIRTATIOUS WOLVES

GIRAFFE MISSION, or, THE 17TH FOOT: by Wayan, 2017/1/30, a Seussian dream-poem on how views broaden
I was in the Mission with friends. A giraffe saw me as narrowminded, and lifted me up
to show me HIS viewpoint. No insights--till we topped the roofline...

GIRAFFETAUR GROVE: by Wayan; 2009/7/27, a science-joke dream hiding serious diagnostic advice
I meet the new improved giraffe people with hydraulic chrome skeletons--
such light, powerful jaws and stretchable necks. Wow, Lamarckianism is back!
CAUTION: ANTICREATIONISM--THAT IS, ACTUAL SCIENCE

GIRL INTO HERON: by Wayan, 2017/11/7, a dream-poem of an uncertain choice
Four thugs stalk a gawky girl through the Everglades. She treads on a black stone and...
becomes a blue heron! Her stalkers vanish--did they become birds too? Should I step up?
GOAT DARE: by Wayan; 1984/8/22, a sex nightmare.
A girl and I climb a half-built tower to get some privacy. What can we do before my nosy parents find us?
CAUTION: SEX, HUMILIATION, FAMILY VALUES
GOAT WITH A HUMAN HEAD: by Steve Carter, 2008/7/12; a dream image.
Walking around my brother's farm, I met this goat with a human head. He'd been playing with matches...

GOLD EATER: by Wayan; 560K, 9-page comic of a 1993/1/15 dream.
I'm an orphan shapeshifter enslaved by a gold-eating monster. But I meet a cat-girl with a hammer...
CAUTION: BAD FOSTER-DAD; CAPITALIST MONSTER; VIOLENCE (TO VENDING MACHINES)

GOLDIE AND GRIMOIRE: by Wayan, 1987/3/2, a dream foreseeing My Little Pony?
I get a crush on two mare-girls--sunny palomino Goldie is cute,
but it's dark-silver, lunar Grimoire that really stuns me...
CAUTION: EQUINE NUDITY, ESP REFERENCES

GOOD DOG!: by Wayan; 1992; sketch of inner me: doggily insecure.
The shy, doggy need for reassurance I often crave from a lover--do I crave a mistress, an owner?...
CAUTION: NUDITY, PILLOW TALK
GORDO'S EYES: by Wayan; 1981/2/14, a dream warning.
The old cartoon character Gordo has another girlfriend. But his pets say he only loves the hunt, not her...
GRAPE: by Wayan; 1991. Digital painting of daydream.
There's the watermelon of passion, and then there are the little grapes of fun that foxes eat...
CAUTION: NUDE DANCING

GRIFFIN: by Wayan; 1995/8/2, digital portrait of two dream-selves.
Gryphon meets Dragon, mid-air, and they're both me--sometimes...

THE GRIFFINS' LESSON: by Wayan, 2018/6/1, a pair of predictive dreamlets
I live through two teens' nightmares, then "wake" with them to find they were drugged by a third party! Why?
Then I'm with a wagon-crew of cheerful flirting griffins & talking horses who pull a cart made of grammar or logic.
Six days later, I see images from both dreams on TV!
CAUTION: CREEPY, THEN SAPPY, THEN FREAKY

GYRLFALCON: by Wayan; 1971/11/26, a genderbent, speciesbent & prescient dream
I'm a Gyrlfalcon in a theater, fighting the Wolverine and his Morlocks with my lover the Green Lion...

THE HACKER: by Wayan; 1993/11/23, a psychic nightmare.
Who's the demon? Mom, the Dragon, the Smiler, the Rubber Ax Murderer, the Doll Princess or the Tiger?...
CAUTION: VIOLENCE

HALF SHAMAN, HALF STATESMAN: by Wayan; 1986/4/21, a parallel-world dream: Chapter 6 of UNICORN TAG
I get a scholarship to Shaman U. Some of my classmates are Terran, but I still don't fit in, because...
CAUTION: LANGUAGE
HARE HEAVEN: by Wayan; 1998? Digital dream sketch.
I dreamed my friend Beryl's soul was a giant rabbit, arguing in paradise with our mutual guardian angel...

HAWK AND CAT: by Wayan, 1981/6/2, a dream of ethics and terror.
My best friend is a cat. Problem is, I'm a rare hawk--a Cat-Eater. I never, ever would, but...

HAWK ANGEL: by Wayan; 1982/12/28; a dream on rejecting hearsay.
I dreamed I met a sort of hawk angel, but there was this preachy guy between us...
CAUTION: NUDITY

HAWK RIDGE: by Wayan; 1988; Primitivist (and primitive) nondream digital painting
Early wild and wobbly computer art, reveling in those lush luminous colors...

HEADEGG (Black-Eyed Bird of Pain): by Wayan; 1983/10/24; acrylic painting of a headache-trance.
I was cartooning with a headache. It took over and started drawing for me...

HEADING FOR A FALL: by Wayan; 1993/11/2, a dream of drastic shortcuts.
I crash my car on the way to therapy. I ask my dream why. And it tells me! Deliberate, but not suicidal...

HEAL THE WORLD!: by Wayan; 2011/8/17, a messianic-inadequacy dream (now there's a new type!)
I can heal people with a touch. But they don't want to be merely restored, but resculpted...
CAUTION: TRANNIES AND FURRIES LEAVE THE CLOSET

HEARN'S BEAST: by Wayan; 1986/2/18, a dream fable.
Inside an evacuated region, the Lafcadio Hearn Zone, I meet the monster thousands fled...
THE HEAVIEST FLYER ON EARTH: by Wayan; 1979/1/25, a dream of clumsy flight
I can't turn into a bird like all my friends. The most I can do is grow wings and try to fly, solid-boned...

HEDGEHOG AND WHITE RABBIT: by Wayan; 1972/12/1, a dream love story.
Hedgehog and White Rabbit stick together, through the snipers on Broadway,
through the dogs of winter, through cannibal soup...

THE HEDGEHOG DISPENSARY: by Wayan; 2004/10/2, furtopian watercolor 12-page dreamcomic (or text + pics)
A rabbit shaman makes his student drape dead hedgehogs round her neck til she bleeds. How to free her?
CAUTION: FURRY NUDITY, ABUSIVE MENTOR

HELP YOUR NEIGHBOR: by Wayan; 2 illus., 1994/2/18, a comic nightmare.
I'm an organic almond grower who's solved the Luminous Snail problem. But my neighbor has an agenda...

HER CUTIE MARK: by Wayan, 2016/8/7, a dream fusing Shakespeare, My Little Pony & the Three Graces
After seeing The Tempest with a tattooed Miranda, I dream she has a Cutie Mark on her flank--
a logo showing her life-purpose, life-path. But she's outgrowing it...
CAUTION: MILD NUDITY

HER HORSE: by Wayan; 1985/5/14, a dream fable about bodies.
A farm girl seems to be sexually exploiting her dog and horse, but their auras tell another tale...
CAUTION: SEX SYMBOLISM

HERON HAREM: by Wayan; 1981/6/14, a dream with a moral.
I'm a heron working in the Civil Service. I want to blow the whistle, but then how would I support my...
CAUTION: BIRD-SLAVERY?

HERSELF IN REVERSE: by Wayan; 2013/6/13, three surreal future-prompting dreamlets
1: In a theater I meet weird big-eyed ballerinas, & realize I'll choreograph for them soon...
2: A sorcery student & her powerful future self flying back through time meet & fuse...
3: A squirrel-mage meets his future self too. He gives us a mild fever to protect us against a deadly plague...
CAUTION: NOT FOR TOTAL SKEPTICS ABOUT PREDICTIVE DREAMS
HITLER'S GETTING CRISPR: by Jennifer Doudma; fall 2015, a nightmare on CRISPR by one who'd know
It was Hitler. He had a pig face, and he was taking notes. He said
'I want to understand the uses and implications of this amazing technology'...

HIS DEER WIFE: by Wayan; 1995/7/9, a dream of love in a parallel world.
I'm a slave, a scribe in the house of a Captain of the New Aztec Empire, when he brings home a wife...
CAUTION: SLAVE SOCIETY, SEX, SPOUSAL ABUSE/NEGLECT

A HISA ON OLYMPUS: by Wayan; 2014/6/15, a dream on the need to slow down
I'm a hisa, a primitive alien who solves a high-tech crime for the humans. Then I hike home,
step by step, down a great shield volcano. Because shuttles leave your soul behind...

THE HOMONKEYLUS: by Wayan; 1992/6/15, a looping dream about blinders.
A smiling beauty queen on a float gives birth to a monkey with blinders, then re-absorbs the baby, then...
CAUTION: NUDITY AND ODDITY

HOP: by Emily Joy, Maddie, and Kathe, 2004/3/31; three linked dreams of a single character
Three friends in one bed dream three dreams in one night about a talking rabbit with a persistent request...

HORSE IN A TAILWIND: by Wayan; 1982; study of a dream character
It looks like a study of negative shapes, but if you happen to be a part-time horse, like me...

THE HORSE VOTERS: by Wayan; 1995/4/30, a dream on race? Or...
19th century horsebreeders crossbred more than they admit. One suggests I look hard in the mirror...
CAUTION: UNSEEMLY SENATORIAL DISCOURSE

HORSELIKE BUT NOT: by Wayan; portrait of dream figure, 1997, acrylic, 14 x 17"
My anima Silky finds it hard to go back to classic hooves, now that she's tried opposable thumbs...

HOT POT CAT LOT: by Wayan; 1992/8/6, a delayed-action psychic dream.
After a bad writing class, I meet a shy catgirl guarding a Mongolian Hot Pot, and discover who I am...

HOT TO TROT or BRAIN TRAUMA or HUMPIN' THE HOG or SAD-EYED SWAN OF LOVE:
by Wayan; 1993/8/4, a bizarre, epic dream on finding your way
I'm a mare hot to trot (and get laid) in the Big City, but my gay Star Trek friend's brain trauma
makes her a clueless alien with a bo(a)ring sexlife--until a sad swan enfolds her in love...
CAUTION: ALIEN POSSESSION, CARTOON PIG SEX, SMOKING SWANS

HUNT OF THE UNICORN: by Wayan; 1989/5/18, an overlooked psychic dream.
I marry, just to get into a clannish world where I'm seeking symbiotic unicorns. I end up fleeing...
Next evening, a TV movie--Goldie Hawn marries into a clannish world and ends up...

I AM THREE: by Wayan; 1957-58, my three earliest dreams.
My first memory is of being a wild horse and waking up to find I was suddenly a human child...

I AM A SILKY IN THE SEA: by Wayan; 1986? Watercolor on shapeshifting in dreams.
"I am a man upon the land; I am a Selkie in the sea..." Silky or selkie means a were-seal...

I DREAM OF... ME: by Linda Medley; 1990-91, a dream-comic, the seed of Castle Waiting
I wake in a hobbit-hole. My love looks worried. What's wrong with me? A badger
takes me to see wizard Sean Connery, who gives me feathers to eat, and I become...

I FIGHT FOR BEAUTY: by Wayan; 1990/1/1, an incubated dream within a dream within a dream.
From Hawaii to Wyoming, I fight for beauty, always waking to find I'm someone new...

I HELD THE SUN ROSE: by Wayan; 1989, reworked 1994. Nondream digital picture.
After I drew this I dreamed I was chasing stars with a long-tailed friend, and in the end we caught the Sun...
CAUTION: MILD NUDITY

I WON'T DIE TILL LOVE DIES: by Wayan; 1981/1/21, a divine dream .
I meet the mermaid goddess of love in her pool, but when she advises me, I dispute one small point...

ICK! DOGS!: by Wayan; 1990/1/3, a Star Trek dream.
I'm Jean-Luc Picard, and my Enterprise has been taken over by a pack of brilliant, paranoid wolves...

ID FLOWERS: by Wayan; 1989/10/8, a dream of wish and fear
The villagers warned me not to walk in the alien graveyard; for at night, the Id flowers wake...

THE ILL-FORMED TALE: by Wayan; 160K, 1981/4/7, a wild dream anti-epic.
To reach the Peak of Happiness on the Isle of Dreams, I must pass four Perils--but they're all backwards...
CAUTION: RELIGIOUS NUTS, KNIVES, NUDE ALIENS, BACKWARD PLOT...

I'M A VESTA, NOT A MAN!: by Wayan; 1980/1/6, a dream of when it's over.
I'm the animal guardian of a deep crater, but when a human girl rejects me, I set out to leave...
CAUTION: ORAL SEX, UNREQUITED LOVE, SPECISM

IN THE COURSE OF WORK: by Marie-Claude Girondé, spring 2007?, a dream sculpture
Is that a madwoman riding a horse, or a cougar pouncing on a deer,
or are these dream-creatures wildly making love?

IN THE FOG: by Wayan; 1989/4/5, nondream (I swear!) digital landscape.
This place isn't out of my dreams, it just looks like it. It's real real real...

IN THE SHADOW OF MAN: by Wayan; 850K, 3 illus., 1994/3/4, a dreamfable on needs.
I'm a lab animal who discovers voice software and creates a personal zine, testifying for our rights...
IN THE STAR; 1988/9/12 by Wayan; an epic, out-of-body, intrastellar quest-dream
I tour the heart of a red supergiant, where dreaming souls explore
their fears and heart's desires, unconstrained by solid matter...
CAUTION: SWEDENBORGIAN VISION, UNICORN NUDITY

INACTION PAINTING: by Wayan; 1995/10/29, digital dream-figure collage
When I see that grim museum shit I start giggling "Boy art!" The guards glare, so I go home and paint like this.
CAUTION: NUDITY, SEX TALK, LUST FAIRIES AND FLYING TEENY WEENIES
AN INTERVIEW WITH WAYAN: by Wayan; 1994/3/20, an interview.
Dream researcher Stephanie Van Zandt Nelson questions me on the roots of the art of dreaming...
INUIT MEDITATION: by Wayan; 1989/11/16, a surreal dream-comedy.
I'm the first tuna to get a scholarship to Stanford. Naturally I sign up for a course in Inuit Meditation...

THE INVESTOR DREAMS A WOLF: by Wayan; 1983/10/30, a dream poem.
My dream characters aged and tamed until they sit in a genteel Victorian flat. Then a wolf rappels in...

INVOKE THE ANIMAL POWERS (or was it PROVOKE?): by Wayan; 2008/9/9, a dream-poem, Dreamverse #24
A children's recital of "Where the Wild Things Are" turns into a riot-orgy. And it feels... political?
CAUTION: WILD THING ORGY

ISIS HELPS TERRI GARR: by Wayan; 1988/3/27, a distractable dream .
How Terri Garr the cat-woman finally escapes Anorexic Prison, and what happened to the baseball glove...

ISLE OF THE BLEST: by Wayan; 1990, painting inspired by series of fox-dreams
I'm a Japanese werefox, longing to reach the Isle of the Blest; but dare I swim for it?

JASHA EXPLAINS DEATH: by Wayan; ca. 1974/10/1; a 10-page painted comic with recurrent dream figures
Deep Duck's interview with Jasha the Krelkin goes rogue, as she urges tossing out human habits like... death?
CAUTION: REDWOOD-SPRITE SEX, PEEING ON TREES, DRUNK DUCK

A JOB WELL DONE: by Wayan; 1981/3/2; a dream-farce with a serious warning
The tale of a fawn named Fawn and her mom, a bank-robbing hippopotamus...
CAUTION: GLAMORIZES THIS ALARMING TREND
JOIN THE WOLVES LATER!: by Wayan; 1980/9/4, a dream of false but useful fear.
Shepherding a group of cityfolks through an alien wilderness, I need a werewolf's help. So why do I lie?

KARMA AND HER SISTERS: by Emily Joy; 2006/12/27, a happy sexy flying dream that turned tragic.
One boring lonely day, I meet a cute teenage bunny who wants to play with me! But half an hour later…
CAUTION: LANGUAGE, INTERSPECIES FLIRTING, AND LOSS

THE KENNERBIRD: by Wayan; 1973/5/20; a naive shamanic dream.
I'm a cartoon flamingo; with my sisters, the frog and the rabbit-squirrel, I meet our Maker--the cartoonist...

THE KEROUAC TREE: by Wayan; 2 ill., 1983/3/18, a dream of fame and time.
The true story of the very first tree-hugger. Not Kerouac! You'll never guess. In fact, you'll say it's impossible...

KIBBLE FROM HEAVEN: by Wayan; 1986/10/13, a dream on love and money.
I'm a dog princess, on a world where kibble falls from heaven. When I meet our species' guardian angels...
CAUTION: DOG NUDITY, LAWYERS

KICK AUTHORITY: by Wayan; 1989/10/25. Early digital painting of a dream figure.
Question authority? Nah. They always have such excuses! Kick authority entirely! Just say no.

KING-MAKERS: by Wayan; 2000/2/21, a dream of mediation.
I'm a political aide to the leader of a hot-tempered, clawed, fanged alien people. And then my boss dies...
KIOSK: by Wayan; 1994/5/1, a 4-page dreamcomic on the power of song (or illustrated text version)
I'm a sexy singing beast, the Krelkin, trying to lure the Reading Man out of his Moral Kiosk...
CAUTION: NUDITY, INTERSPECIES FLIRTATION

KITSUNE (FOX-GIRL) BY MOONLIGHT: by Wayan; 2002/5/1 dream prompting a paint experiment
In a Japanese house I met a charming red-headed girl and had this
weird urge to scratch her pointed ears. Oh! She's a kitsune!...

KITTEN'S QUEST: by Wayan; 2016/2/13, a dream-poem
I met two strange sisters on a train who turn out to be half-cat. They open my eyes
so I realize that my neighbor Elaine must be a shapeshifter too...
CAUTION: FLIRTATIOUS UNDERAGE CAT
KOKO'S LOSSES: by Wayan; 1999/10/9, an elliptically predictive dream.
Koko the gorilla has had some terrible setbacks lately... the double amputation, especially...

KRELKIN AND KIOSK: by Wayan; dreamed 1994/5/1, ceramic sculpture telling dream 1999.
A sculpture of me as the sexy singing beast who lures the Reading Man out of his Moral Kiosk...

KRELKIN CONTEMPLATING: by Wayan; 80K total, 1998 dream-sculpture
A small statue of this beautiful creature who keeps appearing in my dreams...
CAUTION: NUDITY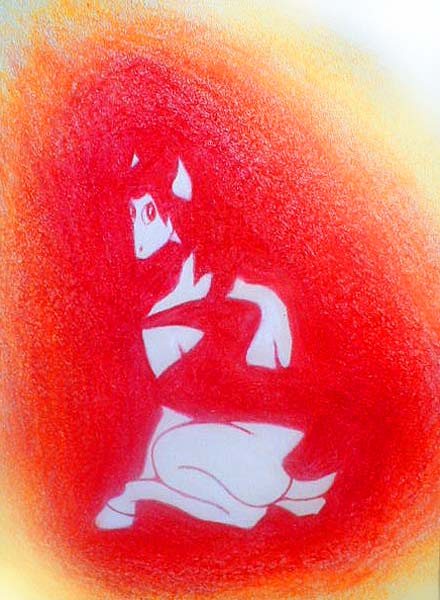 KRELKIN CAMOUFLAGE: by Wayan; 1981/4/21, 3 versions of recurring dream image
A sexy dream-creature hides by splitting her body visually,
her red mane and tail matching her background...

THE KRELKIN SISTERS ON MISSION ST: by Wayan; 261K, 1995/6/7, a dream of superior beings
I was walking in the Mission, in San Francisco, when two sisters came up to me who no one else could see...
CAUTION: FURRY NUDITY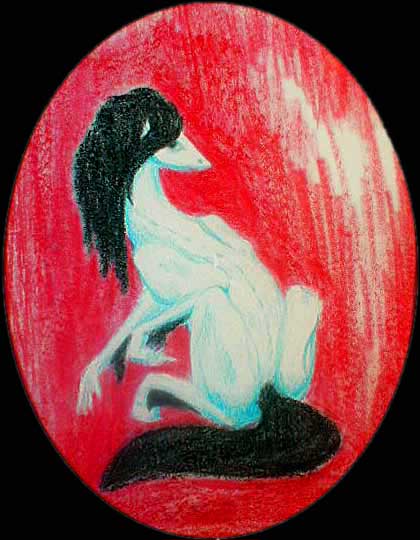 A KRELKIN SMEARED: by Wayan; 1996/9/23; a dream of bold intervention .
I'm a slender, clever krelkin. I draw me, but then red rage erupts and I trash myself... can I be saved?
THE LABORATORY UNDERGROUND: by Anna Kingsford; 1880/2/2; an animal-rights nightmare.
I find myself in a vault with tables where half-dissected animals writhe. Hidden in each was a human shape...
CAUTION: GRUESOME

LADY UNICORN: by Cindy Prince; 2007/10/16, a dream of a shapeshifter.
I was working in the library, talking to this woman who announced "I think I'll grow my horn now..."

LEAN ON ME: by Wayan; 120K; 1987, 1992. Recurring dream image..
This couple keeps appearing in my dreams--as equals, as mount and rider, as friends, as enemies, as lovers...
CAUTION: NUDITY

LEARN TO FLY: by Hexx-Kitty; 2006/7/15, a nightmare image.
This big red rabbit in a straitjacket was chasing me through a big gothic mental asylum. Scared me silly...

LEARNING SCALES: by Wayan; 1985/6/26, an epic dream of Chinese dragons.
I find myself in astral China. The Empress is banished, the Jester rules. Wisdom is lost.
We need an Imperial Dragon...
THE LEASH: by Wayan; 1995/6/26, a dreamfable.
Alien abductions upset us--being studied, treated like animals. But isn't that how we treat other species--
study, exploit, ignore their feelings? That night, I dream one dog on a leash paralyzes a civilization...

LEBBIRD ECSTATIC: by Wayan; 2006/8/20, not-quite-dream sculpture; 7 pics
A sensual moon-worshiping flying feline who'd inevitably evolve in certain Pegasian solar systems...
CAUTION: NUDE LEOPARDESS

LEMON PEOPLE: by Wayan; 2008/8/11, a dream poem; Dreamverse #1.
A dream-fable of lemons who are really orange-people infected by a spore turns out to be about me...

LEONINE TRINITY: by Wayan; based on 1987/11/28 dream; 1991 digital "woodcut" of recurring dream figures.
A goddess in a dream once told me to seek 3 and only 3 qualities in a mate...
CAUTION: NUDITY

THE LEOPARD'S CLUE: by Wayan; 2012/3/17, an incubated advisory dream.
My boyfriend, a leopard, sniffs out a clue to an old murder involving me in a past life. But did I witness, die, or kill?


LEOPARDS AT THE FRINGE: by Wayan; 2014/3/28; poem of a cryptomnesic species-bent thespian sex dream
I'm at the Fringe Festival, onstage in a Performance Orgy, playing two roles:
a leopard with human pets and a leopard's human pet. But I'm not quite playing...
CAUTION: STAGED ORGY

LESBOY: by Wayan; 1996/5/20, a dream on one's identity and place.
My Aunt Squid advises me to join a lesbian artists' co-op. But I'm a man! Not for long, though...
CAUTION: NUDE SUNBATHING, GENDER BEWILDERMENT

LET ME DREAM!: by Marie-Claude Girondé, spring 2007?, a dream painting.
The dreamer becomes a horse, the horse becomes a unicorn.
Dreams have their own quests apart from the conscious...

LIBERTÉ: by Marie-Claude Girondé, c. 2005?, a dream painting.
"Freedom is a gift you give yourself." But it doesn't always involve seahorses or babycarriages covered in quills...

LES LICORNES: by Marie-Claude Girondé, fall 2007, a dream painting.
Three unicorns gallop out of the waves...

A LIFE IN PERCENTAGES: by Wayan; 2013/5/19, a dream about dreams--and timesharing
A man I meet leads half a dozen consistent dreamlives--an experience
so splintered that it's hard to figure out which life is his waking one...

LIFE MATES: by Katie Hofgard; 2003/4/19?, a reincarnation-romance dream
Mysterious doings on an archeological dig bring a creature back to life, but this is no Mummy...


LILIES, DREAMER, FOX: by Wayan; 1998, acrylic on 46" plywood disk, life study.
She didn't want to be there. She closed her eyes and went elsewhere. So I painted where she went...
CAUTION: NUDITY

LILY THE LION: by Wayan; 1991/4/7, a small psychic dream.
My housemate Lily is a lion. She bursts into my room. Stare-down. And then she pounces. So I...
CAUTION: VIOLENCE! MUTUAL GLARING! THE VULCAN NERVE PINCH!

THE LIMP: by Wayan; 1986/7/18, a dream on difference
I was working for a London architect. His son thought people shunned him for his limp, but...
LION-GIRL TRIANGLE: by Wayan; 2000/12/11, an uncomfortable sex-dilemma dream, possibly predictive
I'm a betrothed teenager having to choose between mates, in an alternate Africa where
lions are another tribe of people--and occasionally adopt humans...
CAUTION: NUDITY

LION IN A LEISURE SUIT: by Wayan; 1974, nondream doodle that shouldn't be here.
It's the 1970s. What's a lion to do? Get fern-bar camouflage: a suit and an I'm-a-bohemian moustache...

THE LION KING: by Wayan; 1995/9/15, a time-travel dream on social skills.
When I wake up, animals rule the earth. How do they cope with specism? Well, it's complex...
LION-MEN: by Wayan; 1995/7/9, an eye-opening dreamlet.
I'm a traveling Zen warrior talking to a circus girl in a barn. Four guys enter--and my life changes forever.
LIONS AND TIGERS: by William Archer's friend; before 1924, a zootheological dream.
At the zoo, Archer's friend found the tigers caged but the lions roaming free. The reason? Lions fear hell, but tigers...

THE LITERAL EMPIRE: by Wayan; 1997/11/17, a dream on flexibility.
I join the alliance against humorless humanoids who are invading funny-animal planets...

LIZ: by Wayan; 1989, digital painting of a daydream.
I'm not sure just where she slithered out from, but she looks like more fun than most mammals...
CAUTION: LIZARD BREAST
THE LIZARD LESSON: by Wayan; 1996/12/12, a hard-hittin' shamanic dream.
I'm a shaman in Nunavut who shows a rubber lizard and his foxy niece that reparations have limits...

LOBSTER ECSTASY: by Wayan; 1970/11/1?, a teenage lobster love dream.
One of my first recorded dreams--how I foolishly turned away from Lobster Love...
CAUTION: CHITINOUS SEX

LOLA: by Wayan; 1995/4/22, a wild dream: psychic, shamanic and... economic?
How the hell do I summarize this? Lola, a werefox I'm hot for, becomes my feudal Japanese brother, and her
fox-shape reappears as the truck-driving maid for a Han Dynasty lady. We counter the interdimensional energy
vampires by importing ghost unicorns on sailing ships, who have an orgy. Two weeks later it all comes true.
Literally? No, but closer than you think....

LOON LADDER: by Wayan; 1993/5/13. A dream of rising above.
I had this near-nightmare about climbing a DNA stair up to the sky, and stepping off...
CAUTION: NUDITY, INCEST ISSUES

LOST AGAIN: by Wayan; felt pen, 1983/2/27, sketch of daydream? or dream?
I was a bird-person in a post-nuclear future, touring North America on the wing. But ruins all look the same...
CAUTION: ALL YOU LOVE IS GONE

LUCID LIVING: by Wayan; 2007/4/8, a quasi-lucid dream of the future with 9 illustrations
Honesty induces a joyful state with lucidlike powers.
So I bike across the Lake of Time, open the book of my future, and see...
CAUTION: SEXY SKETCHES FROM THE FUTURE

LUNAMOTH (Around #11): by Wayan; 150K, 1998; 2 portraits of a dream-self, one digital, one acrylic
Day Me curls up and Night Me unfolds: a girl with dark moth-wings, not angel-white but camouflaged...

LUNAR REPUBLIC BORDERGUARD?: by Wayan; a sculpture of a 1995/11/14 dream.
A looming figure on the border of the new Lunar Republic, who told me it's time to turn from war to art...

LYR: by Wayan; 7MB, 2005, 80 pages w/200+ drawings and maps; a virtual planet
A vast sea-world with 7 times Earth's mass, whose isles are home to at least 19 intelligent species...
CAUTION: CUTE ALIENS, WEIRD SEX CUSTOMS, GODLESS EVOLUTION!